Set up a Team
In order to be able to use the Teamwork tools in Mail Designer 365, you first need to set up a team. Being part of a Mail Designer 365 team is great, as you benefit from great features such as the Mail Designer 365 Approval service, joint billing, team management, team email alerts and more. You can find a full list of benefits here.
Building a team
To get started, head to my.maildesigner365.com and sign in with your equinux ID and password.
Once you've logged in, you'll be greeted by your ​personalised start page​. Here you will see an ​overview of your teams.​ New users are automatically created a team which you can start adding members to straight away.

As an admin, you can change the name of your team in your team's homepage by clicking on your current team name and selecting "E​dit"​ from the dropdown menu:

Invite team members by going to the "Members" tab and clicking on the "Invite member" button. You will be asked to provide the name and email address of the team member. You will also have the option to assign the team member a role. Use the descriptions to determine which role the new team member should have. If you are unsure, just select "Member."
Once you are done, click on "Invite" to send a personalised email invitation.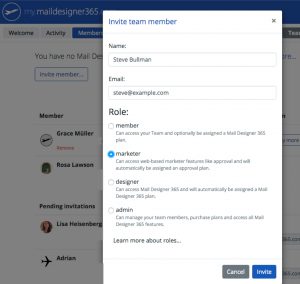 In future, you can manage your team via the "Members" tab. Here you can assign plans and update roles. You can also receive an overview of everyone in your team and any pending invitations.
If you are a team admin starting from scratch, this detailed PDF guide tells you everything you need to know.