Email Design Solution for Corporate Communication
Communicate directly with custom made emails.
Show don't tell. With images, call-to-actions and rich formatting.
Professional email comms that represent your brand.
Effective emails for your organization
Empower every department to reach employees, customers, investors and partners with professional emails.
Regular emails:
Dull.
Hard to read.
Often ignored.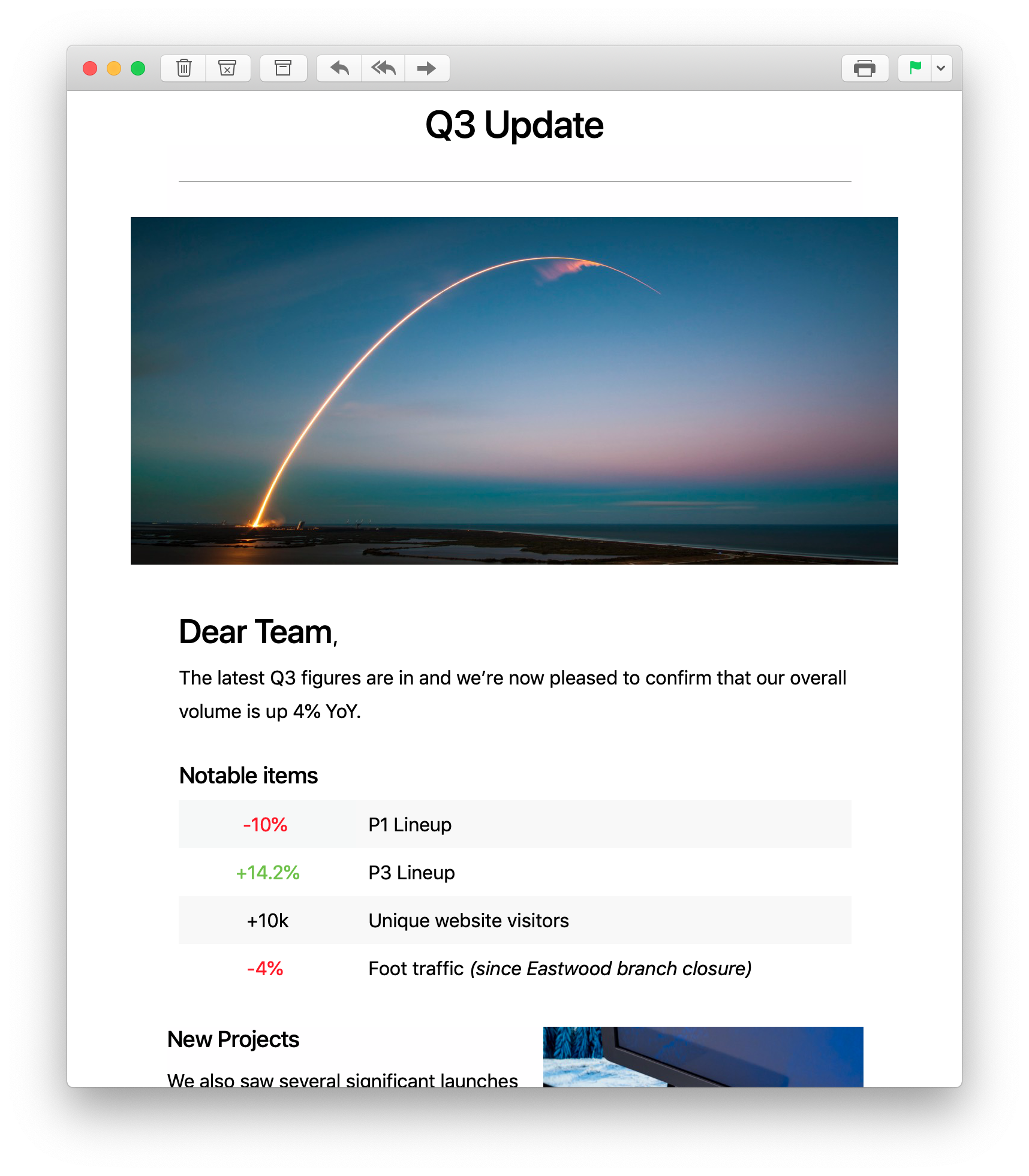 Mail Designer 365:
Engaging.
Clear CI.
Actionable.

Get your message across
Compelling messaging
Stakeholders and clients expect direct, transparent communication that is immediate and authentic.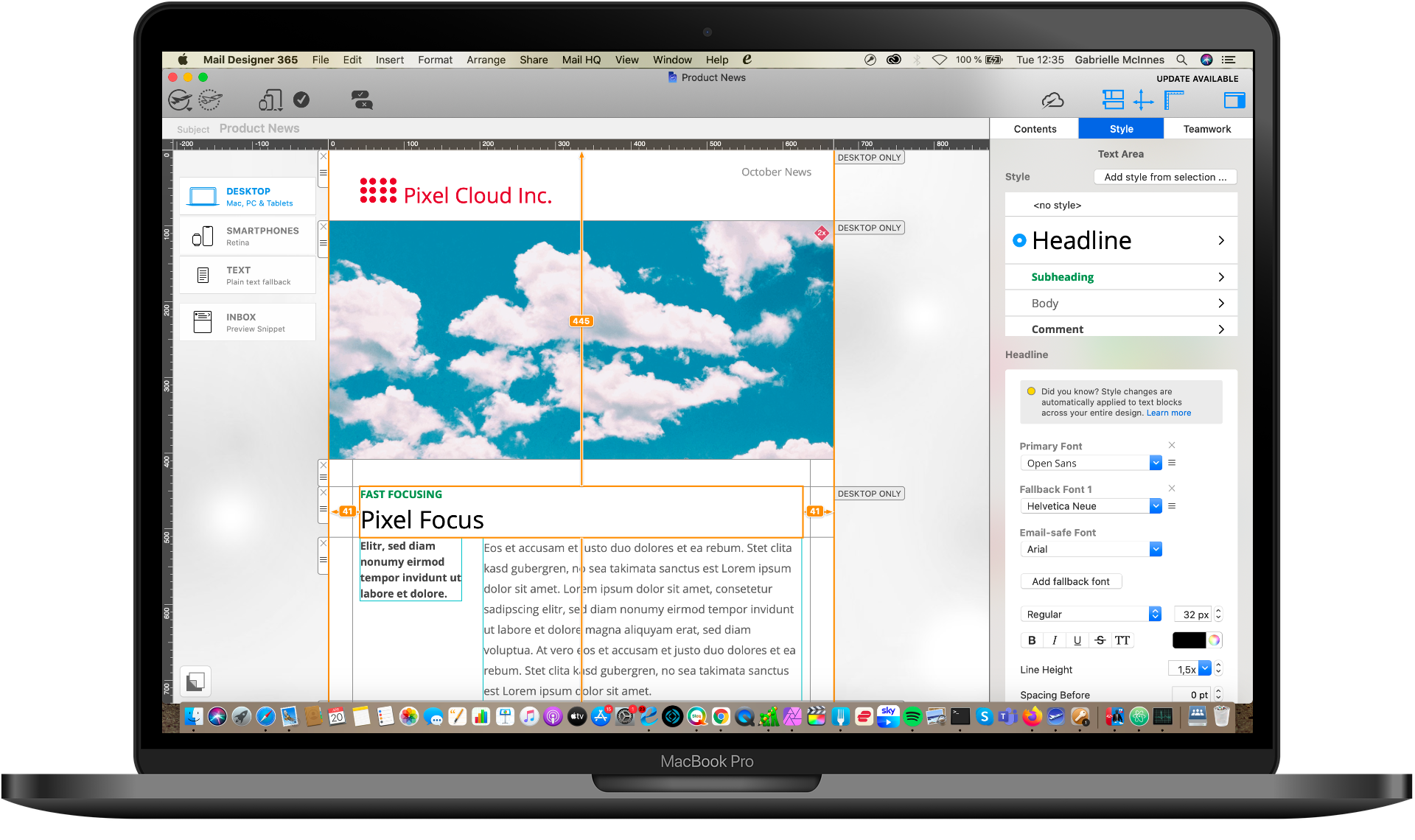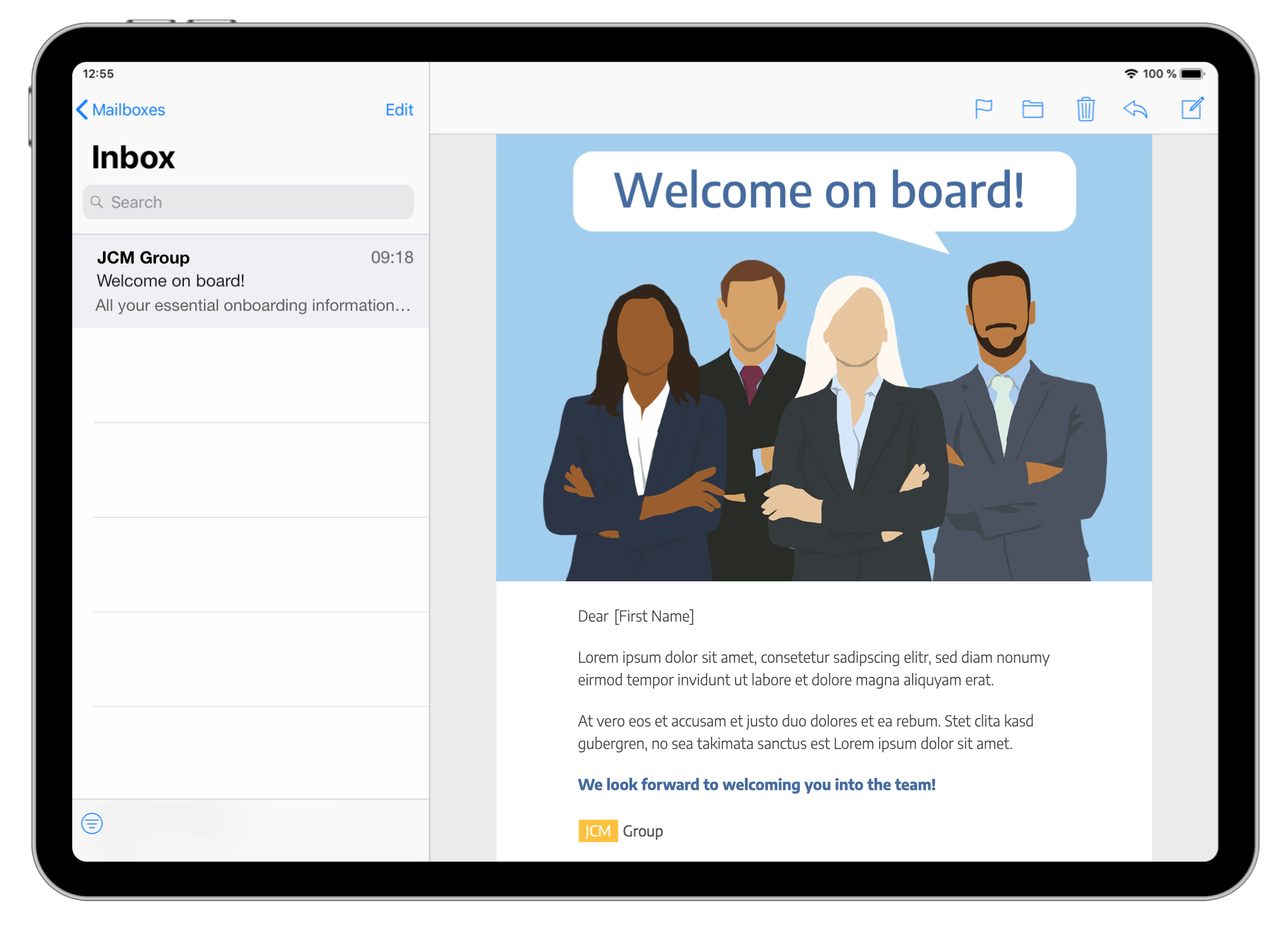 Messages that are on brand
Unlock better communication
Incorporate essential brand assets and reflect your corporate identity in all email comms.
Emails that work
The most effective medium
Actionable emails turn an important message into a mission - with email designs that look good on desktop and mobile.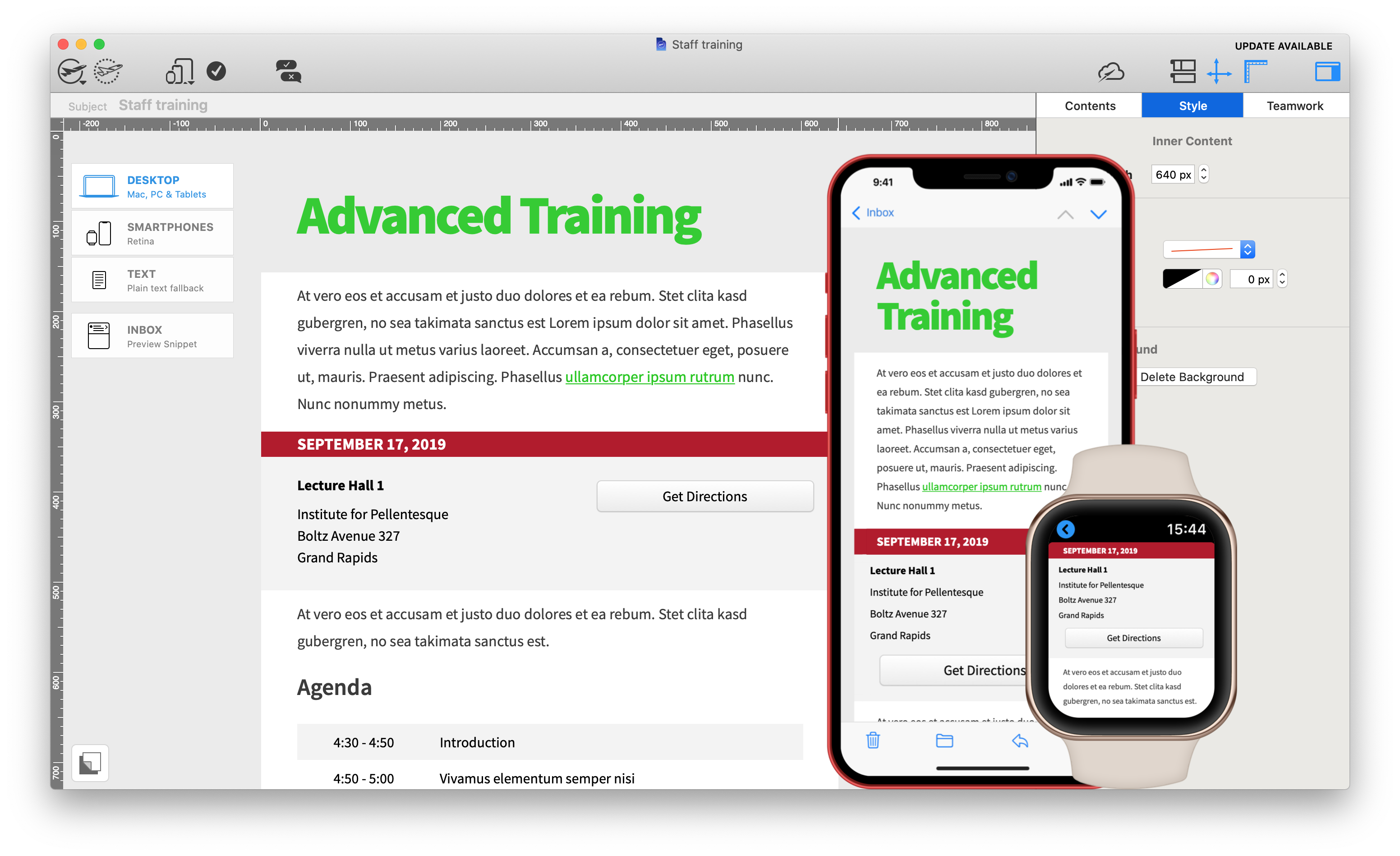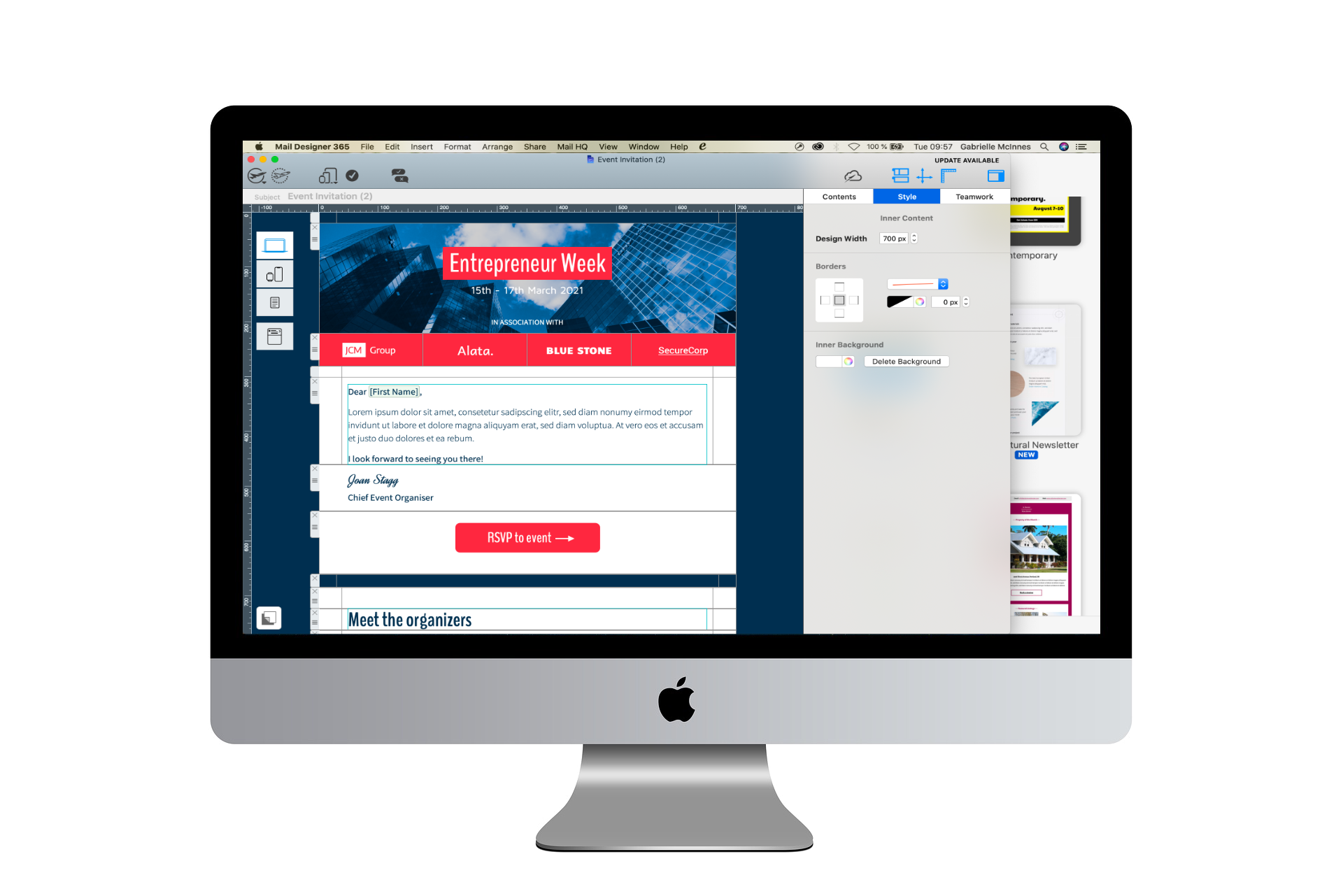 Rise to the top
Emails for executives
Pitches, briefings, meeting minutes, event invitations: Make your message heard with emails that are guaranteed to impress. Clear, actionable, to the point.
A visual email design tool
A powerful drag & drop interface suitable for all abilities.
Sent from your email address
Send direct via your email address and your servers - secure and private.
Get sign-off on critical comms with built-in Approvals workflow.
Get started with Mail Designer 365 today
Start your 7 day free trial and use your Mac to create stylish email newsletters for your business.
Compatible from macOS 10.13
More Resources for Better Corporate Communication
The Mail Designer 365 Newsletter Academy offers a variety of easy-to-navigate content to help you get started with a dedicated email strategy for your organization...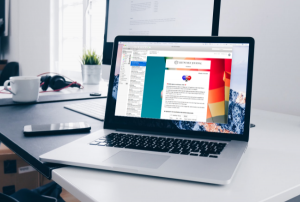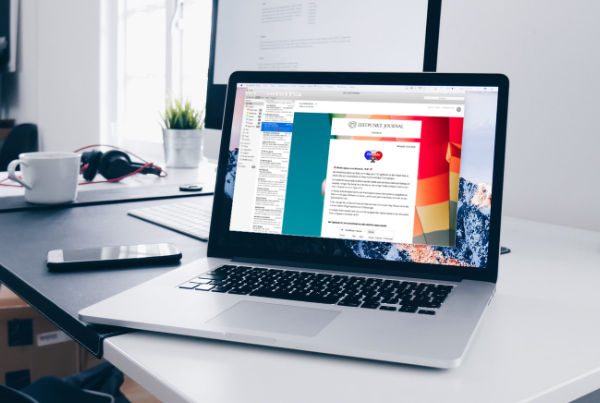 Boost team morale and maintain a positive working environment with a well thought out internal newsletter. Discover our top tips...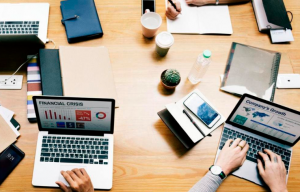 In the midst of a crisis, good communication is key. Keep in control of the situation with an effective email strategy. Read the guide...
Discover Mail Designer 365 for...
Thanks to a selection of specially designed email templates and sophisticated creative tools, Mail Designer 365 lends itself perfectly to an array of professional use cases:
Build stylish layouts for launch emails, updates, or transactional emails for your startup.
Learn more…
Create professional, custom made email designs that will perfectly reflect your client's wishes.
Learn more…
Use email to streamline everyday communication between staff and patients in your medical practice.
Learn more…