It is possible to design your emails with Mail Designer 365 and add Campaign Monitor's "placeholders."
With Campaign Monitor, you can use placeholders within your email design. In fact, this is a great tool for connecting with your audience. How so? Placeholders will automatically insert personalized details into your email. If you personalize your campaigns, then recipients will feel a more direct connection with your brand.
To use Campaign Monitor placeholders:
‣ Go to a text area within your design
‣ Right-click and choose "Insert" > "Campaign Monitor "
‣ Choose the placeholder you would like to add
You can insert a placeholder into your text. Remember, information from your Campaign Monitor account will then replace the placeholder.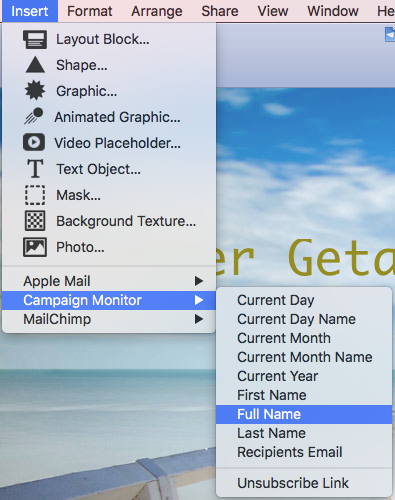 Campaign Monitor placeholders: