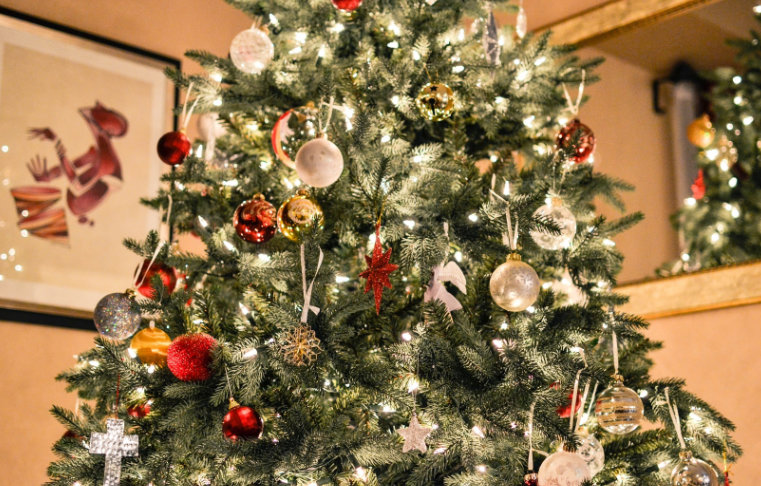 The holiday season is a great opportunity for you to up your email marketing game. Struggling for ideas on which types of email you should be sending over December? We've got your back.
Here are 10 awesome holiday emails which you can use as inspiration for your own campaigns. Happy designing!
Get expert email best practice tips delivered directly to your inbox!
There was a problem registering your email address.
Please check and try again.
Thank you for registering! Please check your email inbox.
We've just sent you an email for you to confirm your email address, if you haven't already.
1. Grubhub's festive promotion
The holiday season can be tough on our wallets. A festive promotional offer like this one by Grubhub is a nice way to help your customers save a bit of money without having to miss out entirely.
As well as fun, seasonal elements such as the snowflakes and the fairy lights, the design also has a big, bold CTA (call-to-action) button to get the reader ordering right away.
2. Apple's holiday gift guide
We've all been there… With so many loved ones to buy for, it can be hard to come up with ideas. That's why creating a useful gift guide for your customers is a great gesture around the holiday season.
This gift guide by Apple is not only nice to look at, but also makes it super easy to shop all the gifts. Text is kept to a minimum and customers are won over by attractive product images and easy-to-locate links.
3. Kidly's festive GIF
A GIF is a super effective eye-catcher for your holiday emails. This penguin design from Kidly is especially good because it involves typical winter imagery which will make the reader smile. The turquoise headline and CTA are also really prominent against the dark background.
4. ClassPass's unique gift idea
If you think your product would make a good holiday gift, don't be afraid to pitch it to your customers – even if it's a bit outside the box. Each year, gifts get more and more creative. Think of the perfect gifting situation for your product and dedicate an email campaign to it.
ClassPass encourage their members to purchase a gift subscription for their loved ones. This is a great way to get more new customer referrals and could also be a super helpful tip for the reader if they're struggling to find gift ideas.
5. Frank and Oak's holiday sale
Planning a Boxing Day sale? Make sure to use email to let your readers know all the important information. This design by Frank & Oak is simple but gets straight to the point. Readers instantly see the key dates, the discount and where to shop thanks to big, clear lettering.
6. Tiffany & Co.'s free shipping offer
Shipping costs over the holiday season soon add up. Make your store stand out to customers by offering free shipping. For many shoppers, this could be the ultimate deciding factor of whether or not to purchase from your website.
This email by Tiffany & Co. is super on-brand, and cleverly manages to create a sense of urgency whilst also advertising the last day of their complimentary shipping offer.
7. New Look's delivery reminder
Nothing is more annoying than a gift not arriving on time. Even if you're not offering free delivery, it's a nice idea to inform your customers about the cutoff points for Christmas delivery.
This email from New Look is super informative and gives last minute shoppers all the delivery details they need to get their order on time. This is also a clever strategy to get more people carrying out spontaneous purchases, as they can now feel reassured that their gifts will arrive before the big day.
8. TOMS' giving back campaign
For many, the holiday season is a time for giving back to others. In this super festive email from TOMS, customers are encouraged to purchase their Nepal boots in order to give back to children in need this winter.
If you're planning a charitable campaign or just want to give back, the holiday season is the perfect opportunity, as people are feeling most generous.
9. Spotify's annual roundup
Of course, the holiday season also marks the end of another year. If appropriate for your business, this is a great time to send out an annual roundup and look back on the year. This could be poignant business achievements, customer milestones, or fun memories from throughout the year.
Spotify establish a great personal connection with each of their customers through their signature "Wrapped" campaign. The customer automatically feels more connected to the streaming service by looking back fondly on all the music they've listened to within the year. Try something similar for your business to build a closer bond with your customers.
10. Anthropologie's holiday message
Last but not least, the final email to send out is of course the holiday greeting. Your customers will certainly appreciate receiving a kind email which isn't sales oriented. It's is also a great chance to let your creative side run wild and have fun with designing.
This skiing themed email by Anthropologie is relatively simple, but also really fun and perfect for getting customers in the holiday spirit.
Send incredible holiday emails
We hope you've found this collection of holiday emails useful. Maybe you'll even give some of them a go in your own festive email campaigns! Searching for the perfect place to start designing great holiday emails? Look no further than Mail Designer 365.
Mail Designer 365 has all the creative tools you need to build awesome email designs like these on your Mac. Sign up for free today to give it a try!
Get started with Mail Designer 365 today
Start your 7 day free trial and use your Mac to create stylish email newsletters for your business.
Compatible from Mac OS X 10.11 onwards, including macOS Monterey
Get more inspirational tips, tricks, and best practice examples in the Mail Designer 365 Newsletter Academy –
your one stop hub for all things email marketing strategy and newsletter design.