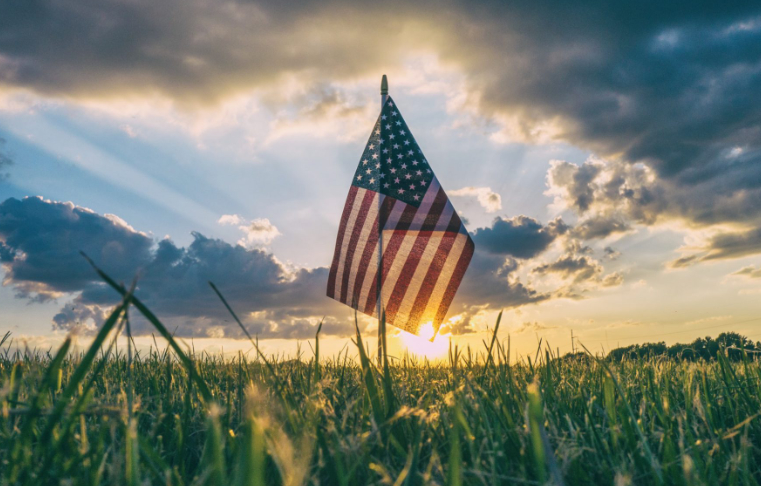 With Memorial Day Weekend coming up, many of you will be planning a promotion or special event to celebrate with your customers. In this article, we're sharing some of our favorite Memorial Day email campaigns, plus a few exclusive tips on how to recreate some of these awesome styles in Mail Designer 365.
Get expert email best practice tips delivered directly to your inbox!
There was a problem registering your email address.
Please check and try again.
Thank you for registering! Please check your email inbox.
We've just sent you an email for you to confirm your email address, if you haven't already.
When is Memorial Day?
Traditionally, Memorial Day always falls on the last Monday in May. The holiday honors and remembers fallen US military personell and will be celebrated this year on May 31st.
The long weekend gives businesses a chance to hold special events, and also means customers have more time to shop; encouraging many businesses to hold a sale or promotion.
Our Favorite Memorial Day Email Campaign Examples
Bed Bath & Beyond
This stars & stripes themed design is super on point for a Memorial Day email campaign and the 3D text effect in the promotional box gets readers all geared up for a great deal.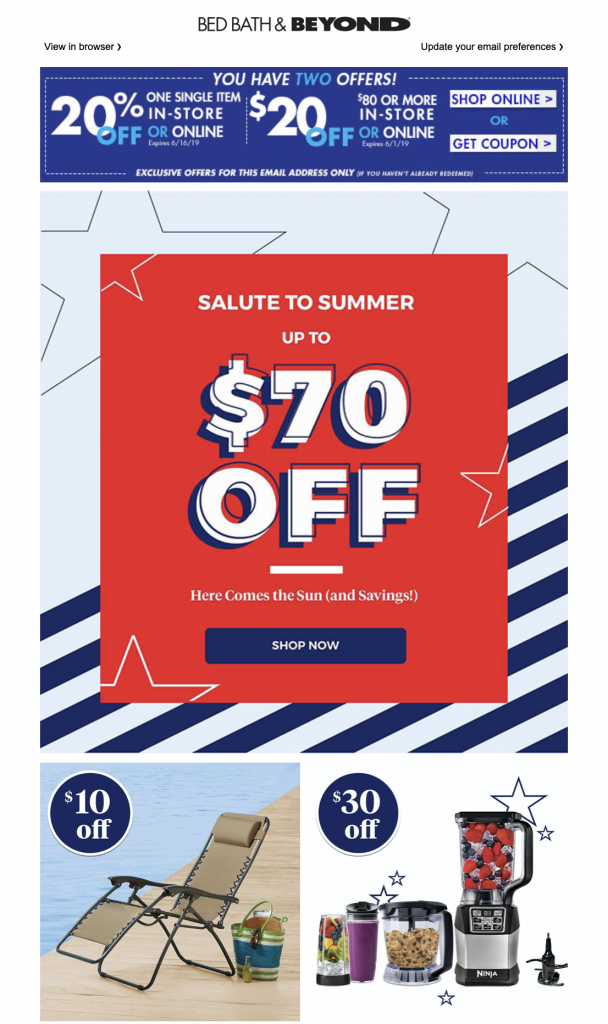 Make it in Mail Designer 365:
You'll find a star shape among the options in our "Contents" library. You can adjust the size, fill and outline to suit your design.
Then, recreate the sketched headline effect by overlaying "solid" and "outline" styles from the Londrina web font family and mimicking the 3D effect by applying a thick, contrasting shadow to the bottom layer.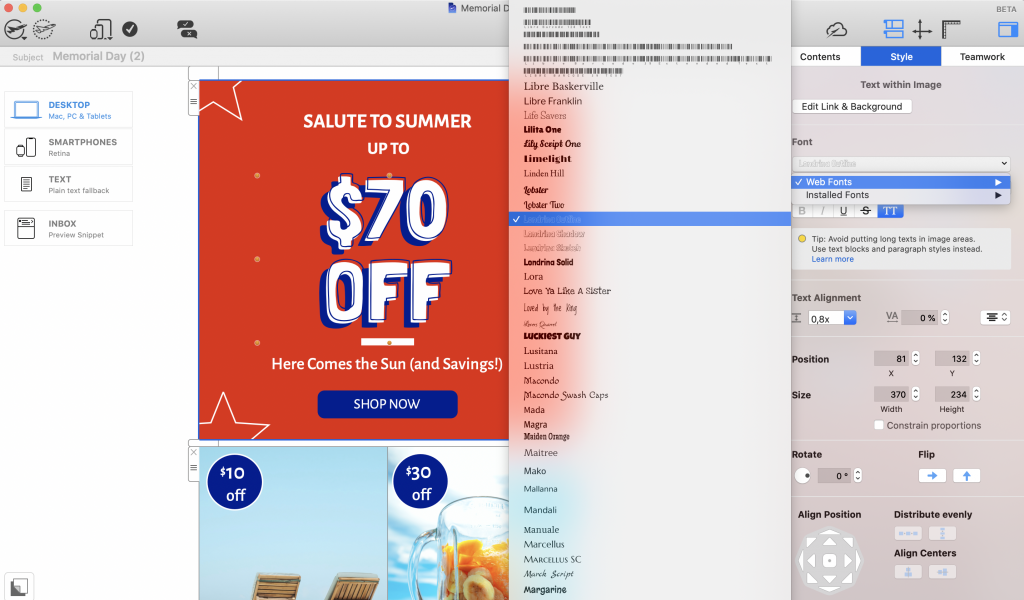 Vans
Vans also focus their design efforts on a traditional red, white and blue theme. The strong headlines and prominent CTA (call-to-action) buttons really help set the scene for the patriotic occasion.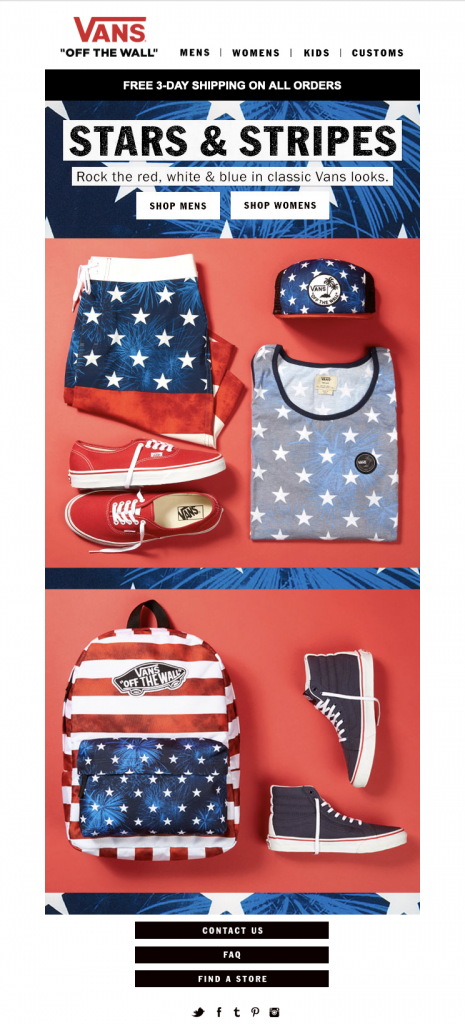 Anthropologie 
This cute nautical design has us dreaming of a summer vacation. Since Memorial Day weekend kicks off the summer, it's a great theme to use in your campaign to promote a seasonal sale or new product range.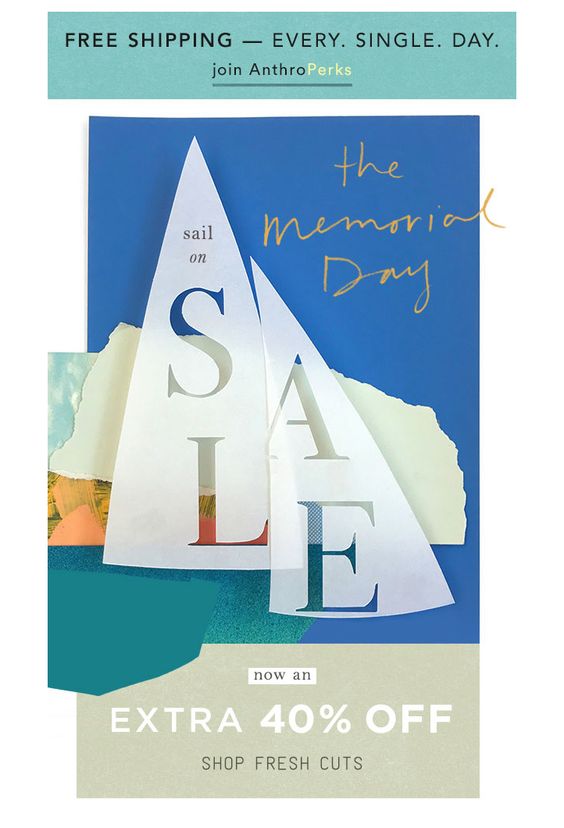 Michael Kors
Michael Kors are turning up the heat for Memorial Day with this pool-themed email campaign. The water effect headline adds something new to the design and helps draw readers' attention straight to the sale.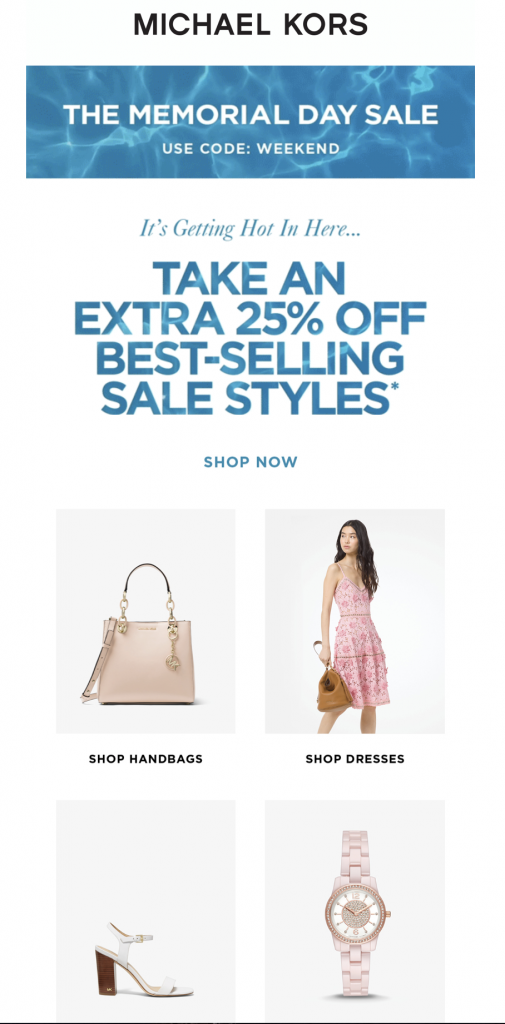 Make it in Mail Designer 365
You can recreate this dazzling water effect headline using the Blend Modes feature in Mail Designer 365. Choose a thick, heavy-weighted typeface such as Helvetica or Arial Black, overlay this with an image of your choice (tip: we found this water image in the Unsplash library) and apply the Blend Mask "Source Atop" to fill your text with the image.
Billabong
Surf's up! In this email campaign, Billabong use Memorial Day as the perfect opportunity to show off a new summer range. The red, white and blue color scheme creates a clear connection to the holiday and a huge feature image helps set the scene.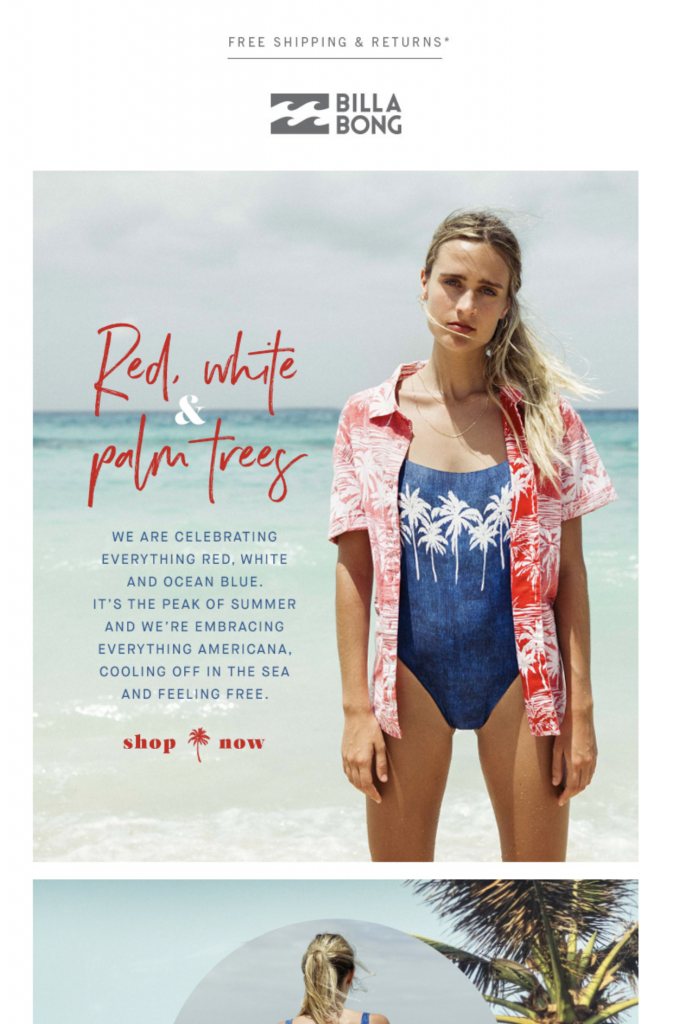 Kate Spade
This minimalist design by Kate Spade keeps things basic and incorporates a chic, boxy layout to stylishly showcase their very best Memorial Day offers. A splash of color also helps divert readers' attention to the exciting sales headline.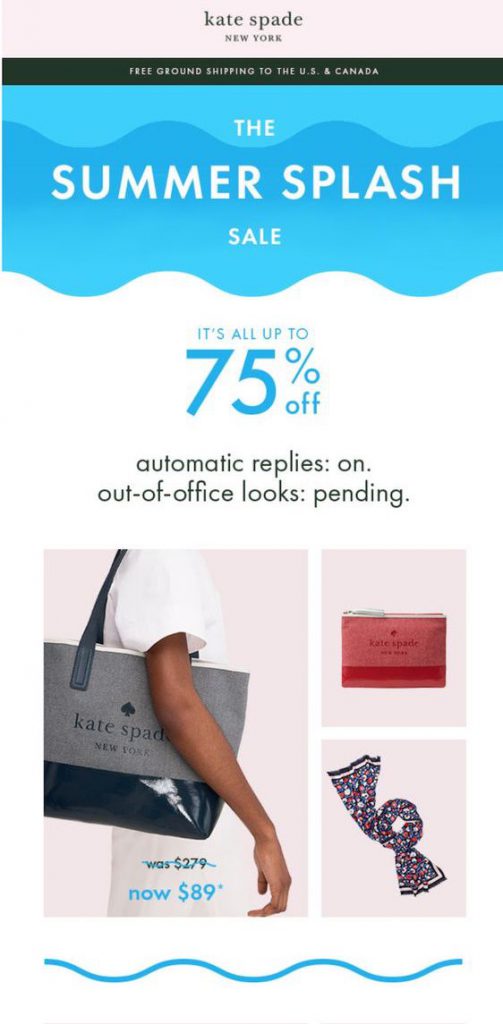 Make it in Mail Designer 365
Copy Kate's on-trend boxy layout in your email designs with one of our combi layout blocks. Drag in the layout block from the "Contents" menu, resize and fill with your star products, then add text, buttons and eye-catchers to excite your readers.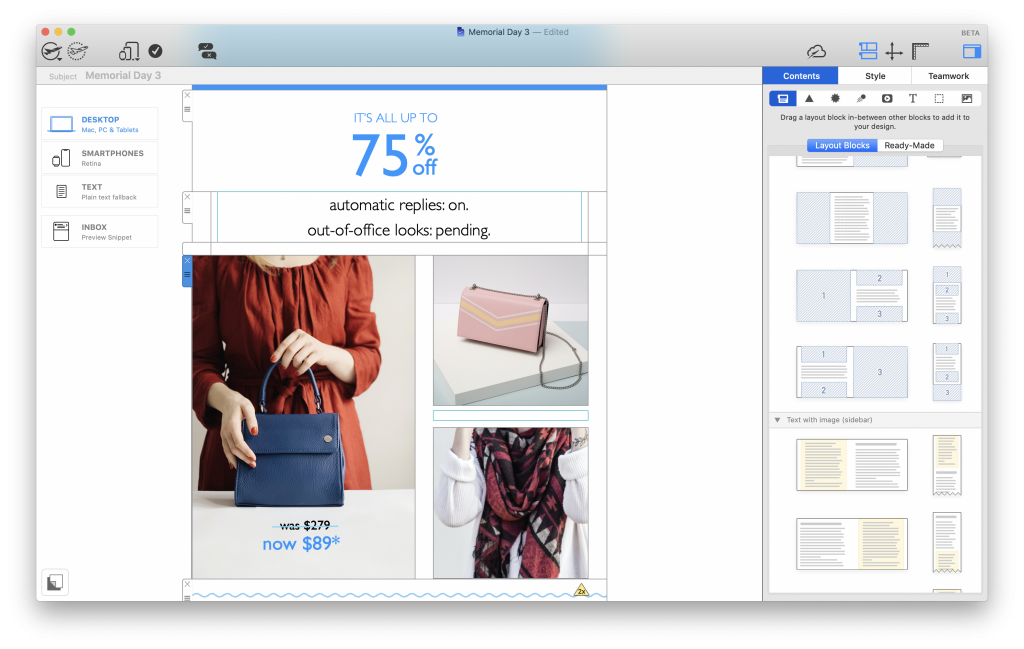 Your Memorial Day email campaign made easy
Start off the summer the right way with an exciting Memorial Day email campaign. Get inspired and recreate our favorite styles in Mail Designer 365, or explore our range of creative tools to come up with a brand new idea.
For more tips on creating an email marketing campaign for Memorial Day, check out this post.
Until next time,
Your Mail Designer 365 Team
Get started with Mail Designer 365 today
Start your 7 day free trial and use your Mac to create stylish email newsletters for your business.
Compatible from Mac OS X 10.11 onwards
Get more inspirational tips, tricks, and best practice examples in the Mail Designer 365 Newsletter Academy –
your one stop hub for all things email marketing strategy and newsletter design.