As one of the biggest holidays of the year, Easter creates the perfect opportunity for your business to do something special. Creating an Easter email campaign is one great way in which you can get involved in the seasonal fun this year.
Designing an email template to use for your Easter email campaign is super fun, but with so many businesses competing, you want to make sure your campaign stands out to your customers.
Here are some of our top tips how you can egg-cel (we think we're funny) at email marketing this Easter season, plus some awesome examples of previous Easter campaigns...
Tips for Your Easter Email Campaign
Try out a new color scheme
With Easter falling in the middle of spring, it's fun to change things up in your email design and opt for a bright, fresh new color scheme.
Typically, pastel colors are popular at this time of the year and really give your design a springtime feeling. Experiment with different background colors, or just a subtle pop of color in your headline or CTA (call-to-action) buttons.
Bright orange and yellow tones are also typical in many Easter-themed designs. Again, if you want to keep things simple, you can use these colors as an eye-catcher to help highlight important aspects in your design.
Include typical Easter themes
Lambs, the Easter Bunny, small chicks, Easter eggs, etc; these are all traditionally associated with the start of spring and the Easter celebration. Incorporating some of these symbols into your email design will help make the Easter theme clear from the get go.
Tip: Check out Unsplash to find a huge range of license-free stock images to use in seasonal email designs. Mail Designer 365 offers direct Unsplash integration in the app, so you can browse our curated collection, or use the search feature to find exactly what you need:
Hold a sale
Spring is a very transitional time, which makes Easter a great occasion to hold a new season sale or special promotion. Send out an email campaign promoting your latest products, so customers are prepared for the new season.
Of course, a regular X% off sale is also always effective - especially during a special occasion.
Sales such as this work particularly well for fashion brands, furniture retailers, and consumer goods businesses, where stock is frequently being updated.
Promote family activities
As well as many school holidays taking place around this time, bank holidays also often fall around Easter. This makes it a great occasion for service- or activity-based businesses to profit from.
Use your Easter email campaign to promote fun activities that the whole family can do together and get customers inspired.
Try putting together a holiday activity guide or suggesting some top travel locations for the time of year. Helping customers come up with creative ways to keep their kids entertained over the holidays is always a big win.
More Examples of Easter Email Campaigns
Here are some more awesome Easter email campaigns that demonstrate these best practice tips...
New Look
In this colorful email design, New Look include some fun pastel tones to compliment their Easter promotion: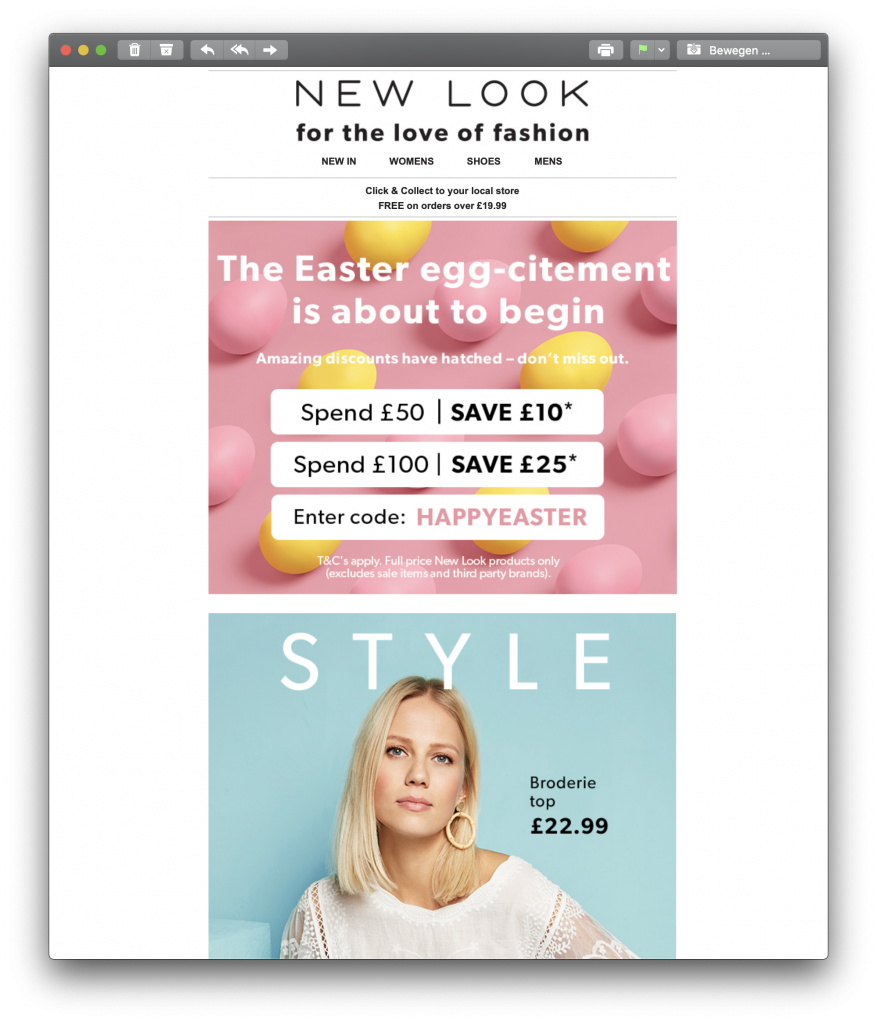 Packlane
Packlane also use a seasonal shade of pastel blue in the background. The calendar date at the bottom of the design is also a smart way to remind customers of the upcoming holiday and create a subtle sense of urgency.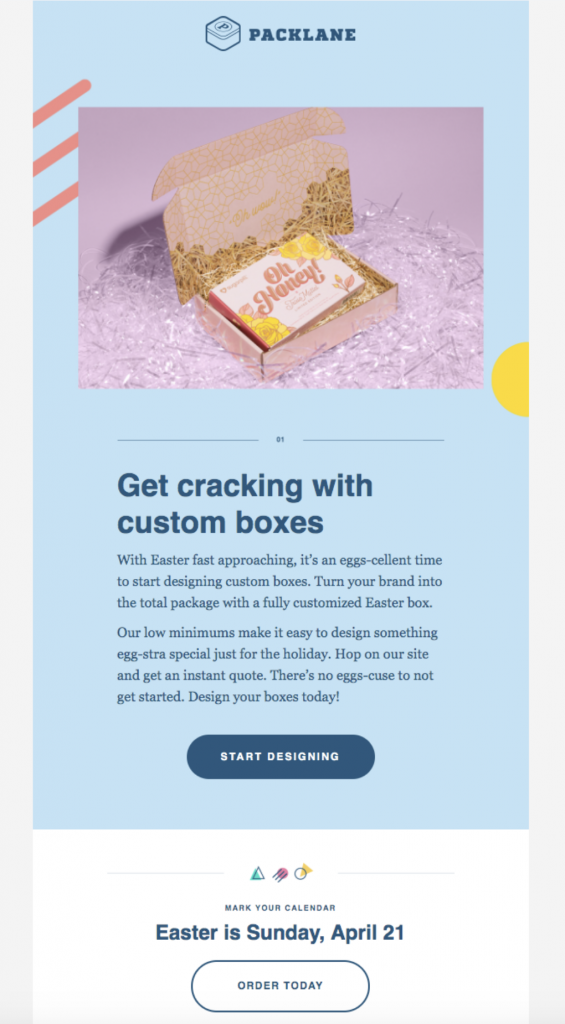 NOW TV
This bold design by NOW TV contains a classic Easter egg graphic to make things seasonal. In addition, it also stays relevant by providing a suggestion of something to do over the holiday weekend.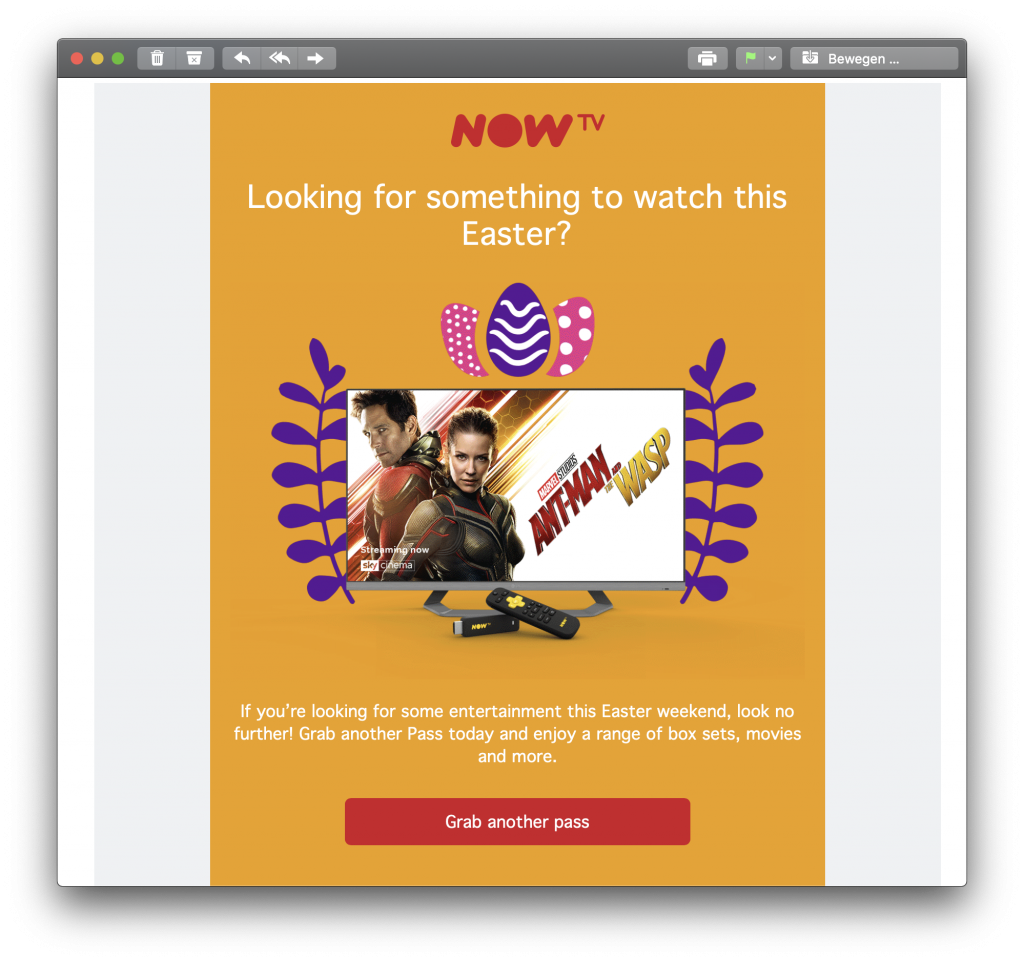 Hobbycraft
This sweet Easter email campaign by Hobbycraft simply focuses on wishing all subscribers a Happy Easter. The pop of yellow in the center graphic is also bang on trend for the occasion.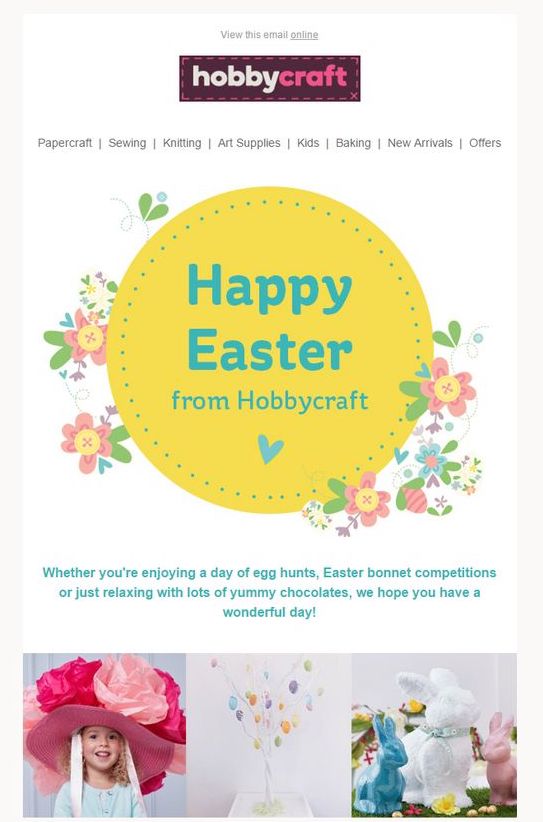 Fortnum & Mason
What would Easter be without some delicious chocolate? This Easter egg buying guide by Fortnum & Mason incorporates all the right colors and seasonal imagery, while also showcasing their top products.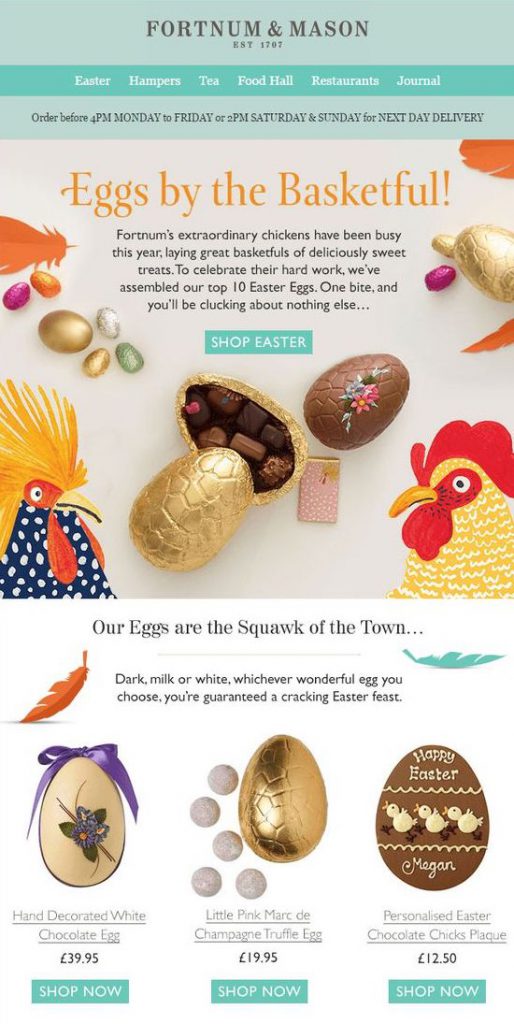 Creating Easter email templates in Mail Designer 365
We hope you're inspired and ready to start trying out these Easter email campaign ideas. Remember to be bold with your email designs in order to convince your readers.
In need of some more inspiration? Mail Designer 365 offers a diverse collection of Easter email templates - perfect for a seasonal promotion or vibrant Easter email campaign.
Get started with Mail Designer 365 today
Start your 7 day free trial and use your Mac to create stylish email newsletters for your business.
Compatible from Mac OS X 10.11 onwards