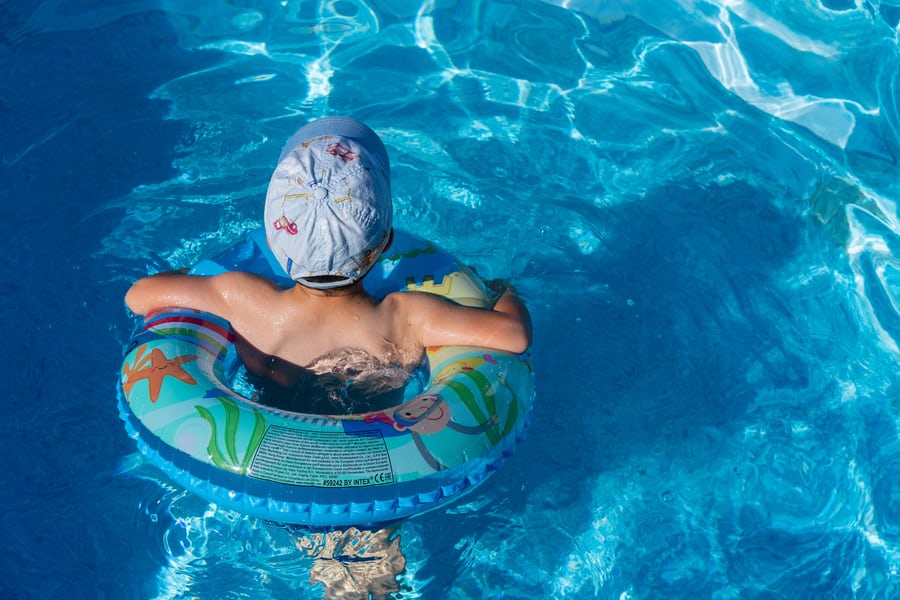 As one of the largest global industries, the leisure and entertainment sector encompasses a wide range of businesses. Email marketing within the leisure sector is often a good way to directly share news and promotions with your existing customers, as well as enticing new customers to check out your business for the first time.
With the recreational sector slowly picking back up in many places and the peak summer season already in full swing, now is a great time to start rejuvenating the email strategy for your leisure business.
In this post, we're sharing our top email marketing tips for the leisure and entertainment sector, as well as some of our favorite email campaign examples.
Get expert email best practice tips delivered directly to your inbox!
There was a problem registering your email address.
Please check and try again.
Thank you for registering! Please check your email inbox.
We've just sent you an email for you to confirm your email address, if you haven't already.
Which businesses belong to the leisure and entertainment sector?
The leisure and entertainment industry covers most activities which consumers and tourists like to participate in during their free time, such as:
Gyms, swimming pools and other indoor sports facilities
Museums and art galleries
Sports clubs
Zoos
Theaters, cinemas and music venues
Nightclubs and bars
Theme parks and water parks
Cycle hire and other outdoor activities
Bowling alleys and arcades
Casinos and bingo halls
Spas and wellness centers
Which types of emails are useful in the leisure and entertainment sector?
Due to the diverse nature of the leisure sector, there are many different types of emails you can send to help improve communication with customers and up footfall for your business.
Some examples include:
Booking confirmation emails
Announcements (i.e. for new exhibits, attractions, shows etc.)
Event invitations
Deals and promotions
Seasonal offers
News and essential information (e.g. health & safety or opening hours)
Feedback request emails
What to include in emails for the leisure and entertainment sector?
Exciting graphics
The main aim of your email is generally to excite your readers and motivate them to visit your business. One great way of achieving this is by including bold and exciting graphics in your design to show potential customers what you have in store for them.
Use an exciting hero image to set the scene in your email and pair this with other smaller images to show off key features and benefits of your attraction.
Tip: The vast layout block selection in Mail Designer 365 contains a wide range of options to help you dynamically display images within your design.
Exclusive offers
Another highly effective way of using email as a way to encourage customers to choose your business is by sharing offers and promotions. Particularly during peak holiday season, families and holidaymakers will be keen to find the best activities for the best price.
Including offers like 2 for 1 or discounted entry and free gifts or refreshments will help sway undecided customers towards your business.
Central call-to-actions
Every email has a core purpose. In order to help achieve the goal of your email, you should use clear and prominent call-to-actions (CTAs) to point readers in the right direction.
Whether it's an "add to calendar" prompt for an upcoming booking, a shortcut to your online booking portal, or a link to your website for more information, it's important to make the CTA a central aspect of your email.
As well as using a sensible and direct link, you should also consider using a clear, bold typeface and a vibrant color which stands out from the rest of the design:
Testimonials
Particularly for new customers and first time visitors to your business, testimonials can play a key role. Sharing positive comments and feedback from past customers helps you to boost your business's reputation and put yourself on the map for potential new customers.
Include testimonials, customer quotes and star ratings in a clearly visible section of your email design. If you have TripAdvisor or Yelp reviews to share, this is also a great idea.
Tip: Consider setting up an automated feedback request email for customers who have visited your business. This way, you'll increase your chances of obtaining more positive reviews.
Up-sell opportunities
If customers have booked in advance online, you could also consider creating an automated up-sell email. This type of email works well if you have added bonuses to offer, such as:
Package upgrades,
beverage add ons,
fast track entry,
comfort or premier seating,
etc.
Build up excitement in advance of the booking by listing attractive bonuses which they can easily add on.
Tip: Including a time-limited promotion to discount these add-ons in advance is a highly effective way to generate more revenue by creating a sense of urgency.
Contact information
Finally, in all of your emails, you should also include all of your essential contact information. This is particularly useful for customers who may have specific needs and questions about your business.
Tip: Use the direct Tel and Mailto links in Mail Designer 365 to make the contact process even easier.
Best practice email examples from the leisure sector
The Gym Group
This colorful email design by The Gym Group includes motivational imagery as well as an enticing promotion and central CTA button:

Legoland
Family fun is the focus of this email campaign by Legoland, which is made clear thanks to the powerful use of images. The lego brick CTAs are also a great added touch.

ATG Tickets
This email by ATG Tickets includes detailed reviews and testimonials about the play. This is bound to entice more customers and make them keen to secure tickets.
Showcasing photos taken from the performance also helps generate excitement and give prospective guests a sneak peek of what to expect.

Cineworld
This newsletter by Cineworld is an exciting and informative overview of the movies they have coming up. Again, the prominent CTAs here make it really easy for customers to book tickets or find out more about a certain movie.

Science Museum London
This informative email by the Science Museum takes visitors through all they need to know about the museum's reopening, as well as exciting upcoming events.
A sense of urgency is also generated through including an up-sell snippet for their priority booking service.

Hollywood Bowl
Hollywood Bowl take the excitement to the next level with this bold email promotion. The strong headline and CTA button make the message loud and clear and help encourage customers to take advantage of the deal while they can.

Madame Tussauds
This Father's Day campaign by Madame Tussauds is a good example of how to get your business involved with seasonal events and trends.
The distinct red information box for their covid guidelines is also a good move in order to help visitors get prepared and know what to expect on the day.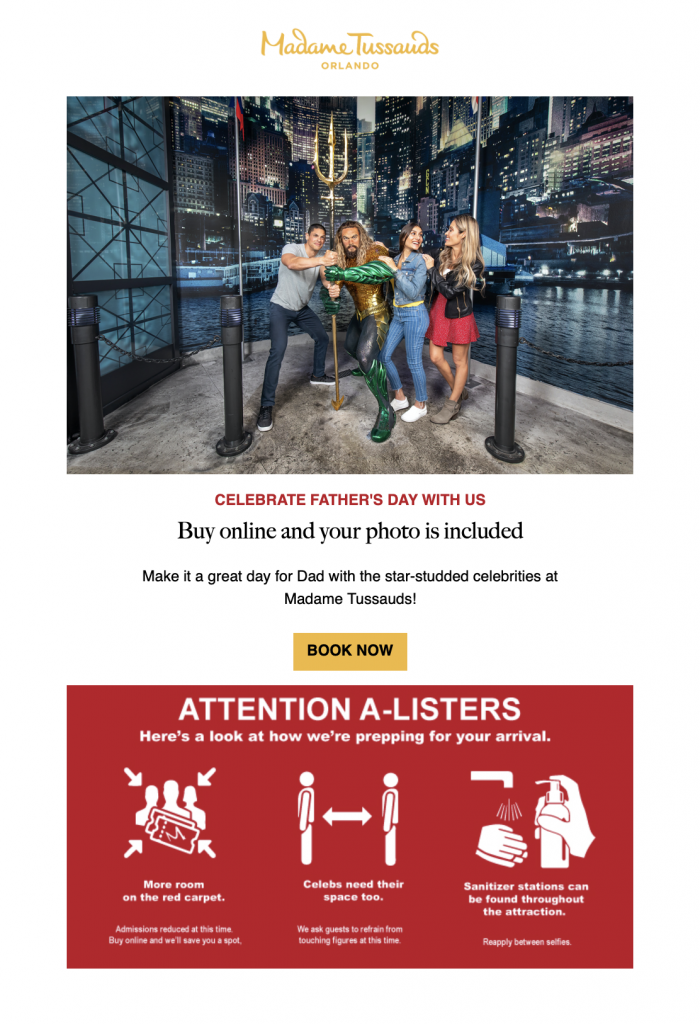 The National Gallery
The National Gallery uses a clean and fresh email design to stylishly present their upcoming events to readers:

Creating email templates for the leisure sector in Mail Designer 365
We hope you're inspired and ready to start revamping your email strategy.
In need of some more inspiration? Mail Designer 365 offers a diverse collection of HTML email templates – perfect for a bold promotion or a stylish email newsletter for your business.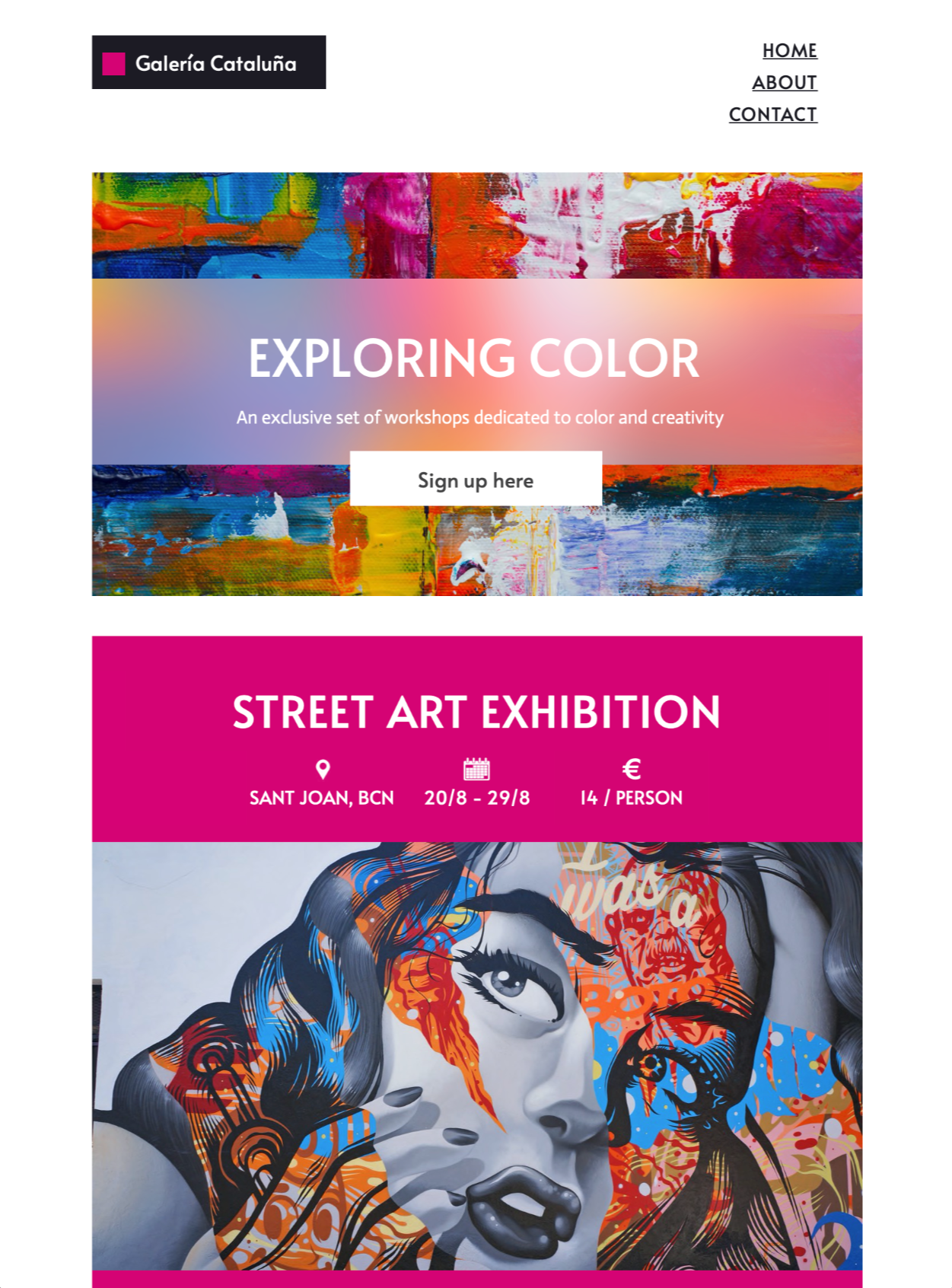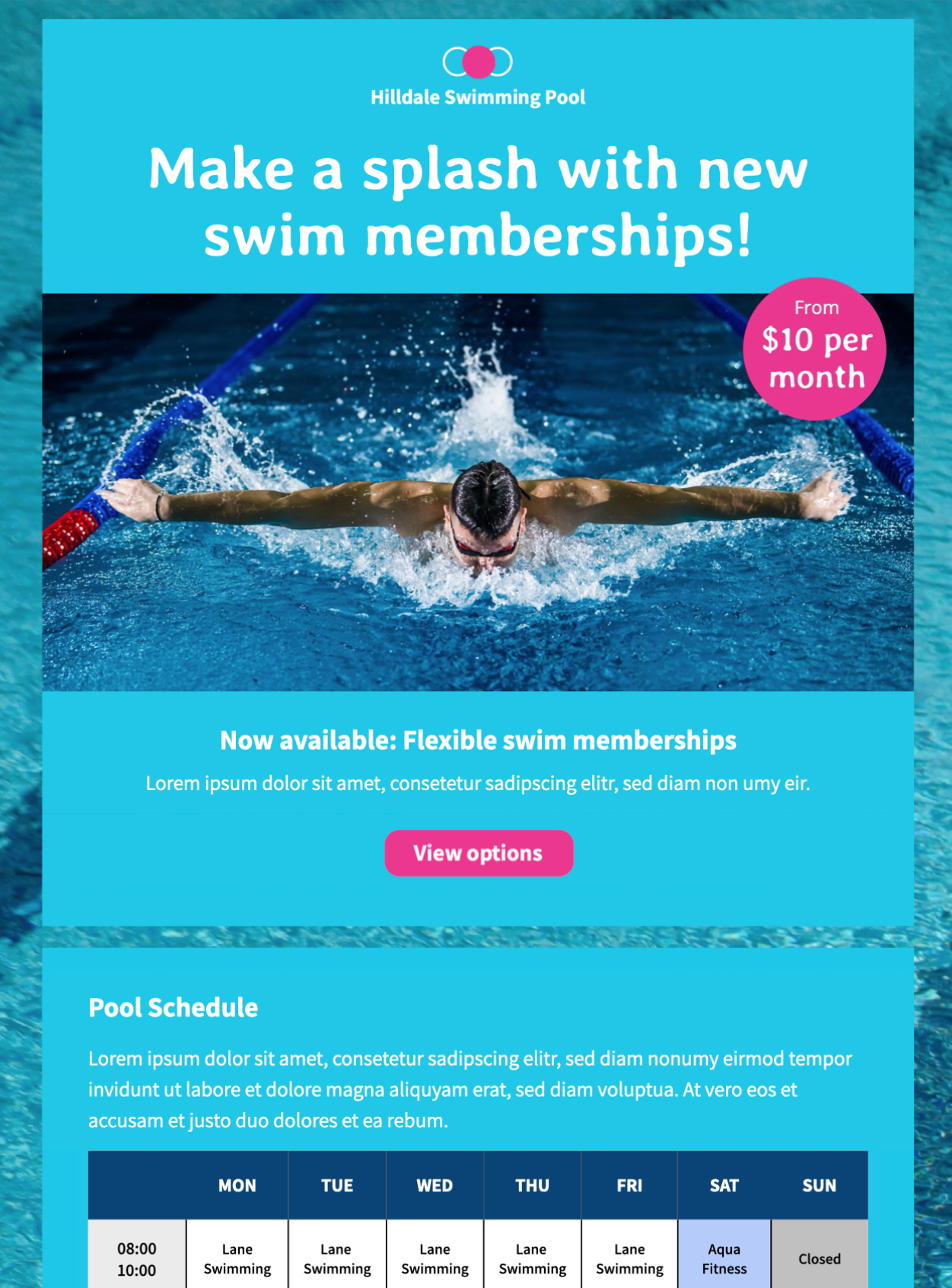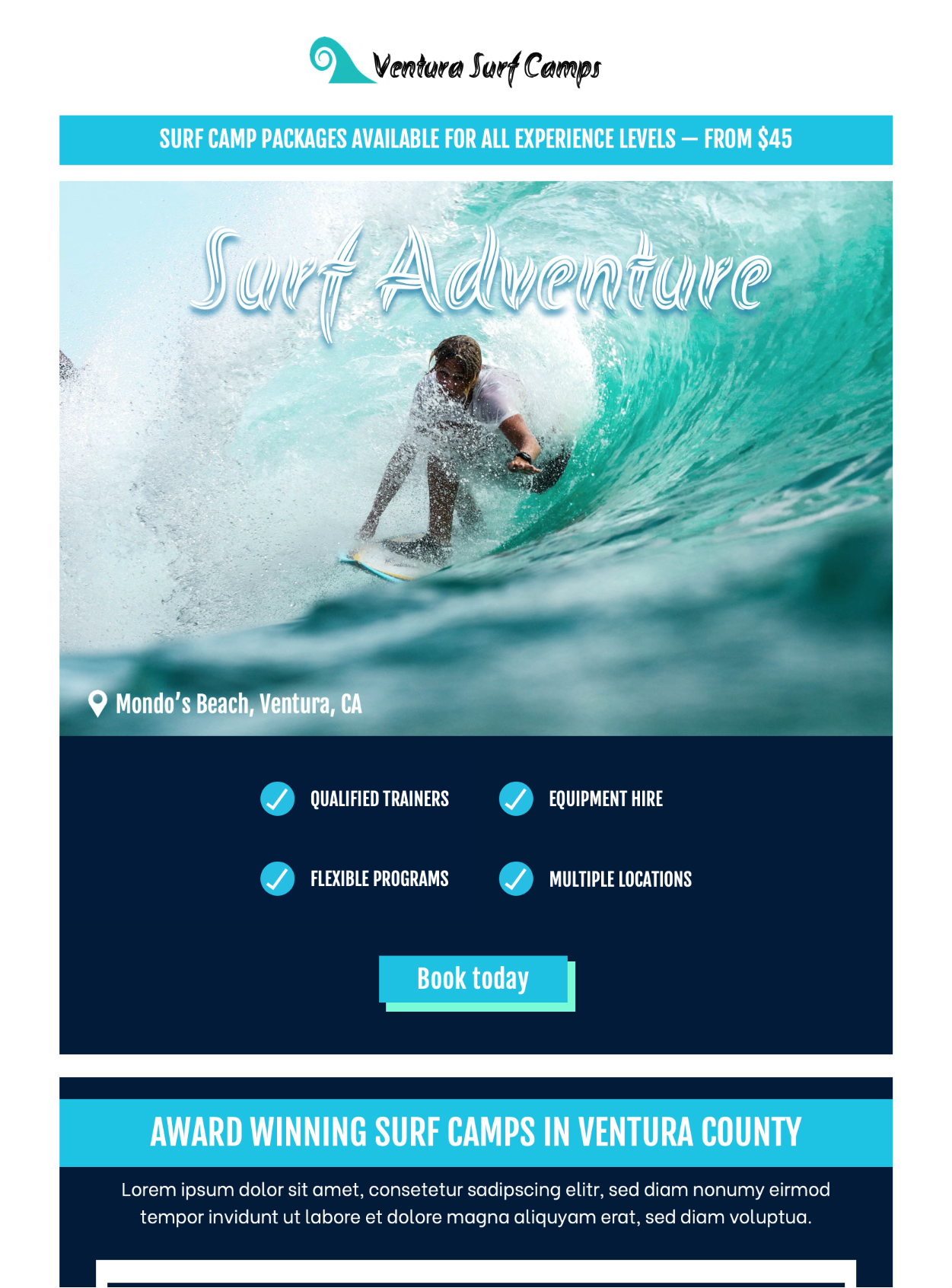 Get started with Mail Designer 365 today
Start your 7 day free trial and use your Mac to create stylish email newsletters for your business.
Compatible from Mac OS X 10.11 onwards
Get more inspirational tips, tricks, and best practice examples in the Mail Designer 365 Newsletter Academy –
your one stop hub for all things email marketing strategy and newsletter design.