As almost 20% of the world's population, China accounts for a huge proportion of the world market. This makes it super important for any business operating globally or in the Asian market to recognise Chinese culture in their marketing efforts. Here are some great tips and examples to help you create a Chinese New Year email campaign.
What is Chinese New Year?
In China (as well as a few other Asian countries) New Year is celebrated according to the Lunar calendar. In China, the first day of the New Year begins when a new moon appears. This does not have a fixed date and traditionally occurs between 21st January and 20th February.
Here are a few interesting facts about Chinese New Year:
Each year has a zodiac animal which serves as a symbol for the entire year, as well as anyone born in that year. In total, there are 12 zodiac animals. This year (2021) is the Year of the Ox.
Chinese New Year is also known as Spring Festival and lasts for 15 days. In this time, it is common for everyone to return home and celebrate with their families. This causes the busiest travel period in China.
The color red is believed to bring good luck during the start of a new year. Most people decorate their homes red and wear red clothing. Money is also commonly gifted to children in red envelopes for good fortune.
Certain flowers are are always associated with the start of a New Year and often used as decorations. For example, the narcissus flower symbolises prosperity and blossom represents luck.
The Chinese New Year is celebrated worldwide. Celebrations are held in major locations all around the world. London hosts the biggest celebrations outside of China and events are held throughout the city; including a huge parade.
Chinese New Year email campaign examples
Many big name brands send out a Chinese New Year email marketing campaign each year. Here are 5 of the best examples we've come across. Hopefully they'll inspire you to create one of your own!
Brand: Kate Spade

What we love: Aside from being super cute, this campaign is also really unique and creative. Kate Spade used their email campaign to promote a limited edition range especially for the Year of the Dog (back in 2018.)
Brand: Clinique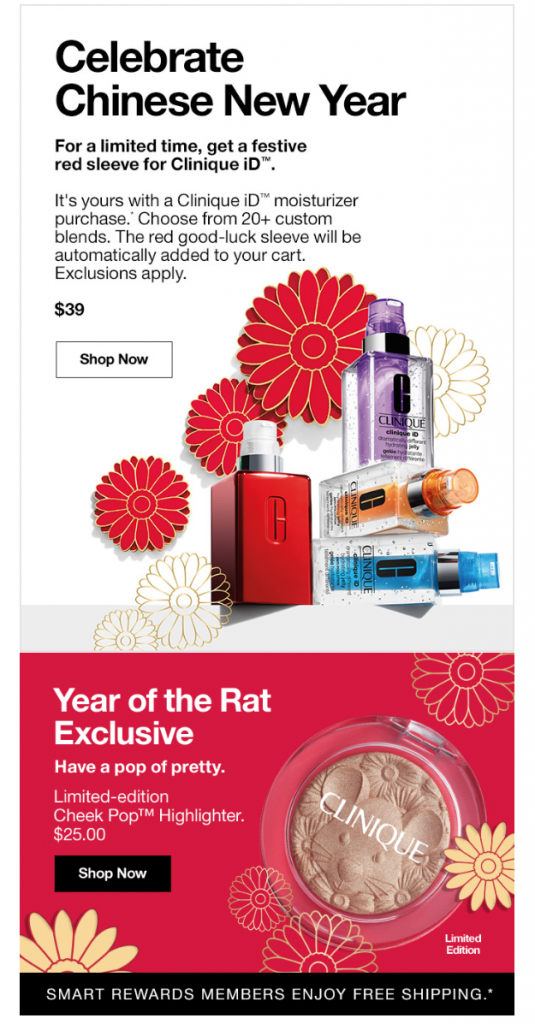 What we love: Here we can see another limited edition product being promoted which was created especially for the Year of the Rat. The red, gold and white color scheme is also well fitting to the occasion.
Brand: Harney & Sons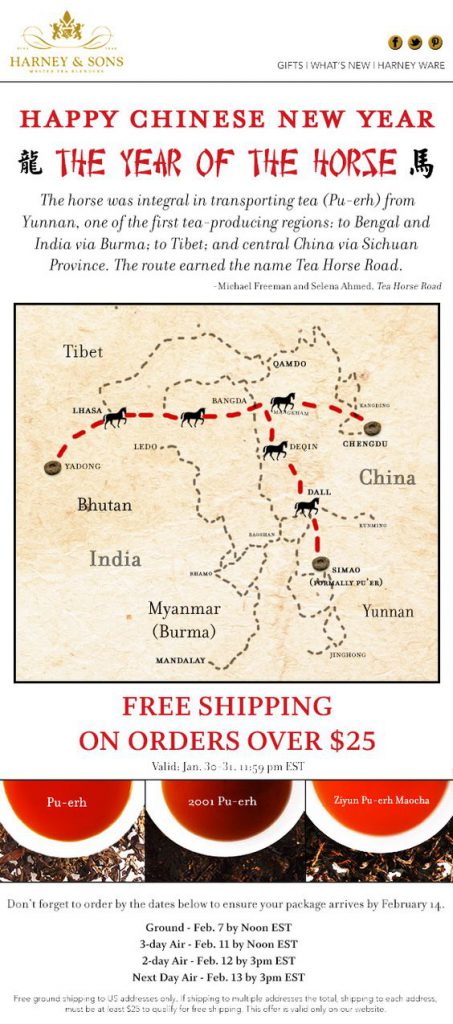 What we love: This campaign is not only super informative, it also manages to creatively use the zodiac animal (in this instance the horse) to connect the product to the celebration. Pairing this with an interesting main graphic and classic Chinese font made the email a winner.
Brand: Sunuva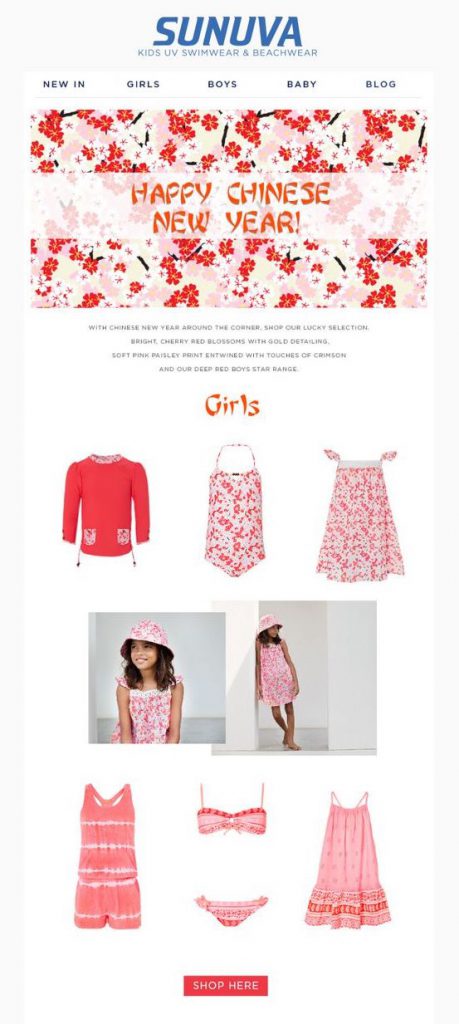 What we love: This design is big on blossom – which is a traditional symbol associated with the Chinese New Year celebration. Putting together this edit was a great way for Sunuva to make their products relevant for the occasion.
Brand: La Mer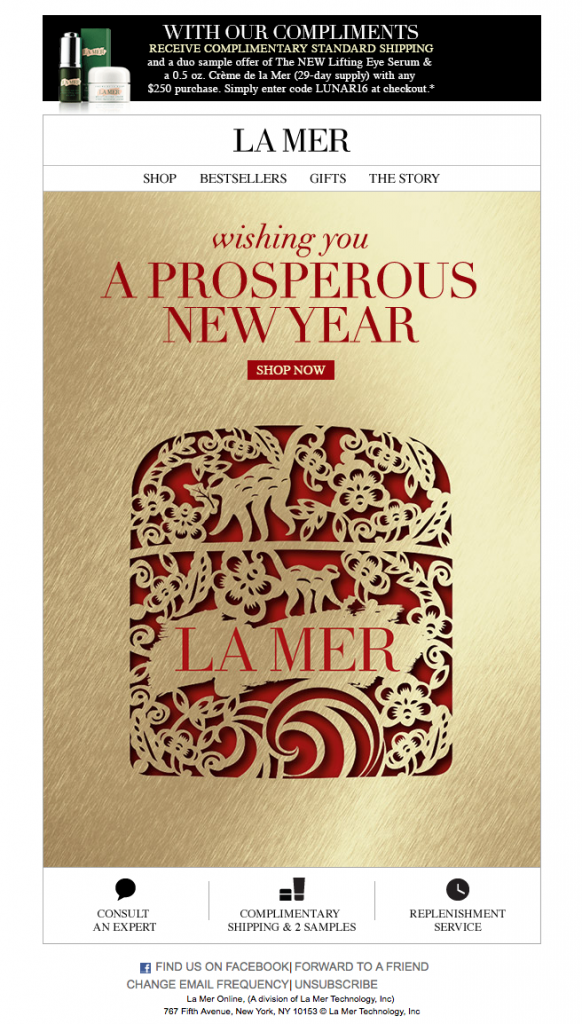 What we love: Gold goes hand in hand with any big celebration. This email campaign perfectly combines red and gold for a classic Chinese color scheme. We also love the subtle integration of the monkeys (zodiac animal for 2016) on the centre graphics.
Tips for your Chinese New Year email campaign
Remember the zodiac animal
Centring your campaign around the zodiac animal is a really smart way to stay relevant. Find ways to reference the zodiac animal of the year in your email; either through design (e.g. illustration, motifs, graphics) or text (subject line, puns, email copy, etc.) The more creative, the better!
Use traditional colors and symbols
As seen in the examples, the color red is a massive part of Chinese New Year celebrations. It's important to try and use this in your design. A red background, or red text are both good ways to add some color and stick to the theme.
In addition, other symbols such as the dragon, or the flowers we mentioned earlier would also be great to include in your design.
Concentrate on the theme of new beginnings 
In all cultures, the start of a new year is synonymous with new beginnings. This is also the case with the Chinese New Year. Whether it's a new product range, a sale or promotion, or tempting your customer to try a new service, there are many ways you can incorporate this theme into your campaign.
Everyone can get involved
Even if you don't have a huge Chinese customer base, Chinese New Year is still well known enough to warrant an email campaign – just make sure to go about it respectfully. Find a way for your business to celebrate Chinese culture. This could be anything from art, cooking, language, film, fashion, etc.
Holding a special event or launching a promotion on Chinese-themed products are both good ways to get involved and share the celebration with your customer base:
Remember you have time
While the start of the New Year is what's most commonly celebrated, Chinese New Year celebrations actually last for 15 days. Don't panic if you haven't started on your campaign yet, as you still have time to celebrate with customers!
Hopefully you have found these tips and examples inspiring and will consider creating a Chinese New Year email marketing campaign of your own.
Looking for a place to get started? Mail Designer 365 offers you all the creative tools you need to build a Chinese New Year email template to use in your campaign; including integrated Unsplash library, ready-made shapes and graphics, plus endless layout combinations.
Sign up to Mail Designer 365 free today and get started on your template.
Get expert tips straight to your inbox!
Sign up here for our email newsletter and enjoy regular tips, tricks and advice for everything relating to email design – delivered directly to your inbox.
There was a problem registering your email address.
Please check and try again.
Thank you for registering! Please check your email inbox.
We've just sent you an email for you to confirm your email address, if you haven't already.