Valentine's Day is a fantastic marketing opportunity for a wide range of businesses. If you're ready to make the most of this romantic holiday, take a look at our guide for creating Valentine's Day campaigns your customers will fall in love with!
Here we are covering everything from design inspiration, campaign ideas, examples from big name brands, plus HTML email templates for Valentine's Day - exclusively available in Mail Designer 365.
Get expert email best practice tips delivered directly to your inbox!
There was a problem registering your email address.
Please check and try again.
Thank you for registering! Please check your email inbox.
We've just sent you an email for you to confirm your email address, if you haven't already.
Here are eight top tips on how to create the perfect Valentine's Day email campaign:
1. Incorporate Valentine's Day themed graphics
If you want to promote your business to loved-up customers, using classic Valentine's Day imagery helps set the tone right away: Think romantic red tones, hearts, roses and all things L-O-V-E themed!
Looking for some inspiration? Check out our Valentine's Day Pinterest board for best-practice examples of Valentine's Day email campaigns created by big brands: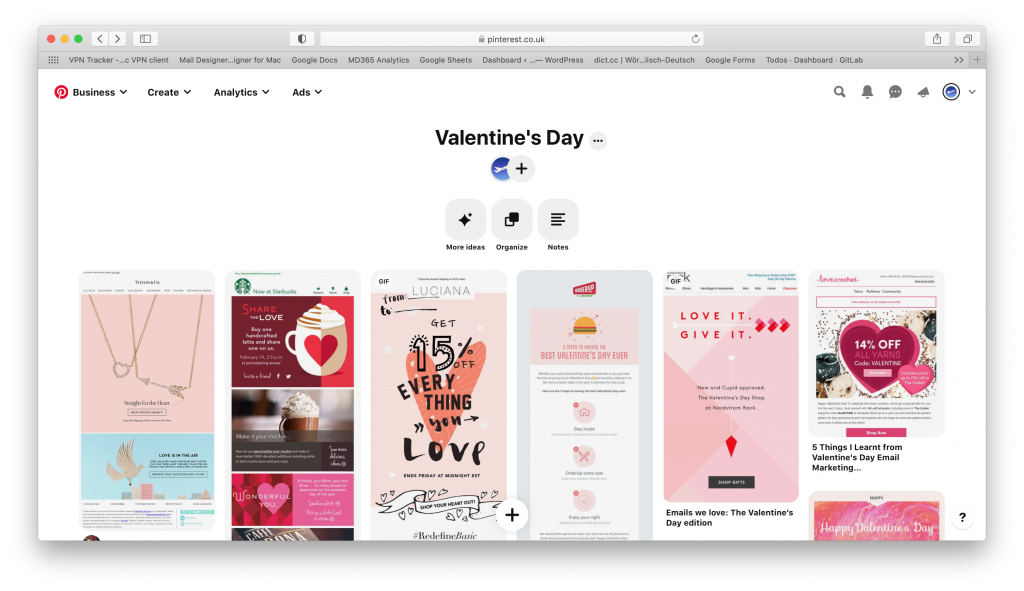 Tip: Using Valentine's Day themed graphics and color schemes is a great way to build in any product or service to this huge retail event. Acknowledging seasonal events and trends makes your business even more appealing and relevant to your customer base.
2. Sweeten up your subject line
A good subject line is a necessity for any successful email campaign, and Valentine's Day is no exception! As one of the year's busiest retail periods, Valentine's Day is a key date in every email marketing calendar.  Make sure your campaign comes out on top by nailing the subject line.
Topical keywords are essential in making any email subject line stand out, as well as keeping things short and snappy. Here are some ideas of Valentine's Day subject lines to help you get inspired:
Flowers from your Valentine? (New Look)
Hint, Hint: Sweet Gifts for Valentine's Day (Michael Kors)
Valentine's treats inside (Jack Wills)
Swoon over these Valentine's Day deals (Boots UK)
Romance is just a train ride away (Trainline)
Tip: Use the inbox optimisation tool in Mail Designer 365 to preview your subject line and snippet text alongside your design.
3. Create a romantic gift guide
Make your business stand out among the masses by highlighting what you have to offer and making it relevant to your customer's needs. Does your business sell potential gifts? (e.g. jewelry, flowers, chocolates, etc.) If so, make sure you capitalize on this special day by creating a gift guide for your customers!
Make sure any images of products in your gift guide are correctly linked to the product page. To make the shopping process even more streamlined for customs, try adding a custom "add to cart" button to your design. These links can be generated in most leading e-commerce platforms.
Tip: Mail Designer 365 offers a great range of Valentine's Day email templates, including this romantic gift guide design. Insert your logo and your star products and you're ready to send! Get this email template.

4. Strengthen your relationship with your customers
Thoughtful touches such as free gift wrapping, discount codes, or free shipping show your customer you care about them. This sweet example from New Look perfectly reminds the customer that they are appreciated, and the extra 20% off is a great way to get them browsing the site!
5. Think about fonts
Fonts also play a big part in creating the perfect Valentine's Day design. As you can see from this email by Wed2B, combining a themed font with your brand's traditional typeface adds an extra special seasonal touch to your design: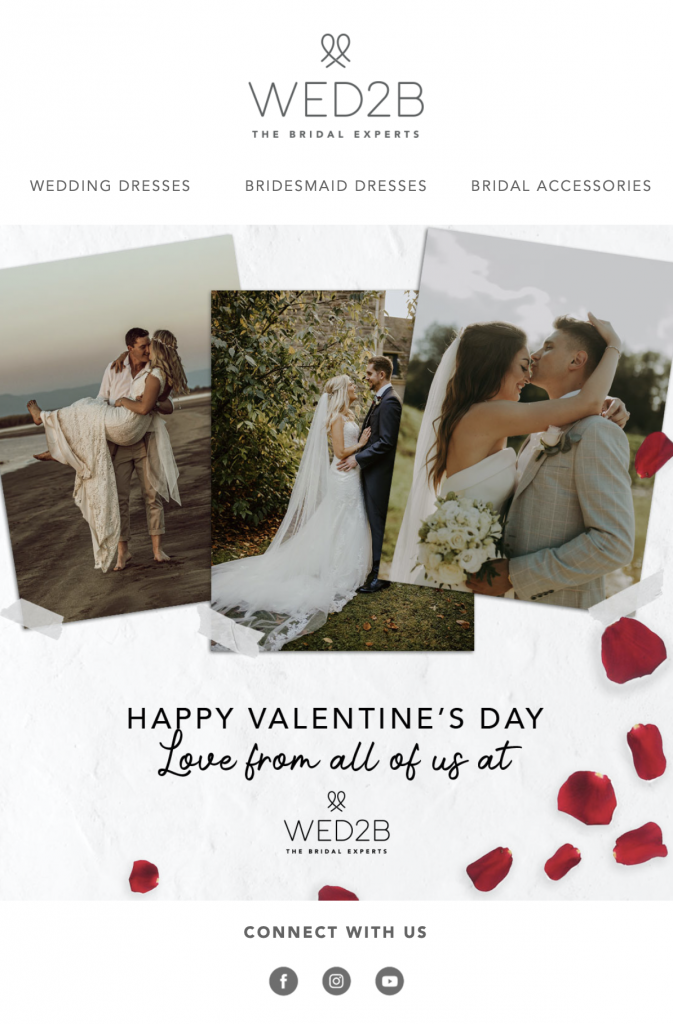 To help inspire you for your own designs, we've sought out six fonts which we think are very well suited to a romantic theme. These are all available for you to try out in the Mail Designer 365 app under the web fonts section. Try these font styles out for classical headlines or tempting call-to-actions:
6. Advertise potential date ideas
With the many areas of our lives still being impacted by the pandemic, some couples may be struggling to come up with ideas of how to celebrate Valentine's Day together.
Regardless of whether your business is able to provide a traditional Valentine's Day experience, try to use your email campaigns as a channel to inspire customers and provide them with fun ideas of ways to celebrate this year. Examples of this could include restaurants offering a gourmet takeaway service, bakers delivering sweet treats, theatres hosting a drive-in cinema event or a business offering an at home wine tasting experience.
Whatever your business has planned, make sure to give your customers something special to look forward to.
7. Don't let your customers forget!
Save your customers the embarrassment of a forgotten gift this year by reminding them in plenty of time about the big day. You should also include your guaranteed last delivery dates so customers have plenty of time to get prepared and avoid any last minute hassle. They'll definitely appreciate the friendly reminder!
As well as serving as a useful reminder, this also generates a clear sense of urgency in your email and increases the likelihood that the reader will take action. This email by Card Factory campaign is a great example of how to use interesting design and time sensitive language to create a sense of urgency and get customers shopping.

8. Remember that love comes in all shapes and sizes
Valentine's Day is a day for celebrating love in all forms. If you can represent this in your campaign, you're on to a winner! We love this example from MAX & Co. "No date? No problem" promotes self love and leaves everyone feeling included!

Creating Valentine's Day email campaigns in Mail Designer 365
We hope you have taken some inspiration for your email campaigns this Valentine's Day. With a range of Valentine's Day email templates, professional design tools, web fonts and layout options, Mail Designer 365 is the perfect place to start creating your romantic designs!
Get started with Mail Designer 365 today
Start your 7 day free trial and use your Mac to create stylish email newsletters for your business.
Compatible from macOS 10.13 onwards
First published: January 2018
Updated: January 2023