Valentine's Day is a fantastic marketing opportunity for a wide range of businesses. If you're ready to make the most of this romantic holiday, take a look at our guide for creating Valentine's Day campaigns your customers will fall in love with!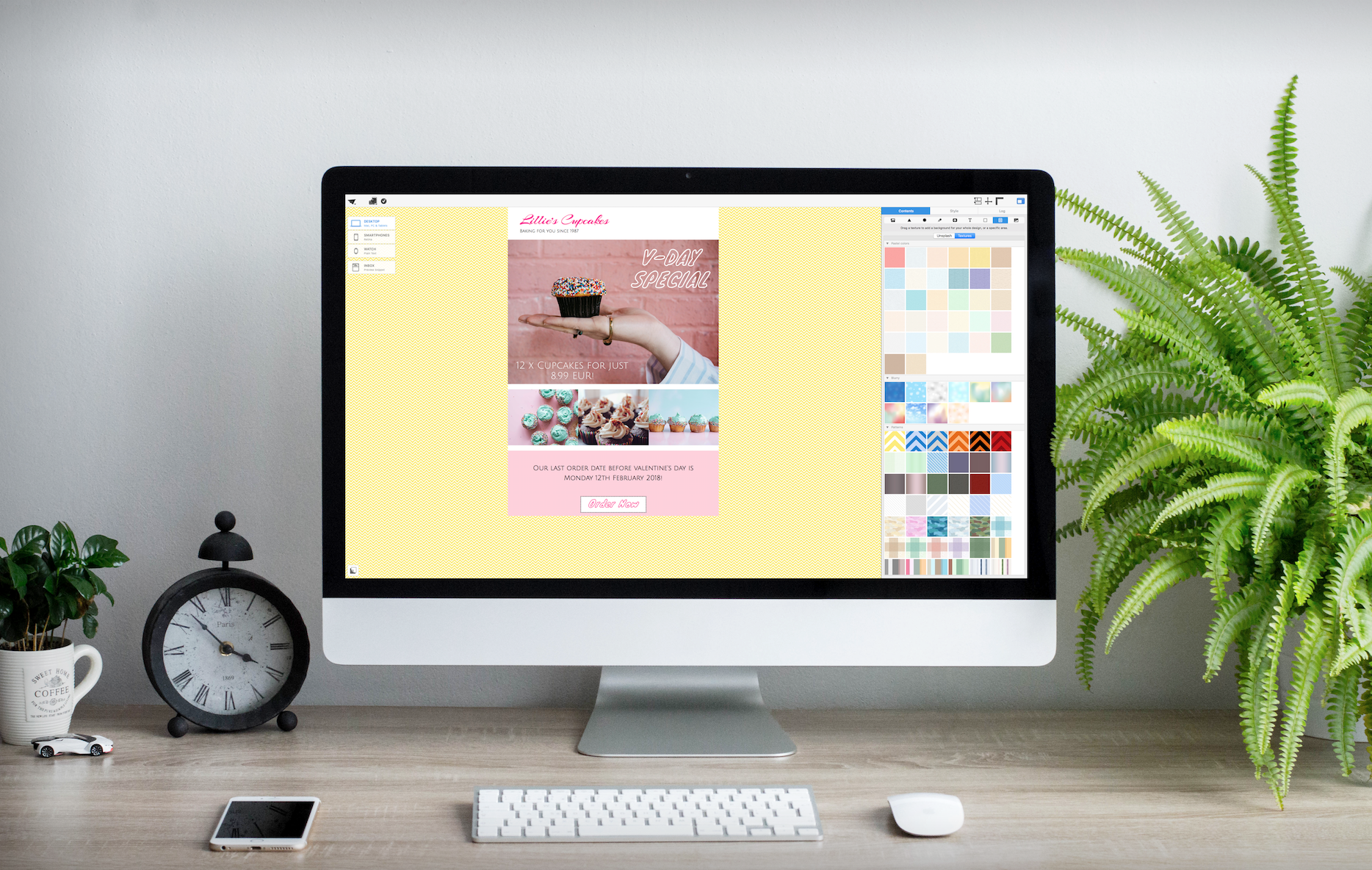 Here are eight top tips on how to create the perfect Valentine's Day email campaign:
1. Play on Valentine's Day imagery
If you want to promote your business to loved-up customers, the best way of doing so is by making your designs as striking as possible and using a lot of Valentine's Day imagery. This Pinterest board we have created contains many examples of successful Valentine's Day email campaigns from big brands. Get inspired and try some of their techniques out in your own designs!
Tip: Even if your business doesn't sell typical gifts, you can use Valentine's Day imagery to make your product or service more appealing. Check out the love heart GIFs in this newsletter created by our tizi team using Mail Designer 365:
2. Sweeten up your subject line
A good subject line is a necessity for any successful email campaign, and Valentine's Day is no exception! Grab the attention of customers scrolling through a mundane inbox by throwing in some topical keywords such as "romantic", "gift ideas", or "couples". You can also brighten things up by using emojis.
Tip: Use the inbox optimisation tool in Mail Designer 365 to preview your subject line and snippet text alongside your design.
3. Create a romantic gift guide
Make your business stand out among the masses by highlighting what you have to offer and making it relevant to your customer's needs. Does your business sell potential gifts? (e.g. jewelry, flowers, chocolates, etc.) If so, make sure you capitalize on this special day by creating a gift guide for your customers!
Tip: Make sure any images of products in your gift guide are correctly linked to the product page. To edit image links in Mail Designer 365, simply click on the image, go to the app sidebar and click "Edit Link and Background."
4. Strengthen your relationship with your customers
Thoughtful touches such as free gift wrapping, discount codes, or free shipping show your customer you care about them. This is also a great way for businesses who aren't necessarily involved in the consumer sector to reach out to customers. This sweet example from New Look perfectly reminds the customer that they are appreciated, and the extra 20% off is a great way to get them browsing the site!
5. Think about fonts
Fonts also play a big part in creating the perfect Valentine's Day design. We've sought out six fonts which we think are very well suited to a romantic theme. These are all available for you to try out in the Mail Designer 365 app under the web fonts section. Try these font styles out for classical headlines or tempting call-to-actions:
6. Advertise potential date ideas
Valentine's Day isn't solely about gift giving, so don't worry if your business isn't adapted for that market. If you are a service provider such as a restaurant, bar, movie theatre, or travel agency, don't miss out on your chance to advertise potential date ideas to your customers! This example from Virgin Experience Days is great, as it offers customers inventive date ideas along with great deals.
7. Don't let your customers forget!
Save your customers the embarrassment of a forgotten gift this year by reminding them in plenty of time about the big day. You should also include your guaranteed last delivery dates so customers have plenty of time to get prepared and avoid any last minute hassle. They'll definitely appreciate the friendly reminder!
8. Remember that love comes in all shapes and sizes
Valentine's Day is a day for celebrating love in all forms. If you can represent this in your campaign, you're on to a winner! We love this example from MAX & Co. "No date? No problem" promotes self love and leaves everyone feeling included!

We hope you have taken some inspiration for your email campaigns this Valentine's Day. With a range of design tools, fonts and layout options, Mail Designer 365 is the perfect place to start creating your romantic designs!
Until next time,
Your Mail Designer 365 Team