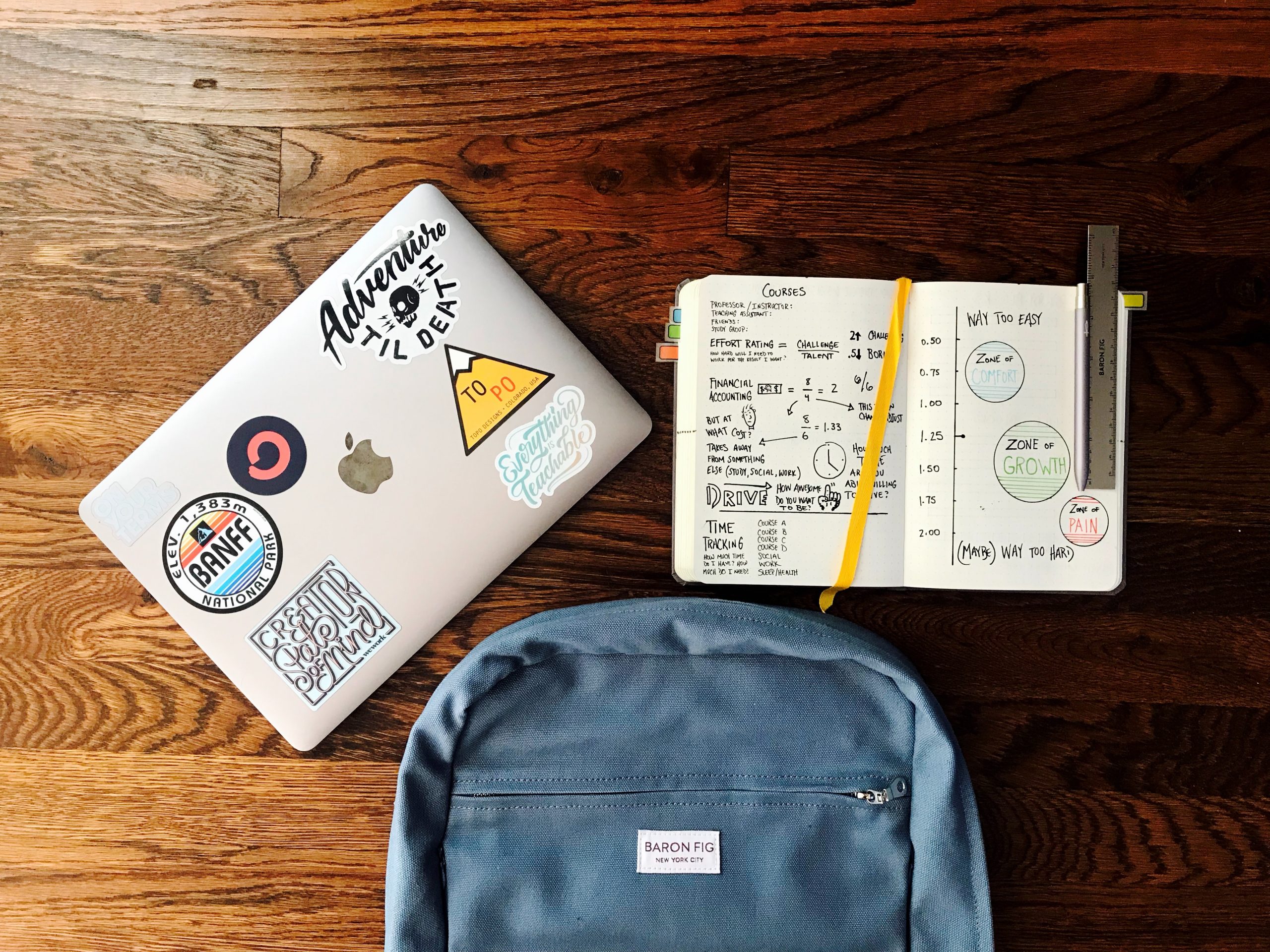 As the peak of summer edges closer, so does the start of the back to school season. In many sectors, the back to school season is one of the most significant sales periods on the marketing calendar and kick starts an array of exciting promotions to help gear up students and parents alike for a new academic year.
For many, the back to school period is synonymous with getting stocked up with supplies: Whether it's a new wardrobe, textbooks, study equipment, tech, or other school essentials, your customers will be in the mood to buy. For this reason, a back to school promotion is a great way to put your business on their radar.
In this post, we're sharing the basics of back to school email marketing, along with some best practice examples of some of our favorite back to school email campaigns and steps on how to recreate them for your business.
Get expert email best practice tips delivered directly to your inbox!
There was a problem registering your email address.
Please check and try again.
Thank you for registering! Please check your email inbox.
We've just sent you an email for you to confirm your email address, if you haven't already.
When is the back to school period?
In the United States, Canada, the UK and Europe, back to school kicks off in late July / early August, as most schools start to resume from the end of August. However, depending on where you're located, the official back to school period may have a different start date.
For example, in Australia in New Zealand, the back to school season starts in January, as schools there resume in February.
What should I include in my back to school emails?
Looking to create a back to school promotion for the first time or want to freshen up your previous campaign with some new ideas? Here are a few ideas of content you can include in a successful back to school marketing campaign.
New product launches
What better time to launch a new product than the start of a new school year? Use your email campaign to showcase new product lines that are bound to keep customers looking and feeling fresh for a new academic year.
Checklists
The start of the school year can be a stressful time for many. With so much to organize and buy, customers may be feeling the pressure.
Clearly present your back to school essentials in the form of a handy checklist or shopping guide which readers can refer back to to ensure they've covered everything they need to.
Tip: Include direct links to any products you mention to make the shopping process even easier.
Discounts and multibuy offers
With so much to buy, a promotion or offer can also be a saving grace for many customers - especially for families with multiple children who need new school supplies.
An attractive multibuy offer such as "3 for 2" or "buy one get one free" can serve as an effective incentive for your customers to buy more and truly stock up on all they need.
Free express shipping
Some of your customers may have left things to the last minute - we're all guilty of it! To ensure they have everything they need on time, consider offering free or discounted express shipping as an added bonus.
Tips and tutorials
As well as standard sales emails, you can also go the extra mile and provide your readers with some more educational content.
In particular, students heading off to university or college for the first time or parents preparing for their child's first day at school will certainly appreciate any tips or advice they can get.
Think about some practical tips or ideas related to your core business and products that you think could benefit your target audience. As well as helping your customers, showing your products in relatable, real life situations makes your campaign much more relevant and effective.
Examples of back to school email campaigns
To help you get inspired for creating your own back to school emails, we've collected some of our all time favorite back to school email promotions. Keep your eyes peeled for top tips on how to recreate some of these great styles in your own back to school campaigns!
Grammarly
Clearly aimed at older students, this back to school promotion by Grammarly is a great way to help get their target audience ready for the upcoming semester.
The email copy does a good job of concisely outlining the benefits of their product and the attractive promotion is instantly highlighted with help from the creative pennant-style banner:
Tip: Use basic shape tools in Mail Designer 365 to easily recreate this pennant graphic in your own back to school campaigns.

Staples
Staples keep things simple yet effective in this back to school promotion. We love the use of strong primary colors and bold black text which really highlight the back to school vibes.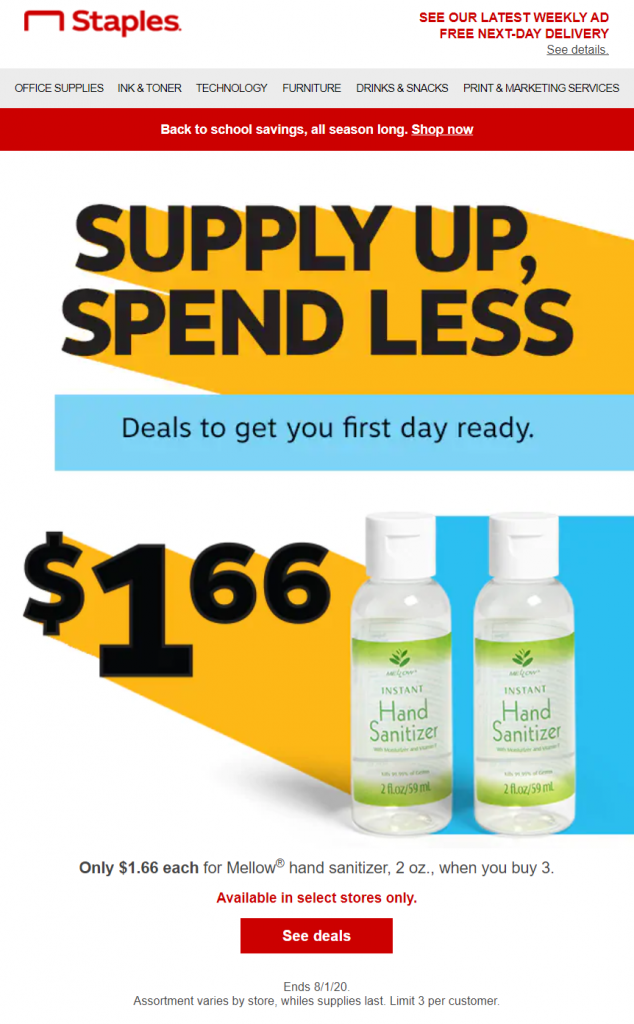 Kate Spade
This clever and creative pop quiz themed design by the team at Kate Spade is a fun and stylish way to showcase essential products for the start of a new school year.
Tip: Effortlessly recreate this pop quiz layout by Kate Spade using combi layout blocks in Mail Designer 365:
Vitruvi
This back to school promotion by Vitruvi is a good example of how to integrate "non-typical" products into a seasonal promotion. As well as a useful tip about essential oils, the advertised product also takes center stage with a prominent product image and CTA (call-to-action).
Britannica
This insightful campaign by Britannica shows how you can use the back to school period as an opportunity to launch a new product or service.
By listing the core benefits of their new online service for kids returning to school, Britannica make their campaign much more relatable to their target audience and, thanks to good timing, will likely generate more revenue from motivated parents  at the start of the school year.
Bose
Bose use big headlines and product photos to make their back to school campaign loud and exciting.
Emphasising the potential savings makes the offers even more tempting to prospective buyers and by only running the sale through a limited period, a sense of urgency is automatically generated.

Childsplay Clothing
As well as an eye-catching feature image, this back to school email by Childsplay Clothing also uses a bold, comic book style header to make the back to school theme clear from the get go.
Tip: Use the font Bangers (found under Web Fonts) and experiment with shadow effects in Mail Designer 365 to reproduce a similar comic book headline in your own design:
Creating email templates for Back to School in Mail Designer 365
We hope you're now feeling inspired for the upcoming back to school period!
Mail Designer 365 is your one-stop solution for creating brilliant back to school emails. Whether you're building a template from scratch using the tools in the WYSIWYG editor or using one of our dedicated back to school HTML email templates, you will find all the tools and resources you need.
Don't have a Mail Designer 365 plan yet? Sign up free today to start testing Mail Designer 365 and designing your own unique back to school campaigns.
Get started with Mail Designer 365 today
Start your 7 day free trial and use your Mac to create stylish email newsletters for your business.
Compatible from Mac OS X 10.11 onwards
Get more inspirational tips, tricks, and best practice examples in the Mail Designer 365 Newsletter Academy -
your one stop hub for all things email marketing strategy and newsletter design.