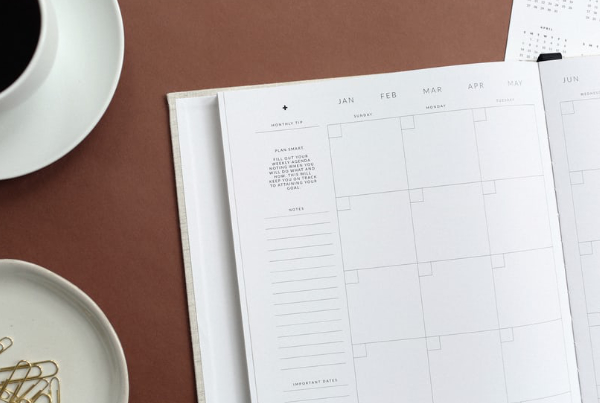 It's no secret that a good email marketer always needs to be two steps ahead in terms of planning. Having your email content mapped out is a good way to stay motivated and reach your marketing goals.
With this in mind, now is a great time to start looking at your email marketing plan for 2021. When deciding on your campaign ideas for the year, it's useful to have a clear overview of all key events taking place over the next 12 months. This will help you create email content which is relevant and interesting to your target audience.
We've created some handy resources to help you get started with your email marketing planning for 2021, available for you to download free:
Digital weekly email campaign planner – with important dates marked and space for planning your upcoming email campaigns
Email marketing calendar – printable 2021 email marketing calendar packed with all key dates
Enter your email address below to get these 2021 marketing resources delivered directly to your inbox.
Make the most of your free resources:
Once you have downloaded your free 2021 marketing calendar, you can skim through all the most important dates, holidays and sales periods coming up in 2021. Use these dates and any others you want to include to fill out your  2021 email campaign planner.
Throughout the year, you can carry on noting down todos, campaign ideas, important links, etc. and keep track of all your campaign planning in one useful document. We've already provided you with some useful links to help you get started.
How to get started with your first campaign
Build your email newsletter using the creative tools in Mail Designer 365.
Upload design drafts to Mail Designer 365 Approval to get feedback and ideas from your team members.
Once your team has approved your campaign, you can go ahead and export directly to use with your ESP.
Want more inspiration for 2021? Keep reading to discover more unique marketing opportunities your business can get involved in this year…
12 BONUS dates that you need in your 2021 marketing calendar 
Every year has those key marketing dates that a marketer can't do without, such as Valentine's Day, Halloween, "Black Friday", etc. What really sets your business apart from the rest is getting involved with unique holidays and events that keep your campaigns fresh and interesting to your target audience.
Here's a monthly breakdown of exciting events coming up in 2021 that you can adapt for your own creative campaigns.
January 18th – Blue Monday
Officially named the most depressing day of the year, Blue Monday always falls on the third Monday in January. As marketers, you can be clever and do your best to take advantage of this otherwise miserable day and give your customers something to smile about.
February 12th – Chinese New Year begins
As almost 20% of the world's population, China accounts for a huge proportion of the world market. This makes it super important for any business operating globally or in the Asian market to recognise Chinese culture in their marketing efforts. 2021 marks the year of the ox and incorporating this special event into your email strategy is a great way to stay relevant and respectful of this key cultural event.
Get more tips for celebrating Chinese New Year in this blog post.
March 8th – International Women's Day
International Women's Day is a great opportunity for you to celebrate your female customers and colleagues. A marketing campaign giving back to women's charities or simply an email recognising the day would be a highly effective way to show women your appreciation.
April 22nd – Earth Day
This Earth Day, celebrate the great outdoors with your subscribers and highlight the importance of environmental conservation. No matter how big or small, everyone can do their part. Whether its abolishing plastic bags and paper receipts, pledging to be carbon neutral, bringing out a sustainable product range or sharing tips with your subscribers – your business should definitely get involved.
May 21st – International Tea Day
Tea has great cultural significance in many countries throughout the world. Celebrating International Tea Day with your subscribers may sound a little bit obscure, but it's bound to be a breath of fresh air in their inboxes. This date is of course key for anyone selling tea in a restaurant or cafe setting, but also a smart occasion to promote a homeware range, share tea recipes, or simply to show support for tea farmers around the world.
June 19th – Juneteenth
Juneteenth is a celebration of the emancipation of slaves in Galveston, Texas in 1865, following the end of the Civil War. Although not yet considered an official national holiday, this day has incredible meaning to African Americans throughout the USA. On this day, many communities throw parties, festivals and parades to celebrate the end of slavery. Learn more.
Particularly for businesses in the US, let your business pay homage to this special day by sending out a commemorative email, or going one step further and donating to an anti racism organisation.
July 30th – International Day of Friendship
Celebrate the power of friendship on the International Day of Friendship. This holiday is a unique occasion to promote gifting and sharing and could be a fitting date for a 2 for 1 sale, a referral scheme or a great time to hold a virtual friendship event.
August 8th – International Cat Day
Cats are an internet sensation and a funny cat meme or video can be the ideal addition to liven up an otherwise standard email campaign. Of course, if your business is related to cats in any way, or you are a cat charity, then this is also a very important date for your diary.
September 29th – International Children's Day
International Children's Day can also be a nice occasion for an email campaign. Try holding a sale on kids clothing, toys, books, etc. and donating the proceeds to a children's charity, or maybe running a special "kids eat free event" at your cafe or restaurant.
October 10th – World Mental Health Day
The importance of taking care of your mental health is something which is being emphasised more and more. World Mental Health Day allows your business to use your platform to raise awareness.
You could run a social media campaign inspiring people to open up and support one another, or set up a charitable campaign encouraging donations to leading mental health organisations. Alternatively, sharing tips and resources on dealing with common mental health problems is another useful way your business can help show support.
November 11th – Singles Day
Originating in China, Singles' Day is a day dedicated to celebrating single people and is now massively growing in popularity. Many businesses use this as an opportunity to offer discounts and great deals to their customers. In particular, this holiday is popular with younger people in China, the UK and the USA.
December 6th – St Nicholas Day
St Nicholas Day is a Christian celebration based on the origins of Father Christmas. The holiday is celebrated in many countries throughout Europe, including France, Germany and Belgium, and provides a chance for your business to get super festive in early December. Especially if you have a big target audience in Europe, holding a sale or special event around this time could be a great warm up for Christmas.
Getting started with Email Marketing in 2021
We hope we have given you some ideas and inspiration for your 2021 marketing calendar. Alongside the regular holidays and events in your planner, these events should give you some fresh and interesting new subject matter to create engaging emails with in 2021.
Don't forget to register your email address below to access our free resources for your 2021 marketing calendar. The extensive email campaign planner and downloadable events calendar are both completely free and a great way for you to get your campaigns organised this year.
Need help building awesome email templates to use with your campaigns? Check out Mail Designer 365. Sign up free today to discover all the Design Ideas, creative tools and resources you need to create amazing emails in 2021…
Until next time,
Your Mail Designer 365 Team