As the summer draws to a close, there is still one more big holiday left on the email marketing calendar. Labor Day marks the end of a long summer and gives your business one last marketing opportunity before the Fall begins.
Celebrate the end of summer with your customers with a little help from these clever tips and campaign ideas...
Get expert email best practice tips delivered directly to your inbox!
There was a problem registering your email address.
Please check and try again.
Thank you for registering! Please check your email inbox.
We've just sent you an email for you to confirm your email address, if you haven't already.
1. Make the Subject Clear from the Get Go
Whether you're launching a sale, holding a special event, or simply wishing your subscribers a Happy Labor Day, it's important to make your message clear in the subject line and snippet text.
The subject line of your email is the first impression your customers will receive in their inbox. For this reason, it has to be punchy and straight to the point, while also using relevant keywords. This will ensure your readers opt to open your email rather than just scroll past.
In Mail Designer 365, the inbox preview tool allows you to draft up your subject line and snippet text and preview them in your customers' inbox. Test out your ideas and preview them alongside your design: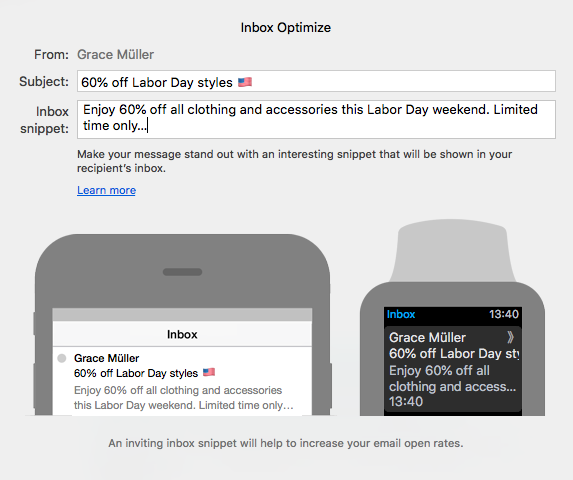 2. Keep to a Summer Theme
For most of us, the summer is the most exciting time of the year, as the weather is great and we're on vacation from work or school. For this reason, keeping to a summer theme is a good way to keep the mood of your email fun and encourage customers to keep reading.
There are many ways you can incorporate a summer theme into your emails. One super easy way to turn up the heat in your email designs is to opt for vibrant summer imagery and color schemes. This will definitely reinforce those last days of summer vibes.
This bold and bright email design by Brit & Co really captures the summer theme with its vibrant blue background. We love the fun watermelon GIF for added effect!
3. Hold a Back to School Sale
The end of summer also marks the start of the Back to School season. You can combine this major marketing event with Labor Day and hold a themed sale. This guide on Back to School marketing contains all our best tips and ideas for campaigns.
Offering great discounts on items such as school supplies, kids clothing, tech, etc, is a guaranteed way to get your readers' attention. Build a colorful newsletter to showcase your star products and offers for Back to School.
4. Promote Activities Families Can Do Together
Because Labor Day takes place at the end of summer, your customers will be wanting to make the most of their time before going back to work, college or school.
Be creative and use this opportunity to promote fun activities your customers can do together with family and friends to celebrate.
For example, a weekend getaway or short break outdoors is a fun idea which families can organize for the three day weekend. This impressive design by BioLite (source: reallygoodemails) subtly encourages readers to venture out on a fun camping trip.
For something closer to home, the Labor Day weekend is also the perfect opportunity for a BBQ or cookout. Suggest recipe ideas or new ingredients for your subscribers to try out, or, if you sell BBQ equipment, now's your chance to run a special promotion!
5. Remember to Stay Patriotic
Of course, the main thing to remember with your email campaigns is to stay patriotic. As with Memorial Day and 4th July, Labor Day is another traditional, American holiday. Emphasise this in your email designs to really get your readers in the mood to celebrate.
As well as traditional red, white and blue, you can also opt for American flag imagery, patriotic emojis, or a clever play on words. Whatever you choose, make sure the true meaning of the celebration shines through.
If you don't have the time to launch a large promotion or sale, a simple Labor Day spin on your next planned email will also work just fine. By incorporating some of the traditional patriotic design elements, you can elevate a simple email newsletter into a fun Labor Day celebration!
Free for Mail Designer 365 users: Labor Day Email Template
In need of some more inspiration for your Labor Day email newsletters? Mail Designer 365 is the perfect place for you to kickstart your campaigns ready for Labor Day Weekend. Check out our awesome collection of email designs, including Labor Day email templates - exclusively available in Mail Designer 365.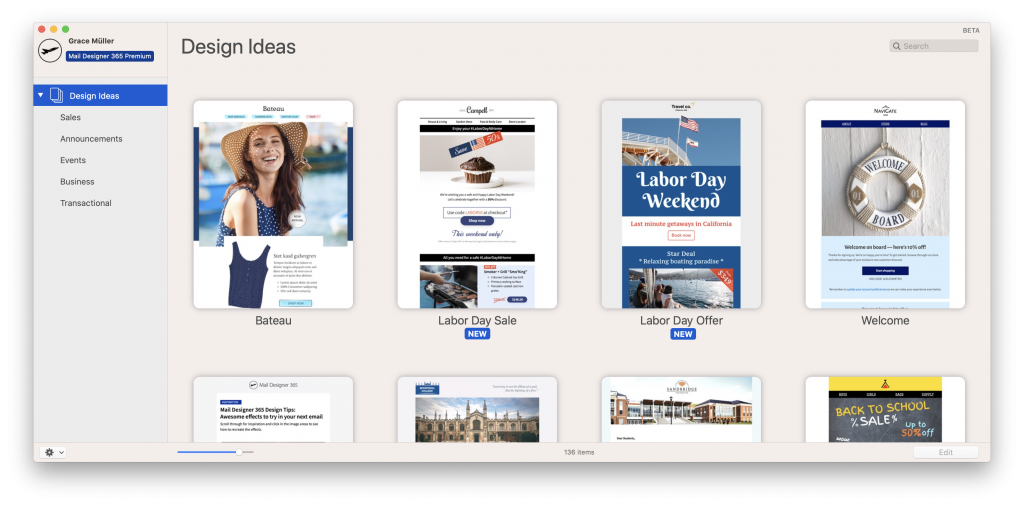 Not got a Mail Designer 365 plan yet? Download Mail Designer 365 free today to try the templates and discover all features and Design Ideas.
First published: August 2019
Last Updated: August 2022
Get started with Mail Designer 365 today
Start your 7 day free trial and use your Mac to create stylish email newsletters for your business.
Compatible from Mac OS X 10.11 onwards
Get more inspirational tips, tricks, and best practice examples in the Mail Designer 365 Newsletter Academy -
your one stop hub for all things email marketing strategy and newsletter design.