August is just around the corner, which means that it's time to start thinking about the next big event on your email marketing calendar: Back to School.

Although a lot of schools don't start back until September, many students and parents will already be on the lookout for the best deals and offers to get them ready for a brand new school year.
Make sure your business is prepared with these great tips and ideas for Back to School email campaigns. Keep reading until the end to also discover your FREE Back to School email template; exclusive for Mail Designer 365 customers.
Include Back to School in your subject line
Every email marketing pro will know the importance of a good subject line in grabbing the reader's attention. In the case of Back to School campaigns it's no different. Use your subject line to clearly outline the theme of your email.
This is especially important during the summer holidays, when your customers will already be receiving a large amount of emails and promotions.
Here are some A+ examples of businesses who have won customers over with their subject line:
Think about fonts
Fonts are also a very important element of your email design. For a Back to School campaign, using a fun font is a great way of appealing to both younger readers, as well as parents.
Here are some web fonts which we think are great for Back to School vibes. Tip: All of these fonts are available in Mail Designer 365!
Use bright colors
Using a bright color scheme in your email design is a great way to get customers excited for Back to School. Although it means the end of summer, you should try your best to portray the new school year as a positive to look forward to.
Bright colors help you to motivate customers and also make your design look great. Try using bold, primary colors to recreate the classroom in your email design.
Focus on kid-friendly imagery
The more your reader associates your design with school and the classroom, the more effective it will be. Incorporate as much school-themed, kid-friendly imagery as possible to make your message clear.
Offer discounts and promotions
It's no secret that offering a special promotion is a great way for your to boost sales and attract more customers to your website. During the build up to the Back to School period, it is especially effective to run a sale or promotional offer to make things easier for parents and students with supplies to buy.
Try sending out an email advertising your special offer. Bonus marks for including a clear and effective CTA (call-to-action) button.
Provide a useful Back to School checklist
Provide readers with a Back to School checklist to make sure they have all the supplies they need for the new school year. This could be anything from uniform, to stationery, or even a new lunch box. Whatever it is, don't forget to include direct links to the products on your website!
FREE Email Template
If you're still in need of some inspiration for your Back to School email campaign, don't worry! Mail Designer 365 are here to make sure you're always top of the class when it comes to creating impressive email designs.
Check out this brand new Back to School email template - exclusively available for Mail Designer 365 users in the Design Ideas section. Click here to view the design in the app.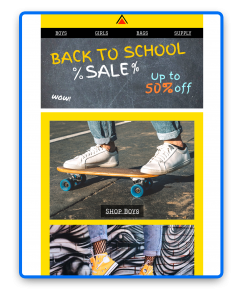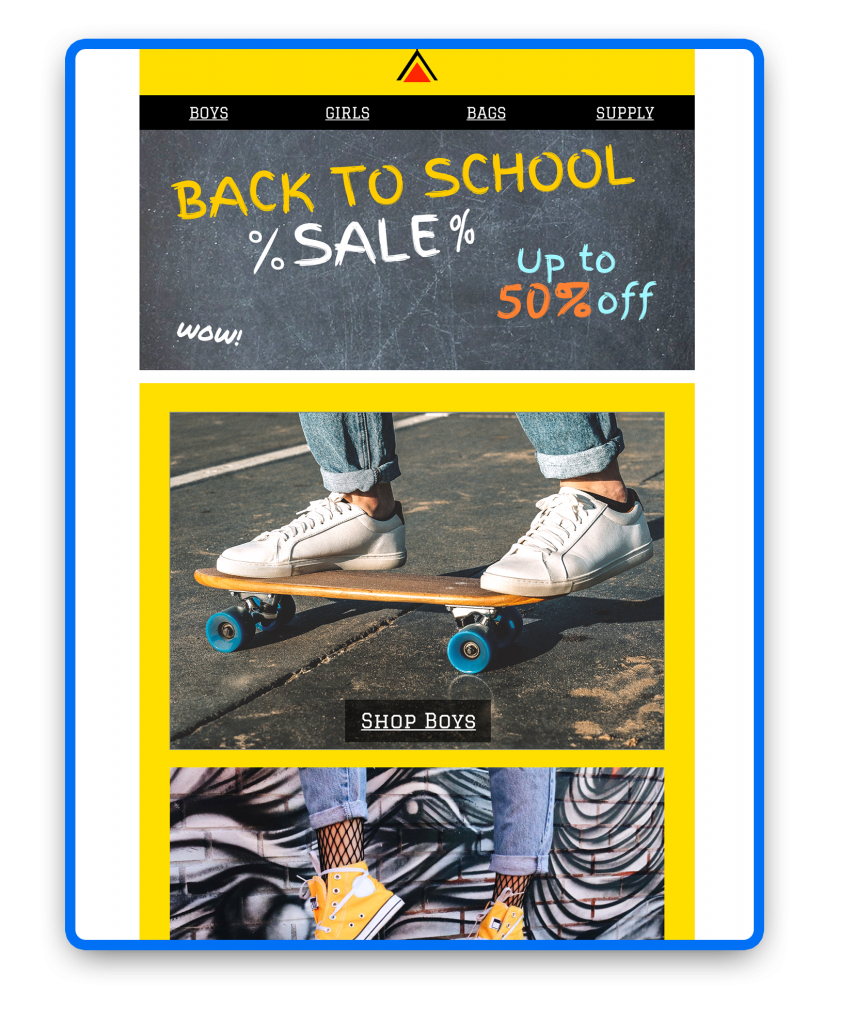 We hope these tips and ideas will come in useful when you're creating your Back to School email campaigns this summer. Don't forget to download Mail Designer 365 free today to try out the brand new email template, as well as a whole range of exciting creative tools!
Until next time,
Your Mail Designer 365 Team