Thanks to the rise of the internet and social media, it's getting easier and easier to find great deals for holidays and getaways. One way for you to get ahead of the game is by putting together a solid email marketing strategy for your hotel or travel agency.
Here are just a few reasons why you should consider email to communicate with your customers...
Low cost - Especially compared to costly TV ads or unsustainable print media.
Direct access - Share tailored offers directly with your customers.
Quick conversion - Transport your customers straight to the offers on your website.
Visually effective - Get creative to convince customers through HTML design.
In this guide, we're sharing our top tip on creating an effective email strategy for your business, as well as some great examples of best practice in the hotel and travel industry to help you get inspired.
Email Marketing Best Practice for Hotels
1. Building an email list for your hotel or travel agency
Although there are ways to obtain large numbers of email addresses without putting in a lot of work, it is always better to go for quality over quantity and try to encourage organic signups. This will mean your email content is being sent to people who actively want to receive it.
Potential customers visit your hotel's website to find out more about your offers and deals. For this reason, it's likely they'd be interested in receiving this information straight to their inbox. By building a newsletter sign up form on your site, you will attract more customers with a genuine interest in staying at your hotel or booking a holiday with you.
Here are some great examples:
Trivago
On their website, Trivago go for the subtle option of integrating a sign up box into the footer area. This is simple and effective, but only if customers can find it first!

Booking.com
This sign up box from Booking.com is bright and uses convincing wording to encourage curious customers to sign up:

Thomas Cook
Thomas Cook have gone for an even more eye-catching option. The pop up window is a great way to grab customers' attention and inform them of your email newsletter: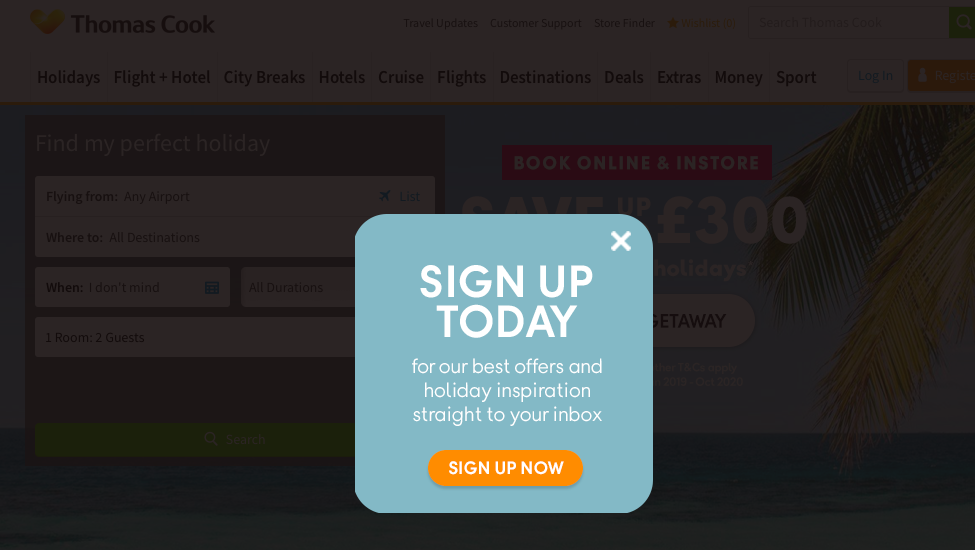 Social media giveaways are a popular way for businesses to interact with customers and encourage them to engage more. If your business has a Facebook, Instagram or Twitter page, try using a giveaway as an incentive for your followers to sign up to your newsletter.
2. Segmentation
To ensure you're sending the appropriate emails to your customers, it's helpful to have an idea of what they might be interested in when it comes to holidays and travel. You can do this by using list segmentation to split all of your contacts into separate interest groups based on their tastes and preferences.
What do your customers want?
One of the first things to identify is whether your customer is travelling for business or leisure. This will help you set the tone of your email as well as knowing which types of deals to send out to them.
In this example from Thomas Cook, customers signing up to their mailing list are asked to answer a few quick questions:
3. Email design tips for hotels and travel agencies
Without effective email design, your newsletters will not pack the punch you need them to in order to get customers onto your website. Here are two tips you can use to make sure your design stands out.
One of the most important elements of any email is the CTA (call-to-action.) Particularly for a travel related email, where there is a lot going on, it's a good idea to make this as clear as possible so readers know where to click to access your deals. This example by cheapflights is a bold and clear way to showcase their best deals:
Another key aspect is the choice of image. In order to sell your hotel or holiday package, you have to let the image do all the talking. In this example from easyJet, their winter deal takes centre stage. The choice of a festive feature image will instantly help customers imagine themselves in the location and entice them to click to find out more.
4. Email subject line ideas for hotels and travel agencies
When you're ready to send out your email, you'll need to craft an effective subject line which will convince subscribers to actually open it once it lands in their inbox. This isn't always as easy as it sounds. For some advice and inspiration, you can check out our quick guide.
Here are some simple, yet effective tips to try out:
Keep it short and snappy
Use holiday keywords to get straight to the point
Mention a key offer or deal to entice customers
Include time sensitive language to create a sense of urgency
Use emojis to brighten up their inbox
5. Follow-up emails
Your initial email has worked its magic and you've managed to sell a holiday or take another booking for your hotel - the hard work isn't over yet! A good email marketing strategy will also concentrate on the after sales aspect, including booking confirmations, up-sells (e.g. upgrades, car hire), flight reminders and the all important customer satisfaction rating.
In contrast to your sales emails, the key to a good transactional email is simplicity. Here it's important to provide the customer with all the relevant information for their booking so they can refer back whenever needed. Remember to always include contact information for your support team, in case customers have any questions.
We hope you have found this guide useful and that you'll consider these tips if you're building up an email marketing strategy for your business. Mail Designer 365 is the perfect choice for any travel agencies, tour operators, or hotel owners starting out with email marketing, due to the easy-to-use nature and stunning design tools. Find out more on our travel and tourism page.