With real estate being one of the largest industries worldwide, the way you market your services to potential new clients is super important. Gone are the days of splashing out for expensive brochures, flyers and printed ads; communication with clients today needs to be direct and straight to the point, in order for you to be heard.
In this quick guide, we're taking you through the essentials of email marketing for real estate, including best practice tips, template ideas and how to get started.
Why use email marketing for real estate?
There are many reasons why email marketing is a great strategy to explore for your real estate business. First and foremost, email marketing is cost-effective and in comparison to other methods, very easy to implement. In a world where we are constantly checking our smartphones, email marketing is also a proven direct channel straight to your existing clients and potential new customers.
Ideas for real estate emails
Depending on what your agency specialises in, there is a whole world of possibilities for incorporating email into your sales and marketing strategy. Here are some examples of real estate emails you could be sending...
Welcome email
A welcome email is a great way for you to greet new newsletter signups and introduce yourself to new clients. Use a warm and friendly tone to make new clients feel at ease and make sure to show them your current listings.

Listing newsletter
Send out regular listing newsletters to showcase new properties to homebuyers and keep your clients up to date with the latest listings.
Open house invitation
Invite potential buyers to upcoming open house events or viewing appointments with a friendly email invitation.
Email digest and tips
Demonstrate your authority in the real estate sector by sharing blog posts and news in a monthly digest. Sending a regular tips newsletter is a great way to also share your expert tips with first time buyers or sellers who are new to the property market.
Follow up email
Send a friendly follow up email to maintain customer relationships even after a sale has gone through. This is also a good opportunity to ask for feedback or for a referral of your services.
How to create email templates for real estate
Now you have some ideas on real estate emails to send, you're probably asking yourself how to bring them to life. With a drag & drop email editor like Mail Designer 365, you can build professional email templates for your business in minutes. Start with a blank canvas or choose a Design Idea from our selection of real estate email templates.
Here are a few best practice tips to consider along the way...
Brand identity
To get started, make sure your company name and logo is clearly identifiable at the top of every email you send. This demonstrates a sense of professionalism and immediately makes it clear to your clients that the email is from you.
Real estate is a very serious business and it is important your clients feel they can trust you and your business to help them sell their property or find a new home. If you have team photos on hand, it can also be useful to include these in your email so clients recognise a familiar face.
In Mail Designer 365, you can save your company email headers to reuse in future designs and ensure your brand's identity is consistent in all your emails: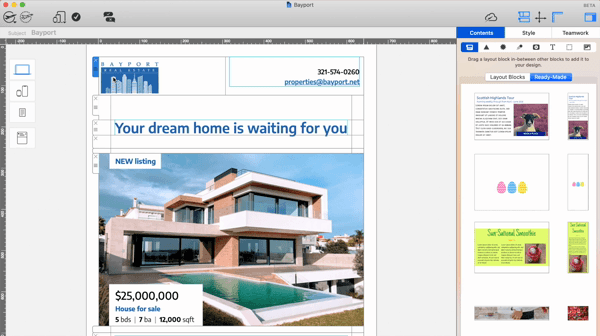 Layout
The layout you choose for your email design is very important, as it determines the way you present key information to clients. This is particularly relevant when showcasing new listings or updating property information.
Choose a clear layout which clients can quickly scan through to find out more about newly available properties.
Tip: Remember, you don't have to include too much information in the email. List the key selling points for each property to capture clients' interest and include a link to the full listing on your website.
In Mail Designer 365, you can choose from a wide variety of layout options. Use the table editor to present your latest listings in a smart, mobile-optimised table, or explore a range of combi layout blocks to showcase a featured property in more detail.
Call to action
Your call-to-action (CTA) is the most important part of your email as it shows the recipient what they need to do next.
Whatever your intended CTA is, it's important that it is prominent in your email. Generally, this can be achieved by inserting an eye-catching button somewhere in your email. Opt for a color which will stand out in your design and a short and actionable text.
Typical CTAs for real estate emails may include:
Get in touch
Arrange a callback
Enquire today
Register now (i.e. for an open house event)
Leave a review
Images and eye-catchers
High quality images are a must have for any real estate email. First impressions are important and choosing the best images of your properties will help gain your client's attention and get them onto your website.
Once you've decided on your images, you can integrate them into your layout using the layout block options discussed above. Including an eye-catcher or badge to highlight featured properties is another way to make your design speak volumes.
Explore a range of shapes and graphic elements in Mail Designer 365 to create vibrant badges for your email designs. Use these to point readers towards new listings, price reductions and other key information:
Contact Information
Finally, make sure your contact information is also easy to locate in the email. If a client sees something that catches their eye, they don't want to then waste time looking all over for your phone number. It's important they are able to get in touch with you quickly and easily.
Add your contact information somewhere prominent in your email design so the recipient can find it faster. Like with your email header and other layout aspects, you can also save this block to use over and over again in future designs.
Including direct mailto and phone links is one super convenient way to make sure clients can reach you directly from your email. In Mail Designer 365, you can even pre-fill email or SMS messages to make things even easier for you and your clients:
Get started with email marketing for real estate today
We hope you've found this guide to email marketing for real estate useful and will consider applying some of these tips to your own marketing strategy. Getting started with email marketing for your real estate business is easy and affordable:
Open the Mail Designer 365 app (Don't have a Mail Designer 365 plan yet? Get your free trial here!)
Use one of our dedicated real estate email templates, or create your own design from scratch.
Send finished designs directly via the app from your company email account, or export to your ESP to send to a larger list
Until next time,
Your Mail Designer 365 Team