Yes, you did read the title of this blog correctly! The Mail Designer 365 Workflow is now also available on Windows, iOS and Android devices; meaning you can get the whole team involved in your next big email project. Keep reading to discover your brand new productive workflow...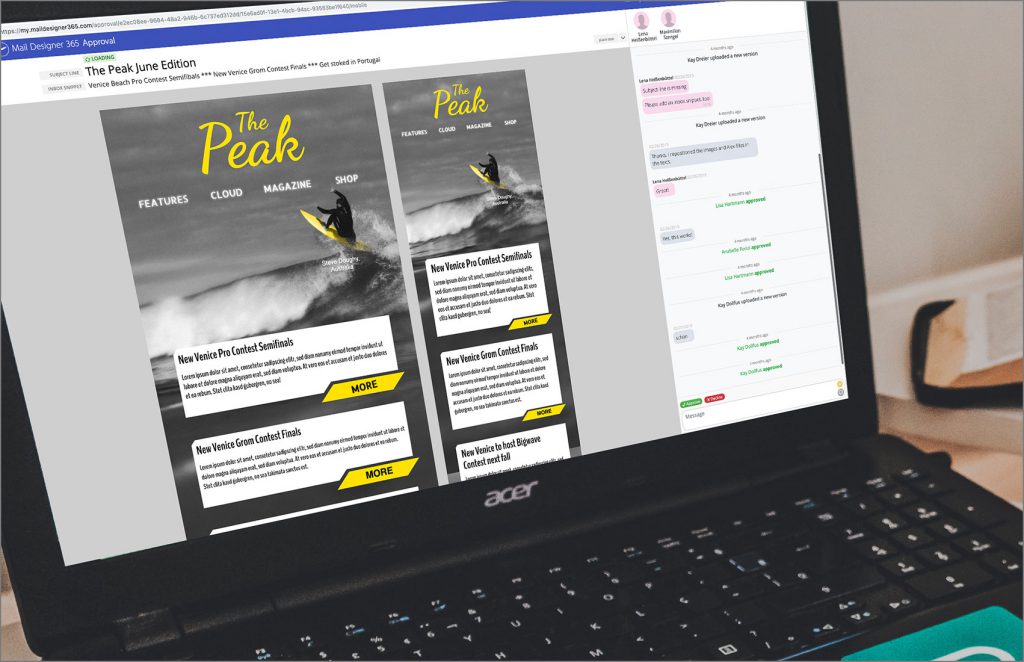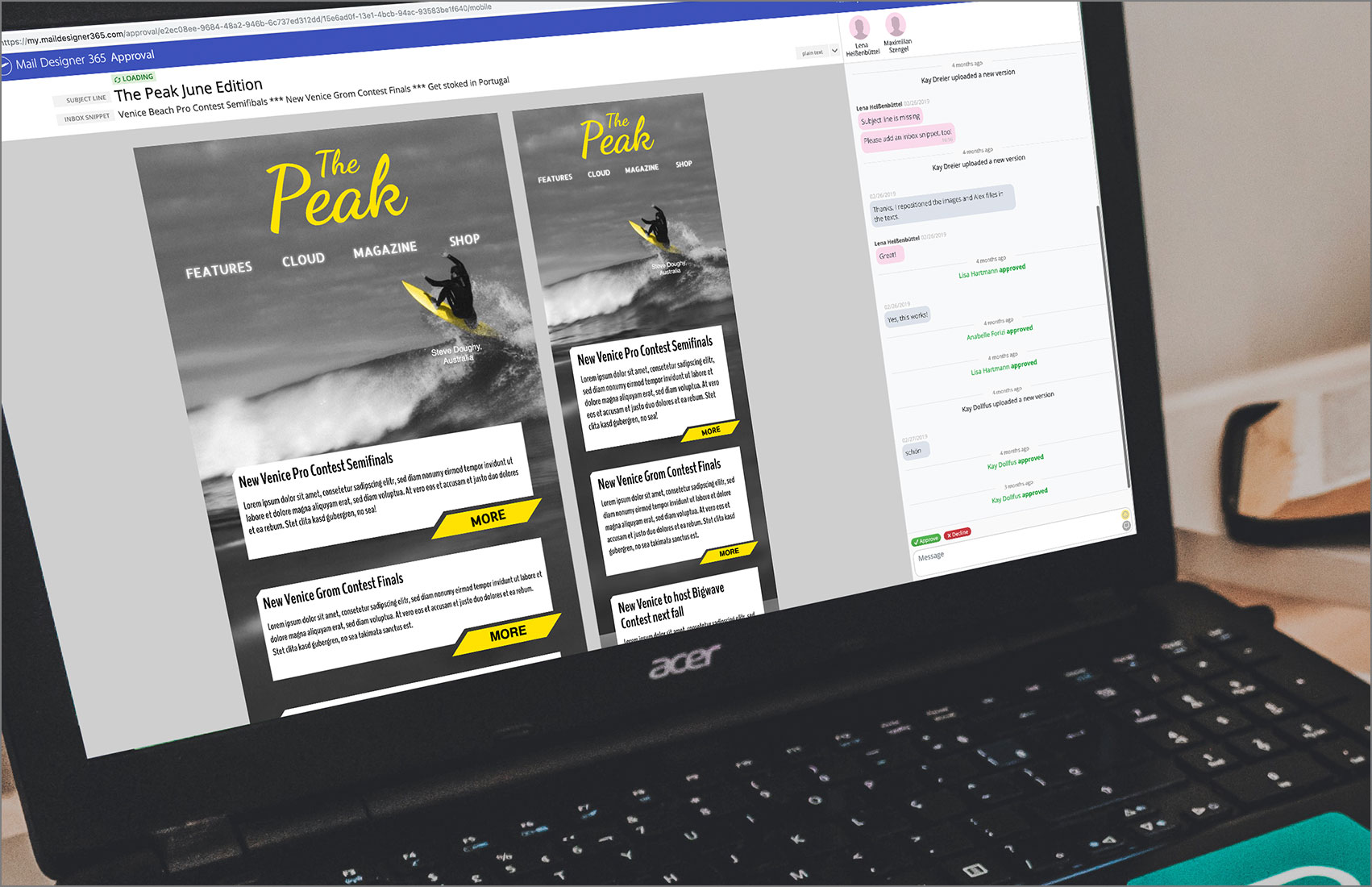 It's been a while since our last blog post, but since we introduced Mail Designer 365 Approval back in February, we've been working on helping you and your team achieve the perfect workflow system. ICYMI, here are a few of the biggest changes we have carried out in the latest app updates:
Dynamic Design Updates - We now load Design Ideas directly via our servers. App downloads & updates are up to 60% smaller (saving you space and time) and we no longer need to ship an entire app update to update a single Design Idea.
New Design Ideas - To keep things fresh, we've also added 3 new Design Ideas; perfect for announcements or internal emails.
New look Design Chooser - The lending status of designs is now displayed clearly in the Design Chooser, so you don't have to open a design to check. We've also added two new folders: Lent By and Lent To, so you have a clearer overview of all designs.
Feedback tab in the app - Have you found yourself wishing for a certain feature in Mail Designer 365? Let us know via the Feedback tab and we'll get the team to look into it.
Remember, you can always keep up to date on all new updates in the What's New section of the app, or by checking our Release Notes page.
Mail Designer 365 3-Step Workflow
Now that you're up to date on what's new in Mail Designer 365, let's meet your brand new, 3-step email design workflow....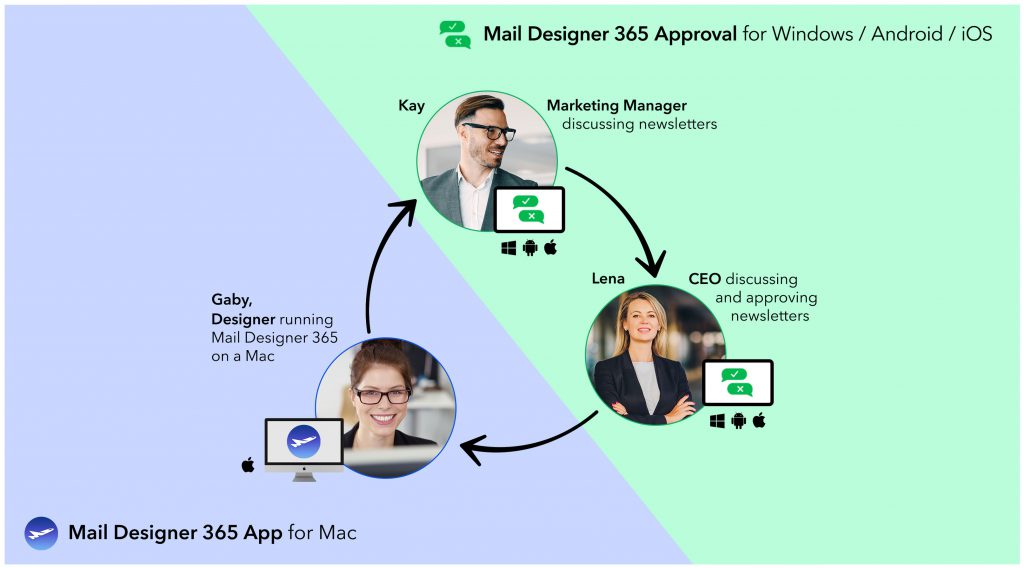 Step One: Build designs on your Mac with Mail Designer 365 
Mac users can use the Mail Designer 365 App to build and share email designs on the Mac.
Upload your design to the web-based platform to share with the rest of your team
Step Two: Cross-platform discussion & feedback on all devices
Invite co-workers to provide comments and feedback on your design.
The web-based feedback platform works perfectly with Windows, Mac, Android, iPhone, Chromebook, etc…
Receive email notifications to stay on top of the status of your design.
Step Three: Adjustments and final approval
Apply any feedback and suggestions from your colleagues in the Mail Designer 365 app.
Re-upload the latest drafts for approval until the design is ready to send.
Export the final design from the Mail Designer 365 app to your chosen ESP.
With this simple, 3-step workflow, all your team can get involved in creating effective email designs - regardless of whether they are using a macOS, Windows, Android, or iOS device. Working in a team has never been so easy. For more tips on effective teamwork and collaboration, check out our useful guide.
Getting started
If you want to get started and try out the Mail Designer 365 workflow with your team, you will need to set up a team plan. There are multiple plans and licenses available depending on your team's needs. To set up a team, head to my.maildesigner365, where you can purchase, assign and manage all your team plans in one place.
Happy designing and until next time!
Your Mail Designer 365 Team