Collaboration is a huge part of working life, but mastering the art of collaborating effectively on projects and tasks can be a huge challenge. Not only can effective collaboration speed up your workflow, it can also promote innovation and creativity; improving the overall outcome of your project.
In email design, it can be helpful to work together to make sure emails meet the high standards you expect. For this reason, collaboration is also a key part of successful email marketing strategy.
In this quick guide, we will share some effective tips on how you can improve your collaboration skills at work; whether working together on email campaigns, or other projects.
Promote an open environment
It is important to make colleagues aware that their feedback and opinions are welcome. If team members don't feel like their ideas are wanted, they are unlikely to share them with you. This could lead to you losing out on opportunities for collaboration and missing interesting ideas which could potentially improve your project.
Here are some ways to promote a more open environment for collaboration...
Encourage your team to socialise
Whether this is during the lunch break or after work, the more your team socialise with each other, the more comfortable they will be discussing ideas and collaborating on projects.
Keep meetings small and informal
Meetings give your team the chance to catch up on the status of a project but, if too many people are involved, it can be hard to get the ball rolling. A quick sit down together over coffee with 2-4 people is great for productive discussions and brainstorming. A formal meeting with 4+ attendees is a productivity killer
Improve communication in the workplace
There are many ways to improve communication in the workplace, but one quick and easy method is to create an internal newsletter. Not only does this keep your whole office up to date on what's happening within the company, it also gives other members of staff the opportunity to provide their opinions on projects they may not have been aware of.
Tip: If you are stuck for ideas on a project, try asking for feedback in your next company newsletter/office bulletin. You may be positively surprised on the suggestions you receive!
Consider all perspectives
Different people will have different experiences based on the department they work in. For this reason, it's important to consider all perspectives when collaborating on a project. Successful collaboration involves interdependence between teams and departments.
Whose input should I consider?
Assume you are creating a product release email for a small to medium business. Although the marketing team is usually responsible for sending these emails to customers, it is also important to consult with other departments:
The product development team can provide feedback on the technical information you include about the product.
The sales team will be able to guide you on prices and special offers.
The branding team can instruct you on the specific visual aspects of your email as well as brand guidelines.
The legal team will check over any disclaimers or terms & conditions, if you have included an offer or promotion.
The management team can help determine what the main message or CTA (call to action) of the email is; as well as approving it for sending.
Finding the right collaboration tool
Using a collaboration tool can vastly improve your productivity and speed up the project completion process. It reduces the need to send emails back and forth and stops you wasting time sending new drafts around the office.
With so many different perspectives to consider, it's important to find the right tools to productively collaborate on projects. There are many tools out there for collaboration, but few can provide you with all the aspects you need to be able to successfully communicate with your colleagues.
Here are a few things to look out for when choosing which tools to work with:
Mobile optimisation
Nowadays, everyone is on the go, and it is important to be able to keep up with work while you're outside of the office. Whether it's the daily commute or you're attending a conference or meeting, it's good to be able to check up on your projects using your smartphone.
Cross platform compatibility
With so many different devices out there, it's a good idea to choose a tool which is compatible with all platforms; as this will be more convenient for your team.
Usability
A good user interface is always a must-have with any kind of collaboration tool, as it must be comprehendible for users of all abilities. Over-complicated tools will only deter busy team members from getting involved, so it is a good idea to choose a software which is easy to use.
Affordability
There are many tools out there which cater to the needs of big businesses, but at a high price. In particular for small and medium businesses, it is important to find a tool which suits your needs; both productively and financially. As well as this, having the option to tailor plans to your own personal preference is also a plus.
Customer support
Finally, a tool which offers high quality customer support is also essential, as it is important for you to have access to support and advice, should you need it.
A collaboration tool for everyone
Mail Designer 365 is the perfect collaboration tool for email communications; offering expert design features and easy-to-use creative tools. Mail Designer has been specially designed for business teams to help streamline the workflow process for email design.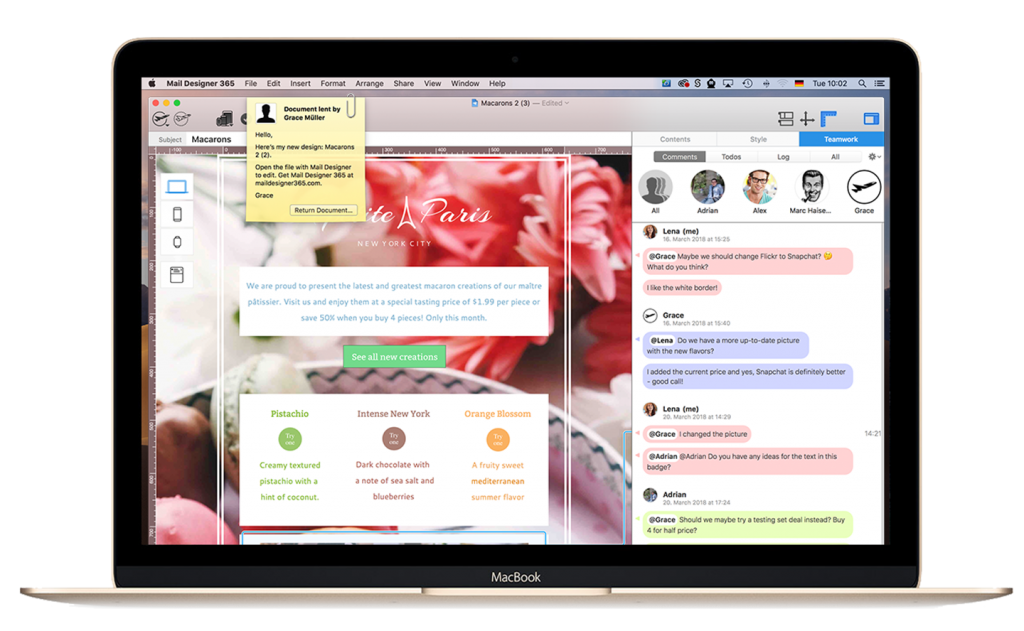 How it works
Build up an email layout on your Mac using the Mail Designer 365 app.
Lend your design to team members to add copy, graphics, legal disclaimers and any extras you may require.
Share a mobile optimised, web-based preview of your design for your colleagues to add comments and feedback.
Carry out suggested changes to your design and invite team members to decline or approve.
After the final approval, you can export your design from the Mail Designer 365 app to send via your preferred ESP.

Check out this video to see Mail Designer 365 in action:
We hope you have found this guide useful and that it will help you improve your collaboration skills. If you're looking to optimise your email workflow, try Mail Designer 365 for free today. Already a Mail Designer 365 user? Make sure to set up your team at my.maildesigner365.com to start using the approval features!
Until next time,
Your Mail Designer 365 Team