No matter the size of your organization, sending a regular internal newsletter to employees has many benefits. Not only do internal newsletters greatly help with internal communications, they also provide a good way to boost staff morale and maintain a positive working environment.
Starting up an employee newsletter for the first time can be daunting. Which content to include, how to put it together, when to send… These are all valid questions to consider during the planning process.
To help give you some inspiration, we're giving you an exclusive inside look into the model we use for our own internal newsletter here at Mail Designer 365 HQ, as well as useful tips to consider when creating a successful internal newsletter for your own organization.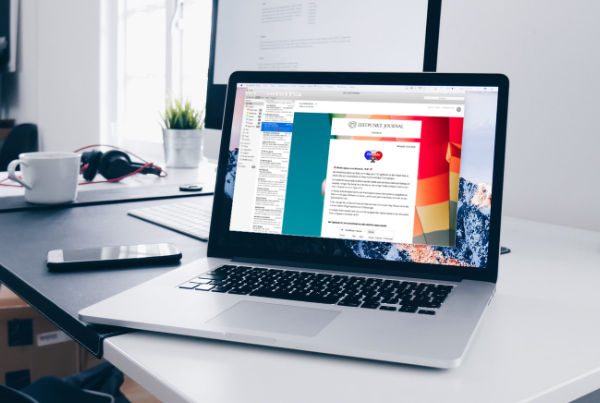 Skip to
Benefits of creating an internal newsletter
You may be asking yourself why you should spend the time creating an internal newsletter when there are so many other communication channels available. Here are 3 key benefits:
1. Communication
While Slack and similar internal messaging tools may be more convenient than email, their fast moving nature makes it very easy to miss an important announcement.  In contrast, an internal email newsletter goes straight to your employees' inboxes and is much more likely to be opened.
2. Convenience
The number of communication platforms now available (e.g. messaging channels, intranet, bulletin boards, social media groups, etc.) can result in news and announcements being shared in multiple different places. This can be confusing and makes it hard for staff to keep track.
An internal newsletter allows you to compile all of this information into one convenient email so employees can catch up on anything they may have missed.
3. Corporate Identity
Brand image is an important aspect of any business; both internally and externally. While there are many tools that allow you to communicate with staff, an email newsletter is the best way to ensure you're maintaining your corporate identity whilst doing so.
Creating a custom template for your email newsletter ensures important aspects like your logo, company ethos, brand guidelines, etc., don't go forgotten. This is especially effective in larger organizations, as it helps give everyone in the team a sense of unity, regardless of their physical location.
Our Internal Newsletter Strategy
For obvious reasons, accessing internal newsletters from other companies to show you as examples is not really an option. Because of this (and because we're also super proud of it), we're giving you an insight into how we do things here at Mail Designer 365 HQ.
Here's a quick profile of our internal team newsletter:
Name: Zeitpunkt Journal (named after our beloved HQ, Zeitpunkt Haus.)
Editor in Chief: Our very own Lisa Heisenberg
Sending frequency: Every week on Wednesdays
Topics covered: Office announcements, personell news, important reminders, current affairs, team fun, memes, and more!
Newsletters sent: As of today (July 15th 2020), 69 issues
What we include in our internal newsletters
Primarily, we use our internal newsletter as a tool to share important news and announcements with the whole team. Good communication is a super important part of our workflow and our newsletter helps keep everyone up to date on new changes.
Here are some recent examples of content we've included in our internal newsletter:
Health and safety guidelines: Covid-19 has been difficult for us all to come to terms with. To help prevent the spread, we (like many other businesses) recently reviewed our health and safety measures and shared the new guidelines in our internal newsletter.
Team updates: We are a growing team and enjoy welcoming new people on board (take a look at our current job offers.) The Zeitpunk Journal is the perfect place for us to announce new staff members to the rest of our team and also help newcomers feel welcome when they start.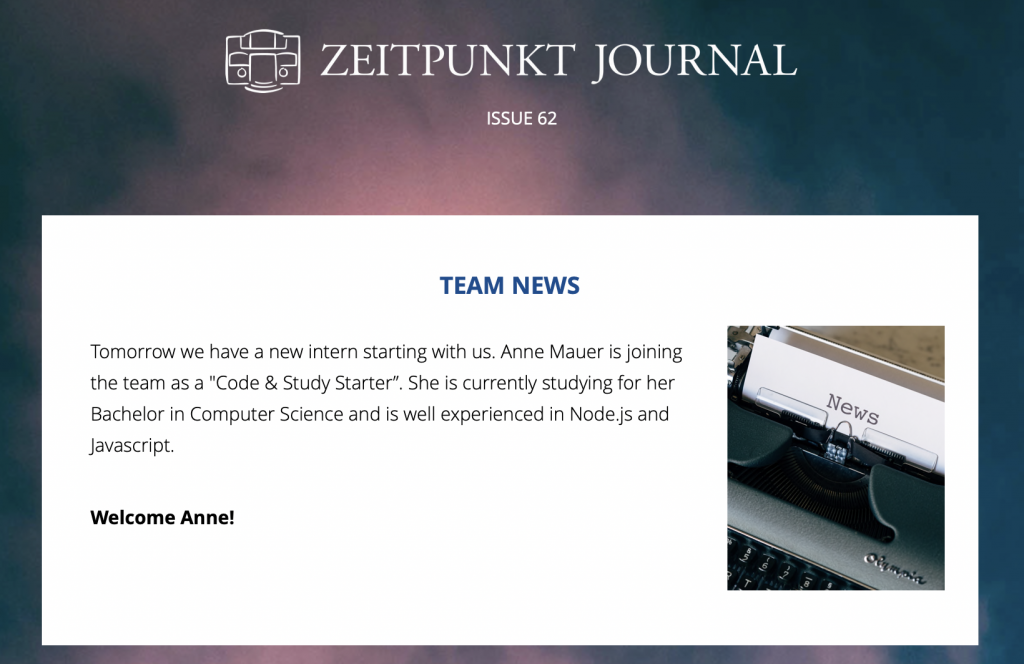 Important dates: Like many businesses, we hold regular events, such as team building activities, meetings, and social activities. We use the Zeitpunkt Journal to remind everyone in the team about upcoming dates and any events they may want to add to their calendar. Here is a recent example for the Apple WWDC Keynote event.
Recurring sections in our internal newsletter
Of course, the content we include in our internal newsletter changes from week to week, but there are a few segments we like to keep consistent. Here are some examples of recurring sections you can typically find each week in the Zeitpunkt Journal…
Zeitpunkt Haus Survival Tips: Useful tips and life hacks to help make office life easier.
Tweet of the Week: Because who doesn't love Twitter? Here we showcase the funniest content found on Twitter that week.
Team Lunch Friday: On Fridays, we get together and cook great food as a team. What better way to announce this than via a segment in our internal newsletter?
Team activities: When we're not busy working on Mail Designer 365, we also love to partake in fun team building activities. In the last few weeks, the whole team has been taking part in an exciting table tennis tournament. Our internal newsletter has been a great way to keep track of results and upcoming matches.
How to build an internal newsletter in Mail Designer 365
If you're planning on sending out an internal newsletter each week, you need the right tools to do this with. Of course, we use Mail Designer 365 to build, edit and send our newsletter to the whole team.
Our top 5 tips for creating internal newsletters in Mail Designer 365:
Save and duplicate your master template to reuse the layout in all your future newsletters
Set up text styles to make editing easy and keep the design consistent
Make your designs fun using tools such as the Unsplash library for photo backgrounds and shapes & graphic elements for buttons and eye-catchers
Use the smartphone view to optimize your design for mobile for those viewing it on the go
Send via your work email account in Mail Designer 365 to securely send your newsletter directly to your staff. Here's how to set this up
We hope you have enjoyed your insider look behind the scenes at how we create our internal newsletters here at Mail Designer 365 HQ. Head over to Mail Designer 365 today to test these tips and try your hand at creating an internal newsletter your team will love.
Don't have a Mail Designer 365 plan yet? Sign up for your free trial today to test all these features and discover a wide range of creative tools and HTML email Design Ideas.
Until next time,
Your Mail Designer 365 Team