Have you thought about your Presidents' Day email campaign? In the build up to Valentine's Day, Presidents' Day often goes forgotten, but there's no denying a major holiday weekend is always a great marketing opportunity.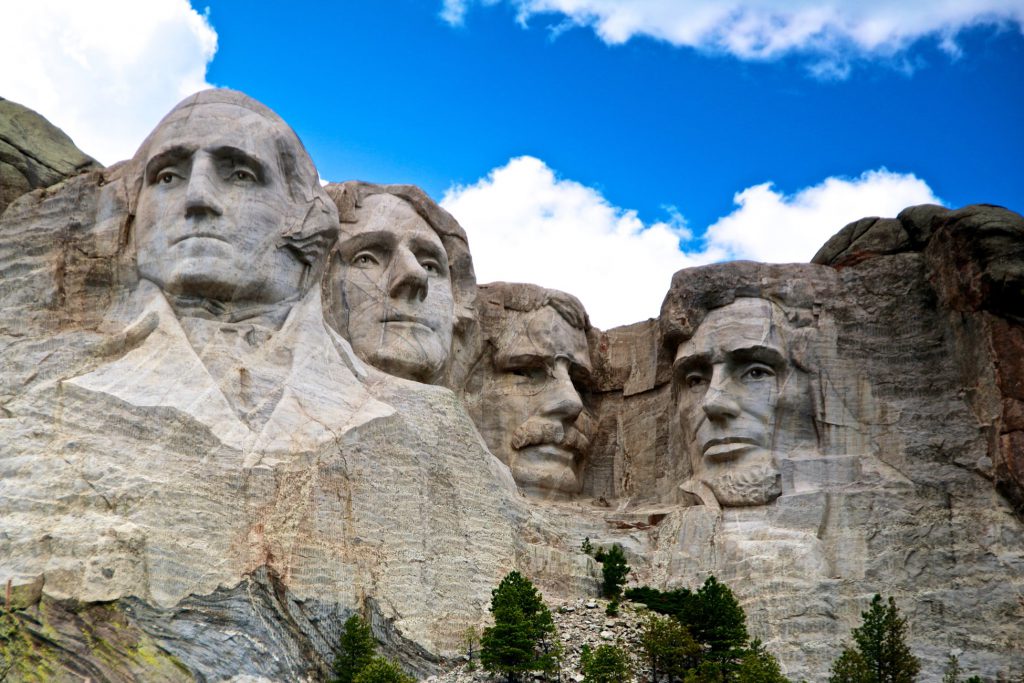 In this guide, we'll take you through all the ins and outs of creating a Presidents' Day email campaign; including tips, examples and best practice for your emails...
What is Presidents' Day?
Presidents' Day is a patriotic holiday in the USA. It is celebrated every year on the third Monday in February.
Originally, the holiday was created to honor George Washington and Abraham Lincoln - two of the most influential presidents in US history. Today, it is simply seen by many as a day to celebrate all former US presidents.
Why should I send a Presidents' Day email campaign?
Like most holidays in the modern era, Presidents' Day creates a huge sales opportunity. A holiday weekend gives consumers an extra chance to shop and also increases their demand for goods and services.
Like many other cultures, Americans take a holiday weekend as the chance to travel somewhere new, meet up with family, or socialize with friends. All of these activities have great sales potential.
No matter what area of business you're in, Presidents' Day gives you the perfect reason to launch a promotion. Furthermore, given its close proximity to Valentine's Day, the holiday also lands in a peak sales period which your business could cash in on.
Presidents' Day email campaign examples
These Presidents' Day email campaign examples from big name brands tick all the right boxes and should help inspire you when coming up with your own campaign ideas.
Google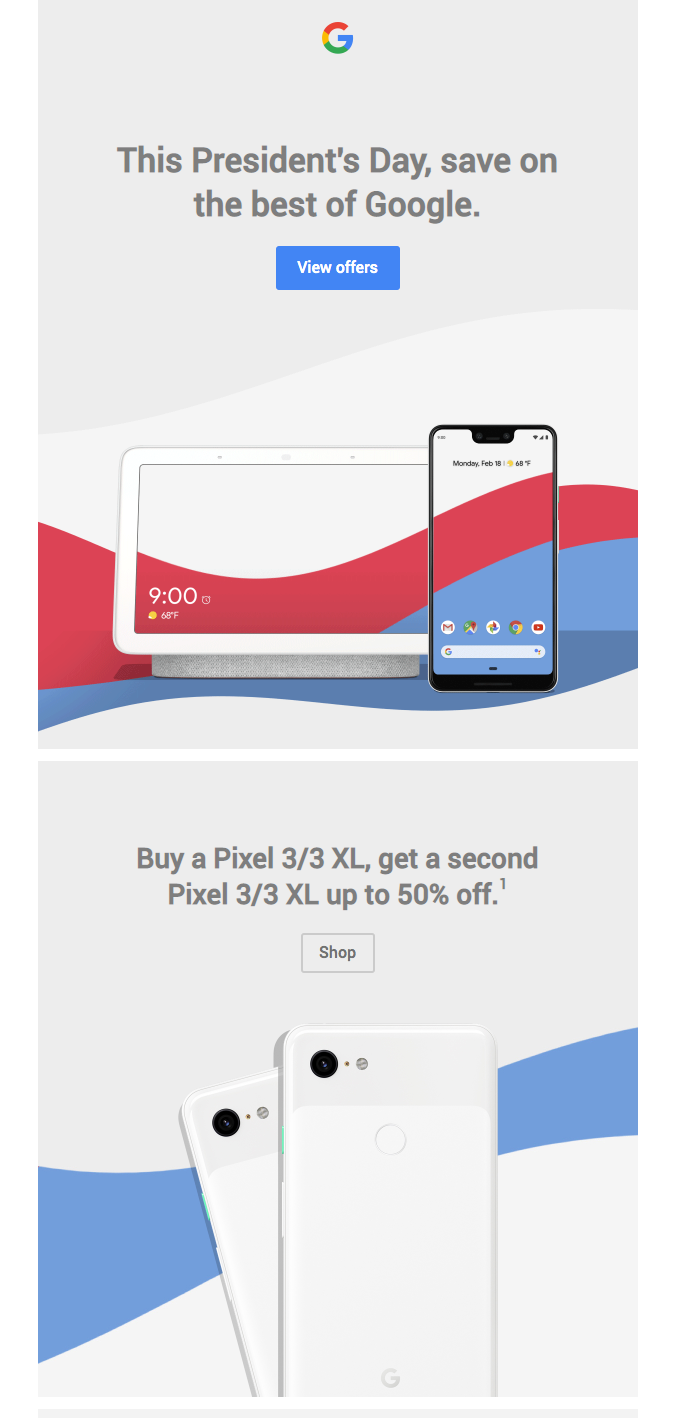 In this campaign, Google opts for a series of time-limited promotions across popular products. The email design is super on brand but integrates the classic red, white and blue color scheme in the background for a patriotic feel.
Bed Bath & Beyond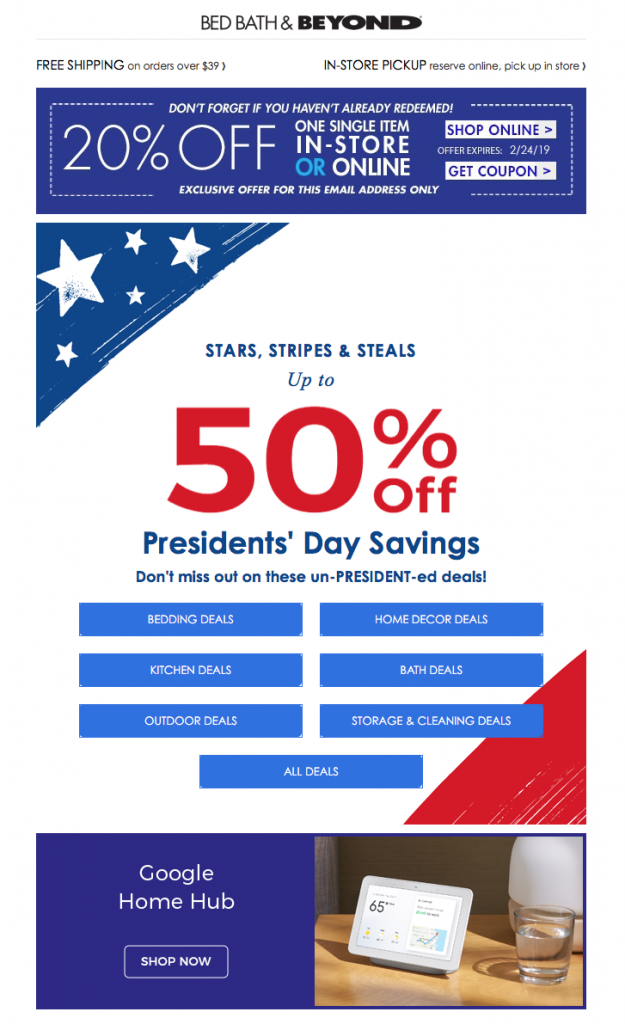 The theme of this email design is made clear straight away. As well as the all important color scheme, Bed Bath & Beyond include traditional star graphics in the flag style design. The sale discount is also made to stand out in bright red.
JCPenney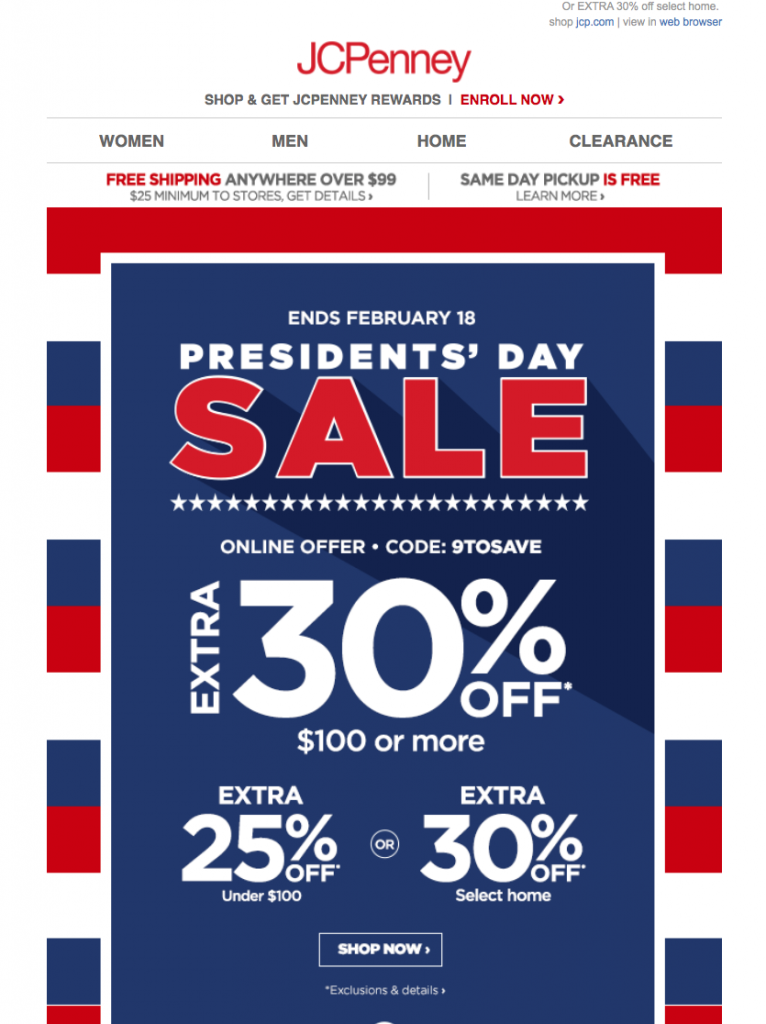 JCPenney have also got us seeing stars with this bold email campaign. There's certainly a lot going on with all the different discounts in the centre of the design; but the main message of the campaign is made clear thanks to the big bold typeface.
Michael Kors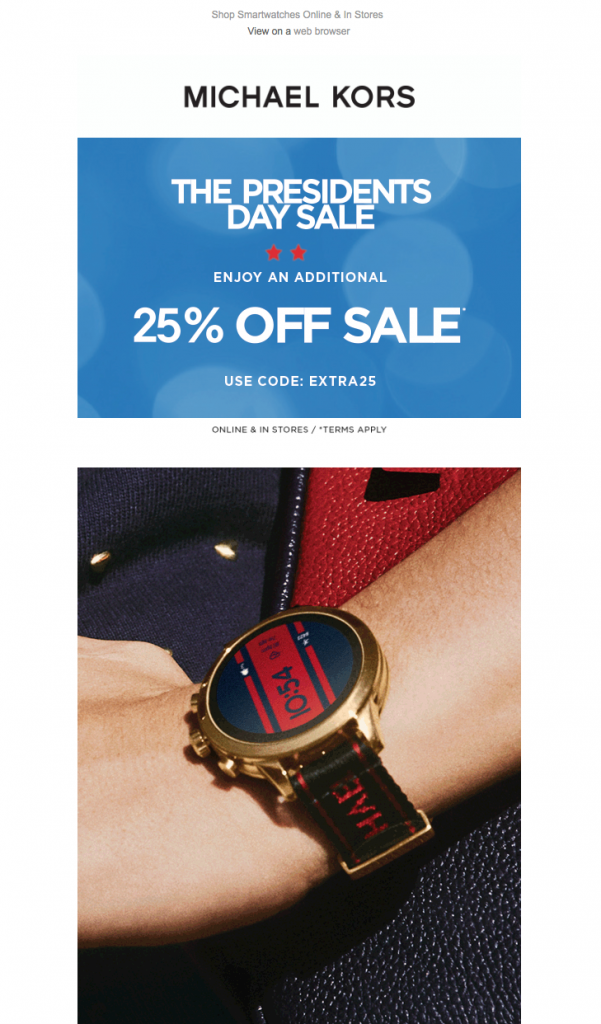 Michael Kors uses a stylish header design to make sure their promotion is the first thing the customer sets eyes on. This paired with a large product photo helps get them ready to shop.
ASOS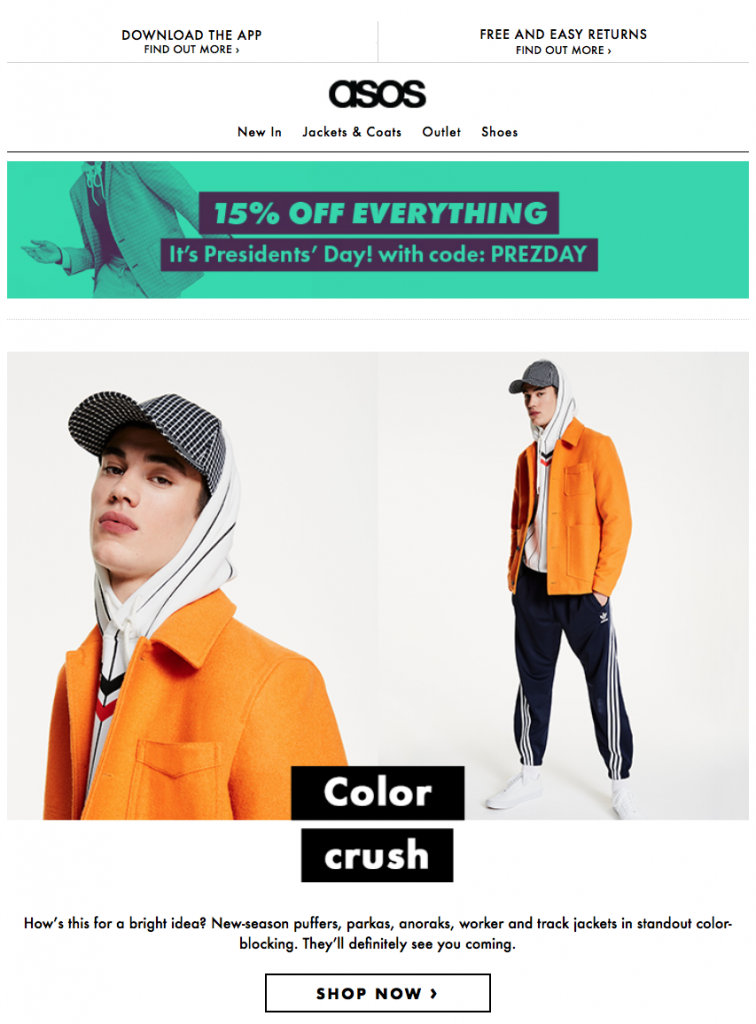 While the overall design isn't based on patriotic imagery, ASOS have put a modern twist on the traditional holiday by including the eye-catching green banner at the top of the email. This way, customers won't forget there's a promotion on.
Dockers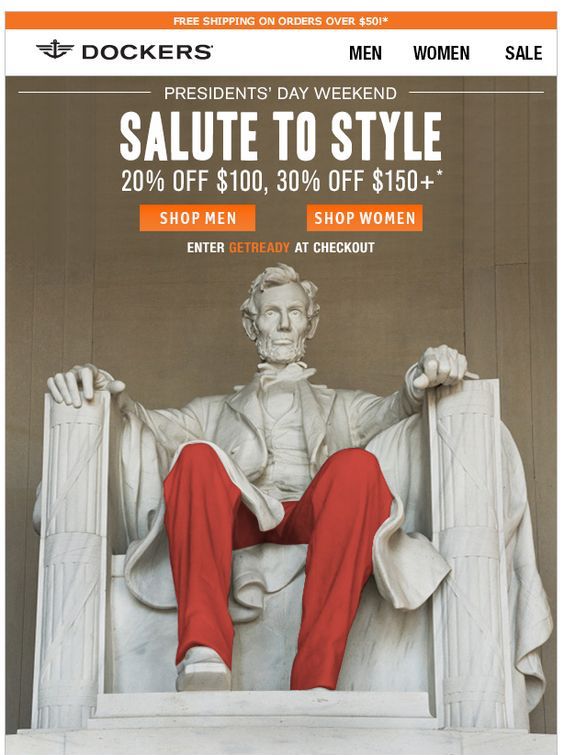 We love the way that Dockers has managed to combine humor and tradition in this unique Presidents' Day email campaign. Including an image of Lincoln wearing one of their products is a genius way to promote their business while staying on trend with the occasion.
The bright orange CTA (call to action) buttons are also super prominent in the design.
Article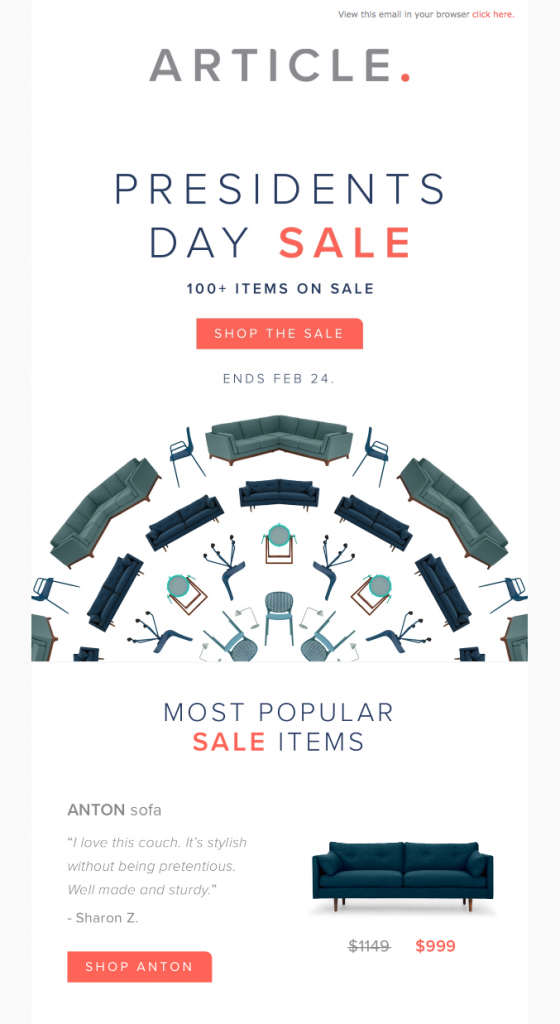 This Presidents' Day email design by Article also shows you don't have to go wild with the stars and stripes to get involved in the action. Big, easy to read headlines paired with bold CTAs and a clear shopping layout make up the perfect recipe for any sale or promotion.
Tips for your Presidents' Day email campaign
Hopefully you've managed to take some creative inspiration from these examples. Before you get started on your campaign, here are a few quick hacks to help you ensure success.
Optimize your subject line: This is a peak sales period and inboxes will be overflowing with deals. Make sure yours stands out. This article has some great inspiration for you.
Check all your links and prices: This is more important than ever during a sale or promotion. Be sure to triple check every link and promo code to avoid disappointment on the customer's end (and embarrassment on yours!)
Timing is important: Don't wait until President's Day to launch your campaign. The main attraction of this holiday is that it lasts a whole weekend. Launching on the Friday gives customers the whole weekend to shop your deals.
Segment your list: President's Day is a big deal in the USA, but elsewhere not so much. Sending out a mass email shows a lack of consideration for the rest of your customer base. It's much more effective to target them later on with a more relevant campaign.
With those tips out of the way, it's now time for you to make some headway on your campaign.
Creating a Presidents' Day Email Campaign in Mail Designer 365
If you're wondering where to begin, check out Mail Designer 365, where you'll find all the creative content and design tools you need to build an awesome Presidents' Day email campaign.
Here are some example email designs we built using the features in the app, plus tips on how to recreate these styles yourselves.
Search the Unsplash collection for your feature image:
Unsplash offers you amazing, high quality stock images to use license-free in your email designs. Use the search tool in Mail Designer 365 to instantly search the entire Unsplash library for your perfect feature image:
Try out Blend Modes to produce unique effects
Blend Modes tool allows you to control how two images are layered together. This allowed us to create the super patriotic stars & stripes effect seen in this example and the Lincoln example above.
Simply place your chosen images on top of each other and use the hover preview to choose the blend effect you like most. In this example, we opted for the "screen" effect:
To find out more about how Blend Modes work in Mail Designer 365, check out this tutorial.
Experiment with bold web fonts for sale eye-catchers
A standout font is the key to a good sales eye-catcher. Choose from 700+ web fonts in Mail Designer 365 to draw your customers' attention to your Presidents' Day promotion. In these example eye-catchers, we've chose "Alfa Slab One" for its classic, bold effect:
Start your free Mail Designer 365 trial today and see what you can achieve.
Until next time,
Your Mail Designer 365 Team