Existing Mail Designer and Mail Designer Pro customers can upgrade to Mail Designer 365 today: get brand new tools and designs, free feature upgrades for the lifetime of your subscription, and, of course, complete compatibility with the latest macOS releases.
Your Mail Designer 365 upgrade plan


Business
Aliquam euismod erat libero, eu condimentum nisl hendrerit vel.
$10.00

$20.00

monthly
per person
billed annually


macOS 10.14 Mojave support



Basic support tier
email response within 72h

For non-essential email campaigns


–





–





Business Premium
Aliquam euismod erat libero, eu condimentum nisl hendrerit vel.
$15.00

$30.00

monthly
per person
billed annually


macOS 10.14 Mojave support



Exclusive priority support tier

email support response within 24h

(mon-fri)

Recommended if newsletters are a

critical part of your marketing strategy

Add Tables to newsletters

Exclusive image effects:

Duotone

Vibrancy
Creative assistance for your design workflow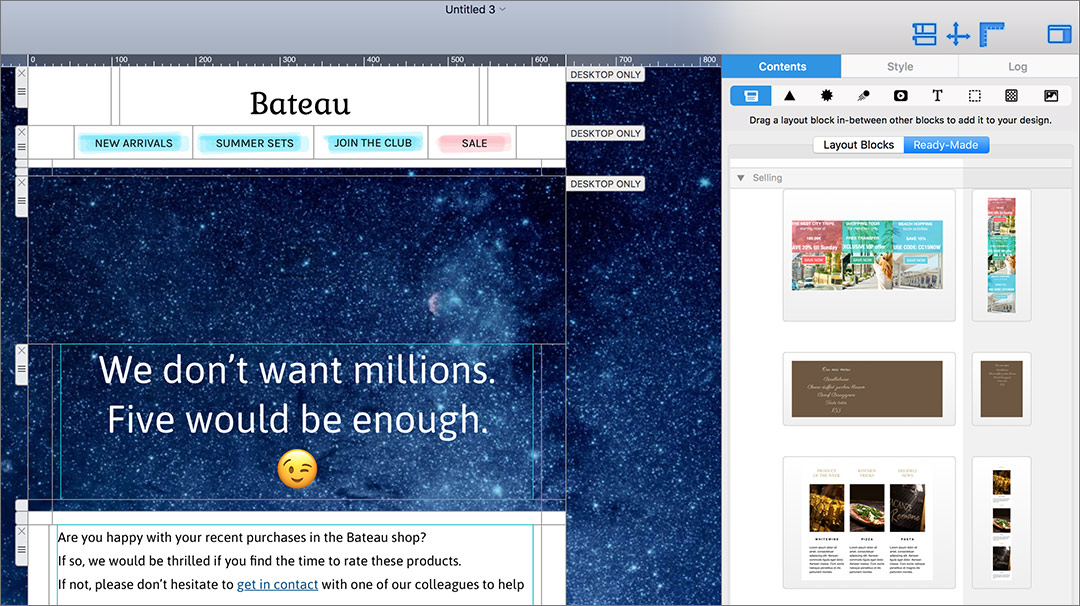 Create professional-looking layouts in seconds
Ready-made layout blocks give you the inspiration to create professional newsletter designs. Use them for headers, disclaimers, footers, and more. Save your own custom layouts to use again and again.
NEW › Ready-made layout blocks
NEW › Custom layout blocks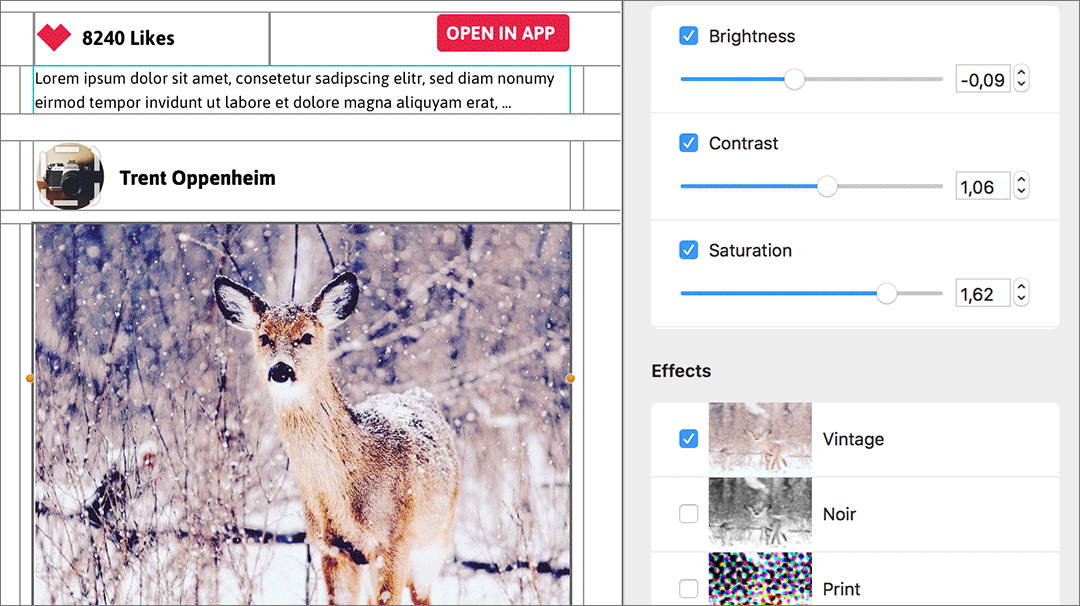 Professional image editing – with amazing results
Fine tune your images directly in the Mail Designer app! Enjoy instant access to professional photo editing tools such as contrast; brightness; sharpness; or blur, as well as 10 brand new, ultra-stylish image filters.
NEW › Professional image editing tools
NEW › 10 stylish image filters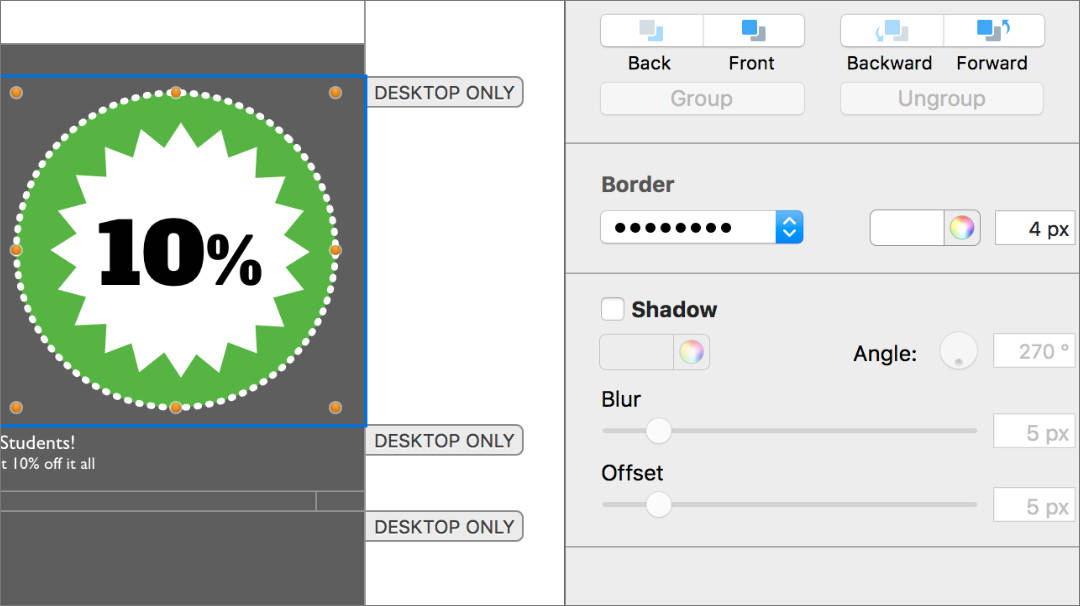 Add depth to your designs with new style options
Give your headlines and CTAs extra dimension with HD shadow effects for image areas. Creative border styles such as "cut out" and "dotty" offer you even more inspiring ways to bring CTAs and graphics to life.
NEW › Border styles for images
NEW › Shadow feature and all caps text style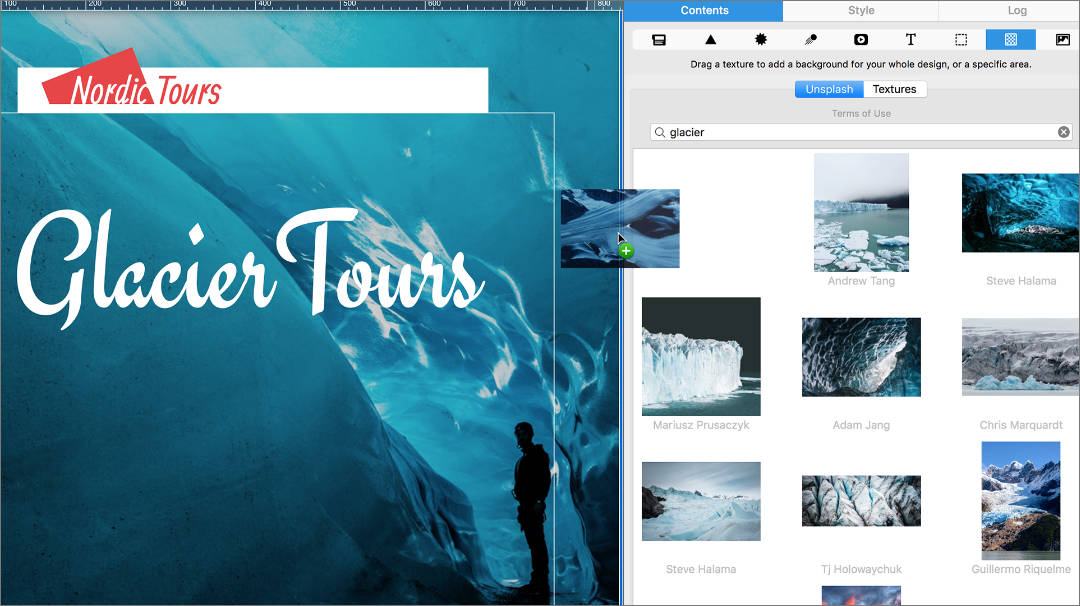 Unsplash integration and transparency tools
Unsplash integration offers you thousands of license-free images to take your designs to the next level. The opacity feature is perfect for subtly blended layers, and you use the corner rounding tool to break up any harsh edges.
NEW › Unsplash integration
NEW › Opacity tools, rounded corners for images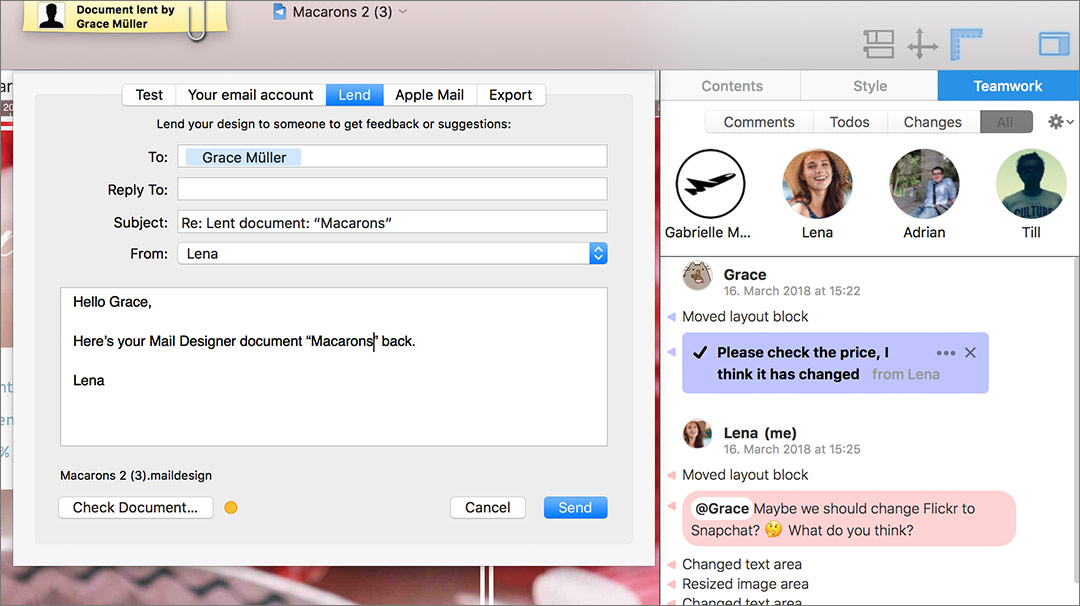 Teamwork tools to simplify your email workflow
You can use the all new Teamwork feature to attach feedback and comments to specific design elements, assign your team newsletter todos, and share your design with team members to get their feedback. Team workflow made easy with Mail Designer 365.
NEW › Tag your team members in comments
NEW › Assign todos for newsletter tasks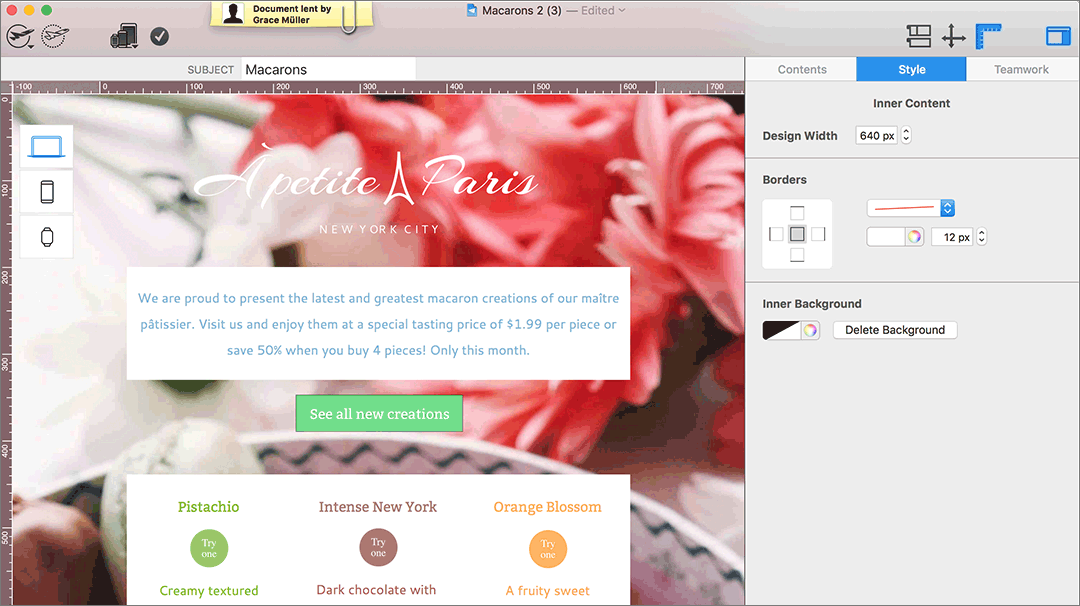 Create standout design borders for a unique edge
With the brand new borders tool, you can create a custom border unique to your email design. Experiment with style, thickness, and color to produce stunning borders for your newsletters. Create 3D, floating effects, mismatched borders, and more…
NEW › Add a border to your design
NEW › Tools for inner background editing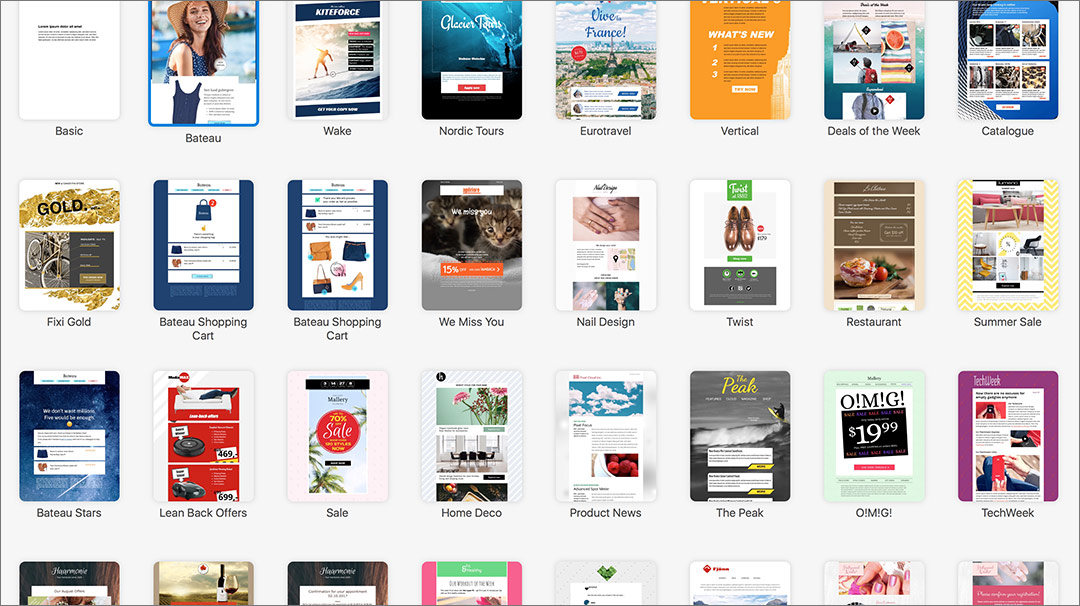 More content than ever before
Choose from over 80 design ideas and enjoy our diverse graphic library with over 100 new eye-catching animations, buttons, and social media icons to make your designs completely up-to-date.
NEW › Now with over 80 design ideas
NEW › Newly updated graphic library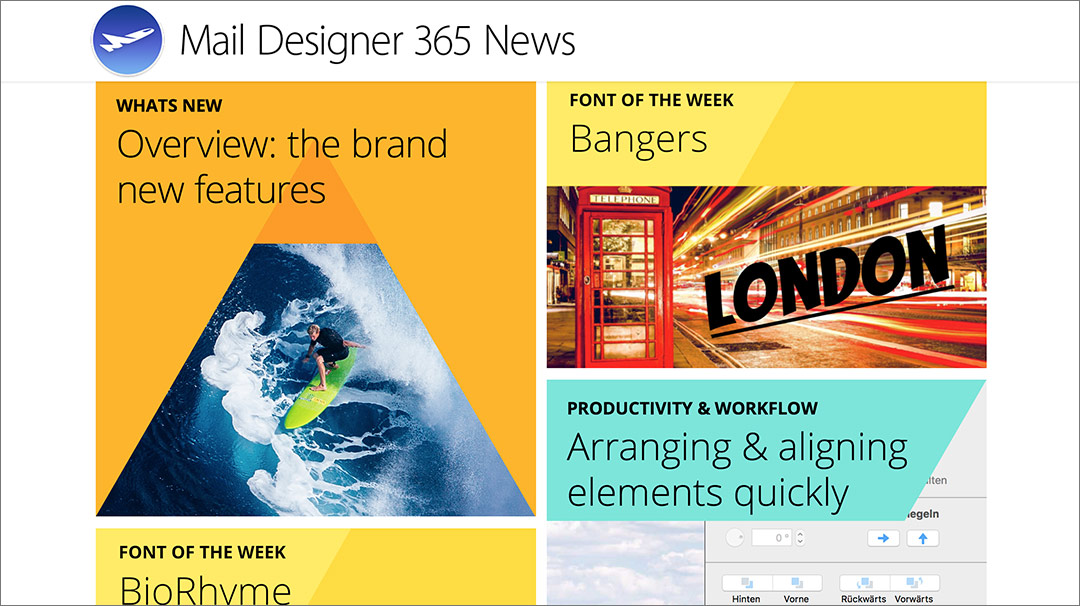 New and improved UI & news
Our new Design Chooser makes accessing your designs easier than ever before. Use the search bar to quickly find your designs. The in-app news page is also full of useful tips and tutorials to help you along the way.
NEW › New and improved UI with sort feature
NEW › Mail Designer 365 News
UPGRADE TO MAIL DESIGNER 365 – AMAZING VALUE
How to upgrade from Mail Designer Pro


Mail Designer 365 is optimized for macOS Mojave
Mail Designer 365 is optimized for macOS Mojave 10.14 and will always be compatible with the latest macOS updates. Older versions of Mail Designer are unfortunately not supported since macOS 10.13 High Sierra.
Exclusive upgrade offer for loyal customers
We're offering all of our existing Mail Designer and Mail Designer Pro customers an upgrade discount of up to 33% for the first year of the plan.
Mail Designer users can upgrade today from just $10.00 / Month!
GETTING STARTED WITH MAIL DESIGNER 365
Important FAQs to get started with Mail Designer 365
I want to use Mail Designer with macOS Mojave or High Sierra – what do I have to do?
Please upgrade to Mail Designer 365. It is fully designed for macOS High Sierra and includes new features, designs and HTML compatibility improvements.
I have Mail Designer Pro – do I get a discount?
Yes! All Mail Designer and Mail Designer Pro customers are eligible for a discounted upgrade to Mail Designer 365.
To claim your discount:
• Download Mail Designer 365
• Choose File > Import Settings and Designs
• Then choose Buy 365 to purchase a plan.
How long is the upgrade discount valid for?
All upgrade discounts remain valid for the first year of your plan.
Ready for next level newsletter design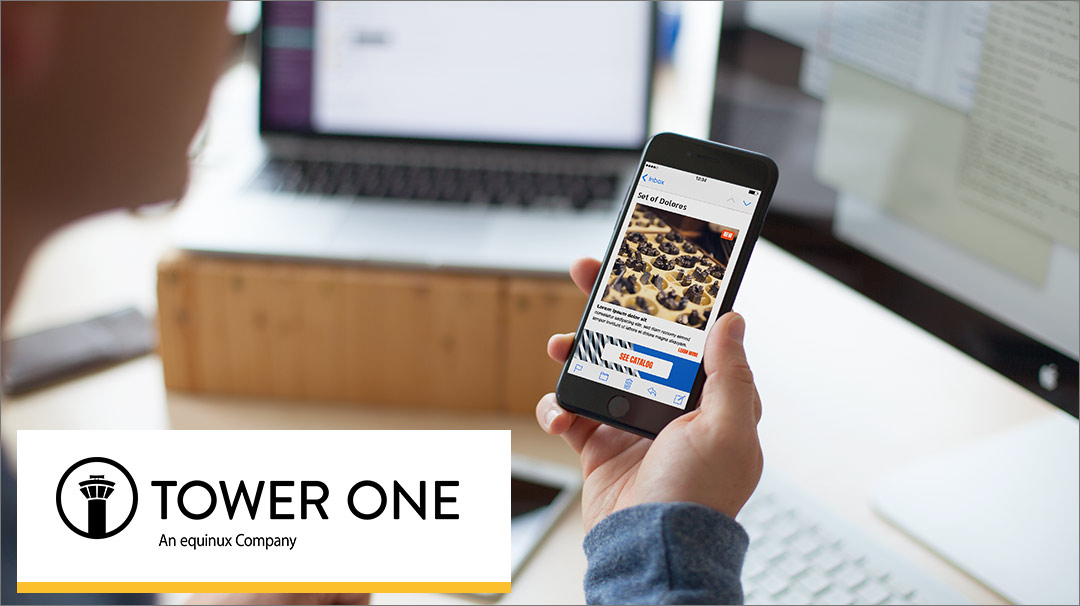 Mail design for the future
With new technological know-how and a slick business cloud infrastructure, we are paving the way to make Mail Designer 365 one of the world's best newsletter design services for Mac and iOS. Our goal: We want to create a tool which inspires email designers and creative professionals to grasp new trends and meet the demands of modern-day email marketing easily and productively.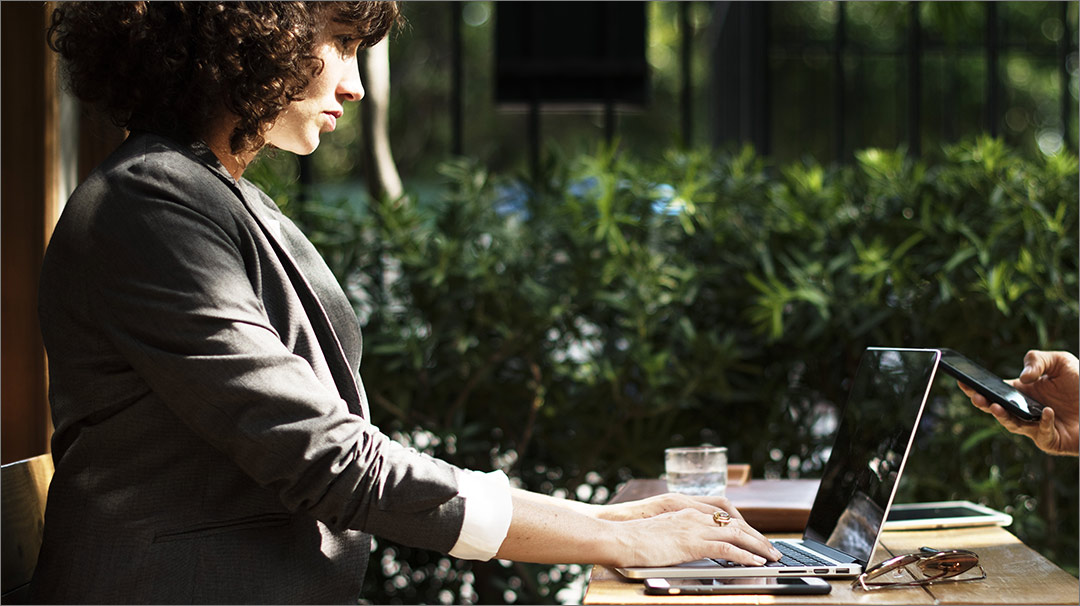 Constantly evolving for you
Mail Designer already has an exciting development roadmap planned for you over the next few months. Look forward to updates for design tools, creative content, cloud services, and team features – all coming soon! You would never experience this extent of features and evolution from a one-time purchase model, which is why we decided to focus our future on a subscription plan: the best option for ultimate user experience.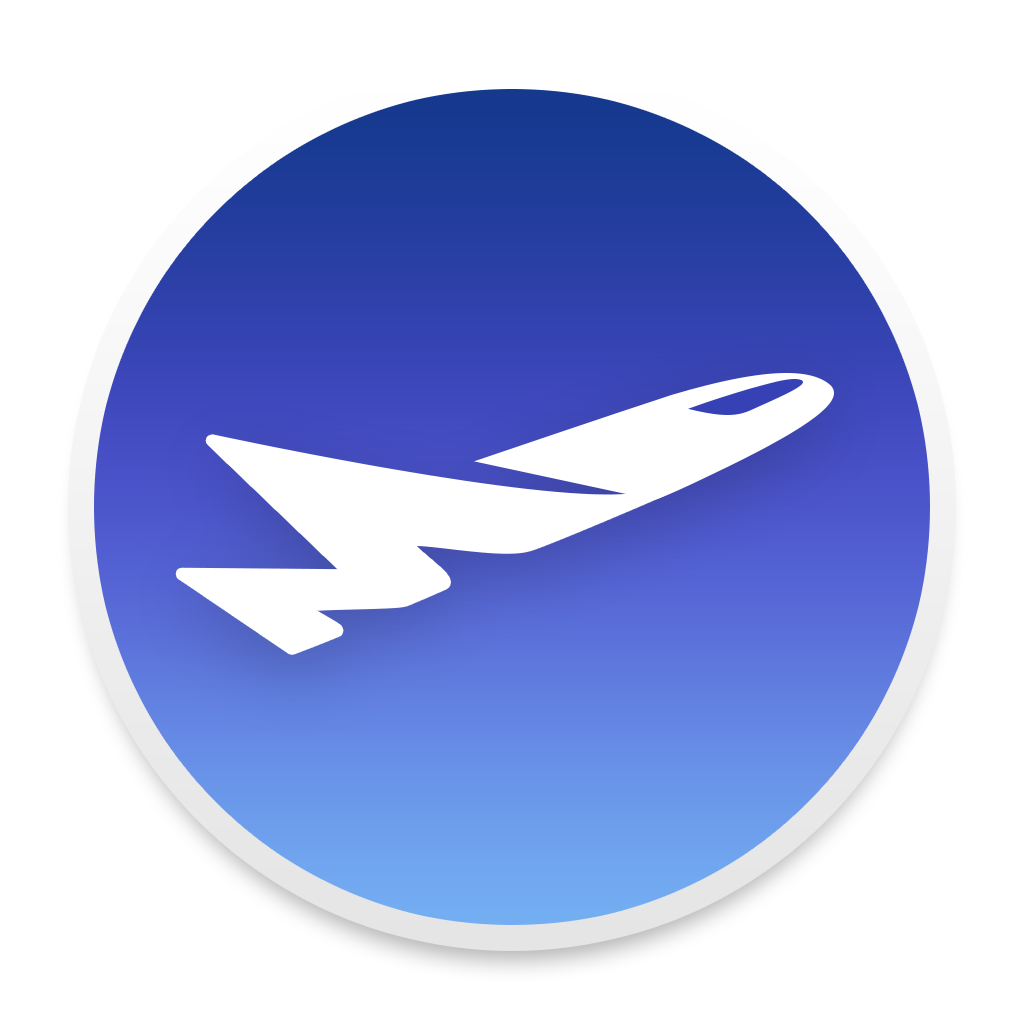 For OS X 10.11 or later, including macOS High Sierra
Hey Mail Designer customer!
Follow these steps to upgrade:
1. Download the app
2. Import your designs
3. Sign up for your upgrade plan