Newly added to Mail Designer 365
Mail Designer 365 is constantly improving for you. Here are some highlights of the biggest new features we've added to help you create the best HTML email newsletters on your Mac.
Tools and templates for business users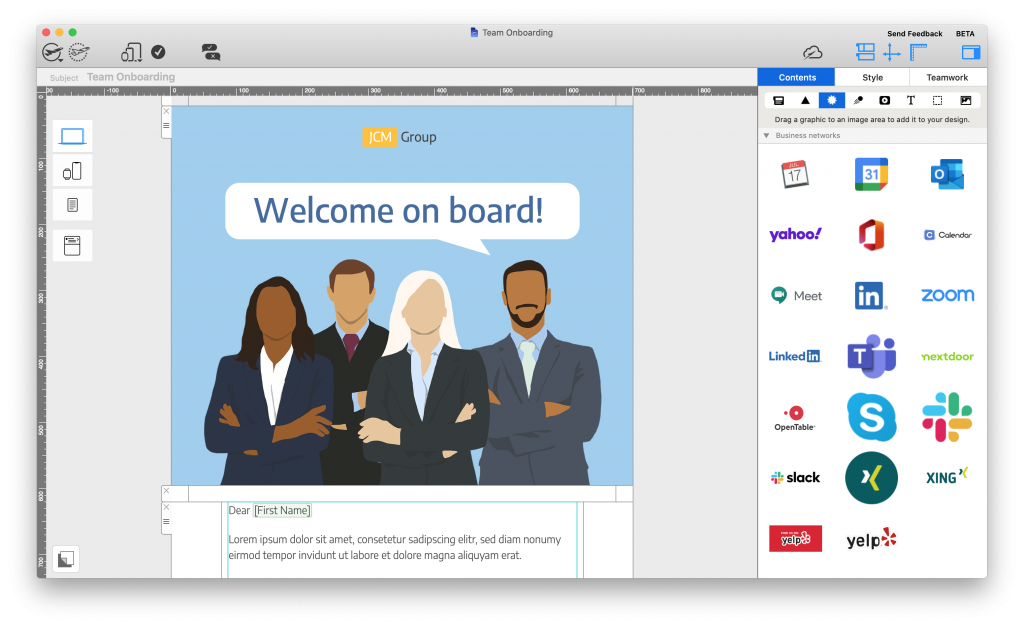 This update brings an exciting range of new business resources, specifically designed to help with everyday professional use cases. Discover onboarding templates, Design Ideas for internal newsletters, updated calendar icons for CTAs and reminders, and practical ready-made layouts for business, events, and more!
NEW › 5 new Design Ideas for key business use cases
NEW › "Business" category for ready-made layouts plus updated calendar icons
Resources for healthcare and exciting new graphics
This time around, we welcomed a brand new set of resources for the healthcare sector - including templates, call-to-actions, and ready-made graphics. Version 2.3 also brings a new speech bubble shape and 11 new, throwback-style typefaces to try out, such as Bauhaus, Art Deco, and 60s retro.
NEW › Practical templates and graphics for the healthcare industry
NEW › Speech bubble shape tool and throwback text objects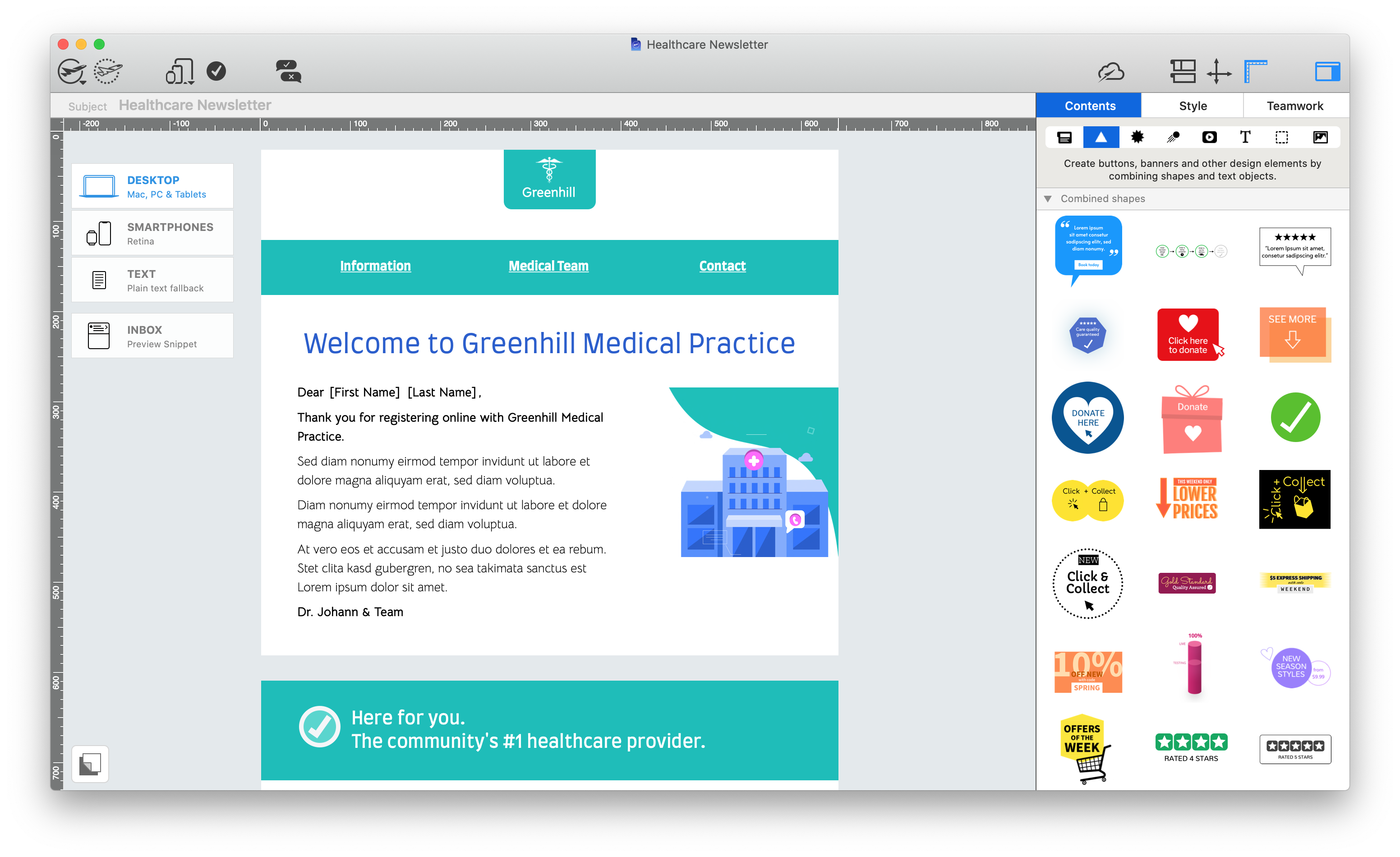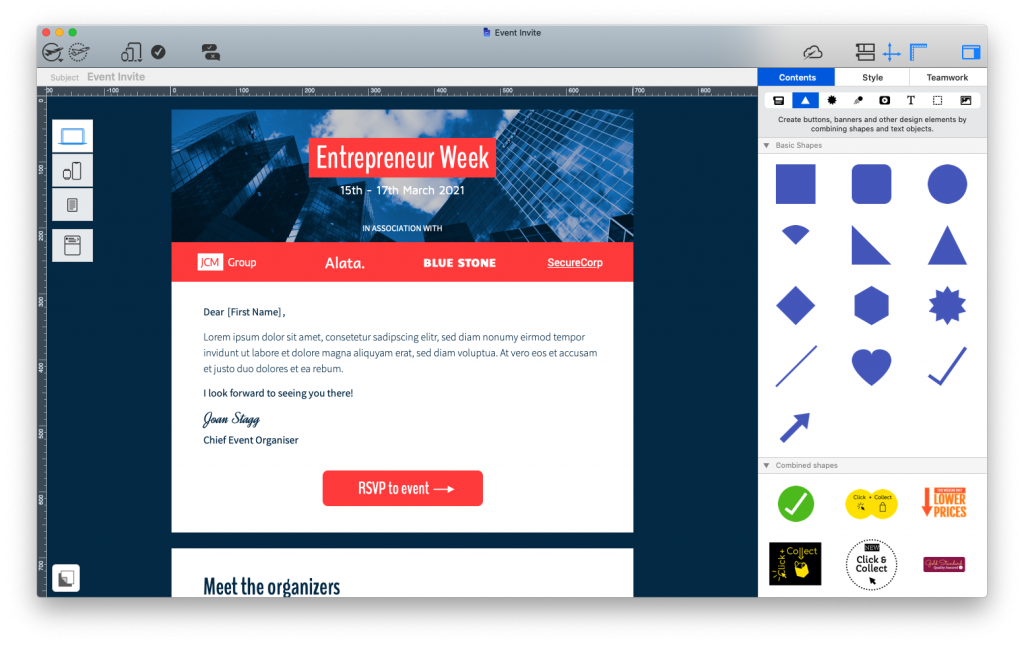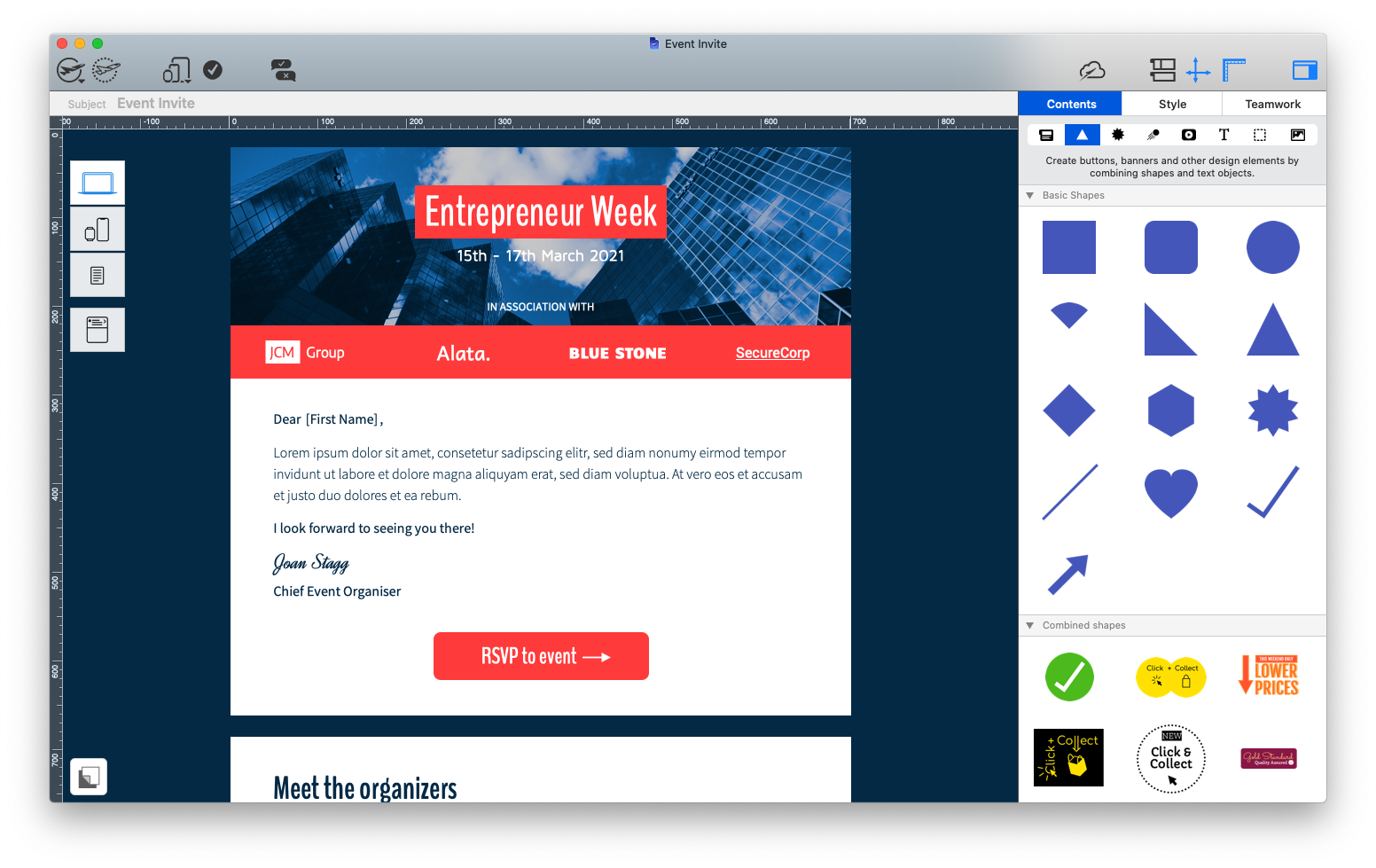 Mail Designer 365 2.2 is a massive creative update and adds tons more exciting design elements to the app, as well as 8 new HTML 
Design Ideas
, 2 new shapes, over 200 license-free web fonts, and colorful text styles.
NEW › Configurable arrow and checkmark shapes
NEW › 200+ new license-free web fonts and 13 new text styles for headlines, CTAs, eye-catchers, and more


Mail Designer 365 2.1 brings a great range of fresh new design elements to experiment with in your emails. As well as even more sales graphics, this update brings 5 new Design Ideas and a brand new shape tool.
NEW › Configurable heart shape
NEW › 40+ new stickers, eye-catchers, text-styles and buttons for sales emails
As well as offering complete support for macOS Big Sur and newly announced M1 Macs, Mail Designer 365 version 2.0 adds 150+ brand new design elements, device previews for iPhone 12, iPhone 12 Pro Max & iPhone 12 mini, plus a brand new collection of seasonal email templates to keep your newsletters looking fresh.
NEW › Hundreds of new buttons, text styles, backgrounds and brand new iOS 14 preview devices
NEW › The latest social media icons and modern online payment badges for e-commerce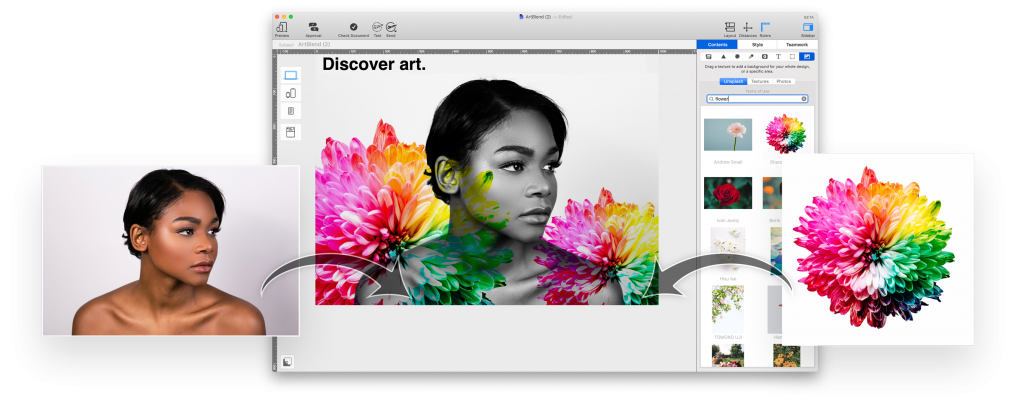 Explore endless combinations of color, gradient and definition to give your designs character. Use Blend Modes to produce studio quality image effects to rival the best graphic designers. Experiment and compare different Blend Modes using the hover preview function and create the perfect effect for your email design.
NEW › 24 Blend Mode effects
NEW › Apply Blend Modes to photos, shapes and graphic elements for amazing effects.
Dynamic Design Updates: Stylish HTML email templates for every occasion
We're always updating our library of 100+ Design Ideas to give you the material you need for sending amazing email newsletters. All Design Ideas are now hosted directly from my.maildesigner365.com; meaning we can add new designs and update existing ones much faster. Enjoy instant access to the latest email templates and up to 65% faster app downloads.
NEW › Dynamic Design Updates for 100+ Design Ideas
NEW › Ready-to-send email templates for every use case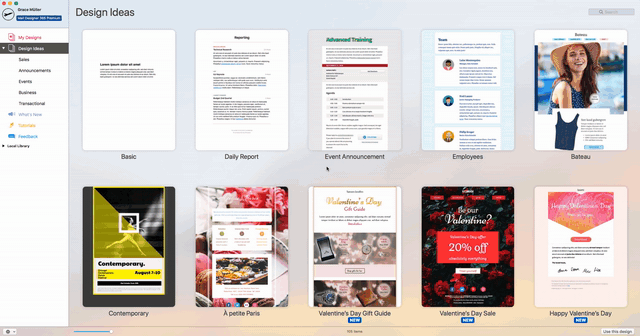 Approval: Productive teamwork tools for your email design workflow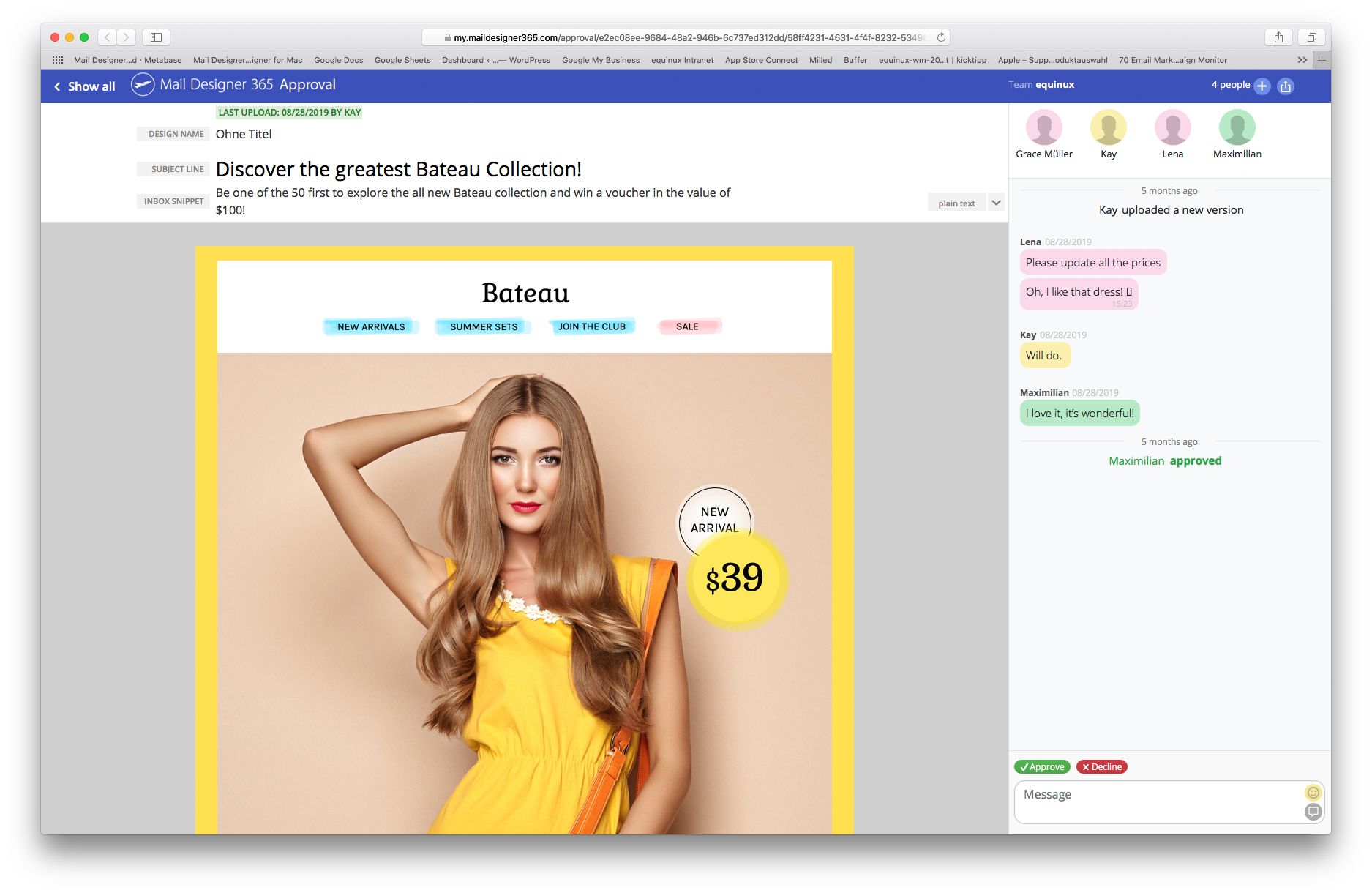 Use
Mail Designer 365 Approval
to share email design drafts with your team. Get comments and feedback on designs from team members and approve or decline campaign drafts all via one web-based platform.
NEW › Share Mail Designer 365 designs with your team via Approval.
NEW › Web-based feedback platform for Mac, iOS, Windows, Android, etc...
Image effects: Apply top grade visual effects to your email newsletters
Turn heads with incredible pro image effects. Bring color to your designs with 8 pop art style Duotone filters or sophisticated light and dark Vibrancy effects. Adjust tone, color, and saturation with just one click and apply professional effects to your newsletter images.
NEW › 8 colorful Duotone filters
NEW › Light and dark Vibrancy effects (as seen in iOS)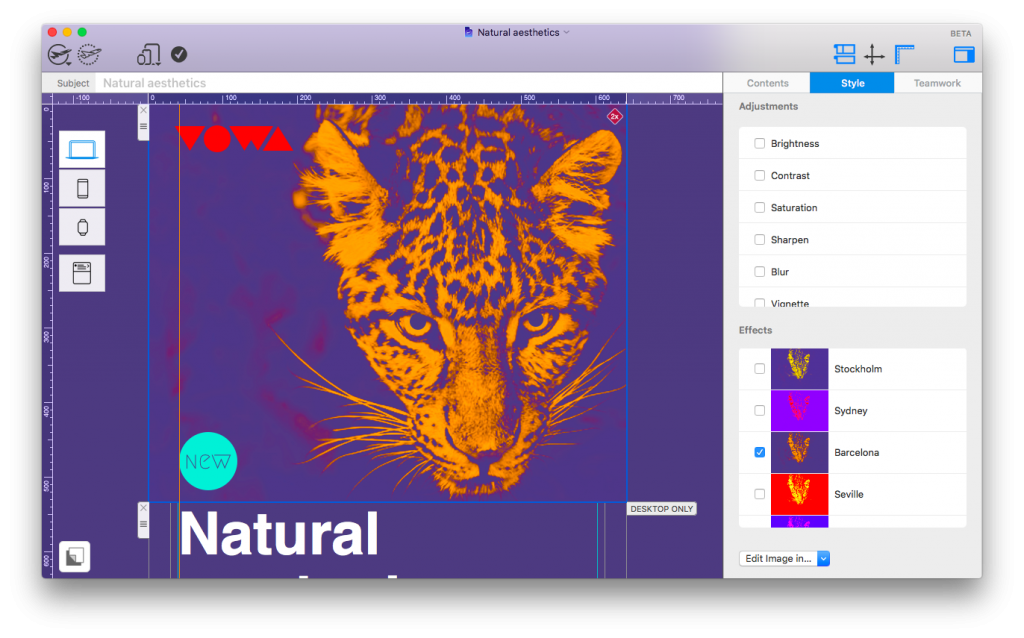 Tables: Smart, professional table layouts for email newsletters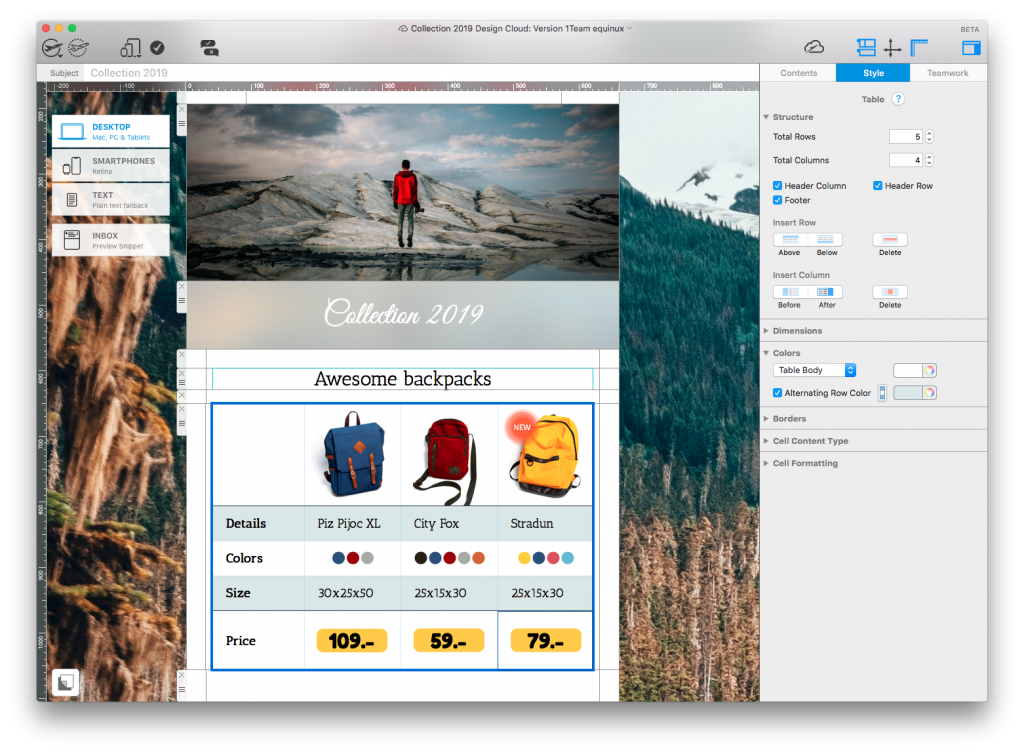 Use the Tables features to integrate smart, mobile-optimized table layouts into your email newsletters. Create eye-catching pricing tables, practical project status reports, and useful comparison layouts for every use-case. Easy to use WYSIWYG editor helps you to configure your ideal table in seconds.
NEW › Professional table layouts for your newsletters
NEW › Mobile-responsive card layouts for smartphones