First impressions are everything and the way your business welcomes new customers on board plays a critical role in how they interact with your business over time. For this reason, it's especially important you pay great attention to your welcome email strategy.
A welcome email series allows you to create a unique customer experience for anyone coming across your business for the first time.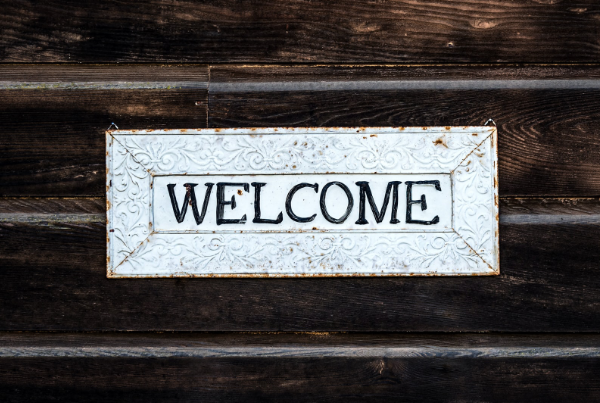 In this guide, we'll take you through the most important steps to consider along the customer journey, and show you some great examples of welcome emails we love.
Jump to:
What is a welcome email series?
A welcome email series is an automated string of emails sent out to new customers to help welcome them to your business and guide them towards carrying out a specific action (i.e. making a purchase.)
Your welcome email series works the same way as a restaurant server does. When you arrive, your server will greet you and help you get settled in. They will then point you towards your food and drink options, offer you add-ons, and continue to check up on you throughout your visit.
Types of welcome email series
To begin with, think about your end goal for the welcome campaign. Your chosen CTA (call-to-action) will then help shape your welcome email series and give you the inspiration you need to put together your email content.
Here are a few typical examples of types of welcome email series you may have come across already:
Creating a sales-based welcome email series
This is a common form of welcome email series which you will most typically see from fashion brands and other types of retailer. The CTA tends to revolve purely around sales and the aim of the series is to persuade new customers to make a purchase.
Tactics used often include showcasing new products and offering out discounts and promotional codes. In this example by ASOS, new customers are enticed to start shopping thanks to an exclusive 10% discount.
Creating an information-based welcome email series
With an information-based welcome email series, the aim is usually to educate new customers about your business. This could be delivered in a tutorial style, as commonly seen in onboarding email campaigns, to help provide new users with all the information they need to get set up.
Alternatively, your business may want to use the welcome series to teach new signups more about who you are and what you do. For example, a charity organisation may want to show potential new supporters where their donations are going and provide them with relevant information and stats.
Creating an engagement-based welcome email series
Finally, an engagement-based welcome series aims to get new customers using your product or service as much as possible so they can reap the benefits. This is generally done by pointing new users towards their next steps and making it easy for them to familiarise themselves with how everything works.
What to include in your welcome email series
The customer journey is unique to your business and factors like the time span, contents, CTA and intensity of a welcome campaign will vary.
Here are some ideas for emails which you can choose to include in your welcome email series to help new customers form a connection with your business:
Opt in / Verification
Since the introduction of GDPR, the double opt in has become known as the gold standard for email registration and sending these types of emails has become standard practice for many businesses.
Not only does this process help protect your business from spam bots filling up your email list, it also ensures any new signups are happy and willing to receive your content.
When to send: Schedule your opt in email to send instantly, so that your new customer doesn't forget to do it later on.
Welcome
This is your brand's first real interaction with your new customer and sets the tone for the rest of your welcome email series. In this email, it's important to firstly thank your customer for signing up, and secondly, make it clear what their next steps should be.
Without a clear CTA in your welcome email, customers are highly likely to ignore it and you will lose your chance to connect with them.
When to send: A welcome email should be sent soon after opting in. This ensures your customer is still actively thinking about your business.
Segmentation email
Email segmentation is a key aspect of your email marketing strategy, as it helps ensure your emails are being sent to the optimal recipient.
Use your welcome email series to get to know more about your customers' interests. This will help you tailor your content for them in the future.
Create an email to send to new customers encouraging them to update their email preferences. This will help you find out key information about them, such as location, age, gender, interests, etc. in order to send more relevant email content.
When to send: Send this email a few days after your first welcome email. This way, there will be enough distance between the two emails and your business will still be fresh in the reader's mind.
Action email
Use your next email to direct new customers towards your intended call-of-action. This could be anything, including:
Making a purchase from your online store
Setting up your first playlist
Reading the latest blog post
Trying out a new recipe
Referring the service to a friend
Make this email super enticing with great email copy, lots of eye-catching visual elements, and a super snappy subject line. This way, new customers won't be able to resist getting started right away.
When to send: Give your customers a few days to look around on their own. If you haven't tracked any notable actions, now's the time to send this email prompt and jog their memory.
Feedback email
In many cases, it's also a good idea to offer new users the chance to share their thoughts and feedback about their experience so far. Particularly if you offer a demo or free trial period, getting this feedback early can help you address issues directly and prevent customer churn down the line.
If you have a lot of questions, linking out to a targeted feedback form or survey for newcomers can be a great way to find out exactly what you want to know about new customers' experience. Alternatively, it can just be reassuring enough to provide a support email address or telephone number to let the customer know your team are there if they need you.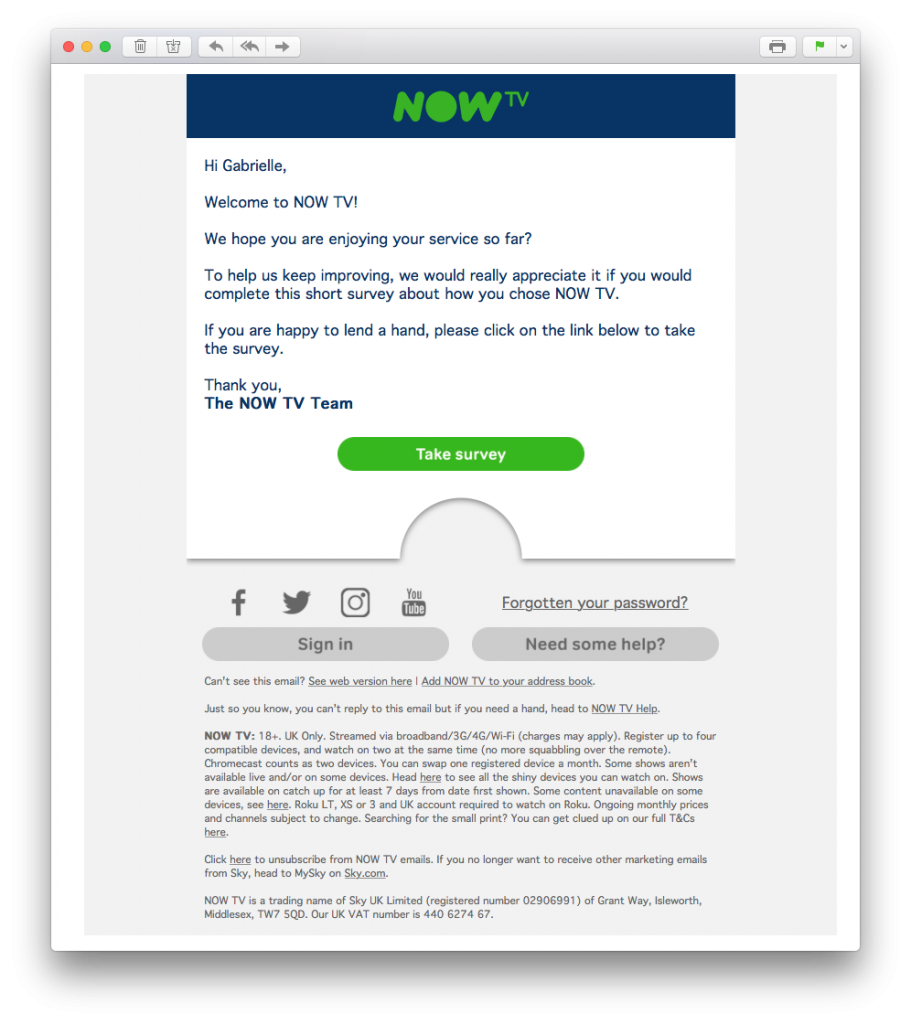 When to send: If you are offering customers some kind of demo, aim to send this out towards the end of the trial period. Hopefully by this time, new users would have had a chance to use your product and form an opinion.
Remember, a welcome email series is specific to your business and does not adopt a one size fits all approach. Depending on the nature of your business, there could be other emails you want to include which we haven't mentioned in this article. Some other popular examples include:
Referral email (e.g. refer a friend for x% off your next purchase, etc.)
Up-sell / cross-promotional email (e.g. you may also like..., upgrade to unlock more features, get premium shipping, etc.)
Cross-channel promotional email (e.g. subscribe to our blog / follow us on Twitter / check out our YouTube channel, etc.)
Sense of urgency email (e.g. hurry your trial is ending, last chance to get your welcome discount, etc.)
How to create a welcome email series for your business
Creating an automated welcome email series for your business is actually super straightforward. All you need is a well-designed set of email templates and access to marketing automation tools.
Mail Designer 365 has a wide range of HTML email templates ready for you to adapt for your automated email campaigns. Not only this, the drag & drop email editor makes it easier than ever for you to build your own email templates in minutes - no coding skills needed!
Once you've finished creating your set of email templates, you can export them directly to Mailchimp, Campaign Monitor, or Direct Mail, or as HTML to your chosen email service provider or marketing automation platform, including:
SendinBlue
ActiveCampaign
SendGrid
Customer.io
Drip
Not got a Mail Designer 365 plan yet? Start your free trial today to unlock access to 120+ email templates and a wide range of exciting creative tools for your welcome email series.
Until next time,
Your Mail Designer 365 Team