As much as we love sharing our top tips and advice with you here at Newsletter Academy, we thought we'd get a bit more personal with you this week and let you in on a little secret… Have you ever wondered how we do things here at Mail Designer? This week we're sharing our own email marketing workflow with you – that means every one of the 8 steps we take right from conceptualization all the way up until after-send analytics. Let's get started with a first-hand case study of the Mail Designer team's 8 step email marketing workflow!

Step One: Find a Concept
This may be a no-brainer to many of you, but every newsletter starts off with a brainstorming process to find the most relevant concept to send to subscribers. In our case, we tend to take a few factors into account before making the final decision. First of all, we will primarily think about what is going on internally at Mail Designer. The release of a new update, the introduction of a brand new feature, or promoting a special offer are all prime examples of a newsletter concept. Secondly, it's important to think about which special occasions are coming up on the calendar. If it is a holiday such as Christmas or Black Friday, this can be helpful to us in providing a theme and ideas for our newsletter. We also need to consider the primary CTA (call-to-action) of our newsletter in order to set the tone. Part of this step also involves reaching a decision about when to send the newsletter. This is done by analyzing previous performance and determining which days are most effective (i.e. have better opening rates.) For example, the majority of our customers are business users, and are less likely to check work-related emails at the weekend or on holidays.

Step Two: Identify Target Group
The next big step is identifying the target group who we are going to send to. Our list consists of multiple segments, as we have a very diverse customer base. This can include existing customers, new customers, customers in Germany, and customers in the rest of Europe as well as the USA. Identifying the target audience is crucial in ensuring the newsletter is set to the correct tone and also helps us to have more context when it comes to creating – allowing us to make the newsletter as relevant and interesting as possible to the receiver.
Step Three: Work on Text and Links
When we work on the newsletter text, it is also a multi-level process. Generally, we take a look back at older newsletters which have worked well to see if there are any useful text-snippets we can recycle and use in the current newsletter. Following this, the text is then edited and re-adjusted where necessary, to make it appropriate for the target audience (identified in stage two.) We then add in any links which are appropriate to the CTA of the newsletter (i.e. links to the website, or links to our social media pages.) We also include tracking links, so we can analyze our performance later on in Google Analytics. You can find out more in this blog post. As a final step, the newsletter text is then often sent to another member of the team when a translation is required.

Step Four: Finalize Layout and Design
Naturally, there's a lot more to an email newsletter than just text. Luckily for us, we work with an email design software which makes all of the other parts super easy! 😉 After we've added the text into our newsletter design, we then get to work on finalizing our design. This includes steps such as building the layout and adding in graphics like images, eye-catchers and buttons. Because we tend to re-use a lot of aspects from our previous designs, we often save layouts or layout blocks to use again. This step also includes editing the mobile layout of the design and making sure it is completely optimized for customers reading on mobile devices.
Step Five: Write a Subject Line and Carry Out a Test Send
Once the design has been finalized, it's time for us to start preparing for the final send. The most important part of this step is formulating an engaging subject line which will catch readers' attention. We do this by using the inbox optimization tool in the app. We've spoken a lot about this in previous articles, but the main things to think about are length (short and sweet), relevant keywords, and communicating the main message of the email. Read this post for a more detailed guide. When the subject line is ready, we carry out a quick test for errors in Mail Designer 365, and then use the app's test send feature to send a test copy of the draft and make sure everything looks good and functions as it should.

Step Six: Gather Feedback from Team
If the designer is happy with the email, we then proceed to the next step: gathering feedback. For us, it is important to get constructive feedback from other members of the Mail Designer team before sending the final version. To do this, the designer uploads the newsletter to our internal system and invites the team to comment on what could be improved or what needs changing. Some common examples of feedback include price checks from our sales department, disclaimer checks from legal, and re-wording of text from the rest of our marketing team. This feedback is a crucial step in the design process, as it ensures that every aspect of the newsletter has been checked over before sending to customers.

Step Seven: The Final Send
After carrying out any necessary changes following the feedback process, the design is now ready to send to customers. This step is relatively simple. We send out our designs via our internal system where we can then import the correct mailing list depending on target audience.
Step Eight: Analyze Performance
The work isn't over after we've hit send! In fact, this final step is one of the most important, as it allows us to find out what went well and what didn't, so we can improve our newsletters for the next time. We use two platforms for analytics: firstly, we use our own system to check out open-rates and link clicks within the emails, but we also refer to Google Analytics to examine the link tracking we set up in step three. Google Analytics is a useful tool to allow us to find out more about our audience and their behaviour trends. It's also a great way of seeing how much of our website traffic is attracted via our emails.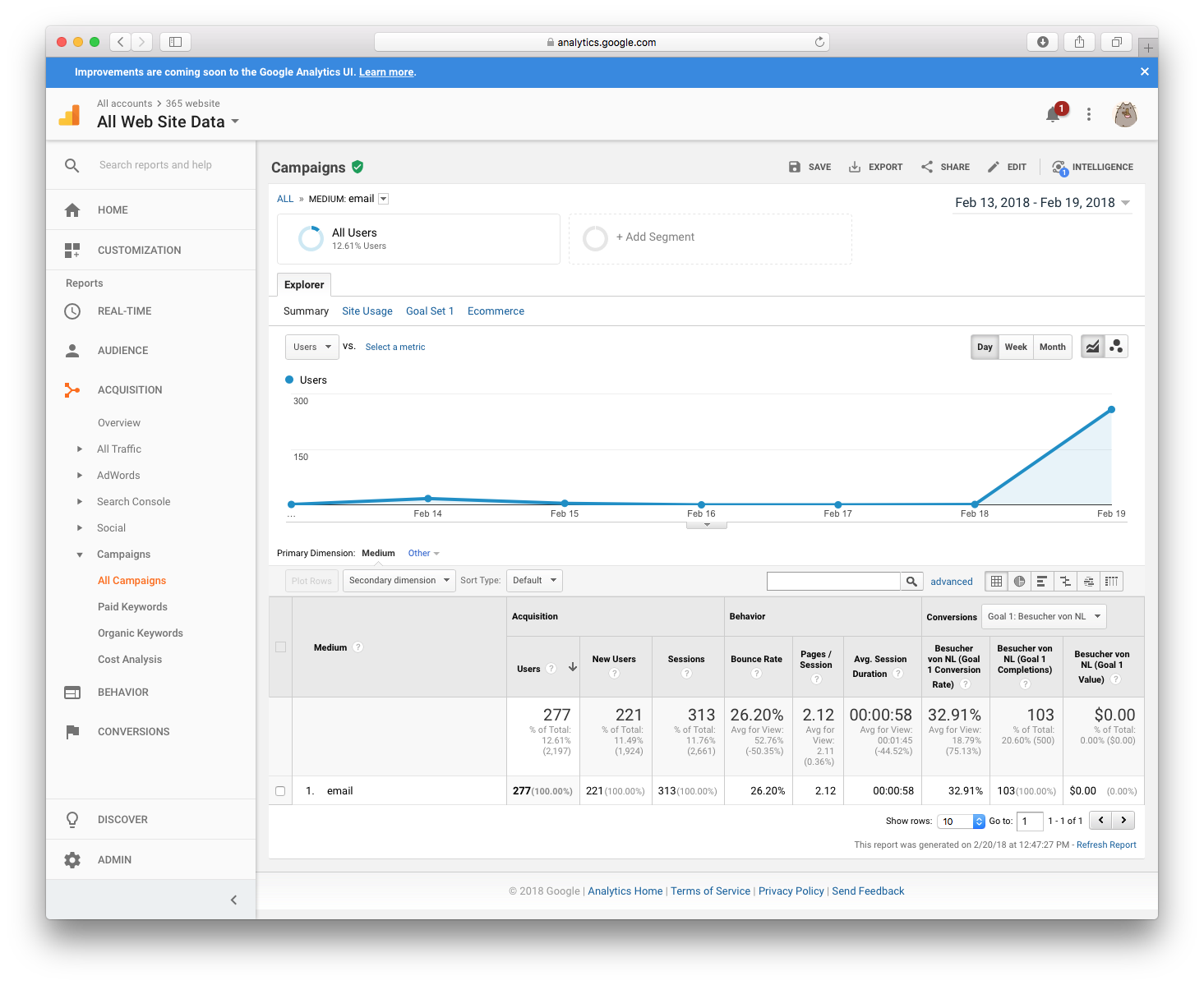 And there you have it! Those were the eight steps involved in our email marketing process. We hope you found them useful! For any beginners out there, these steps can all be perfectly integrated with a Mail Designer 365 plan to make your email marketing as easy and effective as possible.
Until next time!
Your Mail Designer 365 Team