Litmus's Fall 2020 State of Email Report revealed that 30% of marketers consider the email approval process to be "too burdensome." If 2020 has taught us anything, it's the importance of clear communication, as well as a flexible team workflow.
2021 offers you a clean slate and a fresh new opportunity to optimize your team's email approval workflow. This post shares all you need to know about improving communication within your team and avoiding common approval workflow problems.
What types of problems can occur in the email approval workflow?
When it comes to email campaigns, the workflow can be challenging. Which campaign do you prioritise? Who is responsible for what? What is the latest draft? Are we ready to send?... Questions like these are common when working on campaigns and are the result of an inefficient approval workflow.
The following problems are also a result of a poor email approval workflow:
It is unclear which team member is responsible for giving feedback or approving the finished campaign.
The designer feels the email design is ready, but what's the best way to gather feedback from other colleagues?
The team are circulating multiple versions of the design. Which version is the most recent?
Colleagues are sending feedback from all different angles (via email, chat messenger, over the phone, face to face, etc …).
The person responsible for carrying out feedback is feeling overwhelmed trying to remember everyone's comments.
Tracking down colleagues to remind them to give feedback is tedious and time consuming.
How to develop a successful email approval workflow in 2021
Before you get to work on your next big email campaign, get your team together to discuss the following key points:
Choose a team leader: Every team needs a leader with experience who is able to make the tough calls where the rest of the team are divided.
Outline your objectives: For your email campaign this would be your CTA (call-to-action.)
Allocate roles: Each team member needs to know exactly what is expected of them.
Agree on a deadline: Deadlines help us prioritise and ensure we do not forget or neglect projects over time.
After everyone has been made aware of their responsibilities, you can start getting to work. In the next section, you'll find some key guidelines on how to work best as a team while putting together your email campaign.
Dos and Don'ts during the email approval process
Sticking to these basic guidelines during the campaign will help make your approval workflow easier and more productive:
Don't: Communicate via multiple channels and platforms
You should all agree on one central platform where you can communicate with each other about the email campaign. This minimises confusion and keeps all team members in the loop.
Do: Keep your whole team involved
No matter how big or small, any changes or decisions made regarding the campaign should be shared with everyone in the campaign team. This keeps everyone on the same page and prevents any miscommunication.
Don't: Discourage honest feedback
Always encourage team members to be open and provide clear and constructive feedback. Your team needs to feel confident enough to express their ideas in order to prevent Groupthink from taking over.
Do: Have regular meetings 
This can be challenging depending on the size and nature of your business, but regular meetings (either traditional or via Skype etc.) help keep everyone up to date and allow people to ask questions if they need to.
The best tool for an effective email approval workflow
Another interesting revelation in Litmus's State of Email report was that almost 70% of marketers reported replies to test emails were their main channel for gathering feedback on campaigns.
Scrolling through endless email threads is certainly not the most efficient way for you to process and apply your team's feedback to your email campaigns. In fact, there's a much easier way to get feedback:
Mail Designer 365 Approval
We have packed the Mail Designer 365 service full with amazing features to optimise your workflow. Get started in five simple steps...
Sign up to Mail Designer 365 and choose a plan
Invite team members via email and assign them roles
Download the Mail Designer 365 app and start designing your first email template
Upload your designs to Mail Designer 365 Approval - a web-based feedback platform for teams
Send your campaign via your own email address or export to an email service provider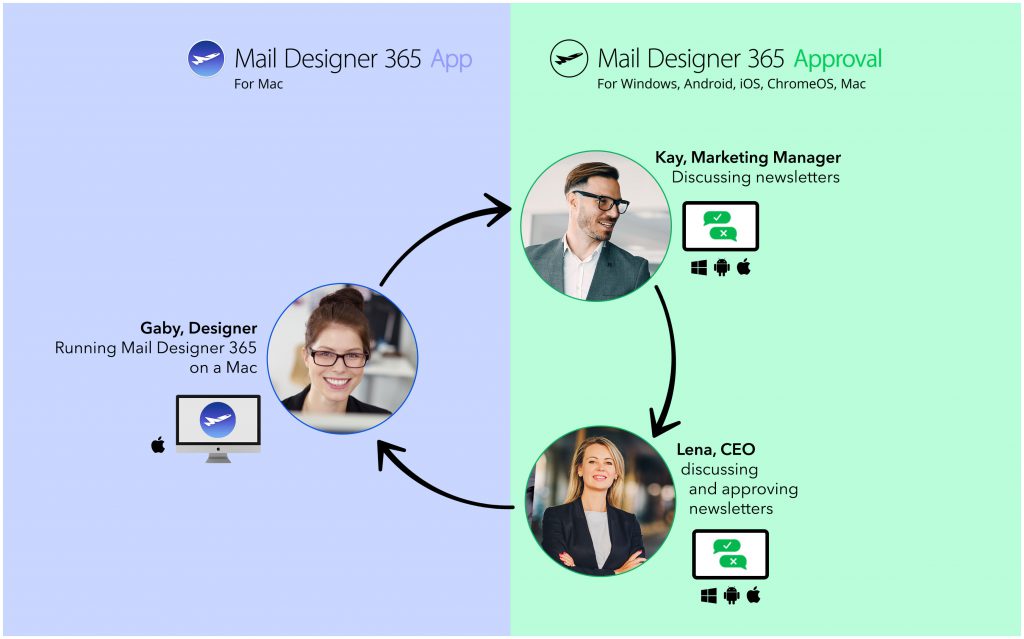 Get more inspirational tips, tricks, and best practice examples in the Mail Designer 365 Newsletter Academy -
your one stop hub for all things email marketing strategy and newsletter design.
First published: March 2019
Last updated: December 2020