Email marketing is a simple and affordable way for your startup to communicate with potential customers and showcase your product or service. In addition to being direct and efficient, email is also a super flexible channel that allows your business to try out different ideas for your marketing campaigns.
Here are some tips and ideas you should consider when building an email marketing campaign for your startup...
1. Build a Strong Mailing List for Your Startup
From a marketing standpoint, building your mailing list should be one of your key priorities during the early stages. For a startup, it is vital to secure a list of valuable contacts who will have a genuine interest in your business.
The main thing to remember when building a list is quality over quantity. Try and identify contacts who will be interested in learning more about your startup and are more likely to engage with your emails.
Include a sign up box on your website! Someone that has consciously made the effort to subscribe is a high-potential lead. Beauty box startup Birchbox use this technique on their website to help grow their mailing list. The 15% discount acts as an added incentive.
2. Produce Good Email Copy
As a startup business, it is important that your emails are able to make a good impression on customers who don't yet know your brand. This means you have to pay extra attention to spelling and grammar, as well as the tone of your email messages.
Smaller businesses should adopt a more friendly and inviting tone, in order to help establish a connection with new customers. Let the personality of your startup shine through in your emails to give readers a sense of who you are.
Good copy is also vital in your email subject line. Avoid spammy subject lines, as these could result in your email being ignored, or sent to the spam folder. Words like "free", "win", "cash", or use of all caps and excessive punctuation are all no-go's. This guide should help you prevent your email from being marked as spam.
3. Carry Out A/B Testing
For a brand new startup, it can be hard to find a marketing style that works. Email is great, as you have the opportunity to test out different ideas until you've found your perfect formula. This is where A/B testing can come in super handy.
Whether it's a subtle change like logo size or background color, or a more drastic change such as subject line or intro text, testing both variants with your mailing list is a great way to see what works and what doesn't. In Mail Designer 365, you can duplicate your master template and make as many different versions as you like to trial on customers.
Tip: Make sure you track the results to identify which email design performed the best. Find out more about this later on in this post...
4. Include a Clear Call-To-Action
One common error made by businesses big and small is to create a stunning email design but forget to make the CTA (call-to-action) clear to readers. Without a clear CTA, your email will not reach its full potential, as readers will not be able to move on the the next step.
You can use a CTA button to encourage customers to: visit your website, download your software, subscribe to your social media page, read a blog post, and much more...
There are many ways to create stand-out CTA buttons, as demonstrated in this guide. The main tips to keep in mind are:
Keep text short and concise
Use a colour which stands out in your design
Make sure the font is bold and legible
Test all links are correct before sending.
The below email by Lyft (source: reallygoodemails) is a great example of an effective CTA button. The white button contrasts well with the blue background and the text is clear and concise.
5. Work Together with Your Team
For all businesses, your relationship with your colleagues and team members is one of the key factors for your success. During the early stages in particular, you should be constantly sharing feedback and ideas for potential email campaigns with your team.
Check out Mail Designer 365 Approval as a straightforward, efficient way to share email designs with your team and get all their feedback and comments in one place. The process could not be easier:
Build an email template in Mail Designer 365.
Upload to Approval and invite team members to make comments or suggest feedback.
Carry out changes until your design is approved by your team and send via the app or your preferred ESP.
Click here to learn more about Approval and how you and your team can get started.
6. Concentrate on Transactional Emails
Transactional emails are the types of emails your startup will be sending most often to clients and customers. These cover anything from on-boarding emails, drip campaigns, order confirmation emails, or shipping emails, and generally contain the information your customers find most valuable.
Treat your transactional emails with the same amount of importance as any other sales campaign. They represent your startup on an operational level and should be clear and effective.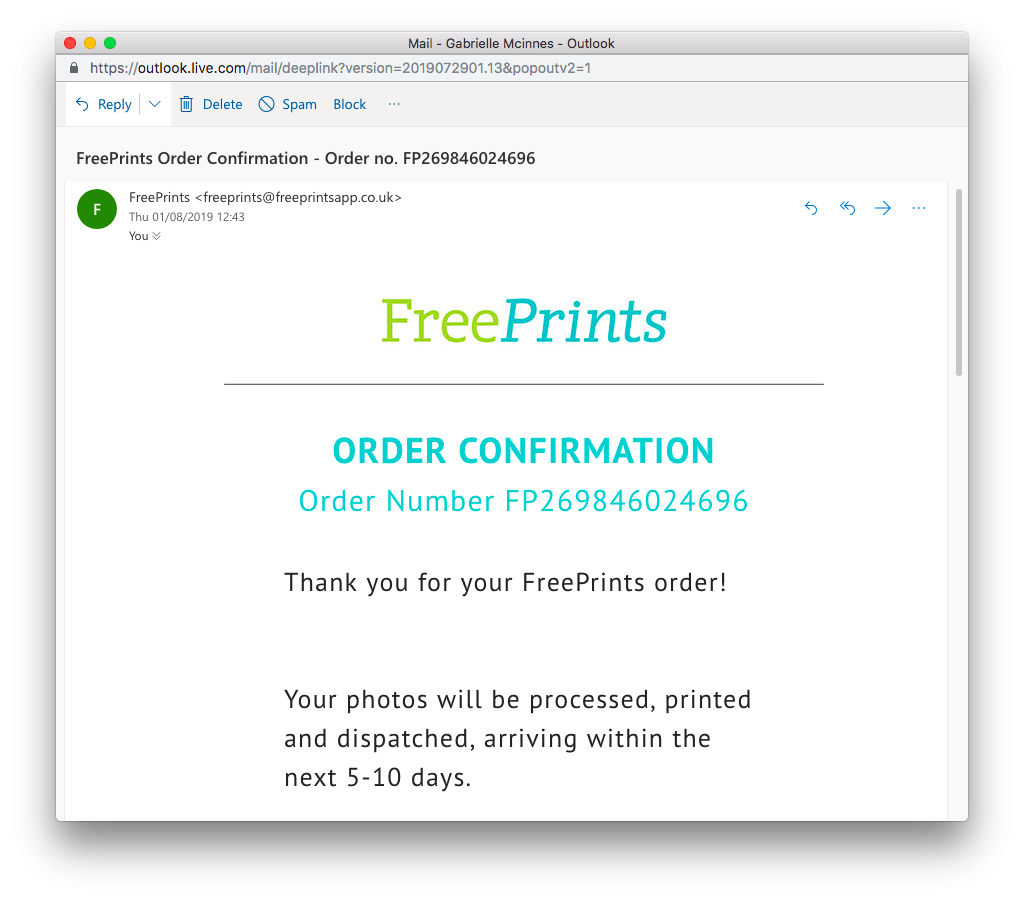 This order confirmation email from FreePrints is a nice example of a transactional email. The email represents the brand well in terms of logo and color scheme, and contains all the information the customer needs regarding their order.
7. Encourage Referrals and Testimonials
As a new startup, a great amount of your success will be based on how willing your first customers and clients are to recommend you to others. Before your brand becomes more established, you will find yourself heavily reliant on customer referrals and positive testimonials to attract new customers.
You can use email marketing as a way to encourage existing customers to share their experience of your business. Many companies operate referral schemes which offer the customer an incentive such as a discount, when they refer your business to a friend.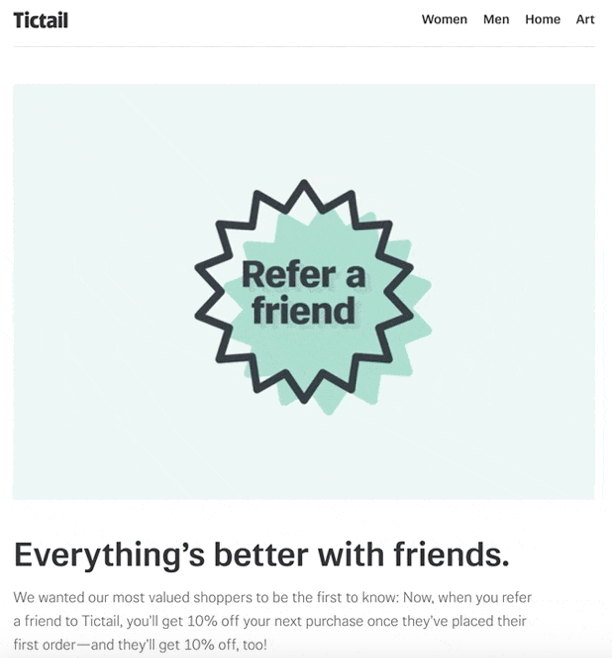 This email campaign from Tictail (source: reallygoodemails) is a great example of how you can advertise your referral schemes using email and build up a solid reputation for your startup.
8. Run Analytics for Future Improvement
Last but not least, just like any business, a startup business should always be looking for ways to improve themselves.
Using tools such as Google Analytics to analyse the performance of your newsletters is super helpful. For example, Google's campaign tracking links are easy to generate and are a great way to see how much one link (e.g. a CTA button) has been clicked in comparison to another.
Head over to Google Analytics to analyse the individual performance of your links. You can then use this data to determine which button style/message works best for future email campaigns.
We hope you have found this guide useful and will consider using these tips for your email marketing campaigns. Mail Designer 365 is the perfect email solution for startups and offers a wide range of tools and resources to help your startup business hit the ground running. Find out more about how we can help your startup here.