Government guidelines put in place to help slow the spread of the coronavirus have meant many drastic changes for businesses and customers alike.
If you are one of thousands trying to keep your small business afloat during this difficult time, you're probably considering moving your business online.
This guide takes you through the first steps you'll need to take to transition from a brick & mortar store to a successful online business.
Below, you'll also find some great tools to help small businesses get set up online...
Jump to:
First Step: Let people know you're open for business!
1. Use email to reach out to your regular customers
First step: Let existing customers know that your business is still up and running and how you're adjusting to the new situation. Email is a great way to do this.
If you already have customer email addresses, send a quick update email explaining that your business is still operating and what customers need to do to place an order. You could include products right in the email, accept orders by a reply email… whatever it takes.
Drag and drop email design tools like Mail Designer 365 allow you to quickly create a stylish email template to send to your customers. This simple step-by-step guide takes you through everything you need to build and send an email in just a few minutes.
2. Set up a Google my Business page
Creating a free Google My Business page is a great way of making your business visible online. Post all relevant information and updates (e.g. contact info, delivery information, etc.) so people can find you on Google or on Google Maps and can get in touch.

3. Broadcast your business locally
Many customers are unaware that they can still access your local businesses online. A number of local newspapers, radio stations and other media outlets in communities are trying to help local businesses by connecting them with customers.
Look up your local newspapers, Facebook pages, forums, community bulletin boards, etc. and see if there are similar initiatives in your area that will help you share your business with your community.
Next steps: Taking your business online
Once you've got the basics sorted, you can focus on the next steps to shift to a full scale online business.
1. Create a website
Creating a website allows both new and existing customers to find you and keep up to date with what you're doing during the crisis.
What to include on your website:
Information about your business and services you offer
How to place an order
Contact / availability information
Basic email sign up form
2. Sell your products online
For many businesses, going online means also getting started with e-commerce. If you want to start selling your products online, you will need to find a suitable e-commerce platform.
3. Start sending email newsletters
After sending out your initial communication emails to let your customers know you're still around, you should consider utilising the email addresses you've collected over the previous steps and sending regular marketing emails to proactively promote your business.
View tools for email marketing
Best small business tools for getting online
Best small business tools for website design
GoDaddy is a really good all-in-one solution for businesses looking to get online fast. The service covers everything from hosting, domain names to website design and are also offering some useful resources to help small business get through these difficult times.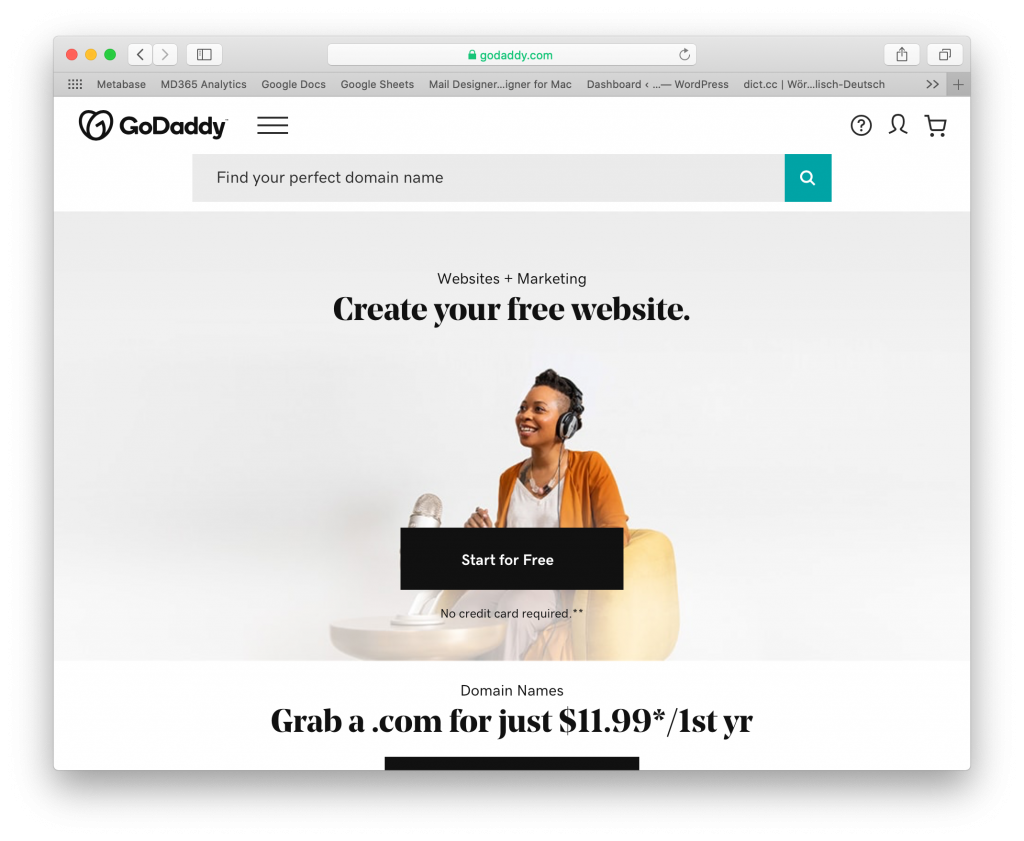 Wix offers a range of easy to use, professional website templates which you can adapt to suit your business. Free plans are available, as well as a range of paid plans offering different features depending on your business' needs.
Best small business tools for e-commerce
Shopify is one of the biggest e-commerce tools on the market right now and offers small businesses everything they need to set up an online store for the first time.
Benefits include an e-commerce website, sales and inventory dashboard, online payment management and discounted shipping costs. Find out more about their plan options here.
For those of you looking for something simpler, Big Cartel is another solid option suiting a wide range of businesses. With free plans available for up to 5 products, there is something for everyone. Create an online portfolio of your work for customers to browse through.
Etsy is a great choice for smaller shops and independent sellers selling specialty or handmade items such as art, jewellery, made-to-order clothing, etc. Setting up an Etsy store is a great way to showcase your work to a wider audience and continue to sell online while your physical store is closed.
Check out all the resources and tools Etsy provides to support small businesses online here.

Best small business tools for restaurants
As well as setting up a dedicated website for placing orders, restaurant owners can also benefit from signing up to a delivery platform.
In principle, all of the following tools offer the same service and help your restaurant reach more customers in the local area. Signing up allows you to advertise your takeaway menu on the respective platform and receive orders online.

Best small business tools for content creation
Use Patreon to upload your exclusive content such as training videos, podcasts, online workshops, etc. to share with your audience. Subscribers pay a monthly fee which guarantees them access to all the content you upload.
Got a specialty skill? Your small business can also use Patreon as an extra source of income to allow your customers to take part in exclusive classes and events from the comfort of their own homes.
Of course, you can also use tools like Instagram to also upload quality free content to share with your subscribers. With live streaming options also available, this is a great way to keep in touch with your audience and keep them engaged with your brand.

Tip: Live stream workout or cooking classes to help create the community feel amongst your audience.
Tools for live webinars
Businesses can use Zoom to live stream webinars, Q&As and similar content to your audience via YouTube or Facebook live. Although a slightly more expensive option, this is a great way for independent consultants or businesses offering professional training to continue supporting clients.
Best small business tools for email newsletters
Thanks to the user friendly, drag & drop interface, even beginners can create a professional HTML email design from scratch in Mail Designer 365 - no coding skills required.
Looking for inspiration? With 100+ ready to send templates, built in web fonts, graphics and creative tools, plus easy export options, Mail Designer 365 is the best choice for building email newsletters on your Mac.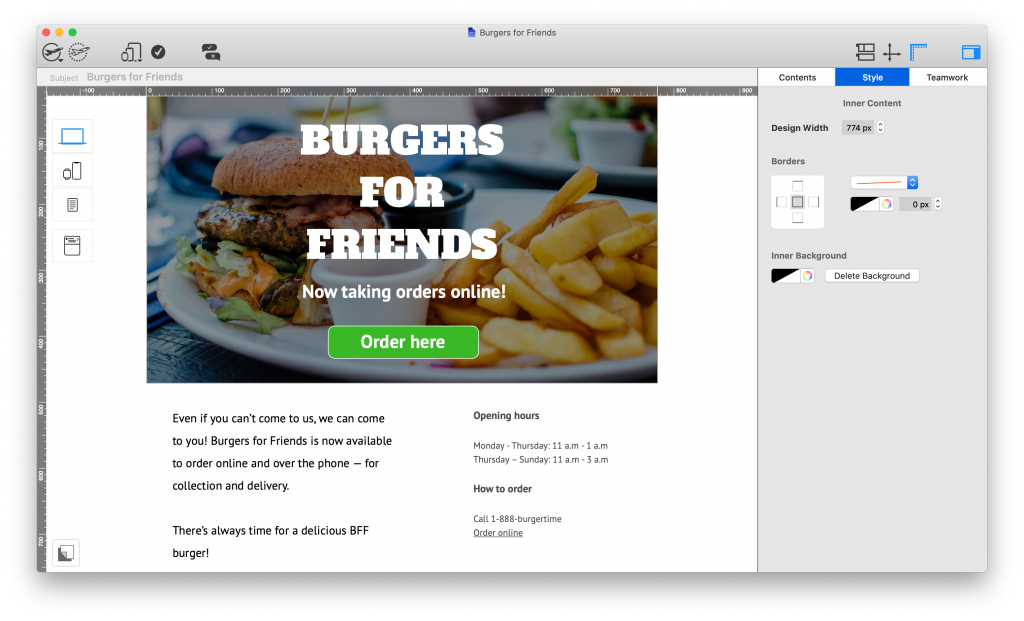 Sign up free today to try it out with no strings attached, or view our plan options here.
Tools to send email newsletters
Once you've built your newsletter, you need to find a way to share it with your customers. Here are some great email service providers (ESPs) which we can recommend:
With free plans available for up to 2000 contacts, Mailchimp is a great solution for small businesses getting started with email marketing.
The best part? All templates created with Mail Designer 365 are 100% compatible with Mailchimp and you can export your designs directly from the app to send to your customers. (Learn more.)
SendinBlue also offers free plans for unlimited contacts with a limit of 300 emails per day and is another solid solution for beginners. For more advanced marketing features, paid plans are also available.
Mail Designer 365 designs also work perfectly in SendinBlue. Here's how to export them.
For a complete list of ESPs compatible with Mail Designer 365, check out our export guides.
Sign up to Mail Designer 365 free today to bring your small business online.
Until next time,
Your Mail Designer 365 Team