In particular for fashion brands, having an effective email automation strategy in place plays an important role in determining the experience customers have with your online shop. Setting up automated emails for certain key "trigger" actions is a great way to keep website visitors engaged and personalise their journey with your business.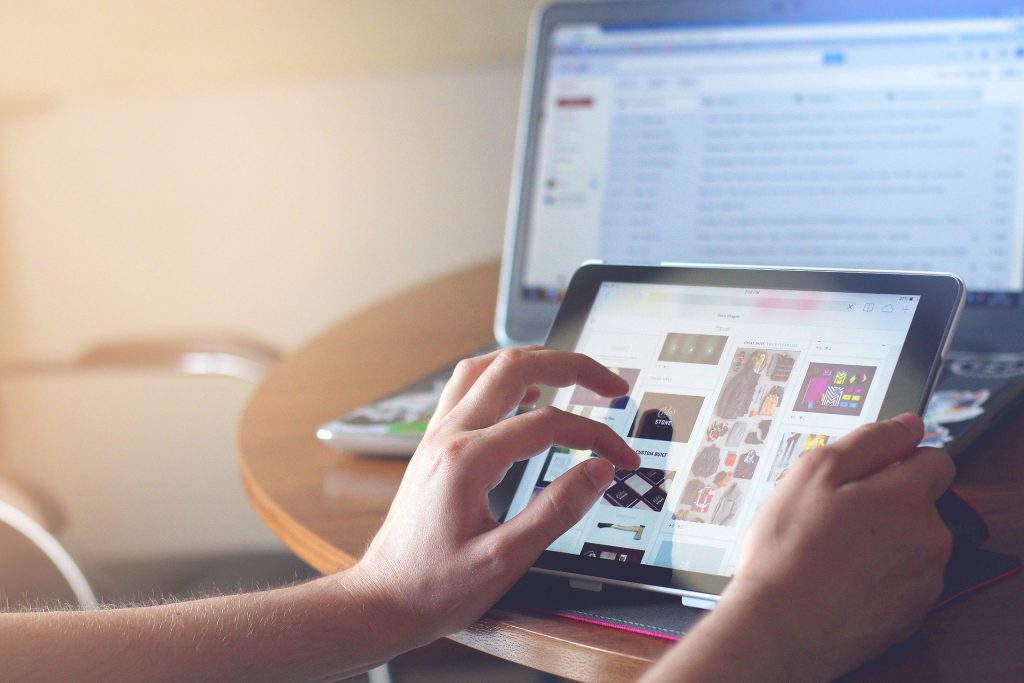 Although it's great to get creative with your automation strategy, having a solid foundation in place is the best way to ensure you have all bases covered.
In this post, we're sharing 5 essential automated emails every online fashion retailer needs to set up to help boost sales and drive customer engagement.
Why Should I Set Up Automated Emails for My Online Store?
Big name online fashion retailers such as ASOS, Boohoo, Zalando and Missguided have a lot in common, including an indestructible email marketing strategy.
As well as creating a more personalised experience for your customers, automated emails have a number of other advantages:
Save time: Having an automated strategy in place saves you time in the long run and allows you to focus your efforts on larger campaigns
Great ROI (return on investment): Building one set of templates won't cost much and will help you maximise sales
Onboarding made easy: Welcome newcomers on board with a pre-made set of email templates
Reduce support demand: Provide customers with useful billing and shipping information without them having to ask for it
Reengage customers: Stop customers slipping through the net by chasing up lost sales and dormant subscribers
5 Automated Email Ideas for Online Fashion Retailers
Here are five useful ideas of automated emails to set up for your online clothing store.
1. Welcome Email
Sending a welcome email is a great way to introduce new customers to your brand. Typically, these emails will be sent following a customer's first purchase or when they first sign up to your email newsletter.
Remember to include a short thank you message to show your appreciation. In addition, a small welcome offer is often the perfect way to start off a new customer relationship on the right foot.
In these examples by Vivienne Westwood, new subscribers are sent two onboarding mails: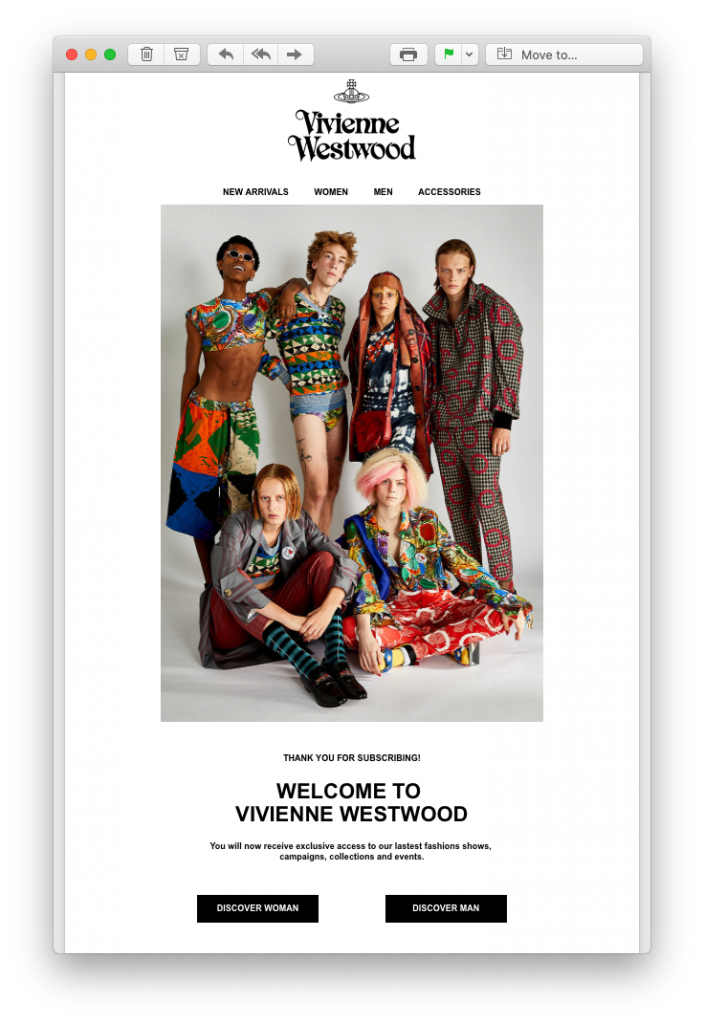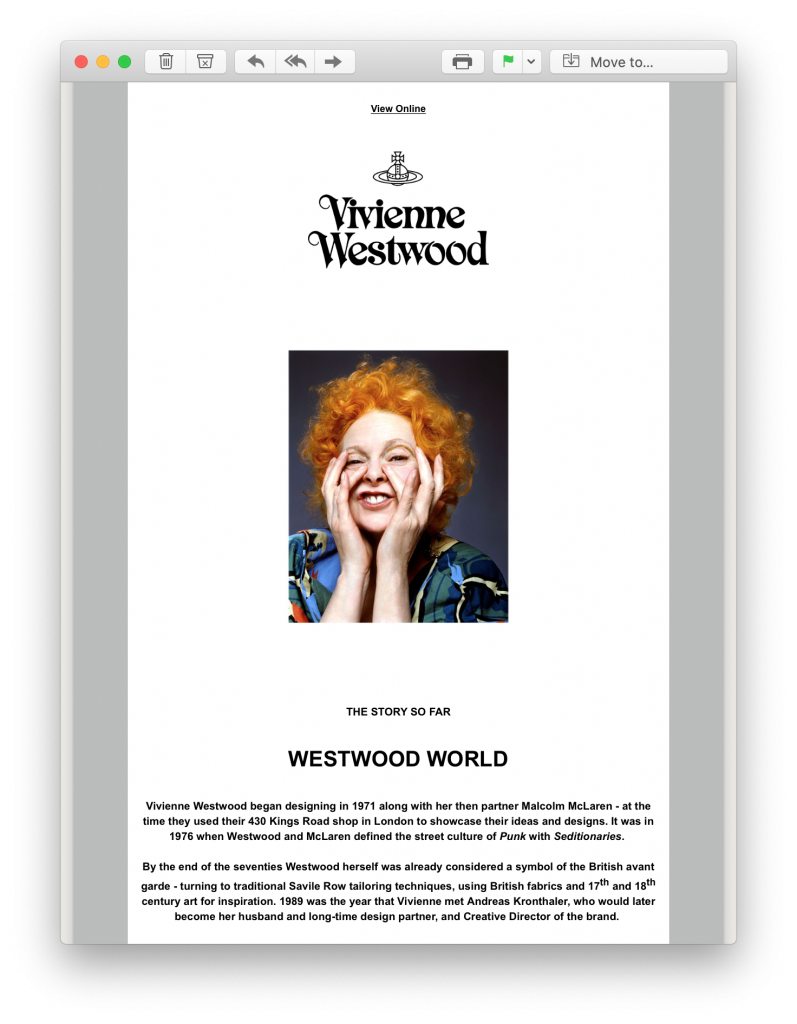 The first email is a standard welcome email with a direct pathway to their online store. However, in the second email, new customers instantly learn more about the iconic brand in a brief biography, helping them to quickly form a connection.
2. Abandoned Cart Email
Abandoned shopping carts is one of the biggest reasons for sales falling through. Oftentimes, this is caused by an interruption to the checkout process and not necessarily because the customer is no longer interested in your product.
Some common interruptions to the checkout process include:
Loss of internet connection
Entering an incorrect payment method
Phone battery dying
Receiving a phone call or message
To make sure you don't miss out on a sale for an avoidable reason, make sure to set up abandoned cart email reminders to draw those customers back in.
When creating these automated emails, remember to make the product placeholder nice and big so the customer instantly notices the product they originally wanted to purchase. Timing is also key, as sending the email too late could result in the customer losing interest.
In this abandoned cart email by Kate Spade, the product takes center stage and draws the reader in straight away. In linking to their new in items, Kate Spade also offer the reader an alternative enticement onto their website:

3. Shipping Information Email
Giving customers peace of mind after they place an order from your store is super important. As well as an order confirmation email - which is standard practice for any online business - providing detailed shipping information is also essential.
Knowing how long an order will take to arrive and being able to plan for the delivery both make things much easier for your customers. For this reason, it's a good idea to include a tracking link to your delivery service as well as an estimated delivery date.
As well as being a useful service for your customers, it will also help reduce the number of support enquires you receive about delivery times, freeing up your team's time for other tasks.
This tracking email by Timberland is a good example of best practice. In addition to including all the relevant information about the order, Timberland also include a prominent tracking link which the customer can use to follow the progress of their order.

4. Feedback Email
Receiving reviews for your store and products is valuable for every business owner. Feedback emails are really easy to integrate into an email automation strategy and can be set up to send after any purchase from your store.
Browse through our top tips for putting together excellent feedback emails
In this example, ASOS sent an interactive feedback email to make it easy for customers to rate items they have recently purchased. Not only does this help the brand learn more about what their customers like, it also helps other undecided shoppers to determine if the product is right for them.
5. Happy Birthday Email
Last but not least is the Happy Birthday Email. This is another really effective email to add to your automation strategy and only takes a moment to set up in your ESP.
Celebrating with your customers by giving them a discount or special offer for their birthday reminds strengthens the relationship and reminds them you appreciate them.
It's also really likely your shoppers will be in the mood to treat themselves to something special for their birthday - whether it's a new outfit for the big day or that one item they've had their eye on for a while - your birthday promotion could be the final push they need to make that final purchase.
In this fabulous birthday email promotion, New Look give their shoppers more than enough time to scout out their birthday treat and get 20% off! The bold countdown at the top of the design also adds a sense of time pressure, encouraging the customer to buy sooner rather than later: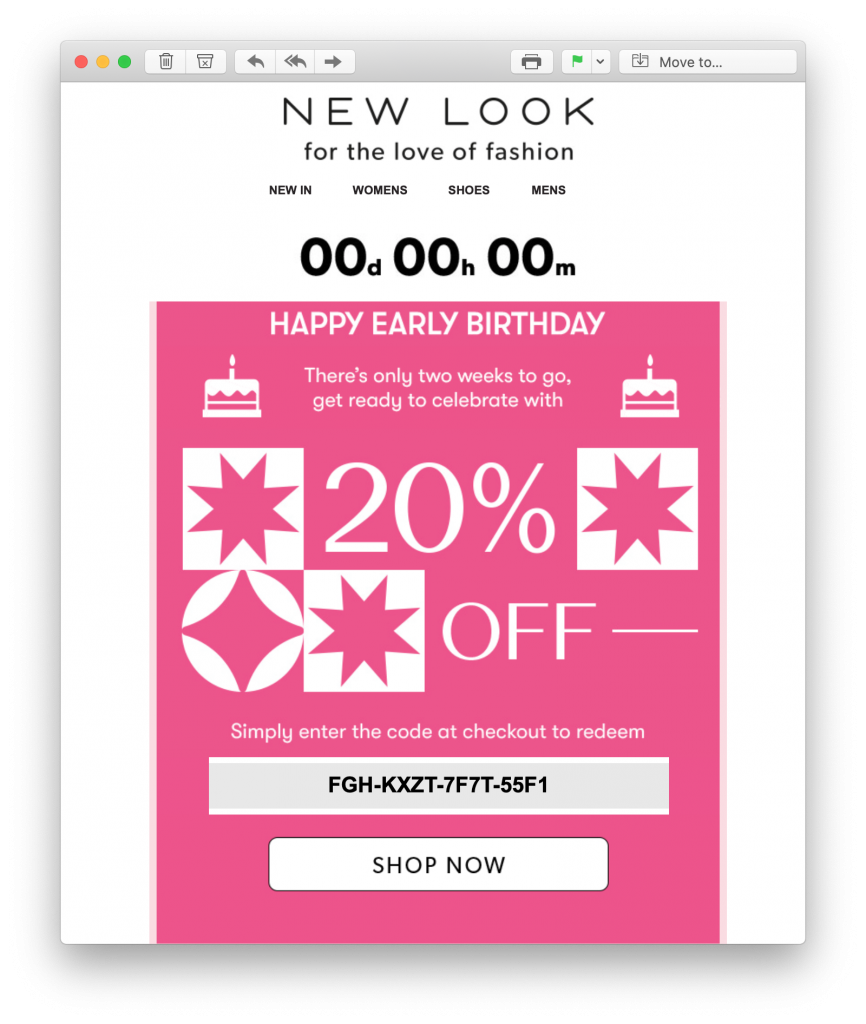 Setting Up Automated Emails for Your Online Clothing Shop
We hope you've been inspired by these automated email ideas. Setting up email templates for your automation strategy is easy in Mail Designer 365:
Open Mail Designer 365 or download for free on your Mac
Create a new email design with the responsive, drag and drop editor or choose from one of our automated email templates
Export your finished design directly to Mailchimp, Campaign Monitor or another email automation tool of your choice. Find a list of all compatible services on this page
Use Mail Designer 365 to create a stylish range of email templates to use together with your email automation platform.
Until next time!
Your Mail Designer 365 Team
Get more inspirational tips, tricks, and best practice examples in the Mail Designer 365 Newsletter Academy -
your one stop hub for all things email marketing strategy and newsletter design.