Who doesn't love a birthday? When it comes to thinking of ideas of how to improve your email strategy, an automated birthday email can be a great addition. Not only is the birthday theme super versatile, it's also a great way to help you engage with your subscribers.
Here are some of our very best tips and ideas for automated birthday emails, plus 5 awesome examples of happy birthday email designs...
Best practice tips for automated birthday emails
Get the party started in the subject line: If it's your customer's birthday, they'll be in the mood to celebrate. Mention their birthday in the subject line to capture the reader's attention and see better open rates.
Use personalisation: You want to make your customer feel special on their big day and addressing them by name is one great way to do this. It also makes your email feel less generic and more like exclusive content just for them.
Offer a birthday gift: Who doesn't love receiving something nice on their birthday? Include a treat in your email; whether it's money off, a free gift, or a special offer, it's bound to make your customer smile.
Make the design fun: Birthdays are all about having a good time. Let your email design set the tone by using fun, birthday-style imagery like balloons, cakes and presents. You could also try to integrate color and a fun font to make things even more exciting.
Here are some examples from big name brands to help get you inspired...
Awesome automated birthday email design examples
Birchbox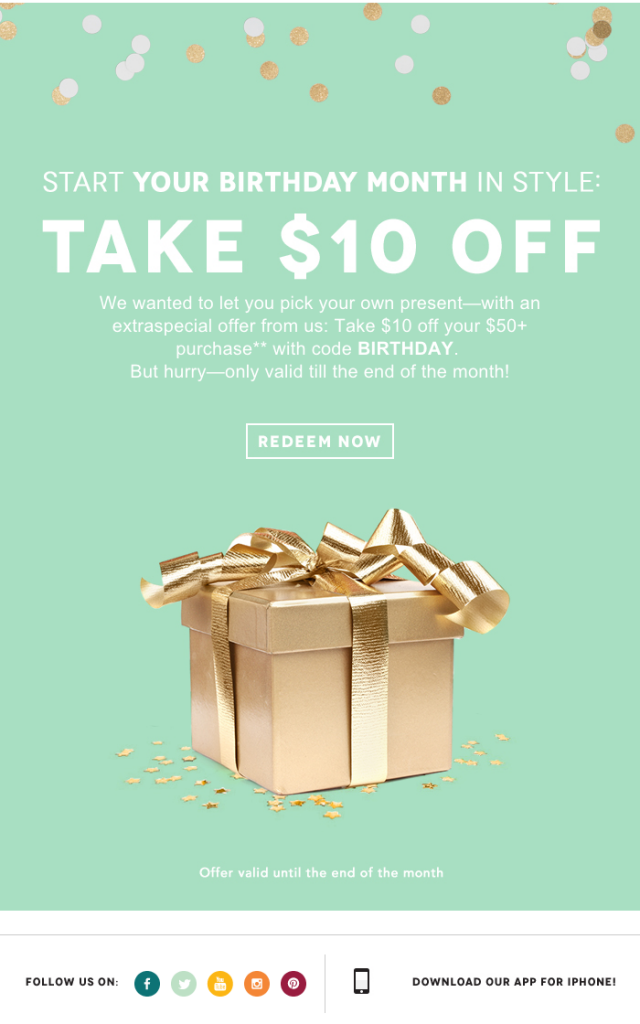 Birchbox turn heads with this fun, pastel green design. The gold gift box and confetti add excitement, and the choice of a big, bold, centred font for the special offer helps hook in the reader straight away.
Giraffe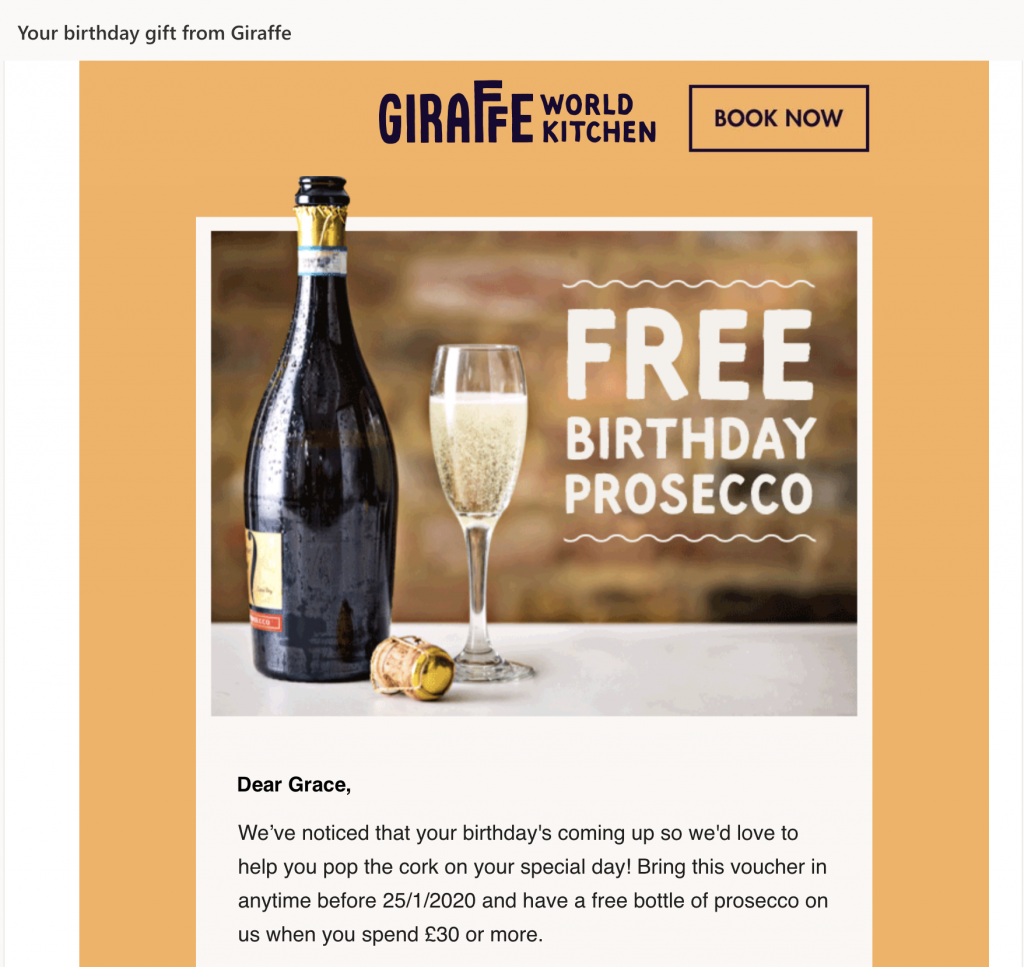 This email by Giraffe sets the party theme straight away. The promotion couldn't be made any clearer in the design, and overall, it's a smart way to get customers into the restaurant to celebrate their birthday.
Journelle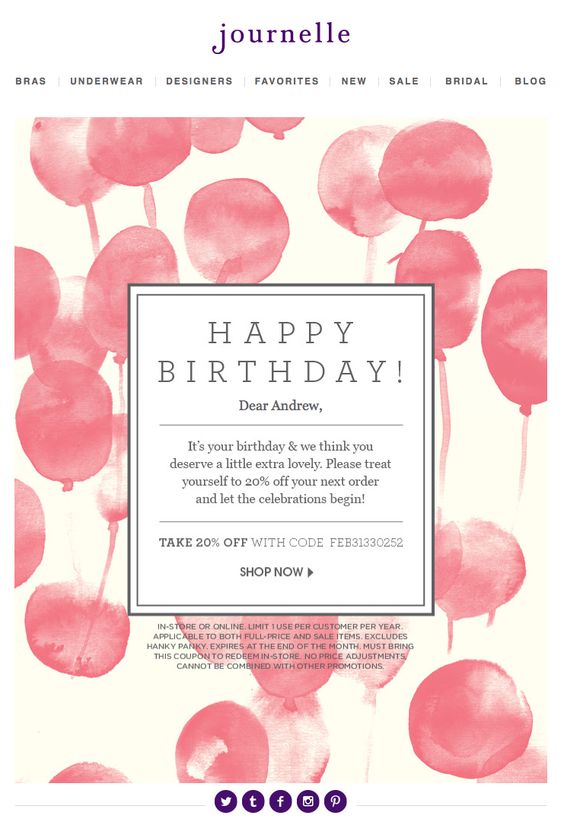 Journelle uses a simple, yet stylish design to wish their customers a happy birthday. The email layout itself looks like a birthday card, while the use of personalisation also helps give it that extra special touch.
Dorothy Perkins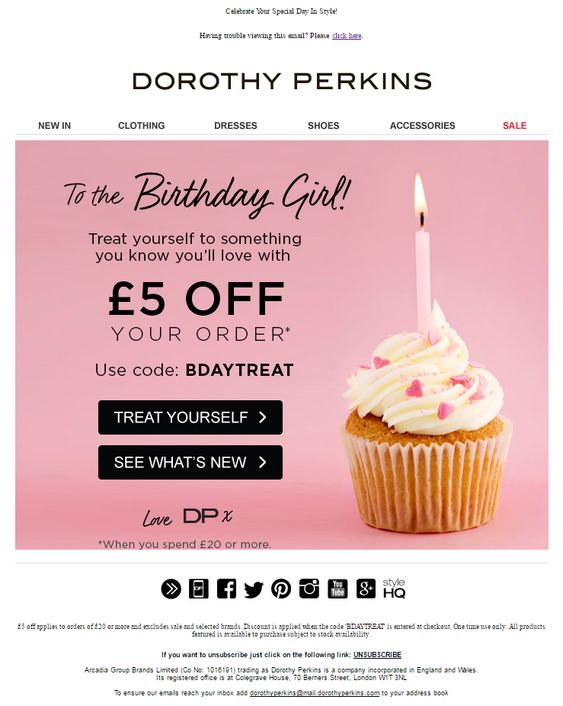 Not only does the cupcake in this design by Dorothy Perkins look super tasty, it's also a great eye-catcher. Thanks to bold call-to-action buttons, a clear discount, and the use of a handwriting style font, this design is a gift that doesn't disappoint.
American Apparel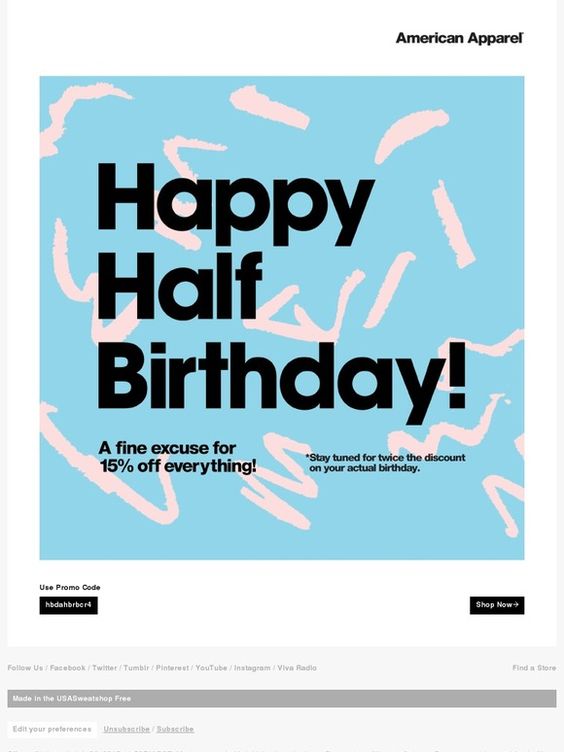 This abstract, confetti-style design by American Apparel is a bold and unique take on the automated birthday email. Choosing to celebrate the customer's half birthday is a clever technique which many companies wouldn't think of.
How to get started with your automated birthday email
Build your birthday-themed template using the tools in Mail Designer 365
Export your design to use with your preferred email service provider
Make sure there is a birthday field set up in your ESP and start your automated birthday email
P.S. Don't have a Mail Designer 365 plan yet? Sign up today to test Mail Designer 365 for free and see what you can achieve.
Until next time,
Your Mail Designer 365 Team
Get started with Mail Designer 365 today
Start your 7 day free trial and use your Mac to create stylish email newsletters for your business.
Compatible from Mac OS X 10.11 onwards
Get more inspirational tips, tricks, and best practice examples in the Mail Designer 365 Newsletter Academy -
your one stop hub for all things email marketing strategy and newsletter design.