Thanksgiving Emails
Before the crazy shopping spectacle that is Black Friday, there is Thanksgiving. Most are familiar with the Thanksgiving feast. You have probably been daydreaming about the countless homemade Holiday food that are soon to be within your reach at the family dinner table. Oh yes, we can definitely relate.
Like you, your subscribers have been ruminating about Thanksgiving traditions and being with family. And also like you, your subscribers have probably been receiving countless deals and sales for Black Friday. While we recommend starting your Black Friday email campaigns early, we want emphasize the importance of sending Thanksgiving-themed emails to your subscribers. Don't skip out on this amazing holiday opportunity!
Here are some email marketing tips that your subscribers will gobble up:
Create visual content that gives the Holiday vibes
Say yes to turkeys, fall leaves, pinecones, pumpkins, and cornucopias! Whether it's a graphic, an animation, a photo, or a background, you can't go wrong with using the right visuals. The right Thanksgiving-themed imageries can bring comfort and even a dash of Thanksgiving cheer to your subscribers.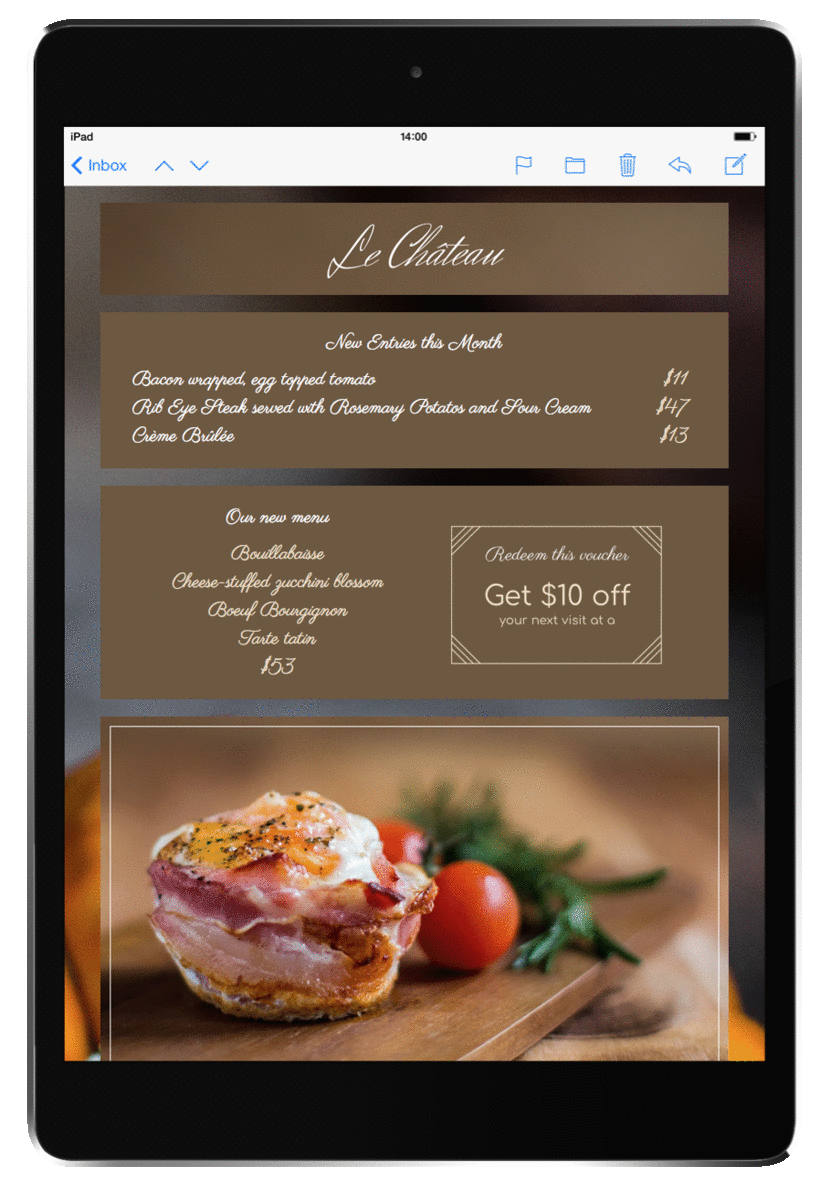 Here is an example from 

Gibsons Bar & Steakhouse: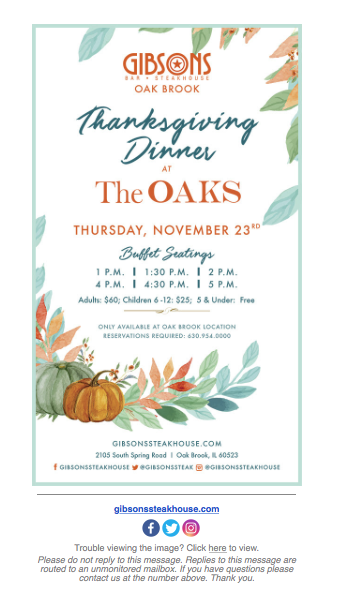 Why do we like it? Gibsons Bar & Steakhouse's email design is simple but festive. They added elements of Thanksgiving in a simple way. The colors used are warm and cozy. "Thanksgiving Dinner" is written in a different font compared to the surrounding text, giving the spotlight to this dinner. Overall, the look and feel of the email has a very welcoming vibe.
Include additional content that helps your subscribers
Instead of having an entire email be focused  on just products or services that you want to sell, try sharing something that can help your subscribers. For instance, if you have a Pinterest board that can help inspire them for a project, then highlight your board(s) in your Thanksgiving emails. If you have an awesome recipe for a pumpkin pie, potato salad, etc., then share it with your subscribers. Don't be afraid if the recipes do not relate to your product line. It's about building a relationship with your subscribers and connecting with them on a personal level.
Why do we like it? World Market included a call-to-action button to a Pumpkin Spiced Caramel Corn Recipe coupled with a very appetizing photo that can make any mouth water. On top of that, this World Market email design uses a very subtle orange color scheme. You can see the hint of Fall shades of orange found within all the pictures used. 

Do good and encourage others
This is the season to think of others and do your part in helping make the world a better place. If you are hosting a food drive or a fundraising event for a good cause, now is the time to encourage your subscribers to join you. If you are planning to donate a part of your proceeds to charity, inform your subscribers what the charity does and how much will be donated to the organization.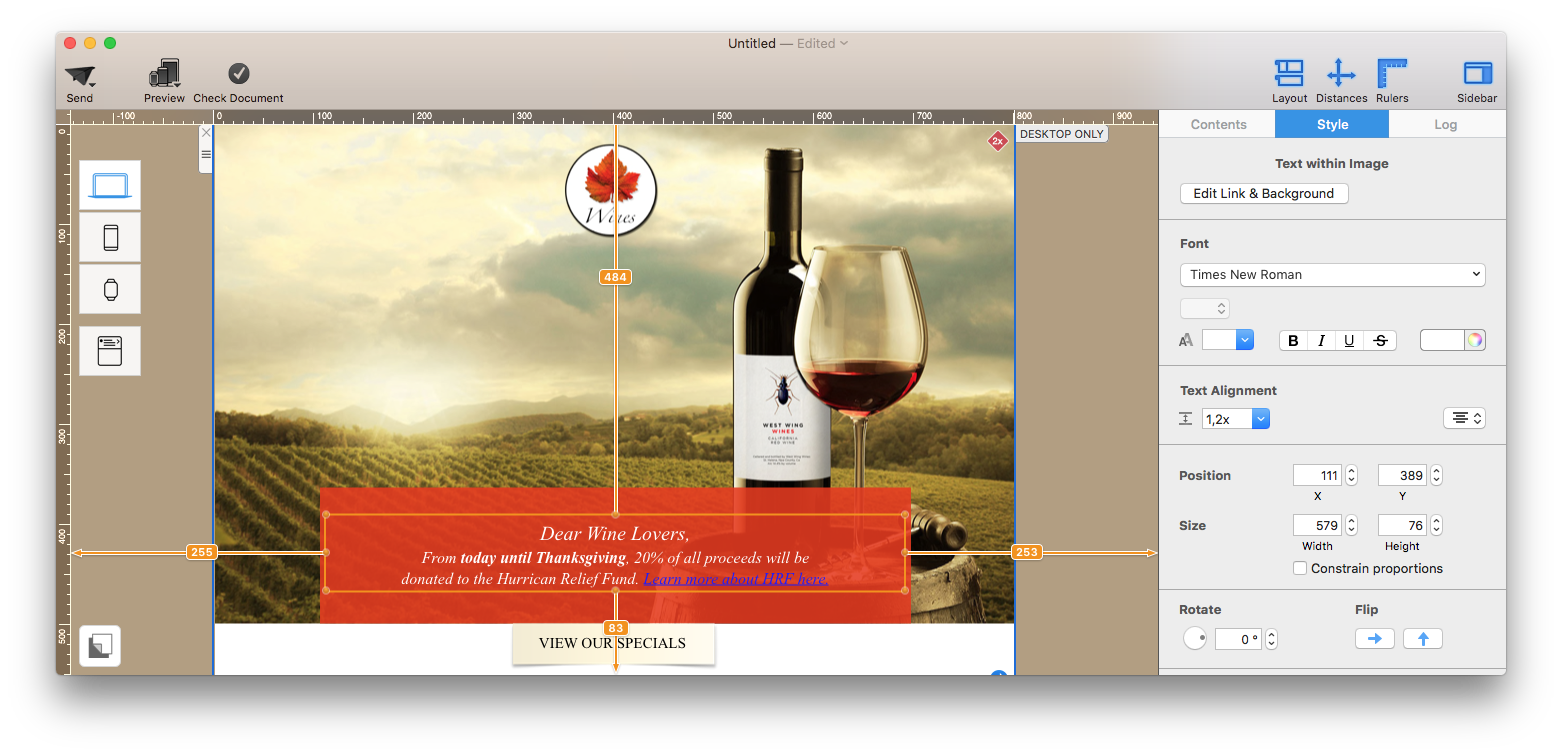 Reward your customers with a discount code or a gift card
This is the time of the year when people are preparing for Holiday shopping season. As part of showing your appreciation to your subscribers, you can provide them with a discount code or a gift card that they can use in your stores. Not only will this show that you appreciate their loyalty, but this will also give them an extra push to shop.
Why do we like it? Bed Bath & Beyond added an adorable cartoon turkey right at the top of its newsletter along with the gift card. The graphic sits at the top and the colors instantly capture the eyes of anyone looking at the email, making the gift card message hard to miss. 

Use a unique Thanksgiving hashtag and host a contest
Carry the conversation to Twitter or to Instagram by asking your subscribers to use a unique hashtag that you created. You can ask them to share Thanksgiving photos or Thanksgiving memories with you and the world for a chance to win a grand prize. This is great way to build a community of followers. You can also use the submitted photos in your newsletters to encourage others to participate in your contest.
Why do we like it? Better Homes & Gardens created their own unique hashtag "#BHGCelebrate." With this hashtag, they gave subscribers a chance to be featured on their weekly gallery. On top of that, they also added an additional opportunity for their subscribers to win a Fall-themed prize that can double as a Thanksgiving decor.

Include Thanksgiving themed emojis in the subject line
Add some character into the subject line with fun emojis that relate to Thanksgiving. Try any of these: ????????. Emojis will add a bit of color and personality to the  subject lines of your Thanksgiving emails.
Create a Thanksgiving-themed call-to-action
Look at a unique call-to-action as cherry on top of your email design. There are many creative, Thanksgiving-themed call-to-actions that you can use. It does not matter whether it is for sharing your Black Friday deals, Thanksgiving sales, pinterest boards, Thanksgiving recipes, DIY Thanksgiving inspiration, or asking your subscribers to donate or volunteer; You can create a Thanksgiving-themed call-to-action that works for you.
Here are some inspiration:
"Gobble up the savings"
"Go forth and feast on the savings"
"Stir up savings"
"Mix in some inspiration"
"Pluck some inspiration"
"Spread the good"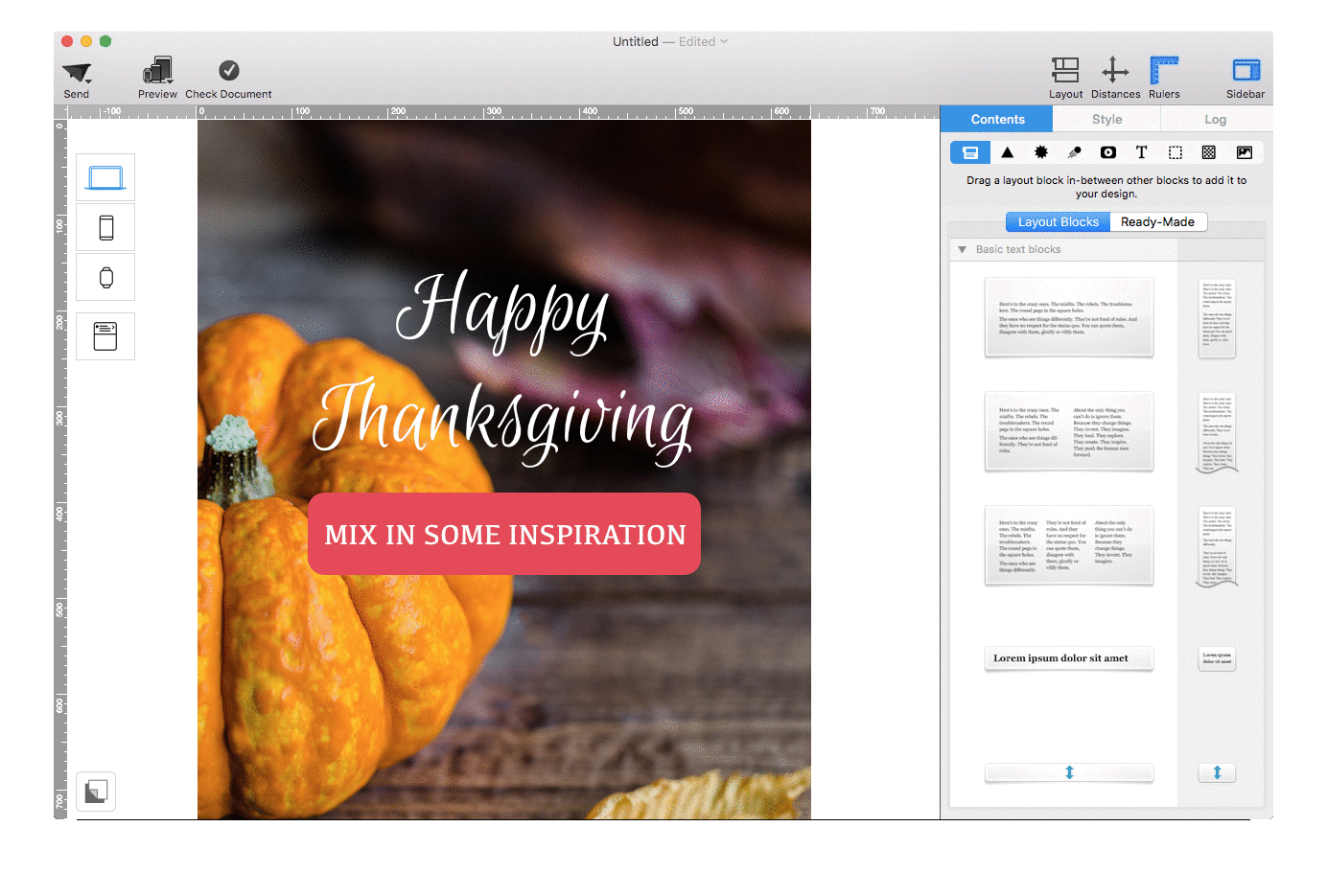 Add a Black Friday mention
Tease your Black Friday deals by adding a call-to-action button that leads subscribers to a page with all of your upcoming Black Friday deals.  Or if your brand is a chain, give your subscribers a list of participating stores that they can go to for Black Friday deals. This way, you have plenty of room to include Thanksgiving content within your newsletter. Also, this will prevent your email design from looking like one sales pitch after another.
Why do we like it? Ann Taylor kept it easy for its subscribers to find Black Friday deals in their stores by adding a call-to-action button where subscribers will then be able to find which store is closest to them that will have the deals.
Within your Thanksgiving email campaign series, reserve one email with just a thank you or a Thanksgiving greeting:
Thanksgiving is about being thankful and giving thanks. So we recommend reserving an email that is solely for greeting your subscribers a Happy Thanksgiving! And/or you can use this email to thank them for being subscriber or a loyal customer.
Instead of sending out the usual email newsletter with photos of your different items with links, this email will be different. You can make your subscribers feel extra appreciated with just a few genuine words of appreciation. Share with them what your brand has accomplished thus far and remind them that it would not have been possible without their support.
Why do we like it? Hugo Boss sent a simple Thanksgiving greeting to its subscribers. The company followed its branding and style by using a well-recognized photo that the company normally uses in its day-to-day newsletters. However, for Thanksgiving, Hugo Boss just added a Thanksgiving greeting. The company kept the rest of the content minimal and thus brought focus to the greeting.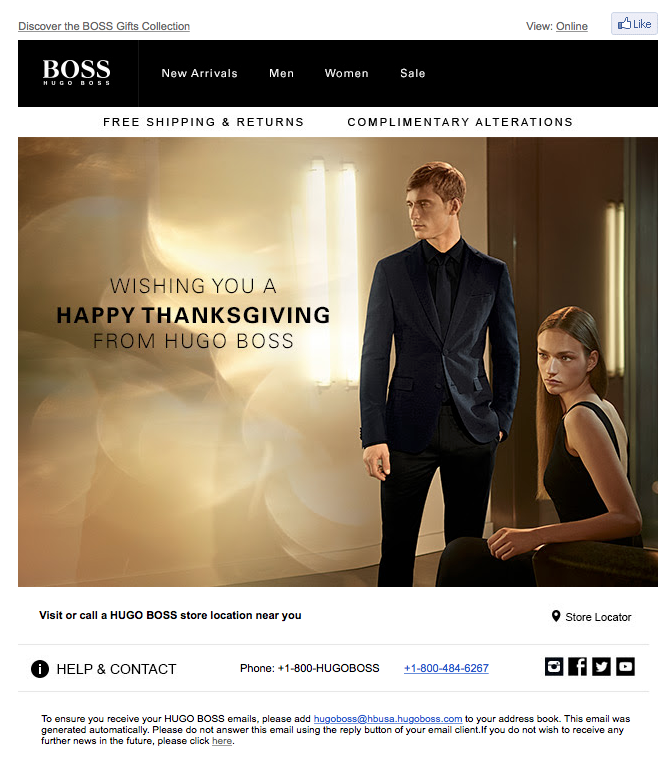 Key takeaways:
Add Thanksgiving imageries: turkeys, pumpkins, Fall leaves, cornucopias

Include additional content for the sole purpose of helping or inspiring

Donate to a good cause, host a fundraising event, or host a food drive

Reward your customers with a discount code or a gift card

Create your own Thanksgiving hashtag and use it to generate customer content

Mention your Black Friday deals

Reserve an email in your email series for the sole purpose of greeting your subscribers
Disclaimer: equinux AG and its subsidiaries are in no way associated, affiliated, authorized, endorsed by, or in any way officially connected with any of the organizations or brands mentioned in this post. The use and mention of these organizations and their respective websites, pages, and products/services are strictly for educational and descriptive purposes. They provide useful information about the topics discussed. No commercial claim to their use, or suggestion of sponsorship, or suggestion of endorsement, is made by equinux AG and its subsidiaries.
Until next time,
Your Mail Designer 365 team