With Thanksgiving just around the corner, it's time for you to get started on an email campaign to send to your customers. In need of a little inspiration? We've scoured the internet for some of the very best Thanksgiving email designs and are sharing our top tips on how you can recreate these styles and techniques in your own campaigns.
Including key imagery is an effective way to ensure your readers will associate your email with Thanksgiving. This simple yet effective example from J. Crew includes the classic Thanksgiving pie; immediately catching the attention of customers hungry for a sale.
Make it in Mail Designer
Mail Designer 365 offers seamless integration of the Unsplash photo library, giving you unlimited access to license free stock photos to use in your designs. Try out the search feature to find the perfect image for your newsletter or choose from our curated selection.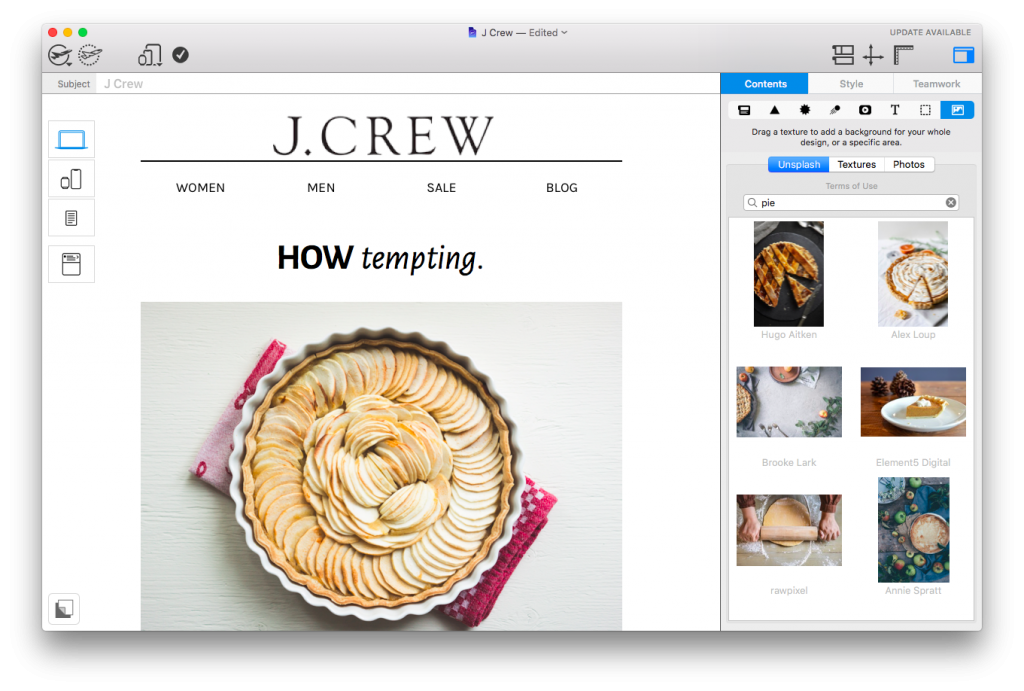 Every email designer knows the power of a good font. At this time of year, brush fonts dominate. A traditional brush font is an elegant choice for your Thanksgiving email and generates nostalgia due to its retro style. This is especially prominent in this fun design by ZAGG.
Make it in Mail Designer
Mail Designer 365 contains a huge selection of web fonts which you can use in your email designs. Among these is a wide variety of brush fonts perfect for your Thanksgiving designs.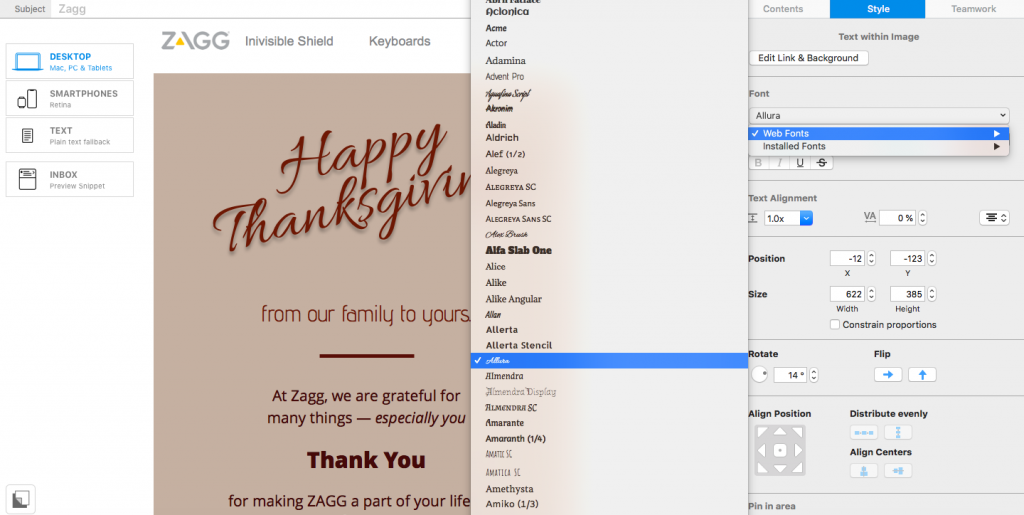 Viewed by many as the peak of the autumn season, it's important to use vibrant autumnal colors in your email designs to build up the Thanksgiving mood. Warm tones such as orange, red and gold are great for achieving this. As you can see in this design from Urban Outfitters, using vibrant colors makes a big difference...
Make it in Mail Designer
Try out text styles in Mail Designer 365 to recreate the bold and vibrant text effect seen in the Urban Outfitters newsletter. Experiment with fonts, sizes, color and more to create the perfect autumnal text effect for your design.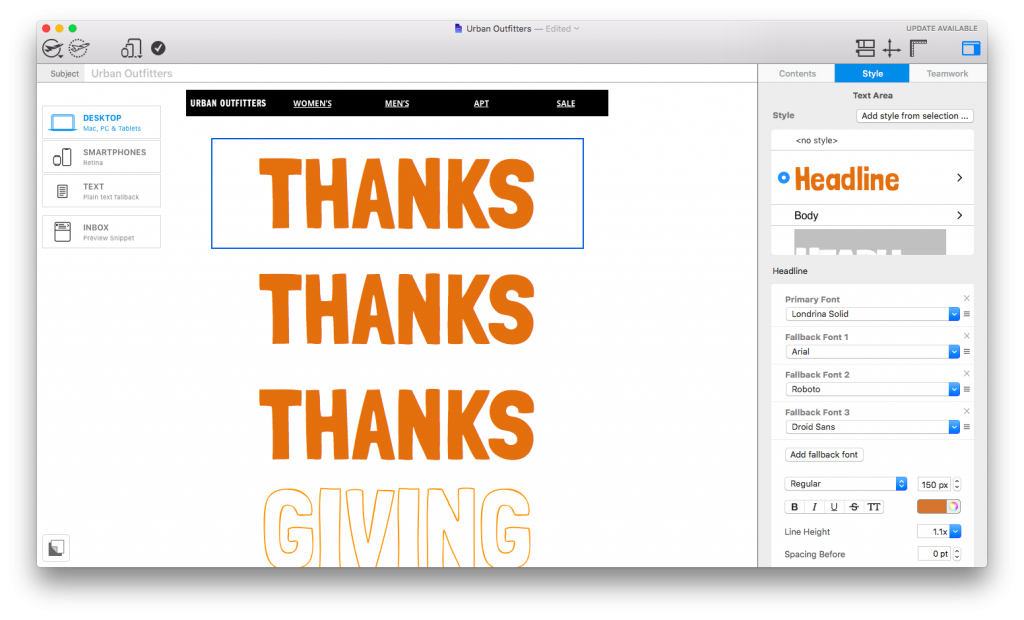 The call-to-action (CTA) is a central part to any email campaign; Thanksgiving included. As mentioned already, seasonal colors such as orange and gold are a great choice for your email design. Twinned with a bold font and a clear layout, your CTA should work wonders - just like in this design from Uber.
Make it in Mail Designer
Building CTA buttons is easy in Mail Designer 365. Explore our graphic library and choose from pre-made buttons, or make your own using shapes and graphic text styles.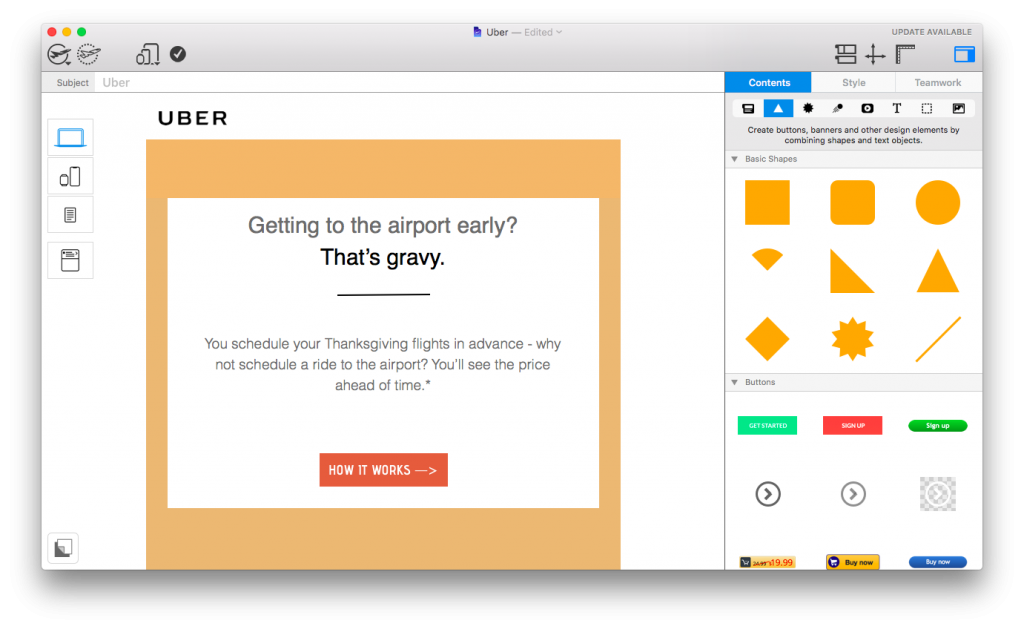 We hope you have found these awesome examples of Thanksgiving email designs inspiring. As you can see, it's easier than ever to recreate these professional design techniques in Mail Designer 365.
Sign up free today to try for yourselves and get well on your way to building standout Thanksgiving email campaigns.
Until next time,
Your Mail Designer 365 Team