We love fonts here at Mail Designer 365. However, with so many different fonts to choose from and so many styles and sizes, it can be difficult to choose the right one for your design. This week we're going to take you through some of our favorite fonts and show you how you can use them effectively in your email designs. Let's get started!
Email-safe font options
When designing an email newsletter, you have two main font options for your design: "Email-safe fonts" and web fonts.
Email-safe fonts are the standard font types which are supported universally in every email client. Some examples of common email-safe fonts are: Arial, Georgia, and Times New Roman.
With Mail Designer 365, you have the option to always include an email safe "fallback" font in all of your text areas to ensure your text will always be displayed.
This being said, you are by no means restricted to these nine fonts in your designs.
Web fonts are fonts which are designed for use online and can be downloaded from the internet and installed in Mail Designer 365. We always source ours from Google Fonts, because they are free to download and open source, so you don't need a license to use them in your designs.
Web fonts are a great way to make your design unique, eye-catching, and most importantly, well-suited to your brand.
Google Fonts are also fully supported in some of the most popular email service providers including, Apple Mail, AOL Mail, iOS Mail, Android's native mail app, Lotus Notes, and most versions of Microsoft Outlook.
Here are some more great benefits of web fonts:
Displayed regardless of whether images are supported.
Quick to load.
Crisp and sharp in designs in comparison to images, which can sometimes be out of focus, or low resolution.
Super easy to import into Mail Designer 365. Here's how!
Here are some ideas on how you can use web fonts in your designs. For even more font inspiration, you can check out our font infographics on Pinterest!
Fonts for Headlines
The job of a headline is to catch the reader's eye and alert them towards the most important parts of your email. This means a good headline should be able to stand out in your design. In terms of email-safe fonts, both Impact and Arial Black offer a HD effect to your headline, but if you want to be more adventurous, try one of these three Google fonts:
Molle
Full of character and style, Molle has a slight retro vibe and looks great in a fun, informal newsletter design.

Julius Sans One
This ultra light font is a great choice for a more fashionable and modern headline. Try it out for your online clothing store.

Abril Fatface
This smart font is perfect for a more professional design. It's a great eye-catcher and stays classy at the same time.

Fonts for Body Text
The main body of your email needs to be a font that's clear and easy to read, so that your email subscribers really pay attention to what you're saying. A serif font is usually a more traditional typeface which is normally used for lengthier and more formal text such as newspapers, academic writing, etc. In terms of serif email-safe font options, Times New Roman and Georgia are both good and reliable options. However, when it comes to web fonts, there is a lot more choice. For a sophisticated effect, we particularly like:
Antic Didone

Cormorant Garamond

Sans serif fonts are a lot more informal and work really well for blogs, generic email text (i.e. welcome messages) or statistics. Email-safe sans serif fonts include Arial and Tahoma. As for web fonts, the Mail Designer 365 brand always uses Open Sans, but for a cool and modern look, we especially like:
Roboto Light

Didact Gothic

Other Font Styles
Perhaps you want your font to stand out from the crowd. No problem! The great thing about web fonts is that there is a font available for every possible use case. Here are some ideas of font styles you may want to use in your designs:
Handwriting Style
A handwriting style font can really add a personal touch to your email design. You can this style of font to sign off an email and give the illusion of a signature, or to make your subscribers feel extra special when inviting them to an exclusive event.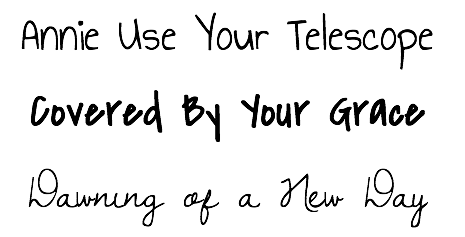 Brush style
Brush fonts are glamorous and sophisticated and work really well for headlines if you're looking for something a bit more artistic and outside of the box. The right brush font can work wonders on a standard design and transform it into an elegant masterpiece.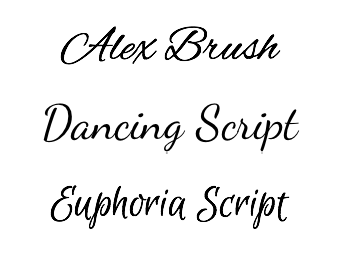 Typewriter style
Typewriter fonts are a classic and perfect for adding a vintage vibe to your design. Think murder mystery night or exclusive first look at your new book draft. Typewriter typefaces are here to stay!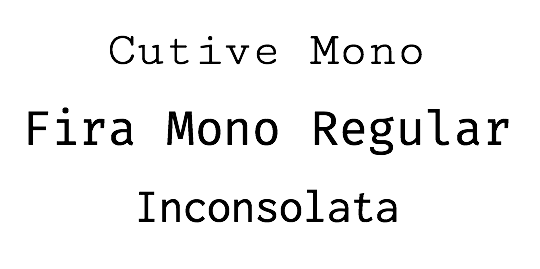 Alternative
This covers everything from festive font types, to flower power, to artistic typography. In Mail Designer 365 you can find an alternative font for practically anything. Here are some of our most abstract examples...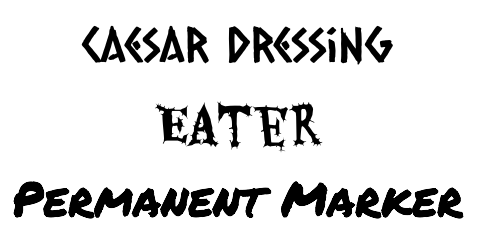 We hope you were able to take some inspiration from these font styles. The most important thing is that your font effectively reflects your brand and the message you are trying to communicate in your email design. Sign up free and try some of these unique and eye-catching web fonts out in Mail Designer 365 today!
Until next time,
Your Mail Designer 365 Team
Get expert tips straight to your inbox!
Sign up here for our email newsletter and enjoy regular tips, tricks and advice for everything relating to email design – delivered directly to your inbox.
There was a problem registering your email address.
Please check and try again.
Thank you for registering! Please check your email inbox.
We've just sent you an email for you to confirm your email address, if you haven't already.