The start of a brand new year always serves as the perfect opportunity to plan for new and exciting projects. One thing at the top of almost every modern business' minds will be executing a successful email marketing campaign for the coming year. Email marketing is a highly popular and successful tool among businesses and a great way to reach out to customers directly. With its growing popularity, it can be hard to think of email content which is relevant, engaging and makes you stand out from others. Here are 10 ideas of engaging emails which will make your business shine this year.
Although by no means a new concept, the welcome email is the perfect chance to establish a relationship with your customer and start things off on the right foot. Take this opportunity to consider which impression you want your brand to make; do you want to come across formal and professional, or laid back and friendly? Whatever vibe you decide on, make sure you establish it in your very first email and remain consistent. The welcome email also is a great time to offer your customer a special incentive to keep them engaged and happy to have signed up to your mailing list. This could be a discount, free shipping, exciting free samples of new products, or access to exclusive content.
This example from Nasty Gal is great, as it gives customers an insight of the brand's beginnings as well as the team, which allows them to put a face to the business. We also love how the design perfectly reflects the brand's cool and edgy style.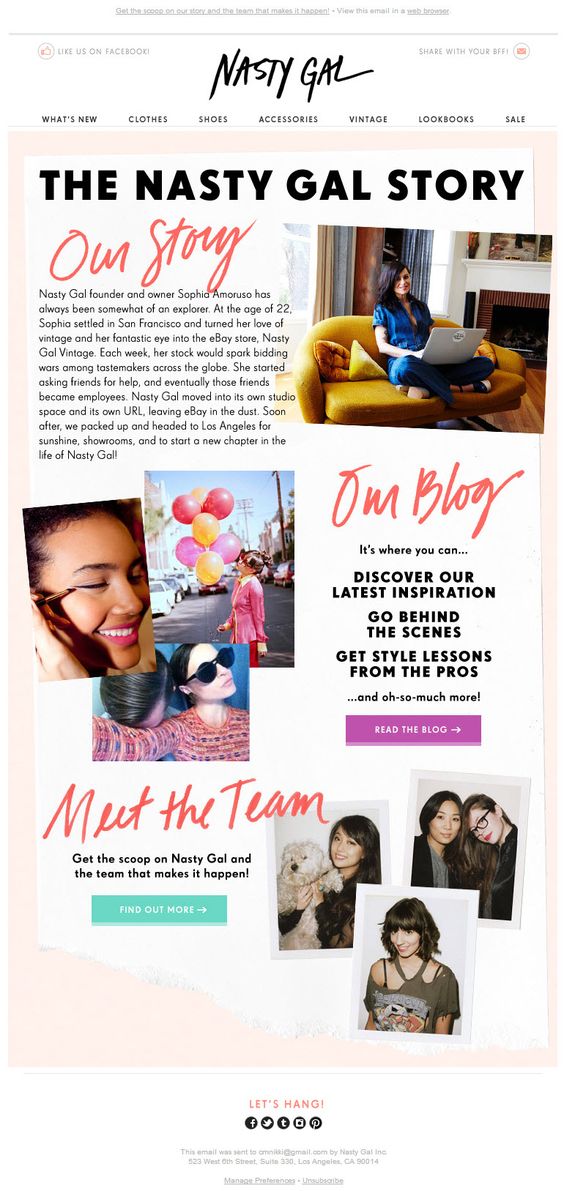 Do you have a new product launch coming up or exciting news to share? Let your customers know about it! As a business, it is important for you to keep your customers in the loop when it comes to your achievements, or other important information. Remember that the customers on your mailing list subscribed to you because they are invested in your business and want to keep up-to-date with your content and what you're doing. You could try posting a monthly bulletin about what's new in your business to keep readers engaged and informed. Any extra special news (e.g. product launches, important information) can be sent out as individual newsletters to catch your reader's eye.
This heartwarming example from charity: water is a lovely way of sharing happy news with your subscribers. Letting readers know that they have helped make a positive contribution is a sure fire way to inspire them to donate again in the future.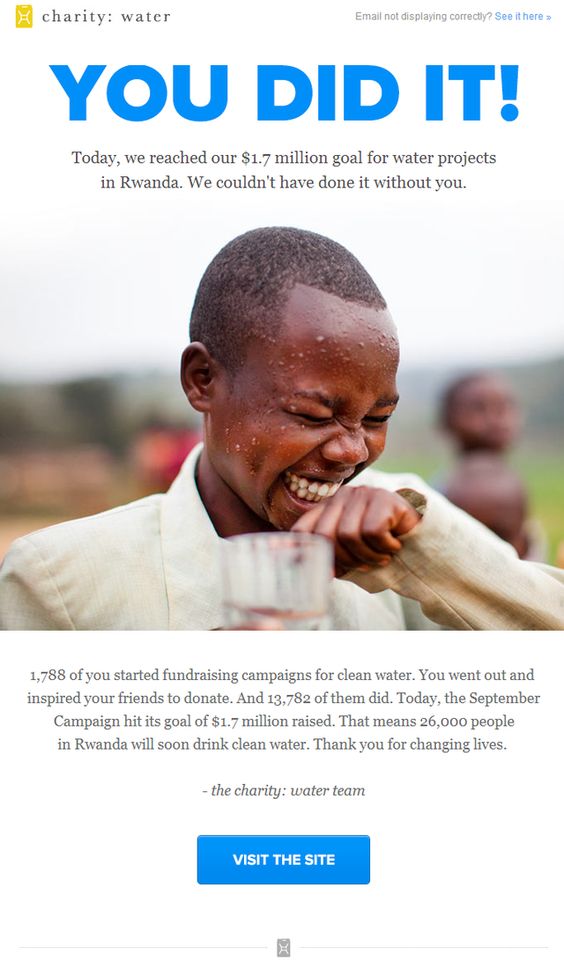 We are firm believers in including amazing visual content in email designs, which is why Mail Designer 365 provides 100s of graphics, creative tools, and more. One idea for an email would be to focus almost whole-heartedly on the visual elements. Try embedding an eye-catching GIF or a video to show off an exclusive offer, or a product trailer. For more information on adding videos to your design, check out this post. Quick tip: although visual content is great, we would recommend always including a small section of text or a view in browser link for customers using email providers which don't automatically support images.
Kate Spade have nailed the visual content in this email. The GIF is vibrant and eye-catching and grabs the reader's attention straight away.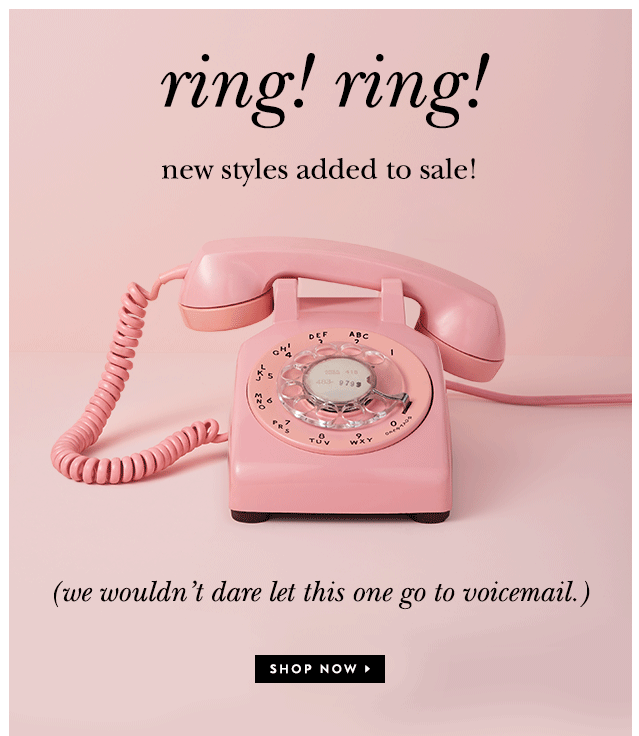 A must-have in every email marketer's arsenal: the transactional email is arguably one of the most important types of email you will send. Although they may seem boring and mundane, purchase confirmation or delivery confirmation emails are vitally important for your customers to ensure they have some kind of record of their purchase. Make these emails, clear, well-written, and consistent so your customers won't get confused. To make things more interesting, try to inject some of your brand's personality into the email. You could do this by using a particular color scheme, font, or by including relevant language. For more inspiration, check out the "Transactional Emails" tab in the Mail Designer 365 Design Chooser.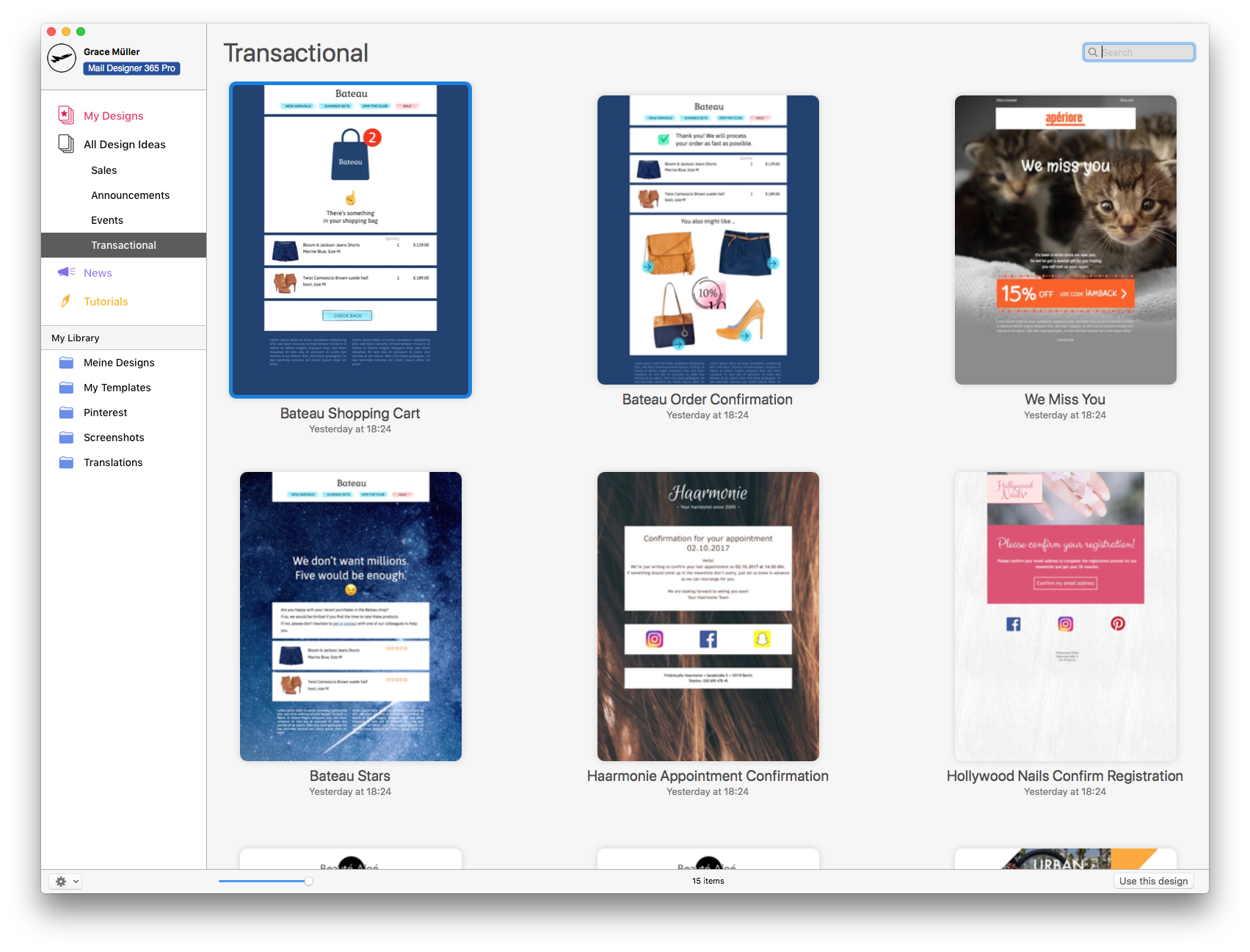 The Social Media Plug Email
In modern day marketing, it is important to be versatile and have the ability to market across multiple platforms. Do you have a Facebook or Twitter account? The chances are, your customers do too and many of them may not even realize that they can also follow your activities there. Social media marketing is huge and offers you the chance to get up close and personal with customers on a more relaxed level. Let your subscribers know that you're on Twitter/Facebook/Instagram and watch your follower count soar - Mail Designer 365 has social media icons which you can easily use to link to your social media pages. Use the instant layout blocks feature to quickly insert a social media footer to your design. To provide an incentive, you could even consider setting up a social media giveaway and advertising it via email. This kind of cross-platform marketing is innovative and effective, as it guarantees your business more exposure at the same time as being fun and informal. Check out this example made with Mail Designer 365.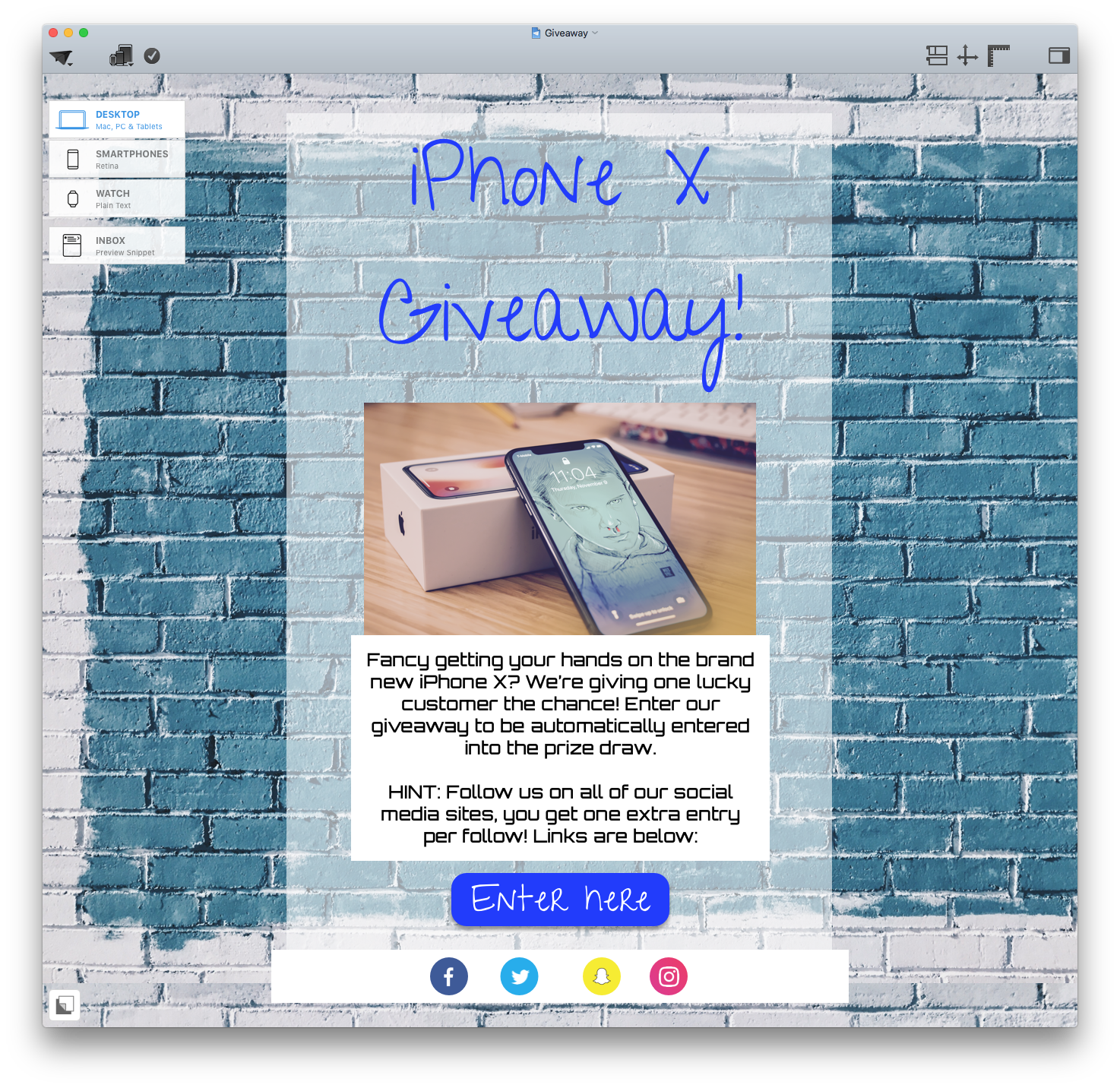 Another concept which all email marketers will be familiar with is the promotional email. Emails advertising a sale or special offer are one of the most frequent types of emails to find in our inboxes, and of course they are highly important too. After all, there's not much point in having a sale if you're not going to spread the word! For ultimate effectiveness, try to avoid being generic where possible and target your promotional emails to the right segment of your mailing list. Sending customers the offers which are most relevant to them is a guaranteed way to improve click-through rates, as you are showing them products which they are already interested in.
Amazon are well known for their segmentation skills. This is a great example, as it analyzes products the customer has recently viewed and then collates similar products in the same category which are on offer. The perfect incentive to buy!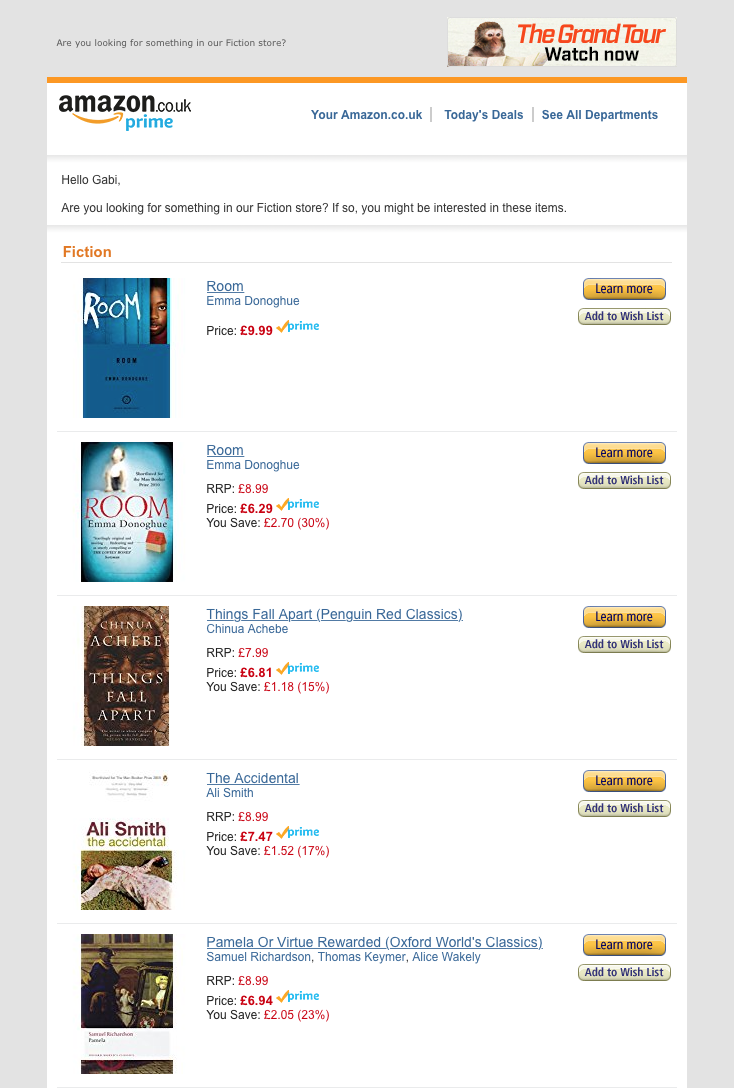 The Tip of the Week Email
It is also important to consider that not all emails need to be sales driven. Your subscribers will also appreciate an email which provides them with useful information. Do you sell a product or service with multiple uses? Could you offer tutorials or inspiration about how to make the most of your product/service. If yes, this is a great way to keep customers engaged. The more inspired and invested customers feel in a product or service, the more likely they are to want to continue using it. Try to send your mailing list a tip of the week on how they can make the most of what you have to offer. Not only will it impress existing customers, it could also persuade potential or former customers to go through with a purchase.
This example from Netflix is a good way of establishing a routine with customers. Weekly recommendations about new content keep readers engaged and interested in the service, and subscribers know what to look out for in their inbox.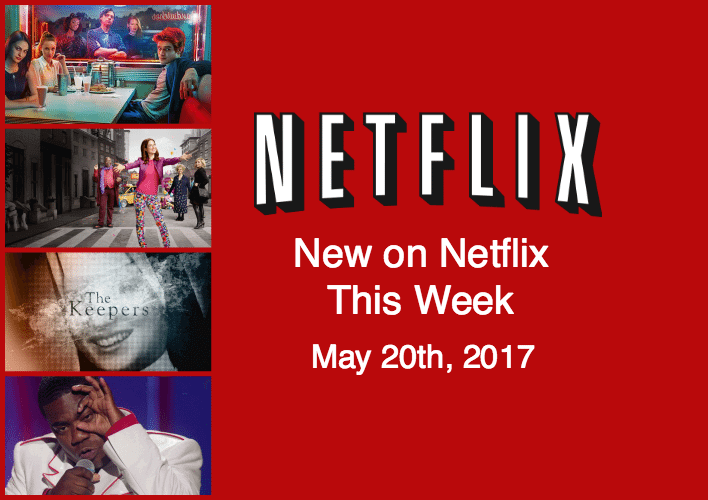 One email which can be easily forgotten by marketers is the thank you email, designed to give back to loyal customers who have been subscribed for some time. As a business, it is important that you show your customers appreciation and let them know you value them. This can be done in a number of ways: you can provide a monetary reward such as a discount code for money off their next shop, or you could write a simple yet effective heartfelt thank you message. You could even consider giving loyal customers early access to your sale or the chance to pre-order new, limited edition products. Showing longtime customers you care is a sure fire way to increase your customer retention. Here's a simple, yet effective version we made using Mail Designer 365.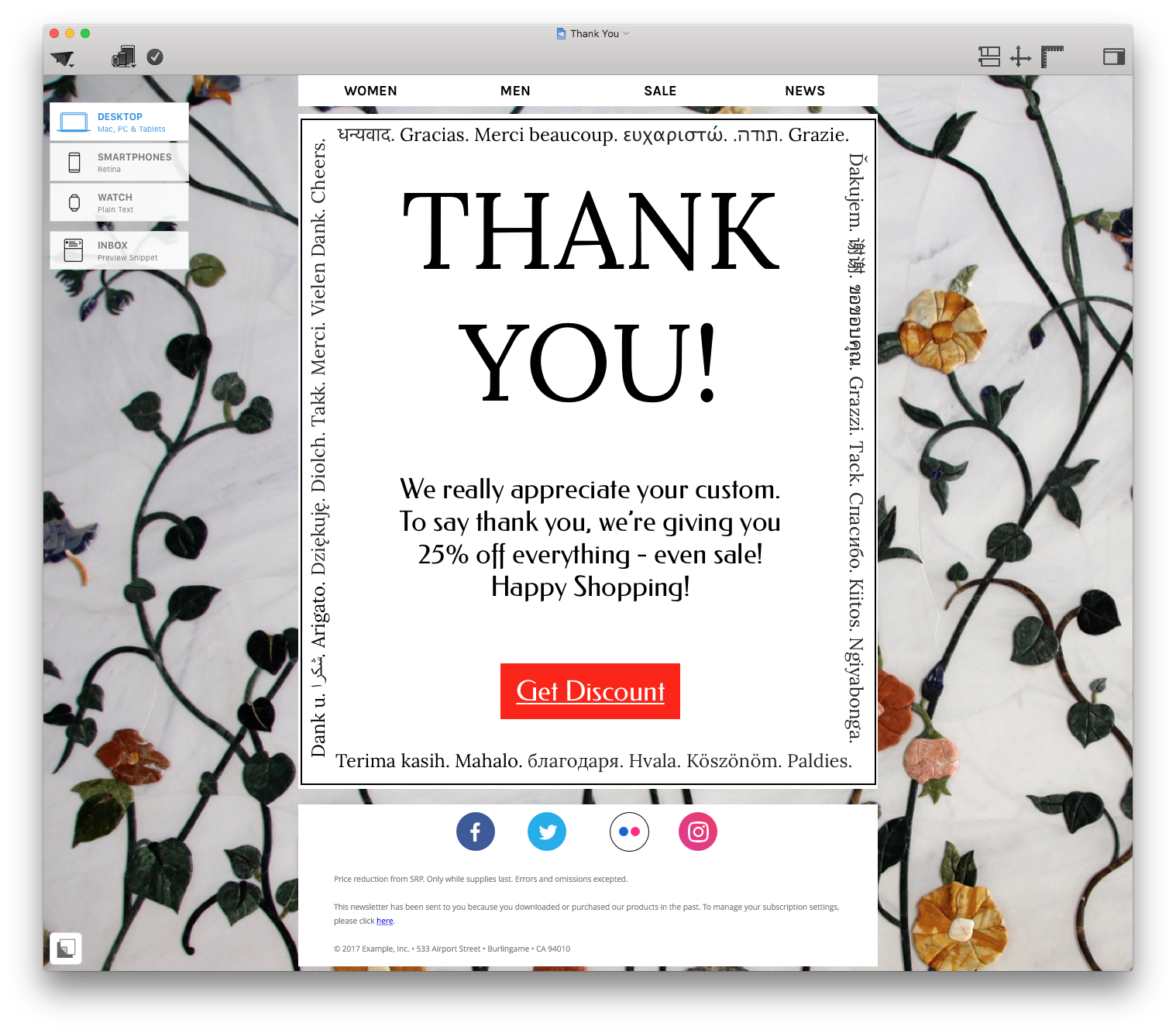 The Seasonal Greeting Email
Remembering to greet your customers during the holidays is a small, heartfelt gesture which goes a long way. Whether it be Christmas, Thanksgiving, Valentine's Day, or another special occasion, if you're celebrating it, the chances are, some of your customers are too. Let them know you're thinking of them at these special times of the year and they'll be sure to feel appreciated. Similarly to the thank you email, you can use this opportunity to offer your customers a small gift such as a discount code, or you can just send a warm and friendly greeting. It's the thought that counts!
One innovative idea would be to reward customers on their birthday. This colorful example from Anthropologie provides the customer with a thoughtful birthday discount; encouraging them to browse the store and become more engaged with the business - genius!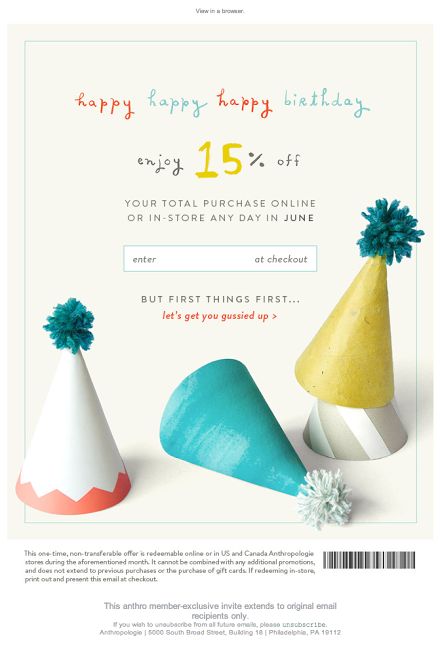 Last but certainly not least, it's important to try and reengage any customers which have been distant or inactive. Often customers are distracted or overwhelmed by a large volume of emails in their inbox every day. Try to create an email to win these customers back and get them back onto your site or online store. One example of an effective reengagement email is the abandoned shopping cart style email message, which uses incentives to encourage customers to continue with unfinished transactions.
This simple yet eye-catching design by American Apparel works great at tempting back customers who have been less active on the site. The sweet "We miss you" message paired with an appealing incentive and a flashy CTA is all you need to win back lapsed customers.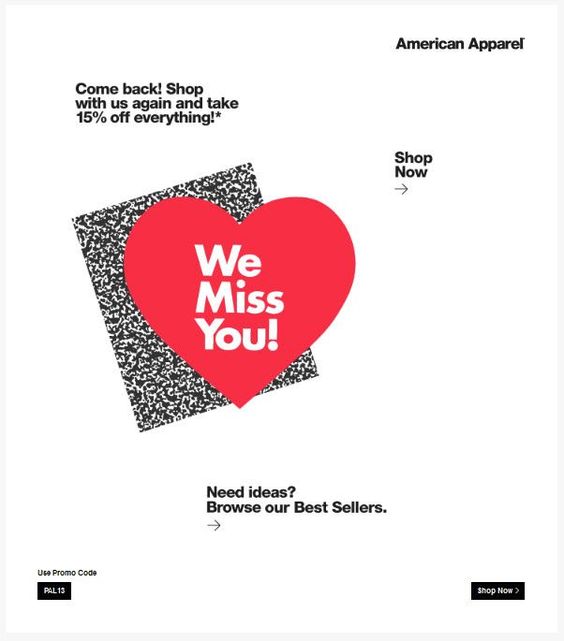 We hope you have managed to take some inspiration from these email ideas. Some key takeaways to remember are:
Vary your content. Your subscribers will quickly lose interest if you send them the same type of content every week. Try to alternate between ideas to keep things fresh.
Stay on brand. Be sure to use similar colors, fonts, language and style to keep your brand identity on point and easy to identify. Customers will find it harder to relate to your business if it is constantly changing.
Always include an unsubscribe link. No matter how interesting and engaging you think your email content is, spam laws dictate that there must always be a clear option to unsubscribe. If this is not provided, your business could face serious legal consequences.
Until next time,
Your Mail Designer 365 Team