Linking to videos within your email designs
Have you ever considered adding different types of videos to your email designs? Visual content can help boost your email engagement. Unlike with reading, videos can speak to both our  visual and auditory systems. When people use multiple senses, they remember things better. Also, the brain responds faster to visuals than text. People can take in more information.
Another benefit of videos is they can pull on people's heartstrings. Everyone tends to be more emotionally invested after watching a video as opposed to reading a text email.  
Videos are also a great way to reinforce your message.  You can use videos to cover a lot of content in a short amount of time. They are a great choice when you have a lot to say or when you need to explain a process. When done correctly, videos can be an effective way to explain  something complicated and turn it into something that is easy to comprehend.

Videos within your email design:
We always recommend that you upload your videos to a video hosting site like YouTube or Vimeo. Then, we suggest adding a link to your videos rather than embedding them within your email design. Different email clients will read and interpret videos in different ways. If you embed a video within your email newsletter, there is no guarantee that the video will play the way it's supposed to. But if you add a link to your video, your subscribers will be led to the video you uploaded on the third-party host.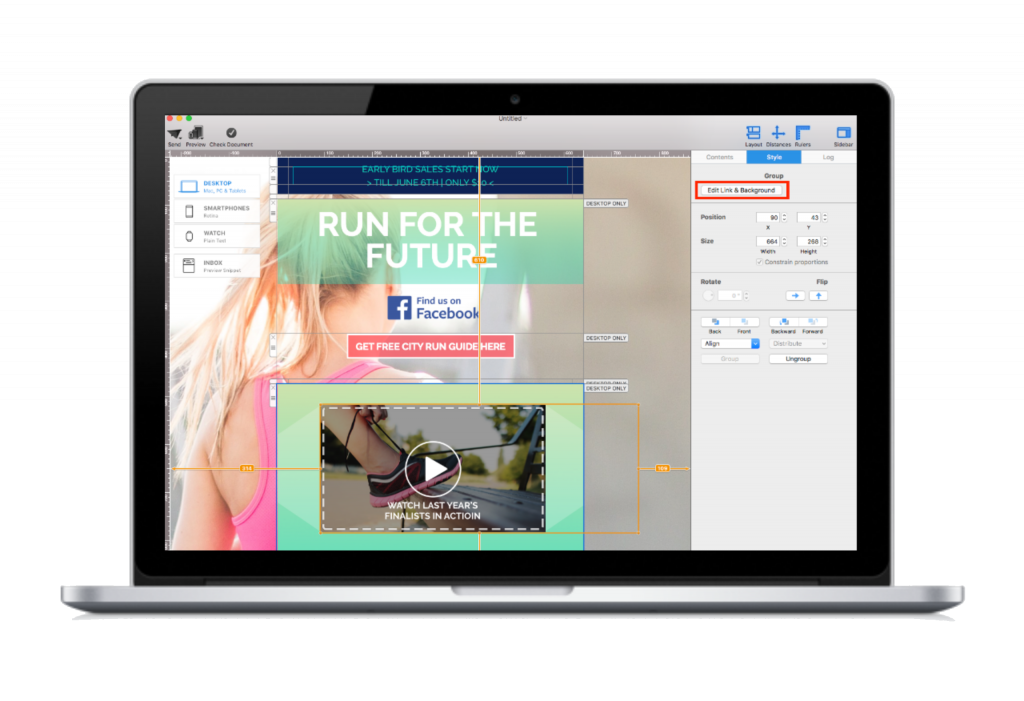 Tip: In Mail Designer, drag a video placeholder into an image area.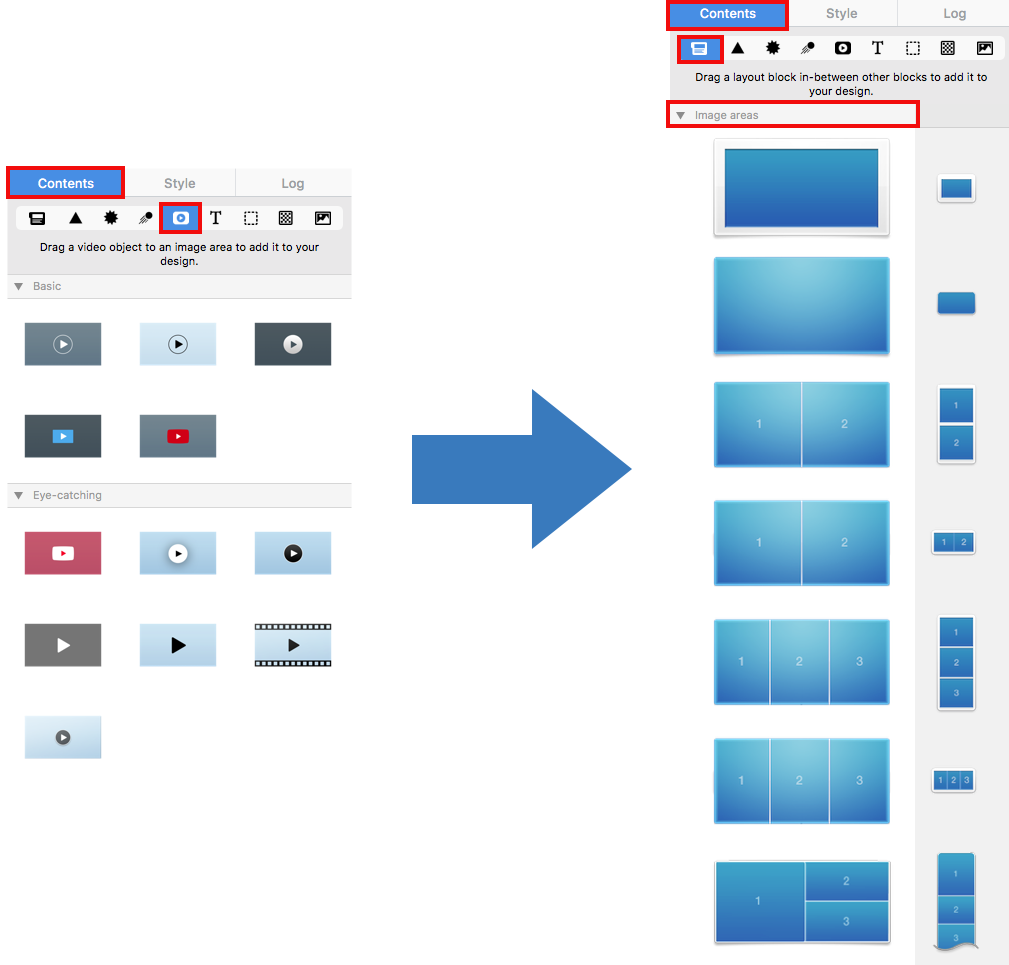 Then, click "Edit Link & Background" and type in your link.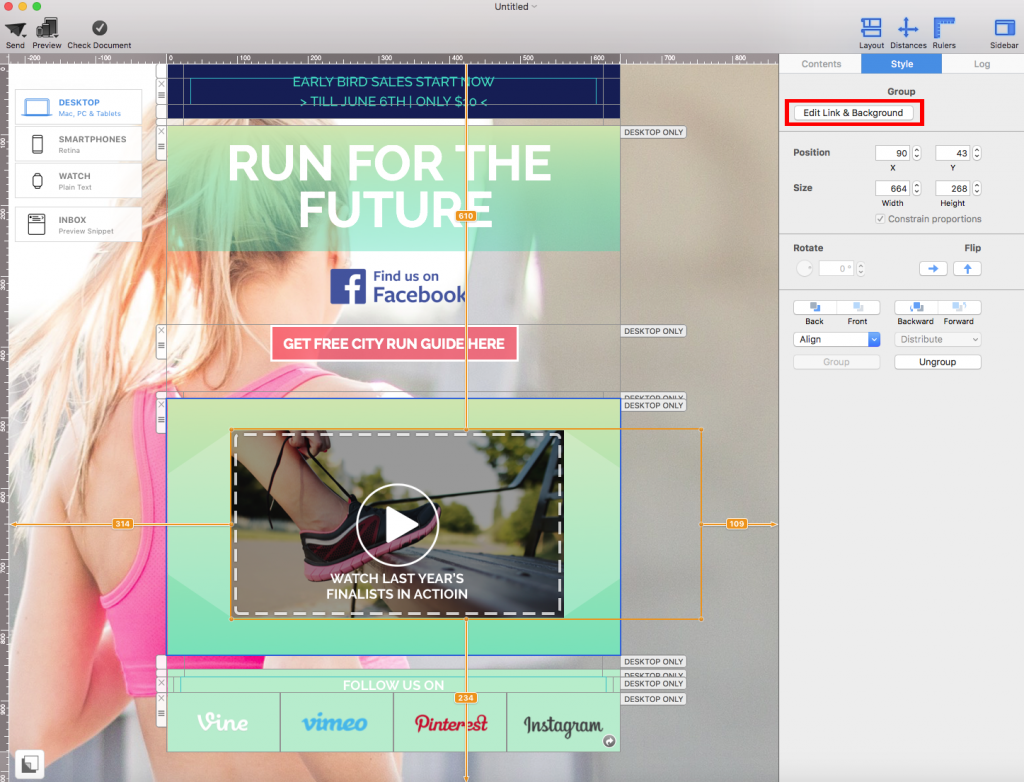 Tip: For additional tips, check out how to optimize your videos for mobile users. 
Product videos
The first type is what we call "product videos." Product videos are used to showcase your product(s) in action. It is as close to a product demonstration as you can get, while reaching people across the globe.
To help you get inspired, we wanted to share some real life examples of companies who we think do a great job at creating product videos:
On its website, Asos has done a great job of using videos to demonstrate what the company's  products look like on someone. You will find a short clip of a model strutting the runway with the dress or shoe on. This gives the audience a chance to see how the item fits and how the item moves when a person is active.
Zappos is another company that makes great product videos. They highlight some of the products that they are selling by creating short videos on them. Check out Zappos's YouTube channel for all of their product videos. Zappos's method is slightly different than Asos. In their videos, you can find a person giving a short introduction or commentary on the product being showcased within the video.
How-to videos
The second type of videos we recommend that you try are how-to videos. If you're like us, then you may have used Google to search for a video to show you how to do something or research on tips on how to use different products. As an email marketer, try to create something similar for your customers.
Think about the questions they may have. Think about what knowledge will make it easier for them to use your products. And also think about all of the products that they need to create a project, including the product or service that you are trying sell. All of these elements are important when it comes to creating how-to videos. Use them to help you create powerful and helpful videos that your audience can benefit from.
For our Mail Designers, we created how-to videos that you can find within the Video Tutorials section to help make email design easier.
Advertising/Commercial videos
If you have already created a video to specifically advertise your brand or products, then feel free to add a link to it on one of your email designs. Cross-media or cross-channel marketing is effective at ensuring that your message reaches more people. It is also a great way to get a campaign trending. However, do it in moderation. They make a great impact on special occasions. 
WestJet has done a great job at creating an impactful advertising video for the holidays:
Recap videos
Whether you just hosted a successful event or are celebrating your accomplishments this year, try creating recap videos for your audience to enjoy. Recap videos are a great way to reflect back with your subscribers. YouTube put their own spin on recap videos with their annual "YouTube Rewind" videos, where they highlight different influencers, music, fads, etc. of that year.
Tip: For events, you can include video clips of the event or testimonials from attendees. Also, we recommend including a segment where you thank attendees for coming. Don't forget to thank your employees for all of the hard work they put in to make the event happen.
Tip: For accomplishments, try to include clips of different videos filmed during the year in fast motion. This is a nice way to look back and remember things that happened throughout the year. Highlight the different milestones or goals accomplished throughout the year. Also, like with the events recap videos, we recommend including a segment where you thank your employees for all of their hard work. End the video with the goals you have for next year. Think about how you're going to improve and top off this year.
Check out YouTube's 2016 rewind video:
Testimonial Videos
Testimonials are powerful. They help convince people to purchase your product or service. Also, they are a great opportunity to add an authentic human element. Try to include everyday people who actually tried and enjoyed the products and/or service. These are the people whom others may be more open to listen to, compared to employees of your company. A customer's honest opinions can help foster an honest conversation with your subscribers. In the long run, you have the potential to build long-lasting relationships with your subscribers.
Tip: If you do not have anyone to interview and film, you can try creating a video that incorporates customer quotes.
Tip: You do not necessarily need the best equipment to create powerful testimonial videos. If the audio and visuals are clear, you may not even need to edit and cut the video. Raw testimonial videos can be just as powerful because they feel more organic. Remember, when it comes to testimonial videos, the main things to consider are the realness and genuineness of the conversation. If a testimonial feels staged or scripted, it will show. Many people may then question the authenticity of the review and even the credibility of your brand.
Yodle has done a great job at showcasing testimonial videos. On their website, you can find many examples of testimonial videos by Yodle customers.
For your additional inspiration, you will find a video created by Harvard HBX below. In this video, different students gave brief testimonials about their experience with Harvard HBX's 10 week program called the HBX CORe. 
Check it out:
Key takeaways:
Add a link to videos rather than embed them within your email design

Try product videos for a better visualization of your products

How-to videos are great for giving tips on using your products

Advertising/commercial videos help your messages reach more people

Add a link to recap videos to celebrate past achievements

Testimonial videos help add an authentic human element
Disclaimer: equinux AG and its subsidiaries are in no way associated, affiliated, authorized, endorsed by, or in any way officially connected with any of the organizations or brands mentioned in this post. The use and mention of these organizations and their respective websites, pages, and products/services are strictly for educational and descriptive purposes. They provide useful information about the topics discussed. No commercial claim to their use, or suggestion of sponsorship, or suggestion of endorsement, is made by equinux AG and its subsidiaries.
Until next time,
Your Mail Designer 365 team