Mail Designer 365 is back with a major update for you! To coincide with the public release of macOS 11, Mail Designer 365 version 2.0 offers you full support for Big Sur and a brand new generation of Macs with Apple M1 chips.
Our biggest update yet also offers brand new iOS 14 device previews, tons of new app-content, and a new and improved team view…
What's new in Mail Designer 365 version 2.0?
Fully optimized for Big Sur and M1
New Mac? No problem. Mail Designer 365 2.0 is fully optimized for macOS 11 and all new Apple M1 Macs. Enjoy a noticeably fresher look with a new UI and app icon — specially designed for Big Sur.

Our biggest content refresh yet
Discover an exclusive new collection of 150+ stylish email backgrounds, ready-made text styles, call-to-action buttons, and awesome animated GIFs to keep your newsletters looking fresh on macOS 11.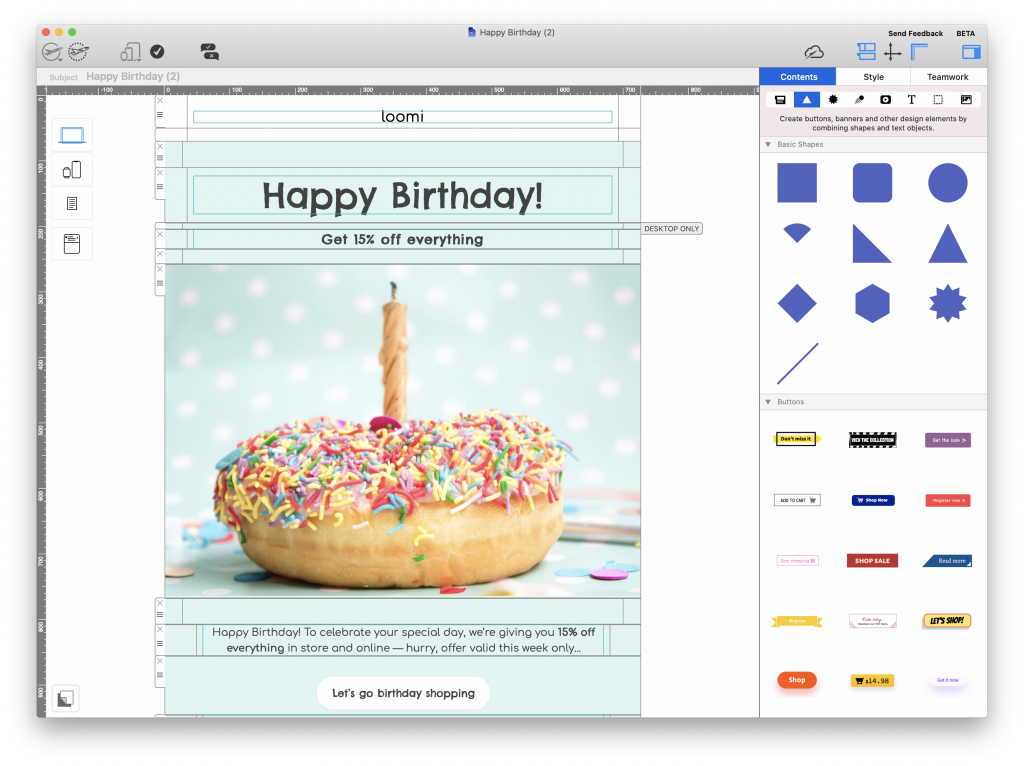 Mail Designer 365 now offers an even bigger collection of the latest service icons, such as Tik Tok, Reddit, Patreon, Zoom, Slack and Microsoft Teams. E-Commerce brands can explore an array of new resources, with highlights including modern online payment badges for PayPal, Klarna, Clearpay, Stripe, etc.
New iOS 14 device previews
Be among the first to test your email designs on the latest iOS 14 devices — with brand new previews for iPhone 12 Pro Max, iPhone 12, and iPhone 12 mini.
Integrated team management tools
Providing productive solutions for teamwork is one of our key missions. From version 2.0, you can now access your Mail Designer 365 teams directly in the app sidebar, where you can also invite members and assign plans.
Click on the "Members" tab to get an overview of everyone in your team and view your current Mail Designer 365 plans. Head to the "Approval" tab to view your team's design drafts, give feedback, and approve pending campaigns.
Coming soon: Mail Designer 365 Team Cloud
Team Cloud is an exciting new way to securely backup email templates and share designs with your team — coming soon to Mail Designer 365.
Learn more about the benefits of Team Cloud here.
Further Improvements
The Mail Designer 365 team has also carried out the following fixes and improvements for you…
Improvements
NEW: Template category for seasonal Design Ideas
NEW: Inline feedback view for beta versions
UI optimization for using the app in Dark Mode
Improved optimisation for Outlook
Fixes
A problem affecting the performance of Blend Modes has been resolved
A crash involving Vimeo placeholders has been fixed
An issue involving Mailchimp placeholders has been rectified
A formatting problem when exporting lists has been fixed
A formatting issue with some text styles has been corrected
A rendering issue affecting certain GIF layouts after export has been resolved
A problem affecting the way certain layout blocks are displayed in the mobile version has been fixed.
Further performance and stability improvements
Start using Mail Designer 365 2.0 today
This is a completely free update for all existing Mail Designer 365 customers. To start using version 2.0, simply open the app, go to "Mail Designer 365" in the top menu and click "Check for updates."
Tip: Activate automatic updates in your app preferences to make sure you never miss a new version of Mail Designer 365: