Mail Designer 365 Version 2.6 is here and brings colorful new birthday-themed graphics as well as 5 awesome new Design Ideas.
Find out everything that's new in version 2.6 in our detailed update guide...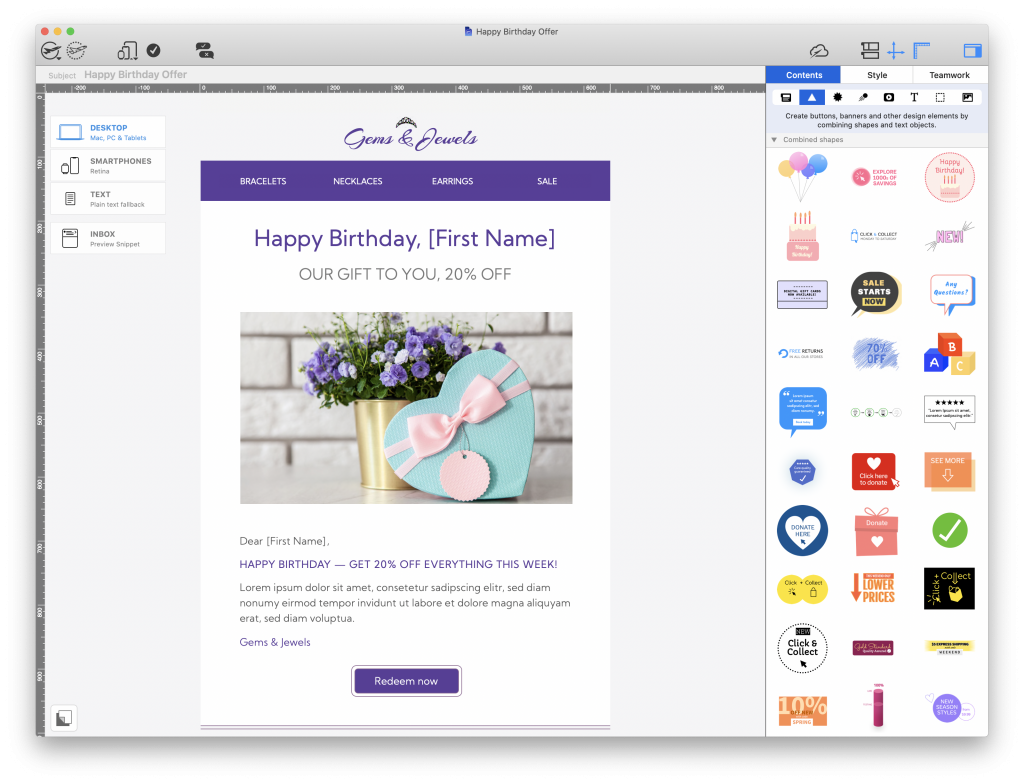 What's new in Mail Designer 365 Version 2.6?
NEW: Birthday Design Ideas
Get the party started with Mail Designer 365!
Automated birthday emails are proven to be a highly effective when integrated into your email marketing strategy. Use these two Design Ideas to create effective birthday campaigns and make your customers smile. Available now in the Design Chooser.
Did you know? Mail Designer 365 is celebrating its 4th birthday this month!
NEW: Design Ideas for Sales & Announcements
Get inspired by two new Design Ideas for sales and announcements - perfect for an end of season sale or product launch.
NEW: Colorful Sales Graphics & Birthday Eye-catchers
The summer may be drawing to a close, but that's no reason to stop using color in your email designs.
Version 2.6 brings a whole host of colorful new styles for your templates, including eye-catchers, call-to-action buttons, shape art and fun birthday graphics.
Find all the new graphics the Contents menu and drag & drop into your design for a splash of color.
NEW: Purchase Confirmation Template (Business Premium)
This update also expands our collection of pre-made Table Layouts - exclusively available for Business Premium users.
The new Design Idea "Purchase Confirmation Table" allows you to save time with a modern and stylish, ready-made Table which you can quickly and easily adapt for your store's use case:
Also updated: New Design Tip for Photo Collage Effects (Business Premium)
We've also updated our interactive Design Tips template once again with an exciting new tip for creating photo collage style effects in your email designs:
Head to the Design Chooser to see how to recreate this effect step-by-step (exclusively available for Business Premium users).
Further Improvements and how to upgrade
Mail Designer 365 2.6 also contains important performance and stability improvements for the app.
Start using Mail Designer 365 2.6 today
This is a completely free update for all existing Mail Designer 365 customers. To start using version 2.6, simply open the app, go to "Mail Designer 365" in the top menu and click "Check for updates."
Tip: Activate automatic updates in your app preferences to make sure you never miss a new version of Mail Designer 365:
Get started with Mail Designer 365 today
Start your 7 day free trial and use your Mac to create stylish email newsletters for your business.
Compatible from Mac OS X 10.11 onwards