Hey Mail Designers! We're back with a brand new update for you and this one's definitely not one to miss. As well as some important fixes and performance improvements, version 1.9 also introduces an exciting new design feature to the app that allows you to create stunning image effects...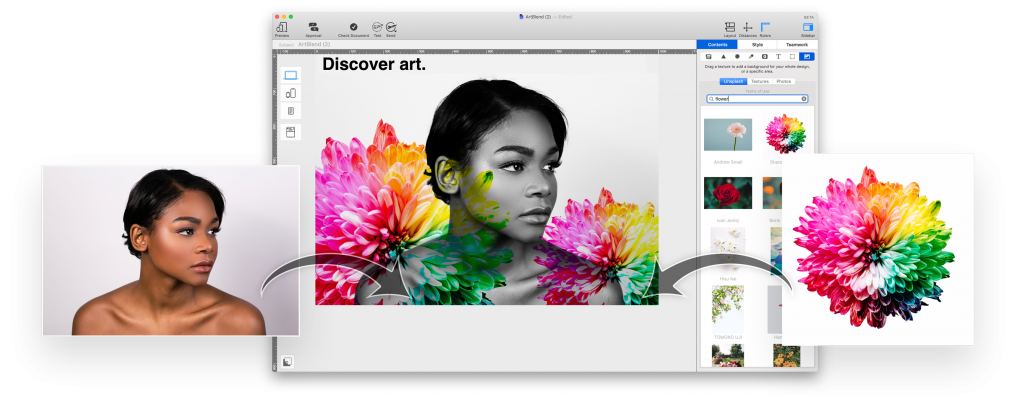 NEW: Blend Modes (Business Premium Only)
Blend Modes are now available in Mail Designer 365 Business Premium plans! Use the brand new feature to add even more character to your designs and produce amazing effects to rival Photoshop and other major design software.
Having access to Blend Modes in Mail Designer 365 means you have all your design tools in one place, as well as the ability to easily recreate advanced graphic design techniques without leaving the app.
What are Blend Modes?
Blend Modes allow you to control the way design elements (e.g. images, shapes, text, patterns, etc.) behave when layered together. The default Blend Mode which we are all used to means when you place one image element on top of another, the bottom layer will simply cover the top layer:
However, there are actually multiple ways to control how design elements interact and blend with each other. These are known as Blend Modes and they can be used to produce stunning effects for your email designs.
Using Blend Modes in Mail Designer 365
Mail Designer 365 version 1.9 proudly welcomes 24 brand new Blend Modes to the app. Use Blend Modes on photos (either your own, or stock images from the Unsplash collection), shapes, text, and more to produce amazing results.
Here are just a few examples of what you can do with the brand new design tool...
How to use Blend Modes
Applying your chosen blend mode is easy. Simply click on the graphic element you want to edit and scroll down to "Blend Mode" in the "Style" menu. Here you can use the hover preview to compare and contrast Blend Modes live in your design.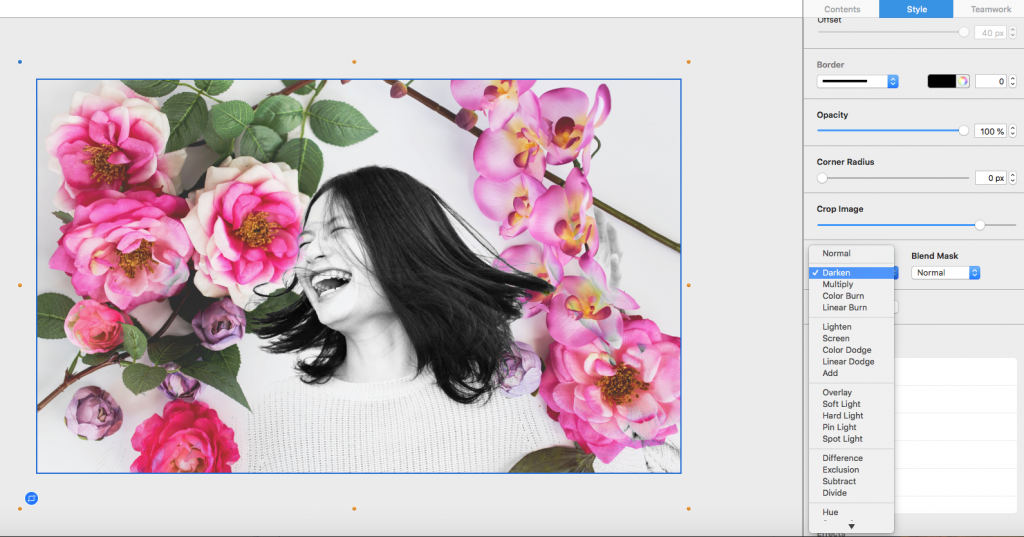 For more help with using Blend Modes in your designs, check out this tutorial.
Get Blend Modes
Blend Modes are exclusively available in Mail Designer 365 Business Premium plans. If you already have a Mail Designer 365 plan, you can cross-upgrade to Business Premium via my.maildesigner365 to start using Blend Modes and other exciting premium features such as Duotone filters, Tables and Vibrancy tools.
Also new in version 1.9...
SMS message links: Build special links to create a new text and pre-fill your number and message on smartphones
Get ready for the new year: Brand new calendar graphics now available for 2020
Further Improvements
The team has also fixed and improved the following for you:
The app has been optimized for macOS Catalina.
A crash that occured when creating lists has been fixed.
A crash that happened after removing system fonts has been fixed.
Opening a design animates more smoothly
An issue with shadows on grouped elements has been fixed
We hope you enjoy testing Blend Modes in Mail Designer 365 version 1.9. You can find a full list of all the latest changes and new features on our release notes page.
Until next time!
Your Mail Designer 365 Team