As an email marketer, your role is to create relevant and interesting email content for subscribers. This usually involves vast amounts of advance planning. However, when it comes to email marketing in a crisis, you're forced to forget the content marketing calendar and instead, need to think on your feet.
The ongoing Coronavirus crisis has left many firms now drastically rethinking their content marketing strategy. Here is our best advice on how you can effectively adapt your email marketing strategy during the ongoing coronavirus crisis and avoid alienating your customers...
Adapting email marketing campaigns in a crisis
When crisis strikes, your business needs to be ready to react in a calm and collected manner. Here's how you can get started with adapting your email marketing strategy.
Identify campaigns which are no longer appropriate
As many businesses plan their promotional content and email campaigns weeks (if not months) in advance, it's impossible to know what is coming in the future.
In the event of a crisis, it's important for your marketing team to be flexible and be able to rethink their entire content marketing plan.
Look over the upcoming promotions you have scheduled and determine which are still appropriate. Here are some key things to look out for:
Messaging - Does the message fit the current mood amongst your target audience?
Context - Does the context of the campaign still apply during the crisis?
Availability - Is the product or service being promoted still available in the crisis?
Achievability - Is the main goal of the campaign still achievable?
The campaign is not appropriate at this time:
If you've decided not to go ahead with a campaign, you have two options:
Postpone or
Axe the campaign
Generally speaking, you should only need to axe a campaign if it is time-sensitive or based on a particular seasonal event; meaning it would not make sense at another point in time. Otherwise, you should be able to postpone it for a future date and run the campaign once the crisis is over.
The campaign can go ahead:
If you have decided a promotion can still go ahead, you may still need to adapt the email campaign to take the current crisis situation into account. In particular, you should think about adjusting your messaging to reflect what is happening.
Try and integrate themes like solidarity, sticking together and community in to your email copy, so that your readers know you care and that they are not alone. This Mother's Day campaign by Virgin Experience Days is a good example of how to adapt a planned seasonal campaign to be more respectful of the current situation:
Flowchart: Should my campaign go ahead?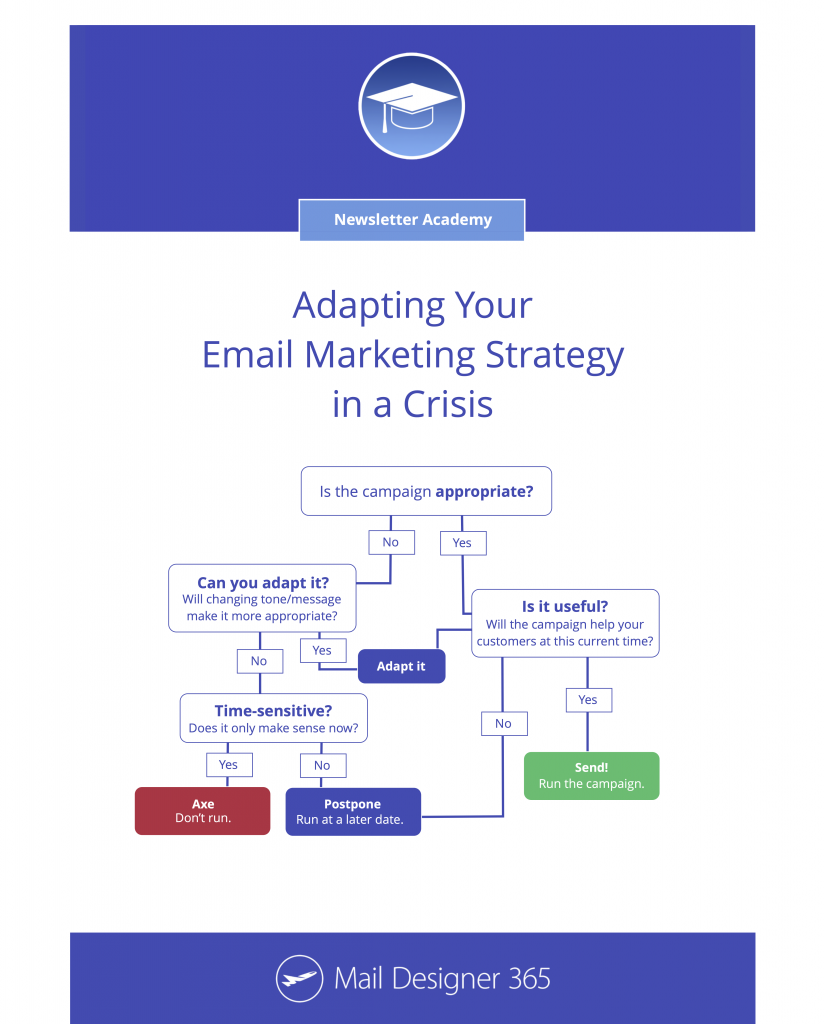 More tips for email marketing in a crisis
As well as adapting existing campaigns, it is also important to be reactive and come up with new content to suit the current circumstances. Here are some ideas of ways your business can produce effective email content during a crisis...
Release a statement
In times of crisis, your words are important. Although you don't want to add to the panic, it's important to also acknowledge the current situation, so that your business doesn't come across as insensitive or tone deaf.
In this instance, carrying on as normal is not the best strategy. In fact, it could lead to you alienating many of your customers as they cannot relate to your content.
Releasing a statement about the crisis is one way to show your customers you are aware of what is happening. It also gives you the opportunity to demonstrate what your business is doing to help. Here are a few examples of effective company statements which have been sent out during the current Coronavirus crisis.
ASOS: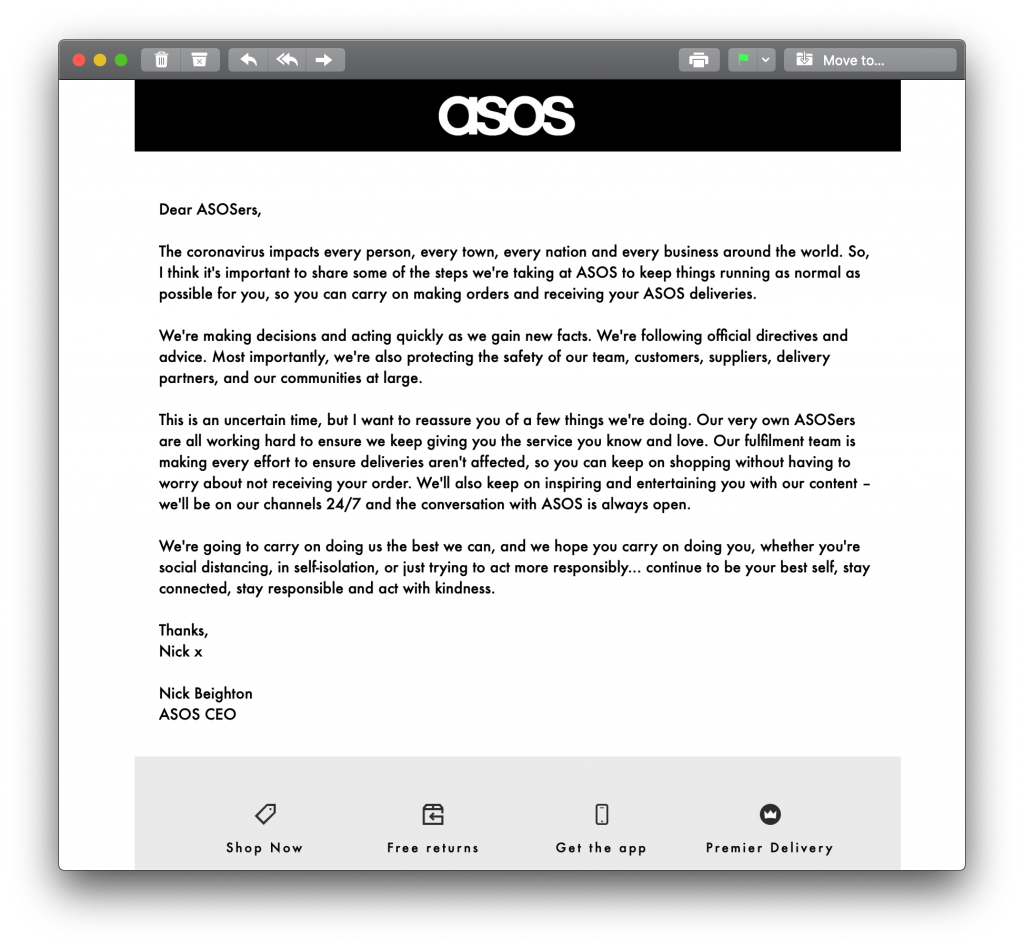 Reebok: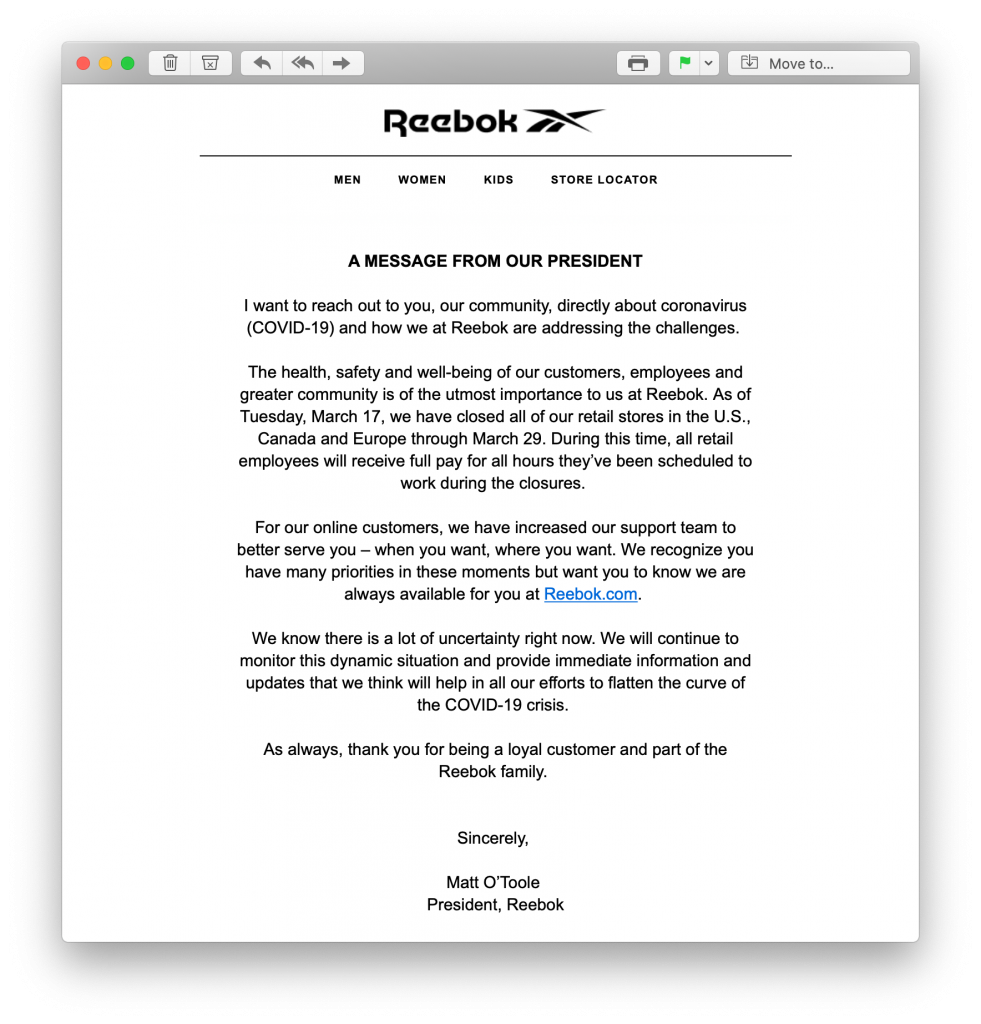 Superdry: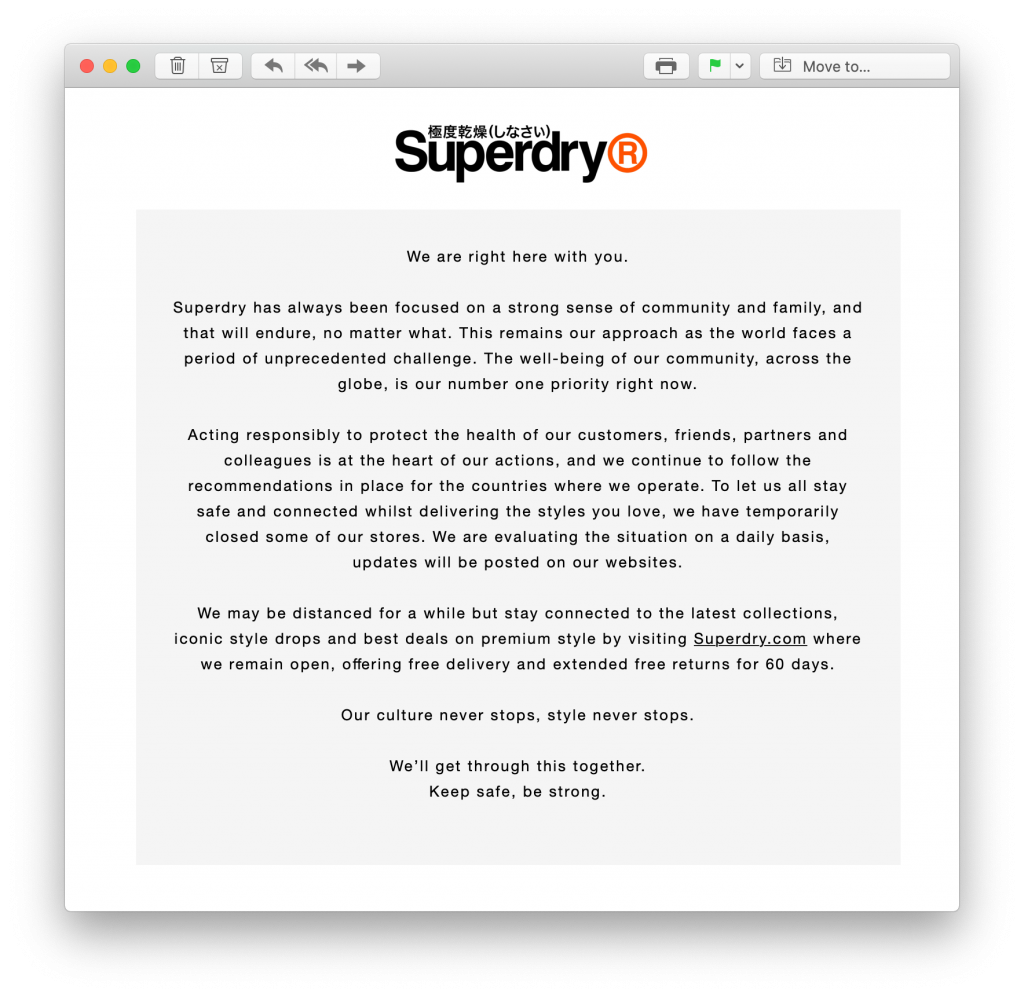 Focus on supporting the community
Businesses such as yours are a big part of the community, whether locally in your town or city, or online amongst your customers. For this reason, you should try where possible to use your email campaigns to show support for your community.
Think of ways - big or small - that your business can help out during the crisis. Then, use email to spread the word to subscribers.
This thank you message by Morrisons is a thoughtful way to show support and reassure customers during difficult times: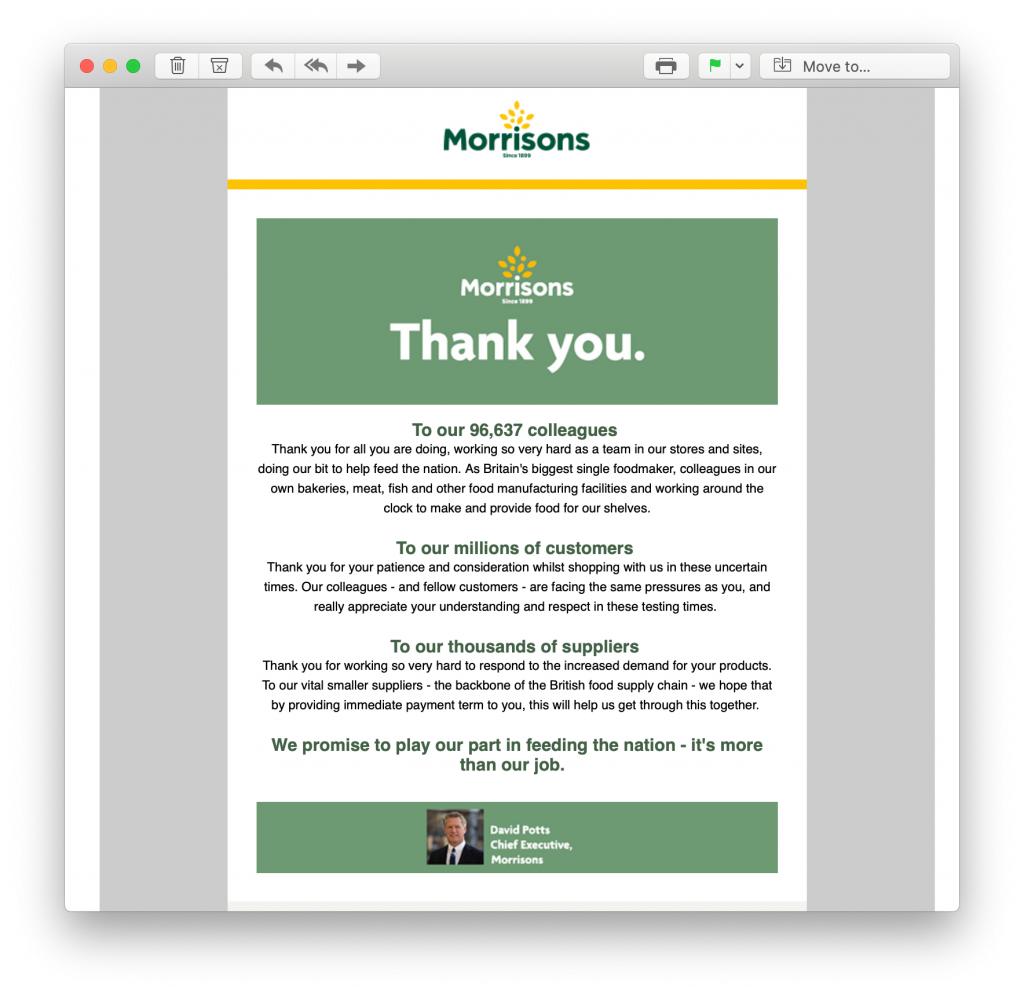 This email was followed up by a second email, showing how the business is helping the community.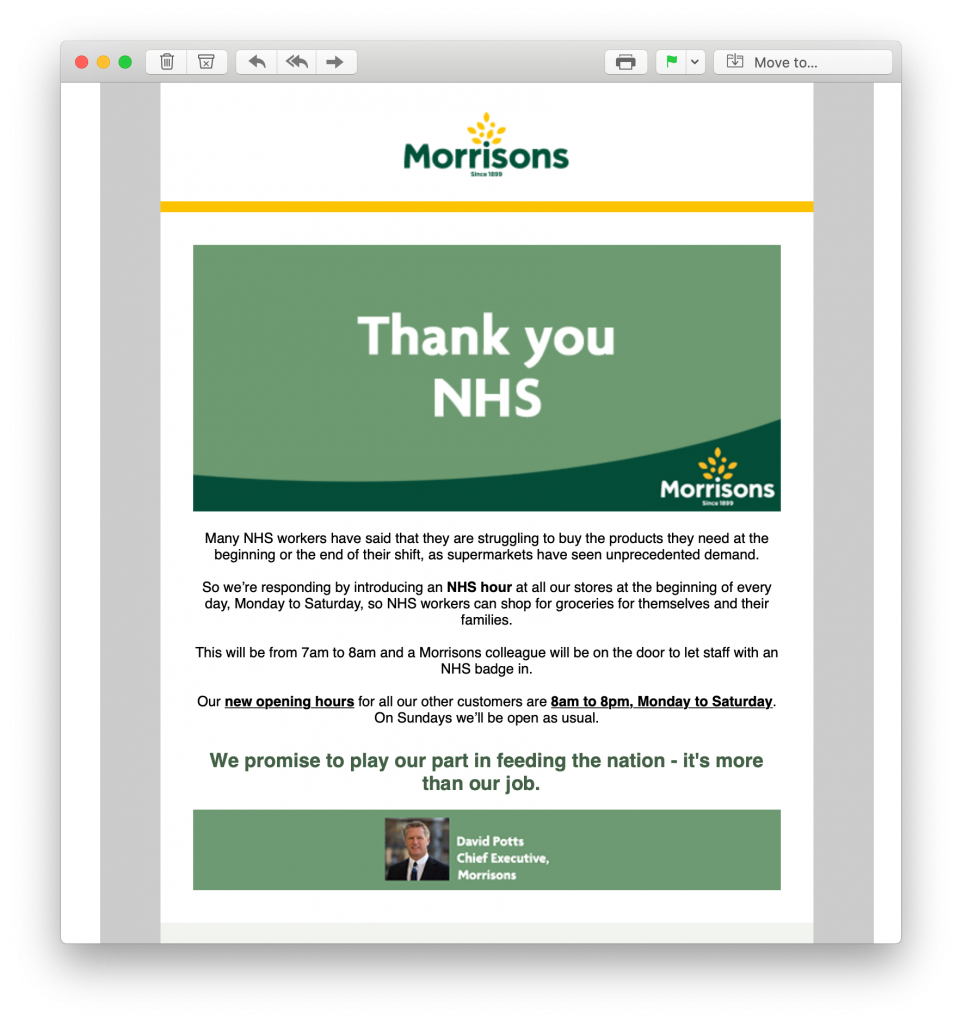 Create relevant and useful content
Circumstances change massively during periods of crisis. The current emphasis during the COVID 19 crisis is on minimising contact with others. This makes it difficult for many businesses to find ways to keep their content relevant.
In this email by restaurant chain Giraffe, the focus is changed to home delivery rather than visiting the restaurant. This is just one example of how your business can still continue creating promotional content which is relevant to your target audience.
Similarly, in another example by Rent the Runway, the fashion brand concentrate on promoting clothing for home office - which is a highly relevant topic at present.
Although this may not seem like a super serious topic to cover during a crisis, it does help to provide customers with interesting content that serves a useful purpose.
In this last example sent out recently in response to the Coronavirus crisis, department store Selfridges are using email to promote fun, nostalgic activities to do indoors.
This example shows how, during a crisis, a little bit of creativity goes a long way and helps cast some light on an otherwise dark and depressing situation.
Using Mail Designer 365 to create emails to send in a crisis
Hopefully these tips will prove useful while you are adapting your email marketing strategy for the Coronavirus crisis.
Key takeaways from this article:
Reassess all planned content to determine whether it is still appropriate.
Adapt the messaging of your existing email campaigns to suit the current climate.
Send emails to update your customers and other stakeholders during a crisis.
Create new, useful email content which is relevant for your target audience.
If you need to adapt your email strategy for this crisis, why not check out Mail Designer 365? With a range of customisable HTML email templates, including crisis communication emails, you have everything you need to continue your email marketing in a crisis.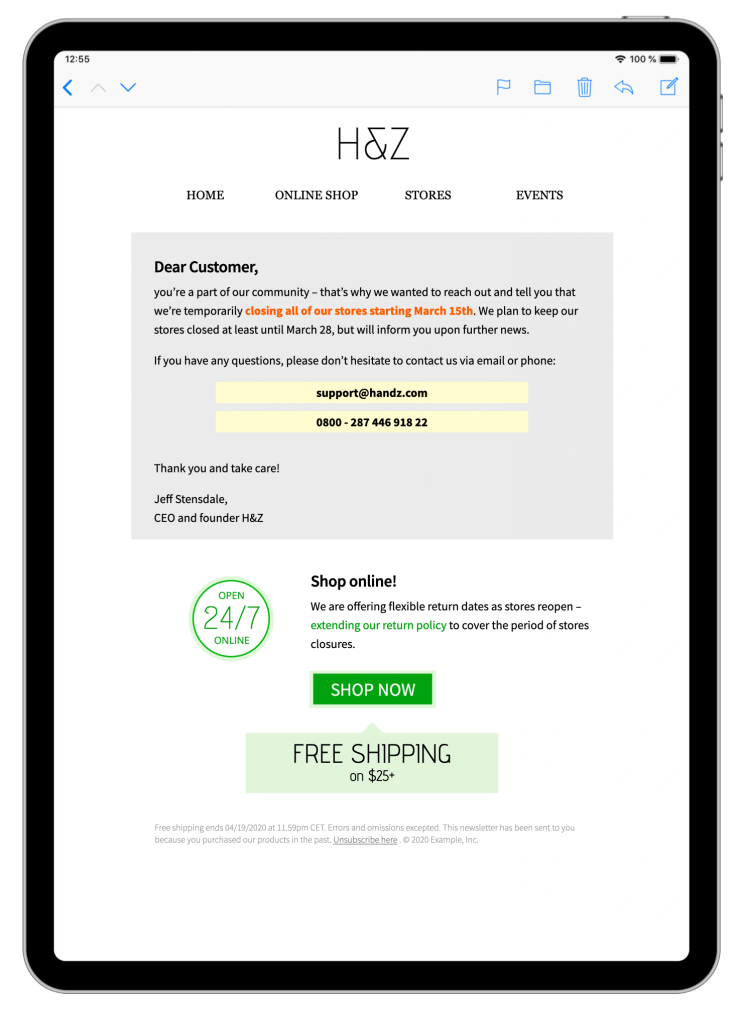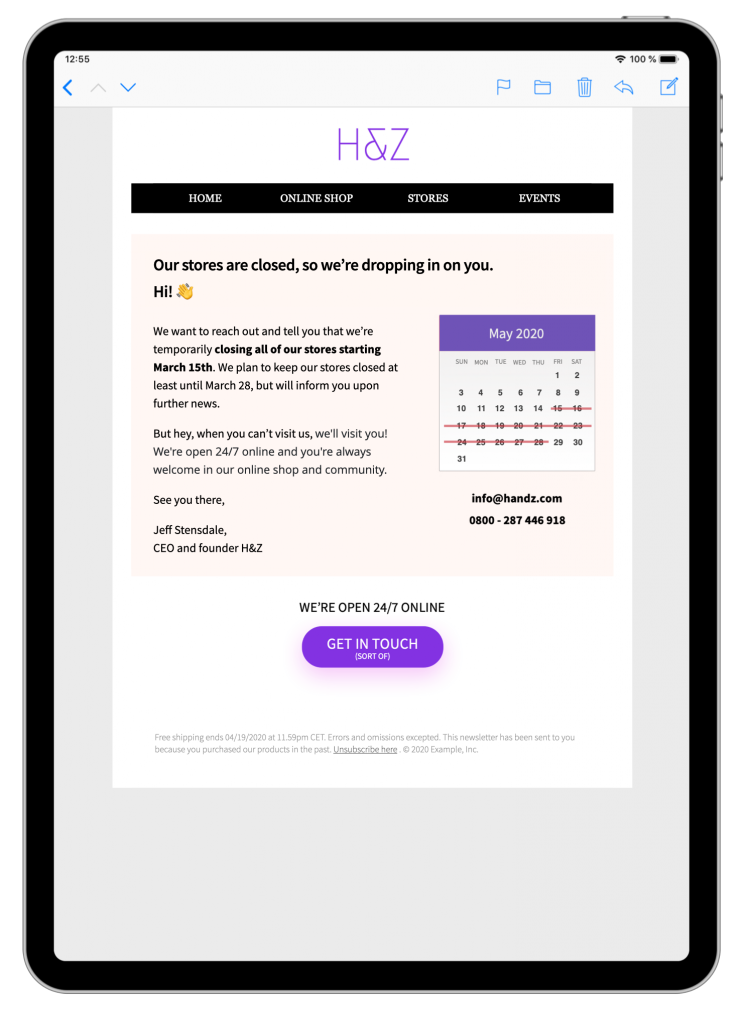 Sign up for free today to get started.
Until next time,
Your Mail Designer 365 Team