5 smart tips on how to become a power seller and win-over every would-be buyer
Sales campaigns make up a huge chunk of your email marketing strategy. Follow these 5 simple hacks to make sure your sales newsletters hit the spot every time...
Create a point of attack for quick buyers
1. Pack all your important links into the email header
Many recipients are motivated to click through to your site and make an immediate purchase when they see a sale being advertised. Take advantage of this and create easy shortcuts by including the most important link targets in the email header.

Use Mail Designer 365 layout blocks to create headers with your logo and all the most important links. This helps customers shop faster and will also help improve your click-thru rate. Create your own font style for links and regulate aspects like line height, spacing, font family, etc.
In the mobile view, all links are automatically arranged under each other.
When you are happy, you can save this block under "My Layout Blocks" to use again and again in future campaigns.
For reluctant buyers
2. Better hurry… use time pressure to increase the incentive to buy
Limit your offer by making the sale period as short as possible. This encourages your subscribers to make a quick, "spur of the moment" purchase.
To ensure time pressure is always present, every sale should have an eye-catcher showing the limited purchase period.
Position your eye-catcher within the first third of the newsletter. Make sure to indicate the day of the week since it's easier for recipients to remember. Depending on the time of sending, you could also list the number of hours left.
TIP: Indicate the duration of your sale in your preview text, for example: 3 days only, 24 hours - Save 24%. These texts are super easy to edit using the inbox preview tool in Mail Designer 365. This way, customers know all about your sale before they've even opened the newsletter.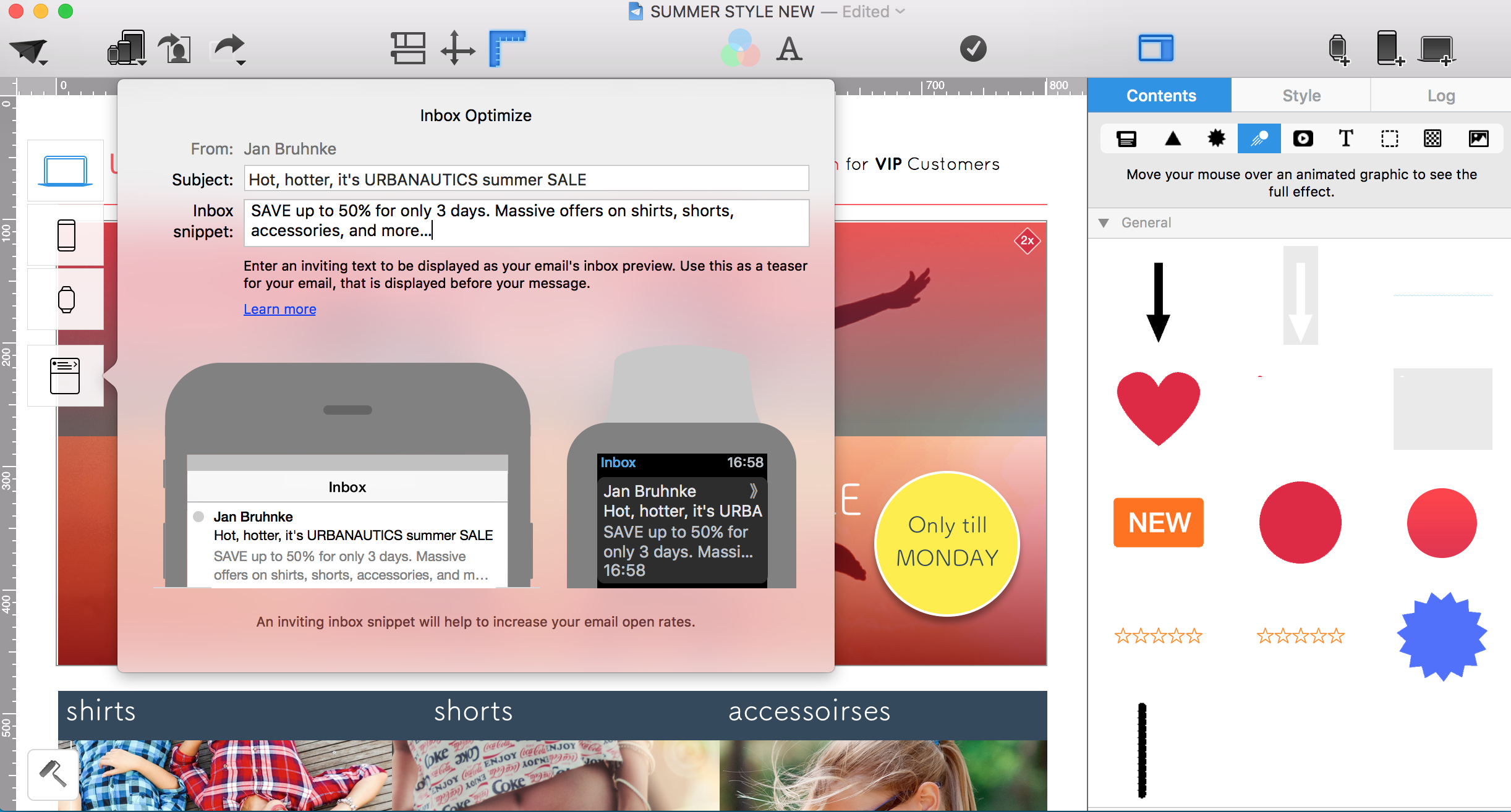 For the thrifty: price scanner
3. The deal of a lifetime: Using strike-through prices as eye-catchers
Make it clear to your customers how much they are saving by including a strike-through price in your newsletter. There's no better feeling than knowing you're getting a great deal on a product you've had your eye on.
Define your font style as a strike-through text and you can use it at anytime in your newsletter.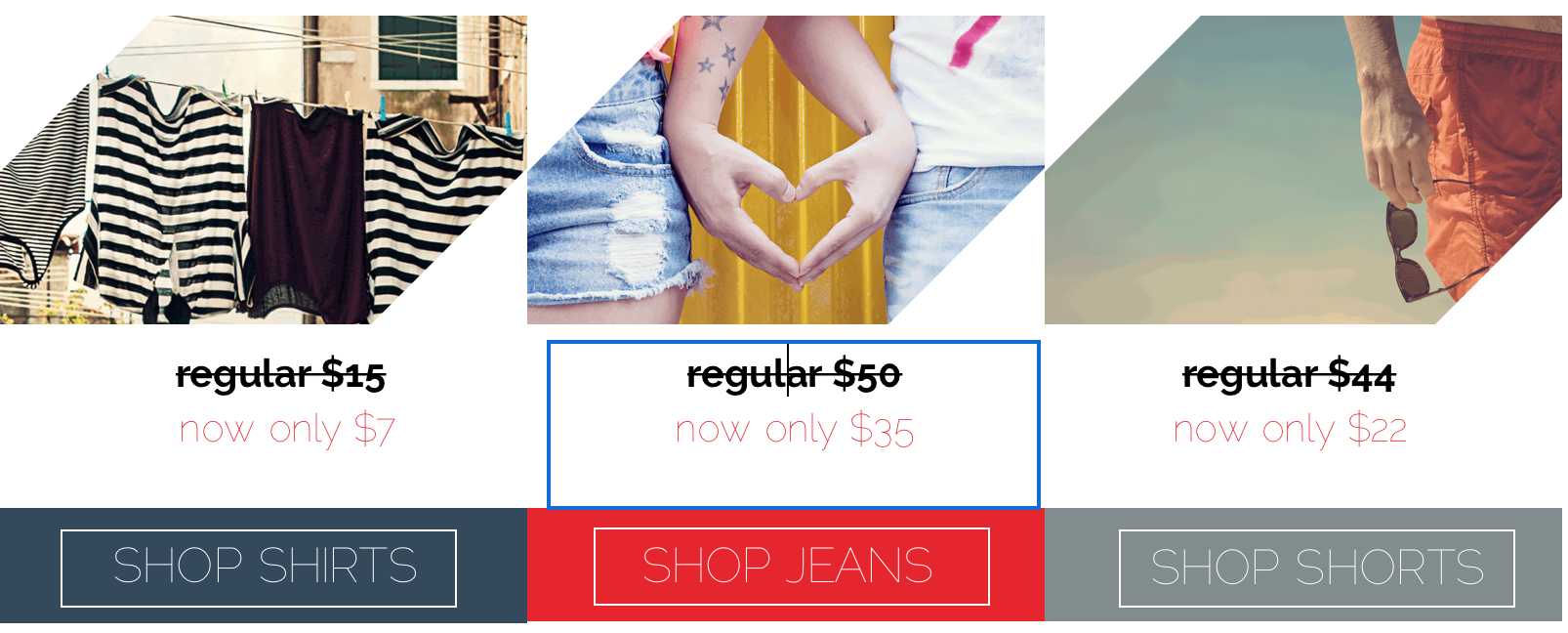 TIP: Make your strike-through text stand out even more by using a GIF animation. Check out the GIF collection in Mail Designer 365, where you'll find an animated GIF which strikes through a price.

A picture speaks a thousand words...
4. Images sell better: Tell your story with large feature images and short product texts
We are all captivated by bold images: 65% of your recipients will opt for image-heavy newsletters over text heavy ones. Play around with your feature image or add a cool background that you can link to your sale landing page.
Make sure to also think about the colours you choose, since they too play an important role in how effective your newsletter is. 85% of newsletter recipients admitted that they have made purchases solely based off the color of a product. So make sure you think about which products you place in your newsletter.
Whether you're going colour crazy with pop art style Duotone Filters, or creating mesmerising effects with Blend Modes, Mail Designer 365 has all the creative tools you need to spice up your newsletter images.

For the wordy ones
5. Make the most out of your text
Using web fonts is another way to make your ordinary newsletter text work wonders on your readers. From bold and punchy headlines to modern and sophisticated body text, there is a stylish web font for every use case.
Explore over 700 web font options in Mail Designer 365 to use for headlines, eye-catchers, body text, pricing tables, bullet lists, call-to-actions, and more!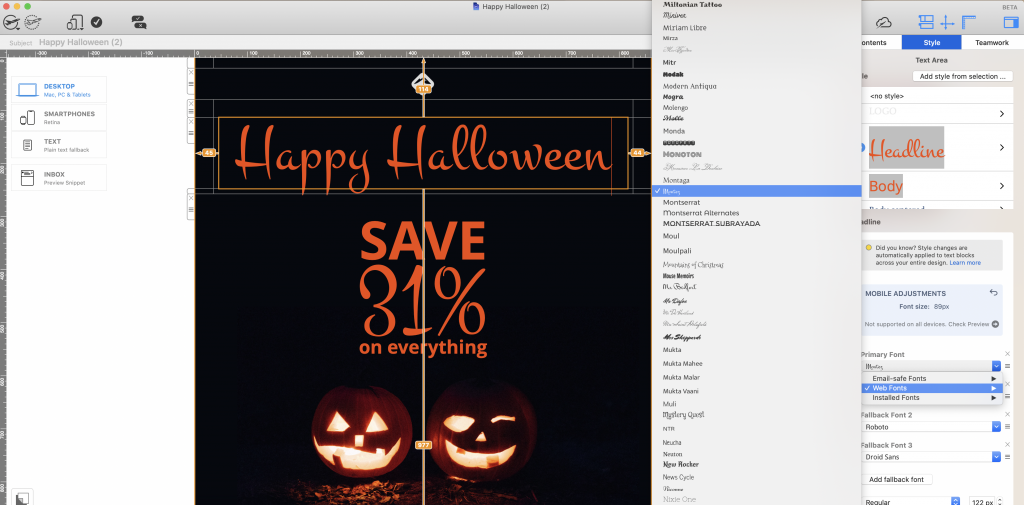 Until next time,
Your Mail Designer 365 Team
Get more inspirational tips, tricks, and best practice examples in the Mail Designer 365 Newsletter Academy -
your one stop hub for all things email marketing strategy and newsletter design.