6 smart tips on how to become a power seller and win-over every would-be buyer
Create a point of attack for quick buyers
1. How to pack all of the important link targets into the header of your newsletter
Many recipients are motivated to make an immediate purchase and are ready to jump and click when they see a sale. You can create easy shortcuts with all important link targets clearly laid out in the header line.

With the new Logo Layout Blocks, (Mail Designer Pro 3.0.3 – download here), you can create headers with your logo. At the top right, you can link your logo, as png or .jpg data, to a sales or landing page. 

In addition, you have room to integrate all important link targets as a text. Create your own font style for your links and regulate the spacing with the new Paragraph Spacing feature. Now you can link to the newest collection or a VIP customer sign-in!
In the mobile view, all links are automatically arranged under each other.
For reluctant buyers
2. Better hurry … increase the incentive to buy with time pressure
Limit your offer by making the sale as short as possible, convincing your recipients to make a quick choice to buy. Every sale should have an eye-catcher with a limited purchase period.
Position it within the first third of the newsletter. Make sure to indicate the day of the week since it's easier for the recipients to remember. Depending on how long the newsletter distribution lasts, you can also make it hourly.
TIP: Indicate the period of time for your sale in your preview text for mobile devices, for example: 3 days only, 24 hours – Save 24%. These texts are super easy to edit under Inbox Editing in Mail Designer Pro. This way, customers know all about your sale before they even open the newsletter.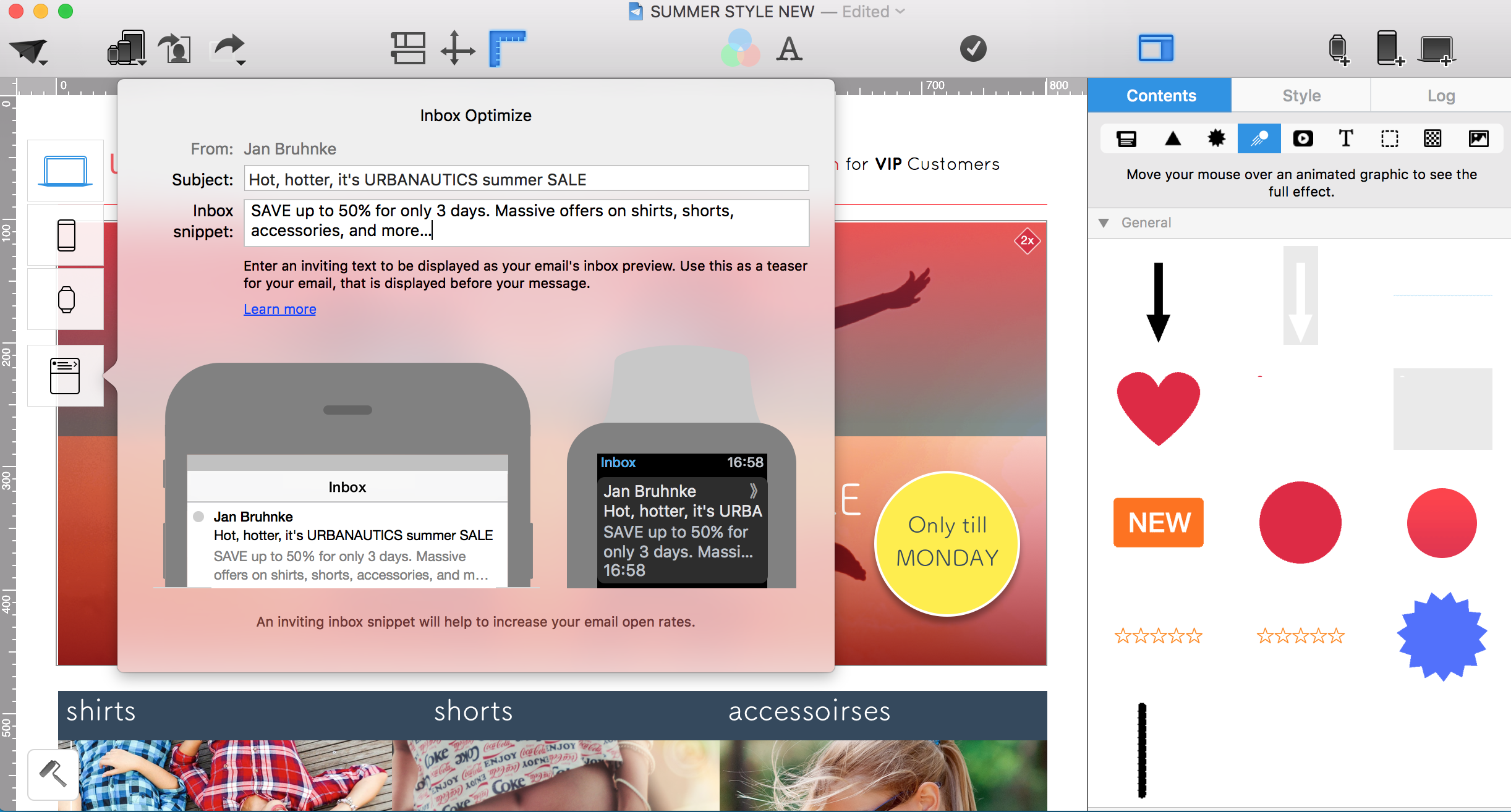 For the thrifty, price scanner
3. The deal of a lifetime: How to use strike-through prices as eye-catchers
Make it clear to your customers what they are saving by including a strike-through price in your newsletter. There's no better feeling then to know you're getting a normally expensive product at a great price. Define your font style as a strike-through text and you can use it at anytime in your newsletter.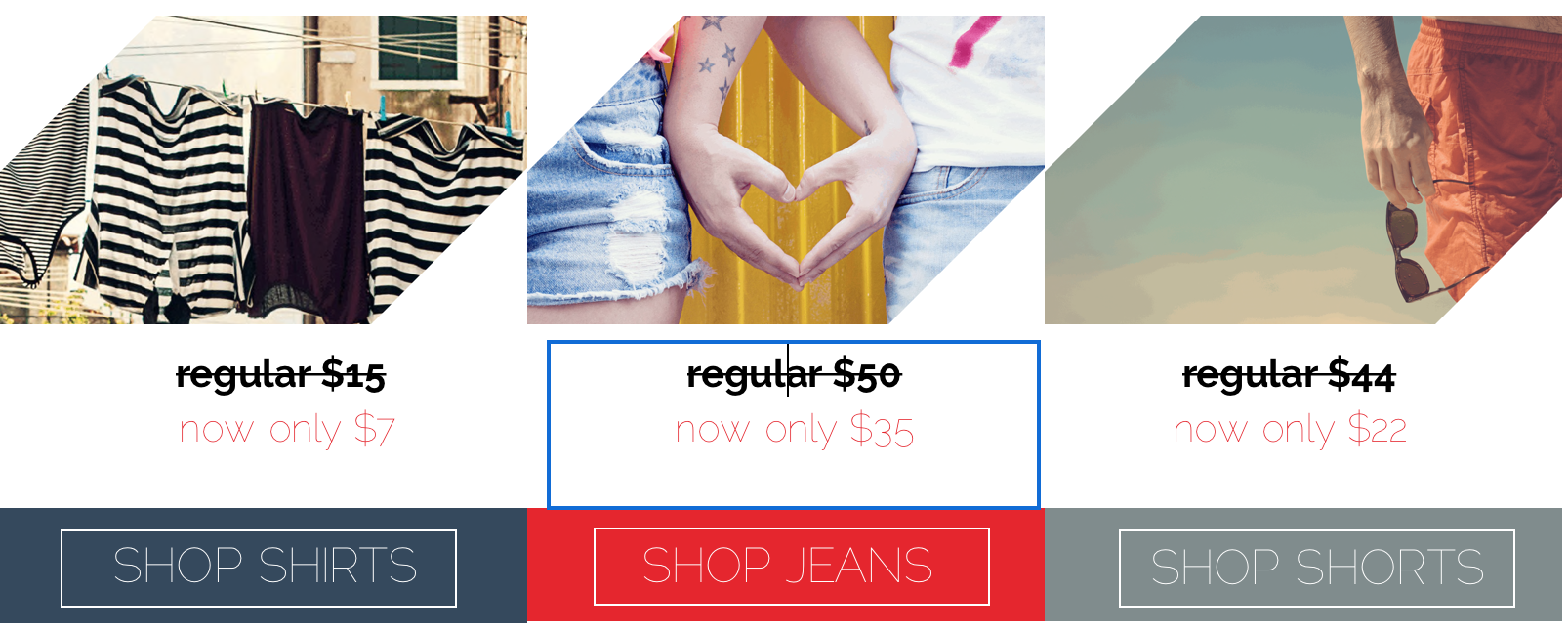 TIP: Make your strike-through text stand out even more by using a GIF animation. Check out the GIF collection where you'll find an animated GIF which strikes through a price.

For the aesthetic buyer
4. Pictures sell better: Tell your story with large pictures and short texts
We are all tempted by pictures: 65% of your recipients choose picture-heavy newsletters over text heavy ones. Play around with your lead picture or add a cool background in which you include a central link to your sale landing page.
Mail Designer Pro makes it possible for you to include high definition, Retina quality pictures and artwork in both your desktop and mobile newsletters. Make sure to think about the colours you choose as well since they too play an important role. 85% of newsletter recipients admitted that they have made purchases based on the color of a product. So make sure you think about which products you place in your newsletter.
For the wordy ones
5. Make the best out of your text
Considering how many web-fonts there are, you can choose the hottest font at the time. This site https://www.typewolf.com has a collection of 40 cool Google fonts all in one place.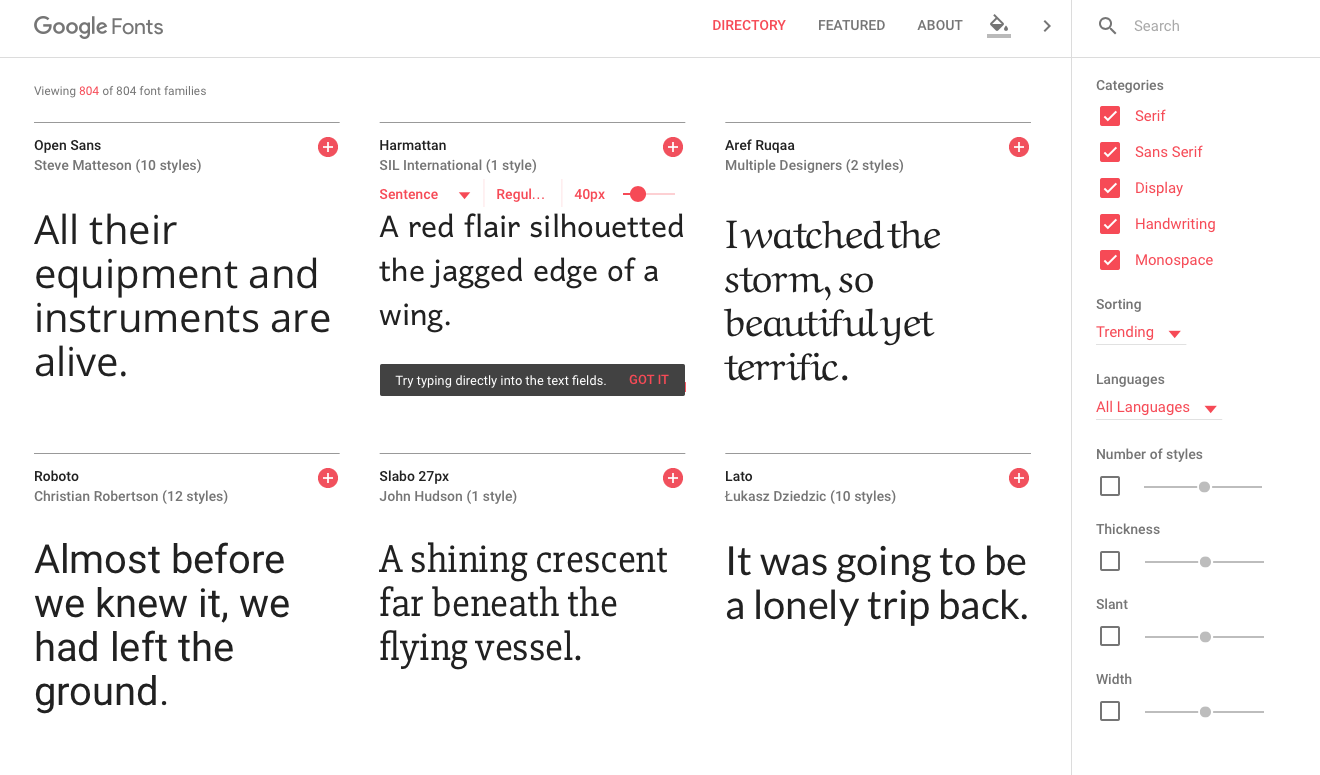 And the brillant Google Directory at https://fonts.google.com offers all available web fonts in a cool overview. Here you can set some text font parameters and easily pick-out your own fonts.
Thanks to the new Paragraph Spacing feature in Mail Designer Pro, you can set the exact amount of space to leave before and after your text paragraphs – for nicer formatting, an airier look, and improved readability. Use bullet points for your buyers to sort and highlight the key facts about your products.
For bargain hunters
6. Upgrade your Call-to-Actions with incentives
This gives that extra push to motivate recipients to go to your store or to take advantage of your sale offer. Offer a promotional sales code when recipients sign up for your newsletter or give the first 100 purchasers a small gift.
For promotional purposes, you should definitely link a welcome email for the newsletter sign-up. This opens the door for featuring even more of your products, best sellers, or your portfolio.