November is here, which can only mean one thing: It's time to start getting ready for the festive sales season! To help you along the way, the latest Mail Designer 365 version brings a selection of brand new seasonal sales templates to the app, plus new graphics and important optimization for macOS Monterey.
Find out everything that's new in version 2.8 in our detailed update guide...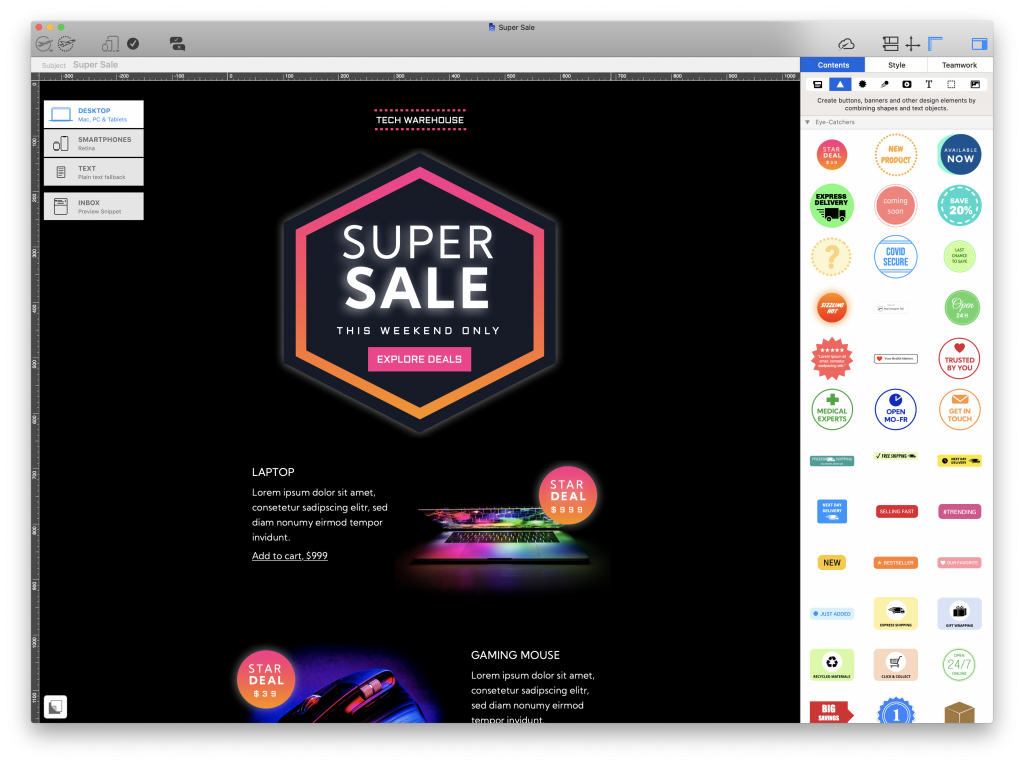 What's New in Mail Designer 365 2.8?
New: Design Ideas for the holiday sales season
With the end of the year drawing closer (we can't believe it either), businesses everywhere will undoubtedly be getting ready for the highly anticipated holiday sales season.
Whether it's a mid-season sale, a seasonal promotion or a "Black Friday" offer, Mail Designer 365 has you covered - with 3 brand new sales templates, perfect for enticing your customers to get started with their holiday shopping.
New: Go the extra mile with the brand new Holiday Sale template (Business Premium), which features a stylish table layout - perfect for service providers.
Find all the new sales templates in the Design Chooser under the "Sales" category.
New: Seasonal Design Ideas for Thanksgiving, Hanukkah and Christmas
In this update, we've also further expanded our collection of seasonal Design Ideas with four new templates for Thanksgiving, Hanukkah, and Christmas.
Use these stylish designs to send a festive greeting to co-workers, business associates, and customers or adapt for a special seasonal sale.
Find all the new seasonal Design Ideas in the Design Chooser under the "Seasonal" category.
New: Badges, eye-catcher graphics, ready-made layouts and logos
Head to the Contents Library in the sidebar to find even more creative resources to help inspire you when designing your templates:
New colorful badges for seasonal sales and promotions
New sustainability badges, including "vegan" badge - great for a range of businesses, such as restaurants & cafes

New shipping services category: Delivery logos for online shops to show their chosen shipping services, including DHL, UPS, and FedEx

Ready-made layout blocks for call-to-action layouts, social media, service icons, and disclaimer text
Tip: Explore ready-made layout blocks
In addition to over 200 email templates, Mail Designer 365 also offers a wide selection of ready-made layouts for you to drag and drop into designs. This feature is perfect if you are building a template from scratch and need some inspiration for a certain layout element.
Discover templates for social media promotion, call-to-action blocks, disclaimer text, tables (Business Premium), and much more.
Go to Contents > Layout Blocks and switch to the "Ready-Made" tab to explore all the styles:
Find all the new seasonal Design Ideas in the Design Chooser under the "Seasonal" category.
Further Improvements and how to upgrade
macOS Monterey: An issue with preview images in the design chooser has been fixed. Note the preview will be fixed the next time you open and save your design
Further stability and performance improvements
Start using Mail Designer 365 2.8 today
This is a completely free update for all existing Mail Designer 365 customers. To start using version 2.8, simply open the app, go to "Mail Designer 365" in the top menu and click "Check for updates."
Tip: Activate automatic updates in your app preferences to make sure you never miss a new version of Mail Designer 365:
Get started with Mail Designer 365 today
Start your 7 day free trial and use your Mac to create stylish email newsletters for your business.
Compatible from Mac OS X 10.11 onwards, including macOS Monterey