A key factor behind successful email marketing is the ability to produce interesting content for your subscribers. One popular trend which has really taken off over the past few years is sending anniversary emails as a way to keep subscribers engaged with your business.
In this guide, we're showing you step by step, how to create awesome anniversary emails and sharing our favorite examples from the past few years.
What is an anniversary email and why should I send one?
An anniversary email is sent to commemorate a special event or milestone. This can either be a customer's own personal milestone, or a general business milestone. Typically, the main aim of these emails is to maintain the relationship between your business and your email subscribers.
Here are some great advantages of sending an anniversary email:
Make customers feel special. Anniversary emails can easily be integrated into your existing automated email workflow and sent out after certain triggers (e.g. 1 year after signing up). This is a great way to use email to make the customer journey more personalised.
Create a new sales opportunity. Many businesses take anniversary emails as an opportunity to launch a sale or offer a discount code.
Showcase your achievements. Use your anniversary email as a way to share your success with customers and other key stakeholders.
Provide interesting email content. An anniversary email gives you the chance to put a unique spin on your typical marketing emails and provide new content.
Anniversary emails for customer milestones
Every business has a unique customer journey and aims to create a specific experience for both new and existing customers. This plays an important role when considering which milestones to celebrate.
Anniversary emails are a great addition to your automated email strategy, as they are unique to the recipient and therefore offer much more potential in terms of open rates and clicks.
Examples of customer anniversary emails
Here are some great examples of emails sent by businesses to celebrate customer anniversaries.
Grammarly
In this fun, birthday-themed email design by Grammarly, the customer is offered an exclusive discount. We especially like the way the white space in the design makes the messaging even clearer.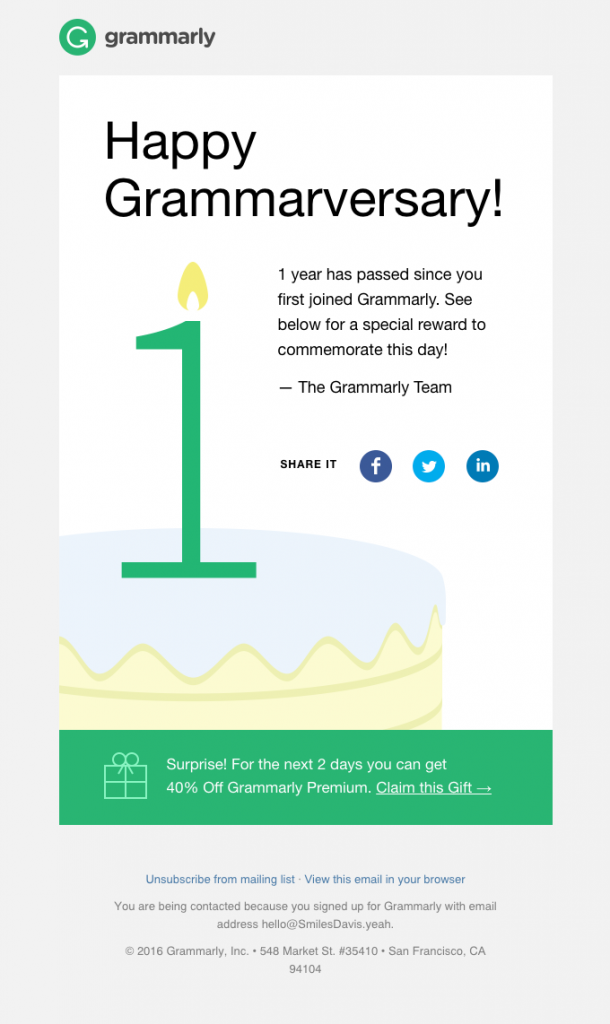 ModCloth
Keeping to the birthday theme, this email by ModCloth uses a colorful center graphic to win over customers and get them shopping on their site.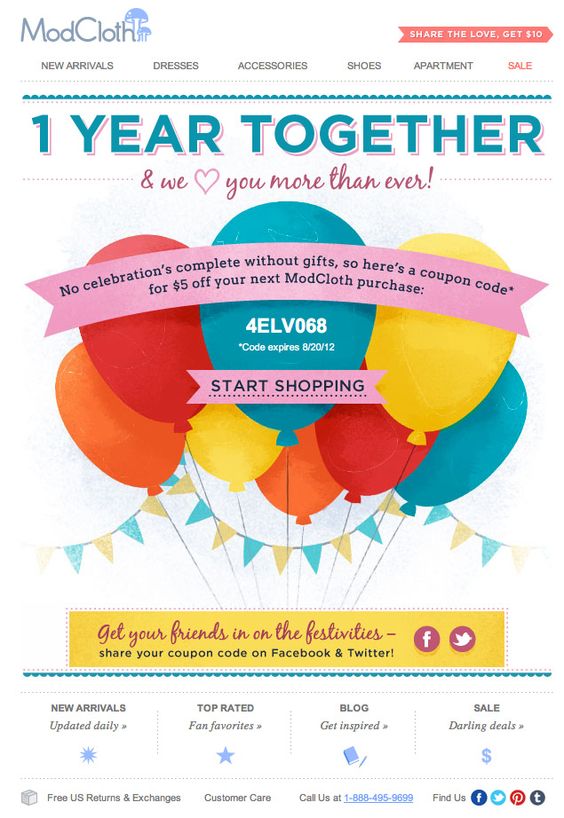 Twitter
This anniversary email by Twitter has a prominent CTA (call to action), prompting the recipient to spread the word on Twitter right away.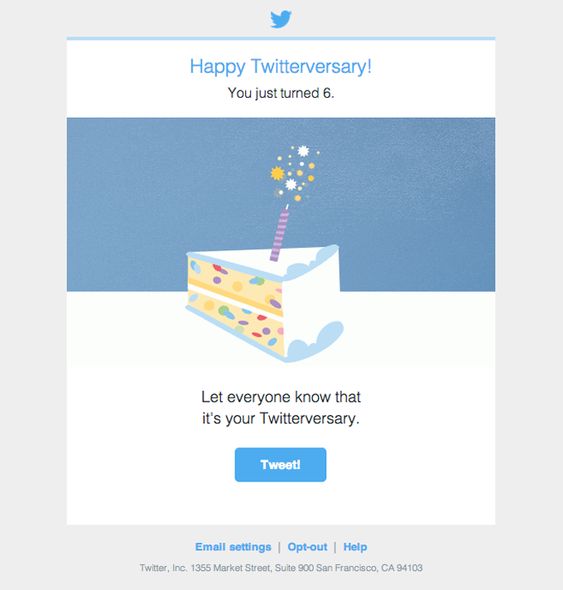 Uber
In this anniversary email, Uber reminds drivers of all they've achieved during their time together. Celebrating those key moments is an important part of improving the user experience for all and helps motivate drivers.

Playstation
In this mesmerising anniversary email design by Playstation, the customer is rewarded with fun bonus content. Thumbs up for the use of personalization in the main design of the email!

Anniversary emails for business milestones
As well as gaining access to the latest information on your products and offers, many customers signed up to your mailing list to learn more about your business. For this reason, sending out updates on important milestones your business achieves can also be very interesting to your customers.
These emails differ greatly from the customer-specific email examples we just showed. Generally, a business event such as a birthday or sales milestone is a big occasion and an excuse for a grander, one-off mailing.
Examples of business anniversary emails
Here are some examples of firms who have used email to creatively celebrate their anniversary with customers and stakeholders:
Casper
Casper stay nicely on brand with this fun anniversary email, sent out to celebrate their 2nd birthday.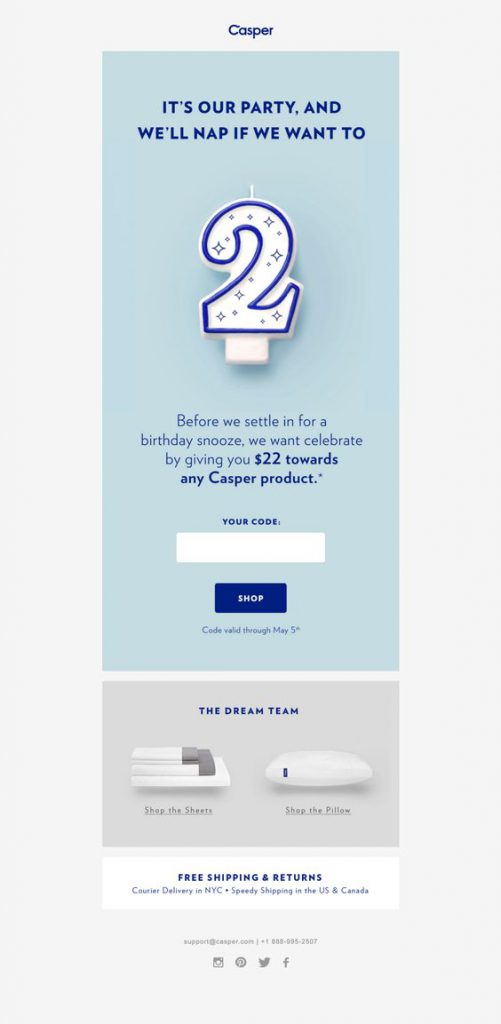 Fitbit
The Fitbit team takes a slightly more formal approach in this email statement celebrating their 10th birthday. This kind of email is great, as it is also suitable for investors and stakeholders. We love the numbers section in the middle which recognizes their achievements so far.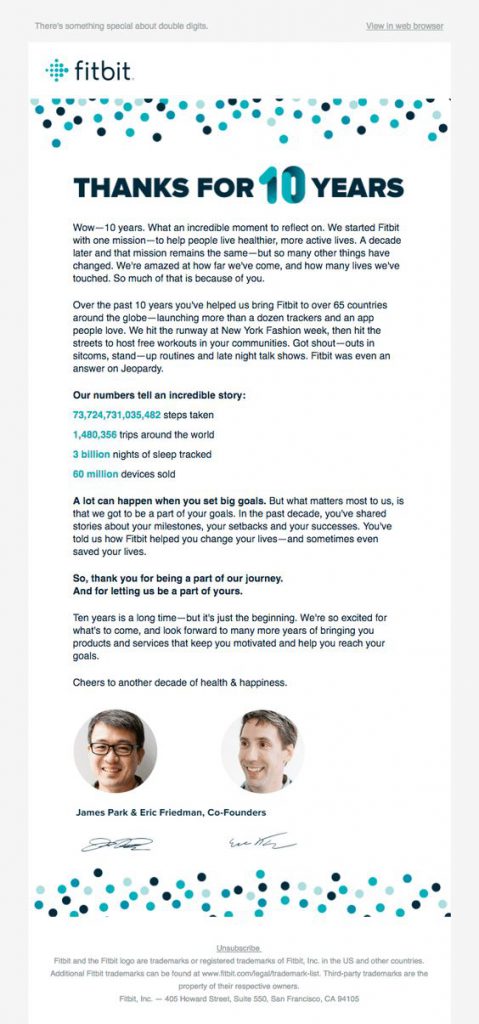 DAVIDsTEA
This anniversary email by DAVIDsTEA is unique, as it combines the customer's personal milestones with the anniversary of the business. This helps the customer to feel like part of the business and strengthens the B2C relationship.

Harley Davidson
Harley Davidson sent out this impressive mail to celebrate the anniversary of one of their classic products. Releasing a unique, anniversary edition is one creative way to get more customers on their site.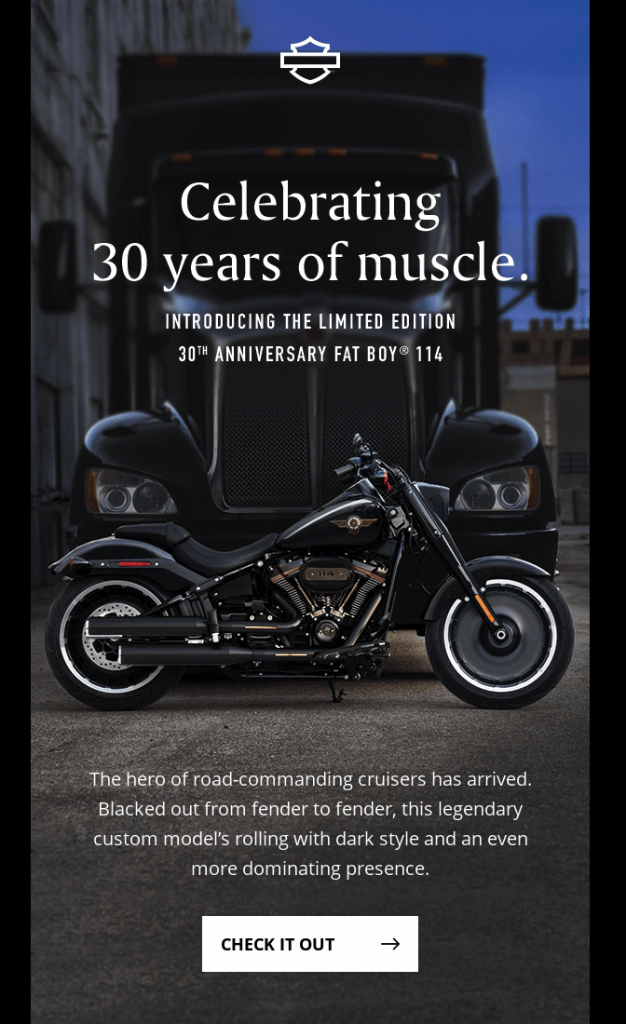 Best Practice Tips and Ideas for Anniversary Emails
Now you've seen some great examples of anniversary emails, here are some best practice tips to abide by.
Use personalization
Emails are proven to be much more effective when speaking directly to the recipient. Use personalization in your anniversary emails to capture the reader's attention and let them know it's all about them.
Adding a first name placeholder is a simple way to ensure your automated email will address each recipient personally. Mail Designer 365 supports a wide range of placeholders, including Mailchimp, Campaign Monitor, and custom placeholders.
Offer a gift
Every anniversary is a special occasion and warrants a gift. In this case, it's just the same. Say thanks to your customers for their loyalty over the years and reward them with a free gift or special offer.
Highlight your shared experiences
As we mentioned, the customer experience is an important part of how your business connects with users. Particularly in service-based businesses, it's a good idea to celebrate your shared experiences with customers to help them feel more connected to you.
In this email by theSkimm, customers are reminded of their personal experience with the business over the last 5 years.
Include a CTA
Every email needs a clear call to action and anniversary emails are no exception. Include a prominent CTA button in your email design to show the reader what their next steps are.
Here are some ideas:
Shop now (i.e. with discount or promo code)
Refer us to a friend
Log in (i.e. to your service)
Share the news (e.g. on Twitter)
How to Create an Anniversary Email in Mail Designer 365
Got a big anniversary coming up? Mail Designer 365 makes it easy to celebrate your success with customers and stakeholders.
Choose from one of our many HTML email templates, or use the drag & drop editor to build your own design using an impressive set of creative tools.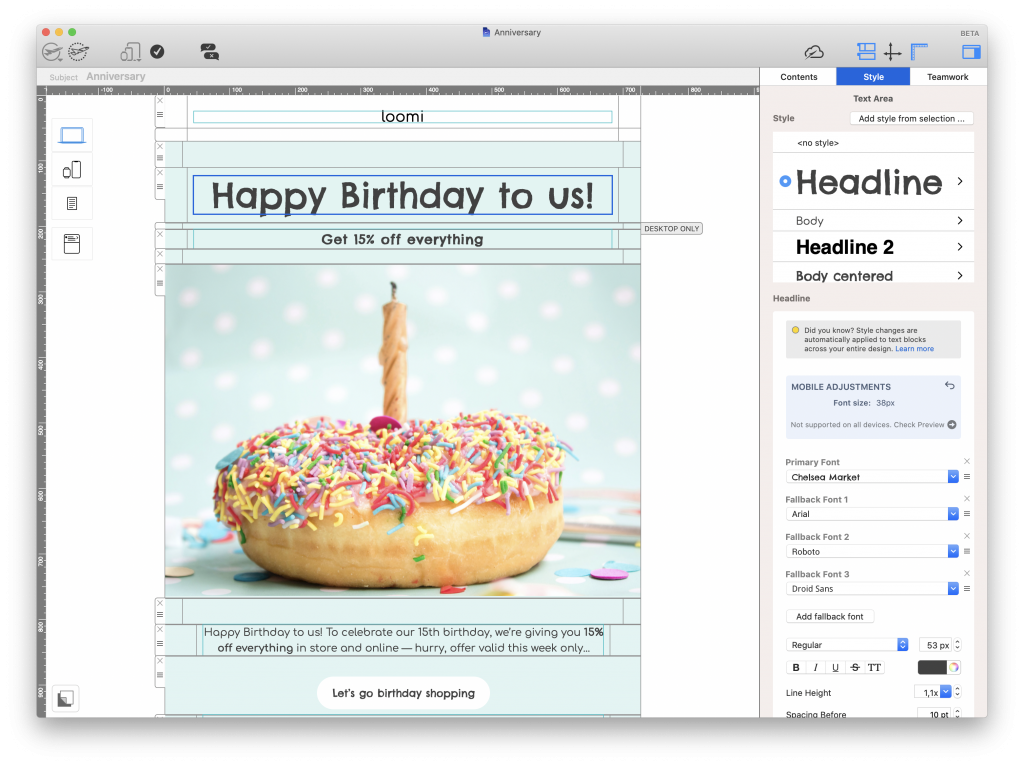 Once you've finished building your design, check out the huge range of export options to send your template to your chosen email service provider for a mass, one-time mailing, or a long term, automated campaign.
Not got a Mail Designer 365 plan yet? Download your free trial to get started.
Until next time,
Your Mail Designer 365 team