All hail the GIF! This week we're getting animated at Mail Designer 365 Newsletter Academy. GIFs and animations are taking over the world and we've scoured the web to find you 10 of the very best examples of GIFs in email...
Quick tips for GIFs
Before we get started, here's a brief overview with some useful tips to keep in mind when using animated GIFs in your email designs:
In Mail Designer 365 you can only use one GIF per image area. In general, we would recommend not going overboard with GIFs (less is definitely more in this case), but if you do want to include more than one animation, be sure to add an image area for each one.
Keep it short and snappy. As customers, we have short attention spans. If your GIF is too long and tries to say too much, the recipient will soon get bored and confused. Make sure your GIF is no more than a few seconds long and visually exciting for it to have maximum effect.

Stay on brand. GIFs are great, but if your target audience doesn't think so, you're setting yourself up to fail. When choosing an animation, be sure that it is relevant to your brand and that your audience will receive it well. If your brand image is generally professional, steer clear of extravagant, over-the-top style GIFs and go for something more subtle.
TEST TEST TEST. There's nothing worse than putting the effort in to finding a great GIF only to have your hard work ruined by compatibility issues. Use the test send feature to preview your email design with the GIF before sending to your entire mailing list!
GIF-tastic emails we love!
1. Fun fall sale
This fabulous email design by Loeffler Randall includes a clever play on words as well as a seasonal color scheme for the autumn sale. Although the concept is simple, this GIF is highly effective and leads the reader straight to the CTA button.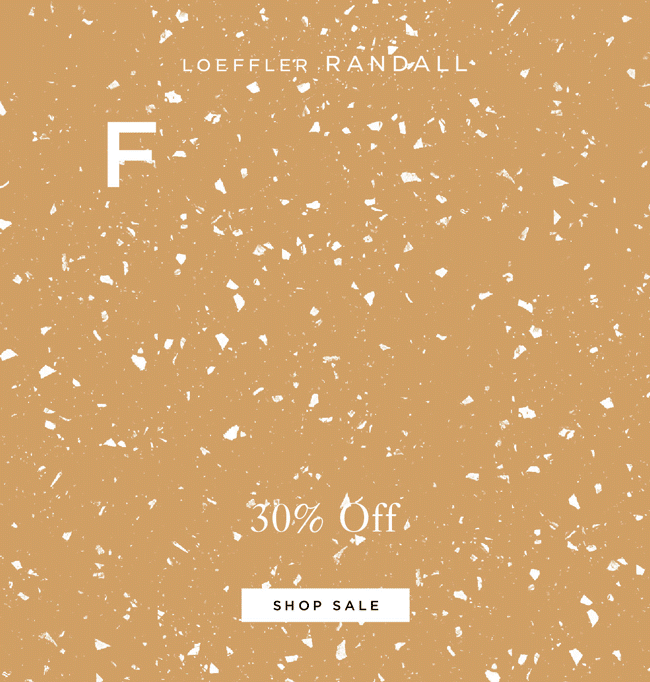 2. A touch of magic
Mommut have done a great job in this more abstract email design. Although a more subtle concept, this is a fun and friendly way to advertise a sale, and quite frankly, the unicorn sold it to us straight away! This simple GIF style is a great choice for beginners as it provides an extra element to your email design without being too complicated to apply.
3. SMS-merising messenger GIF
We love this GIF idea from Hollister. The inventive instant-messaging-style animation keeps us hooked and grabs our attention - helping readers focus on the email's true message. Very clever indeed! This is a fitting choice for a more modern business with a younger target audience, and will definitely pay off if you're willing to take the creative risk.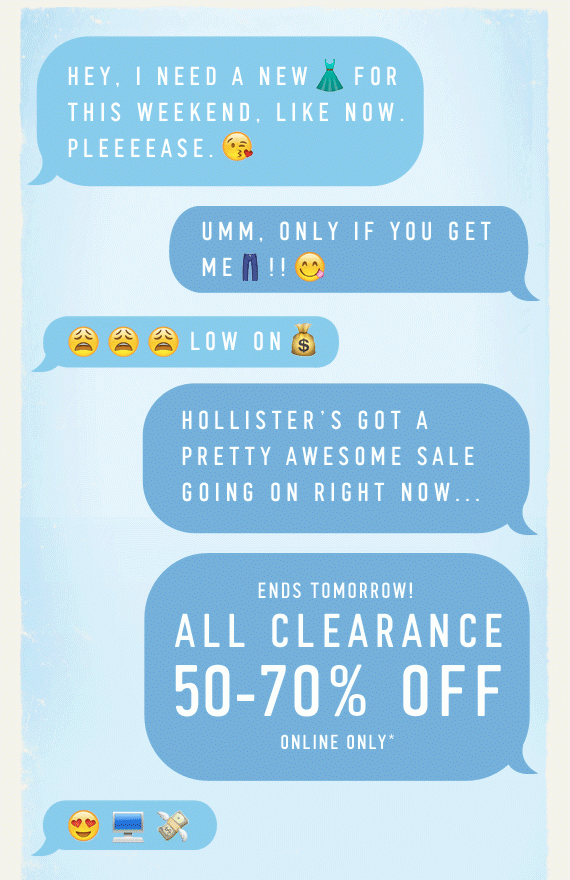 4. This GIF is serving bags of fun
This fun and colorful GIF from Kate Spade is a simple, yet captivating way to promote a special product. There is also a subtle sense of urgency included with the tagline "catch them while you can" - implying that the bags are going fast. We love the way every element of the design works together to encourage readers to shop this product while they still have the chance.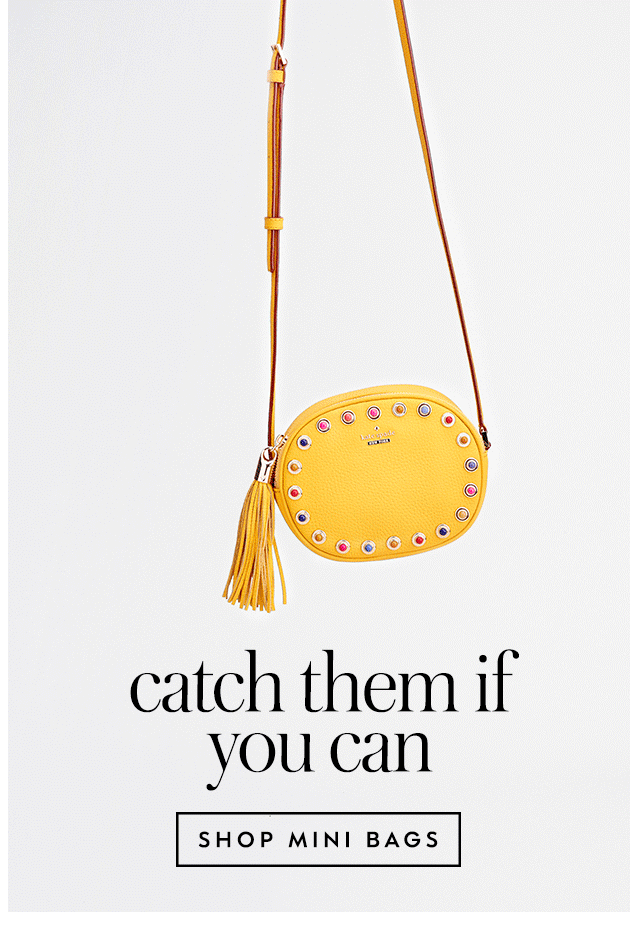 5. Time for you to try out this GIF idea
Continuing with the sense of urgency theme, this countdown GIF from Lou & Grey is a brilliantly playful way to add a sense of urgency to an email campaign. The ticking clock alongside the bold tagline both work well to encourage customers to check out the big sale.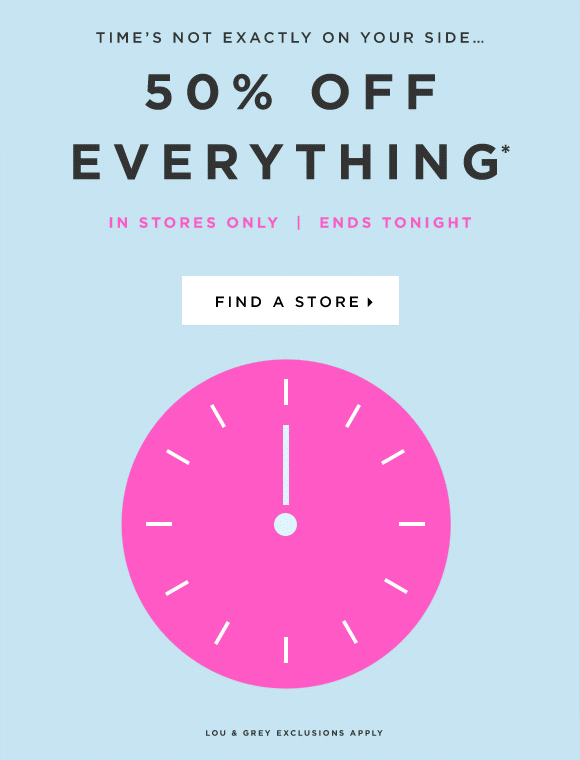 6. The mega colorful one
What better way to advertise your wide product range than with this colorful GIF concept from River Island. This animation is super cool, as it almost shows the products flying off the shelf (again creating a sense of urgency.) On top of this, the range of color is eye-catching and intriguing and definitely makes this email stand out from the crowd.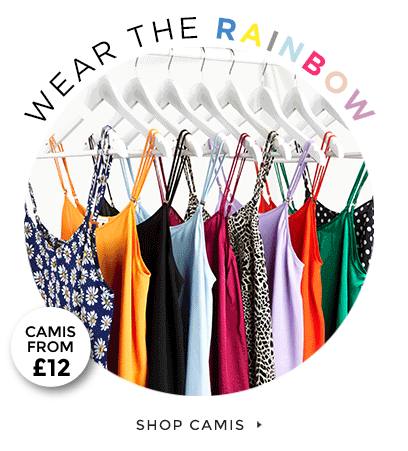 7. Make your GIFS count
What would this post be without a good old countdown GIF? Ann Taylor are showing us all how to create that essential time pressure and have fun at the same time. Countdown GIFs are a classic, and they can be used in practically any situation. Use this style to build up to a sale, a product launch, a milestone, or any other major event!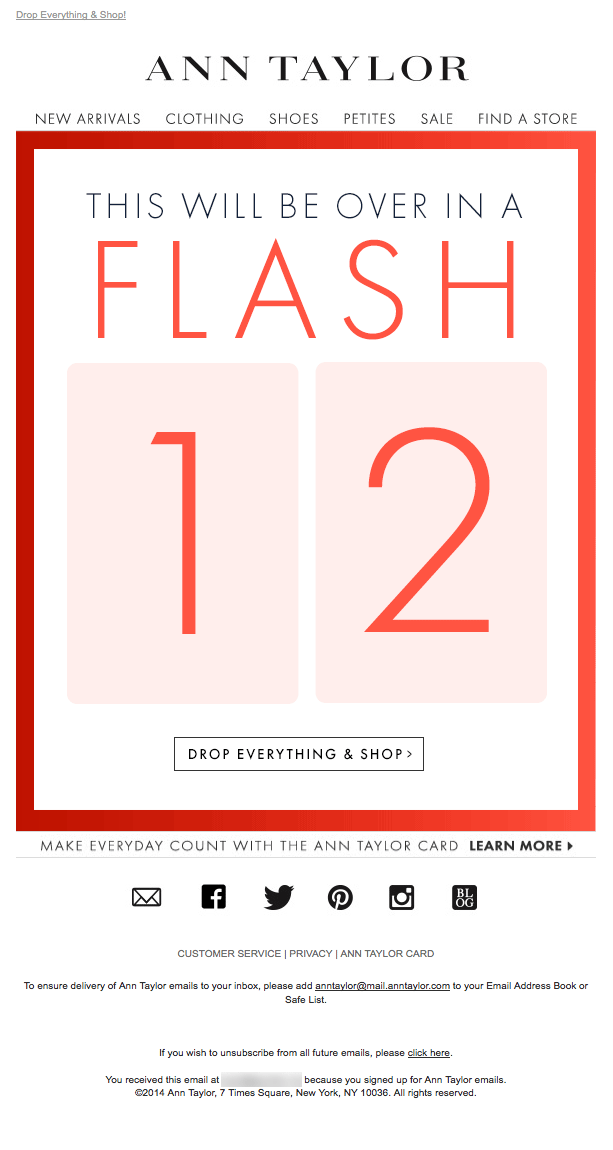 8. Who says rain means doom and gloom?
Email design champions Boden have hit the nail on the head again with this cute and kitsch design. The creative GIF puts a fun and cheerful twist on what would usually be perceived as miserable, and somehow makes a rainy day seem appealing. The positive vibe of this email will almost certainly encourage customers to hit that CTA button.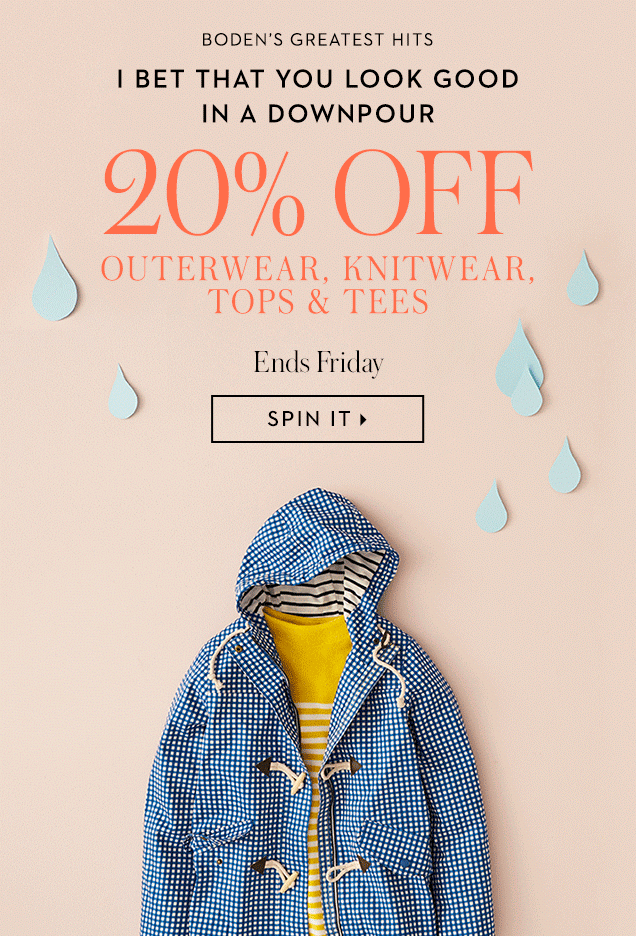 9. Let your product do all the talking
This GIF from Estee Lauder may be simple, but it's also super clever and relevant to the product's USP. The refresh motion ties in nicely with the anti-ageing/rewind concept of the campaign, and therefore does a great job of promoting the product's best feature. It's also another very unique way to catch readers' attention by going the extra mile instead of just including a static image.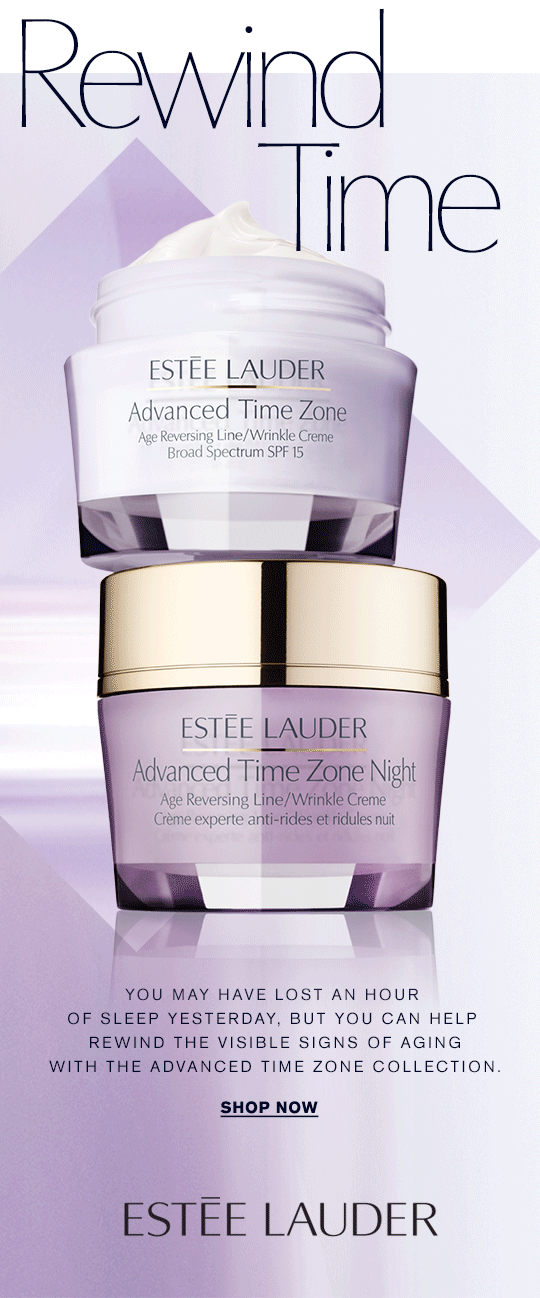 10. The ultimate sweet treat for all
Last but not least, we have a super sweet design from J Crew Factory. One lesson we've learnt when looking at endless designs online is that, if in doubt, you should always go for a theme people love... and who doesn't love candy? This GIF has many great qualities: the color scheme is vibrant and fun, the concept is simple yet effective, and again, the disappearing bon bons do a great job of creating a sense of urgency. The only downside? It's made us really hungry! ?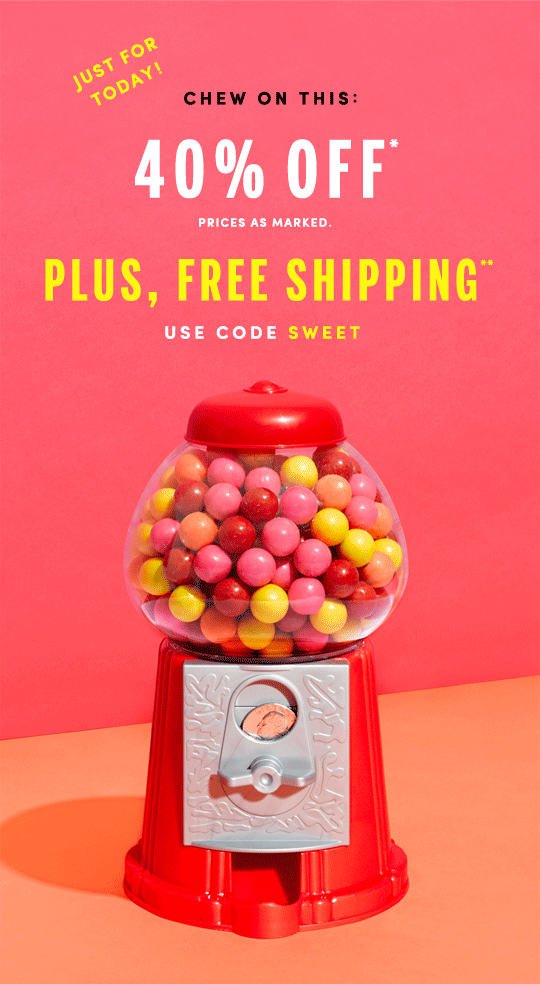 We hope you're feeling inspired from these 10 GIF-tastic email designs. If you're hungry for more email inspiration, you can check out our Pinterest page, where we're always on the lookout for flawless emails.
Until next time,
Your Mail Designer 365 Team
Get expert tips straight to your inbox!
Sign up here for our email newsletter and enjoy regular tips, tricks and advice for everything relating to email design – delivered directly to your inbox.
There was a problem registering your email address.
Please check and try again.
Thank you for registering! Please check your email inbox.
We've just sent you an email for you to confirm your email address, if you haven't already.