Mail Designer 365 TeamCloud is your team's workspace for collaborating on email campaigns: Share and sync email templates across users and devices.
After a design has been added to TeamCloud, you can discuss designs drafts and sign off on campaigns with Crew Chat.
To send
To start exploring TeamCloud in full swing, you will first need to build up your Mail Designer 365 team: Follow along with our step-by-step guide to get started.
Guide menu:
Building a team
Adding team members
When you first set up your Mail Designer 365 account, a team is automatically created for you so you can start adding team members right away.
To add the rest of your team, go to the Team Members tab in the Mail Designer 365 sidebar menu and click Invite Members to send an email invitation. Here you can also choose a role for the new user (e.g. Admin, Designer, etc.) – more on that later!
Once an invitation has been sent, the user can click the link in the email to create their Mail Designer account and join the team:
Purchasing & assigning plans
Any purchased Mail Designer 365 Design licenses and your team's Mail Designer 365 Campaigns plan will be displayed in the overview.
If you have available plans, you can assign them to colleagues using the dropdown controls. Users that are assigned the role "Designer", will automatically be issued a Mail Designer 365 Design plan if one is available, so they are ready to start designing emails.
Mail Designer 365 plan types
Anyone invited to your team can preview designs and comment on them in Crew Chat – up to 100 Team Members are supported at no extra cost.
To design, sync and edit designs on your Mac, team members need a Mail Designer 365 Design plan.
To send campaigns to larger audiences, additional Mail Designer 365 Campaigns plans are available.
Saving and editing Team Designs
Share a design with your team
Mail Designer 365 TeamCloud allows you to easily sync Design Ideas across users and devices to give team members access and work on campaigns together.
To share a design draft with your team, click the TeamCloud icon in the Mail Designer design window: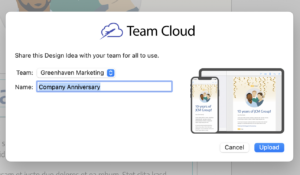 Your template will then be made available in your team's shared library:
Editing Team Designs
Once a template has been uploaded as a Team Design, it can be opened and edited by any designers on your team. When you've finished editing, clicking the TeamCloud icon will sync the latest version for everyone, ready for the next team member to take over.
Checking the design's status view shows you the latest version number, when it was last saved, and who made the last change, so you can easily avoid version conflicts: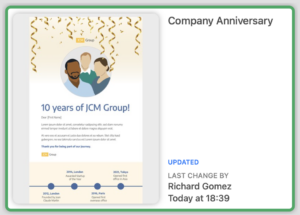 Feedback and discussion
Uploading to Approval
When you click the TeamCloud icon to upload a Team Design, Mail Designer 365 will also automatically create an Approval chat thread. This gives everyone in your team the opportunity to share their input on design drafts.
You can go to an Approval chat thread either via the Approval icon in the Mail Designer 365 design window:

Or via Team Approvals in the app sidebar menu: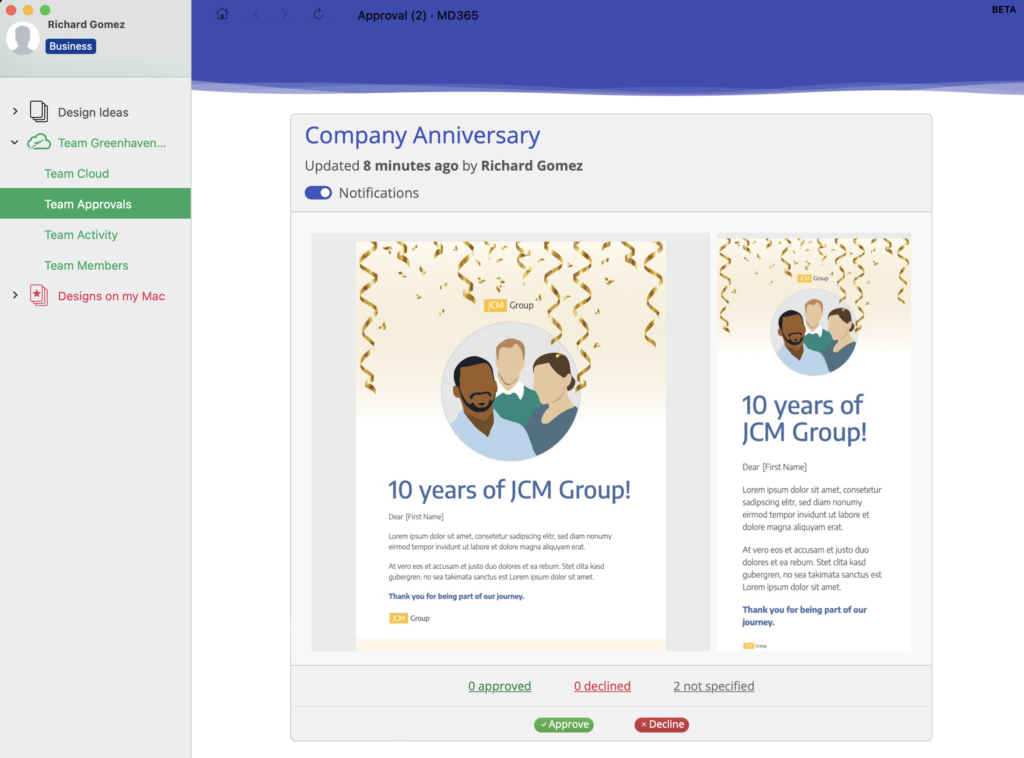 Asking for feedback
As soon as you are happy with your first design draft, you can invite team members to collaborate using the share panel in Approval chat. Click the share icon, then select the team members you wish to notify: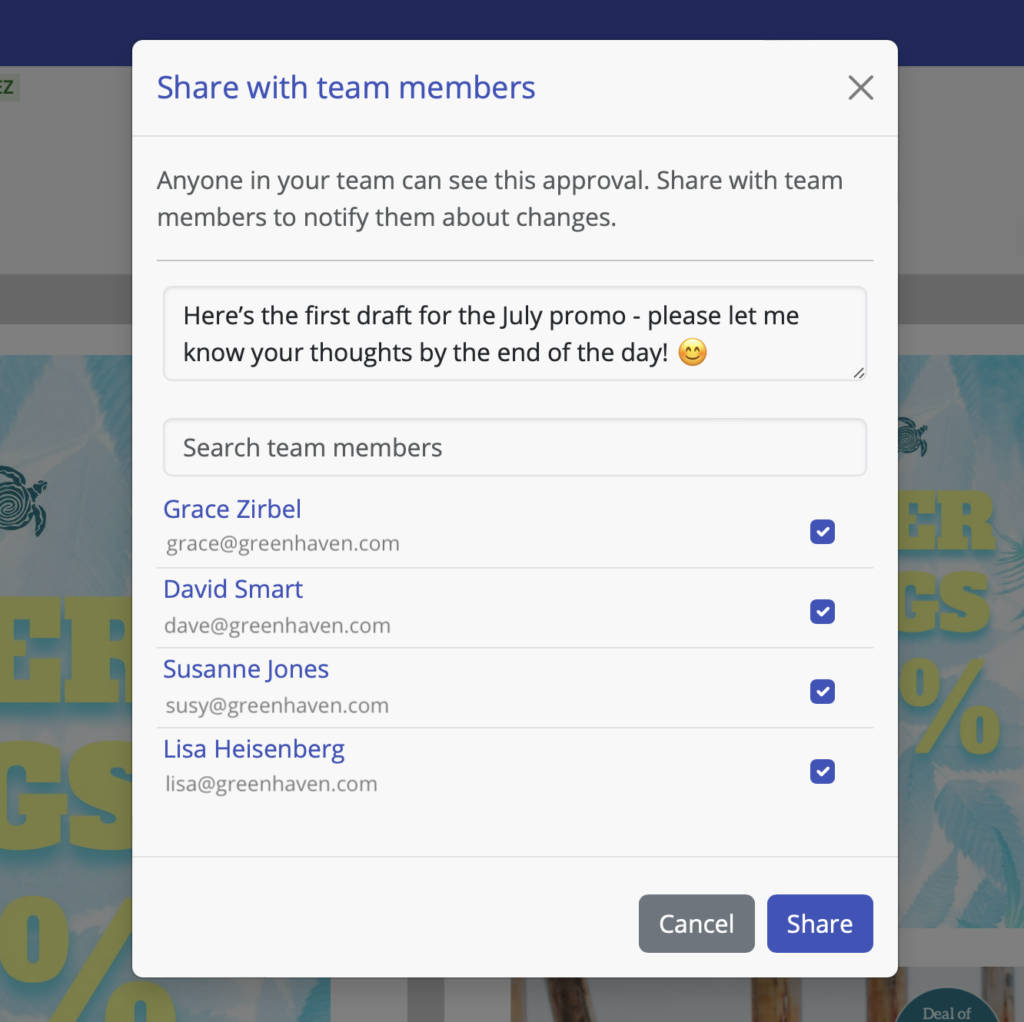 The selected team members will then receive an email with a link to the Approval chat thread and will also be notified about new design versions, comments or status changes.
When you've notified your users about a new campaign draft, you can all use Approval chat to share feedback on design versions. Users can also approve a design to directly sign off on planned email campaigns:
Using Approval on the web
As well as the practical in-app view, Approval threads can also be accessed on the web by team members who don't have the Mail Designer 365 app or don't have access to their Mac. This helps keep the feedback workflow moving at all times.
To access Approval threads on the web, log in to my.maildesigner365 with your Mail Designer 365 account and go to the Approval tab:
Get started with Mail Designer 365 TeamCloud
Start using TeamCloud today and streamline your team's email marketing workflow.
Compatible from macOS 10.13 onwards