Sometimes events can occur that force your usual business schedule to grind to a halt. During these periods, it's critical that you continue to communicate with and reassure your customers. Here's how to use email to keep your customers informed of your business's activity during the coronavirus crisis.
Business Communication During the Coronavirus Crisis
While your business can't be prepared for everything, it's good to have a contingency plan in place for when crisis hits. Here are 5 effective measures your business can take to keep things going during the coronavirus crisis, plus two email templates you can use to keep your customers informed.
1. Update your opening hours
If, like many businesses around the world, you have had to make drastic changes to your opening hours due to the coronavirus, this should be the first thing you communicate.
Update your opening hours on your website and any other locations on the internet where they may be listed, such as:
Twitter,
Google my Business,
Facebook
This small act will prevent confusion and keep both new and existing customers up to date during the crisis.
2. Increase your support capacity
In times of crisis, your customers will no doubt have increased questions and concerns. Naturally, this will also see a rise in the number of support emails and calls you receive.
Be proactive and make sure you have enough support staff available to deal with the increased demand. Team members working from home can also get involved if you need extra help.
To take the pressure off, you could also consider creating an automated email template to reassure customers that you will be getting back to them as soon as possible.
3. Put together a list of FAQs
Think about which of your business activities (e.g. delivery times, services, opening hours, stock availability) will be affected by the coronavirus and briefly summarize the answers on a dedicated FAQ page on your website.
This will help your customers find the information they require faster, while also reducing the strain on your support team.
Tip: Provide a temporary link to this page on the support area of your website to help answer common support queries before your inbox and phone lines become overloaded.
4. Promote your online store
If you've had to close your physical store due to the coronavirus crisis, you may be worrying about your sales and how this will negatively impact your sales.
Use the crisis as a way to promote your online store to customers. In the same way that you are concerned about not making sales, customers will be frustrated they can't visit your store.
Direct customers to your website and let them know they can carry out all of their purchases there.
Tip: If you are expecting a large influx of traffic to your online store or a lot of deliveries to organize, be sure that your systems are prepared for this.
5. Reach out to your customers via email
Once the necessary adjustments have been made and you have a plan of action, communicate this to your customers as soon as possible. The easiest and most direct way to keep customers updated is via email. 
Quick tips for your email communication for the coronavirus crisis:
Use the appropriate tone. This is a worrying time for many. Stay calm and make sure you aren't adding to the panic, but at the same time, remember to keep the tone serious and sincere.
Get straight to the point. Too much text will confuse and overwhelm your customers and you want the information to be as clear as possible.
Keep images to a minimum. The aim of this email is to inform. Forget your usual email marketing techniques and only use images which are absolutely necessary (e.g. explanatory screenshots.)
Include key links and information. This email needs to be the source of all important information. Include links to your FAQs and store, as well as your new opening hours and contact details.
How to create a crisis communication email for your business
We've created two new crisis communication email templates suitable for keeping your customers up to date during the corona virus crisis: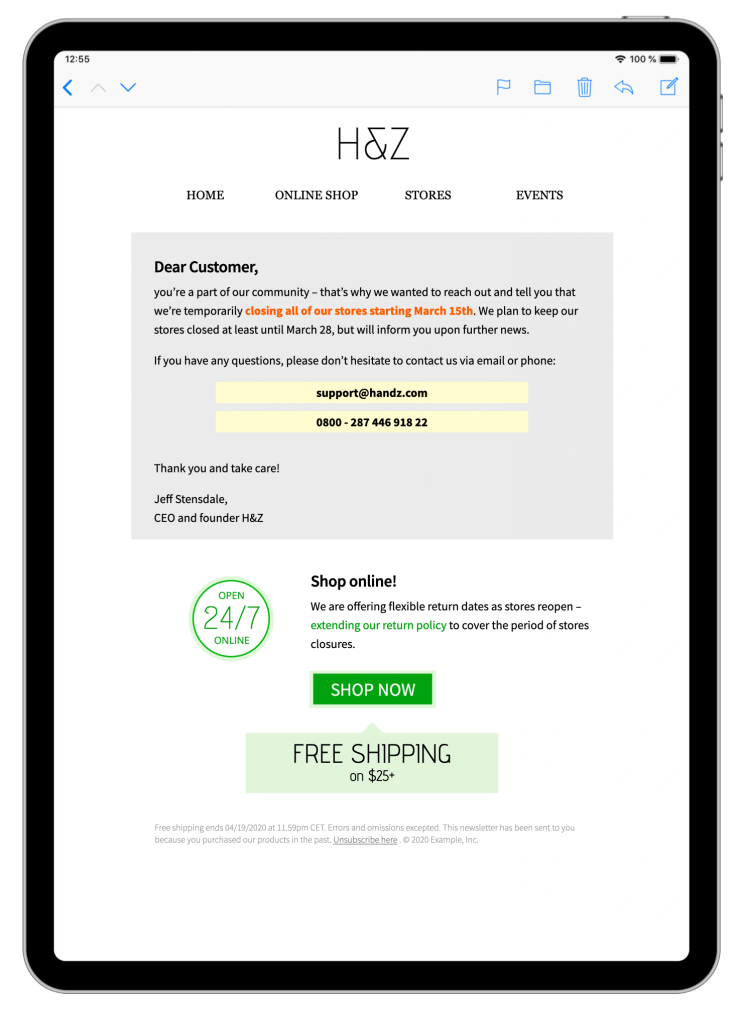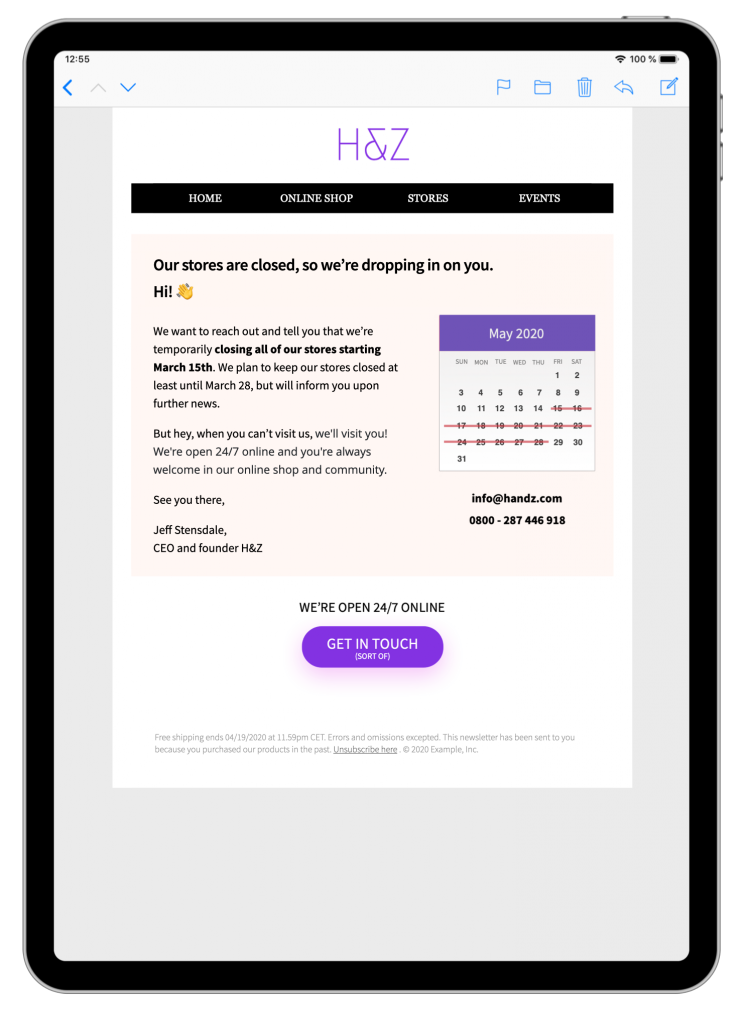 These templates are ready and available to edit now in Mail Designer 365. Simply update the messaging to fit your business and send to your entire mailing list to keep them informed.
We hope you have found these tips helpful. Remember to keep calm and work proactively. The crisis won't last forever and your customers will appreciate you keeping them informed. If you want to use one of the above templates, sign up to Mail Designer 365 free to get started today.
Until next time,
Your Mail Designer 365 Team