With countless commercial emails landing on people's inbox, designing an awesome email newsletter may not necessarily be enough to get high engagement. We want to share 13 crucial email marketing tips to help increase email engagement of your email marketing campaigns. 
#1: Add emojis in the subject line ??⚡️
Some people may label emojis as a faus pas, but don't dismiss emojis just yet. A growing number of businesses are actually trying them out.
Adding emojis in the subject line can set your email apart from other commercial emails. Who would have thought that these small cartoon type graphics can be a handy tool when you want to increase email engagement?
Emojis add a nice touch of color that can differentiate your email from the rest. If you check your inbox right now, you will find mostly plain black and white colors. If there's a colorful emoji in a sea of black and white, then your eyes will more likely go to the emoji than any of the other plain subject lines.
Next time you write a subject line for your email template, try including emojis. Just don't get carried away.
Tip: Try adding a ? (fire) emoji for a hot sale or when a high-demand product is back in stock.
Extra tip: For quick access to emojis and symbols, press "Control + Command + Spacebar."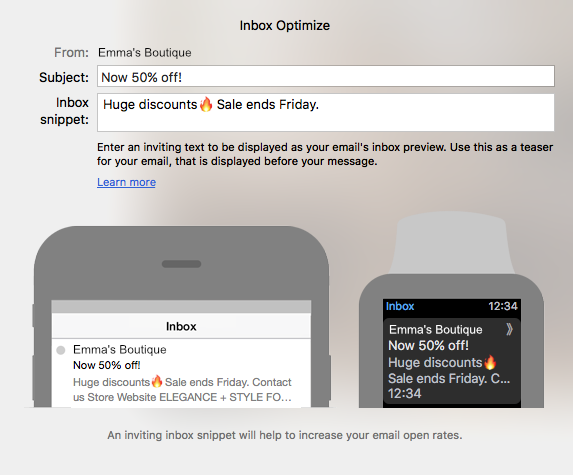 #2: Avoid CAPS in the subject line
Many spam messages use caps in the subject line. Since this is a common feature of spam, spam filters have learned to associate subject lines typed in all caps with spam. If you try it out for your email campaign, your emails may just end up in spam.
When it comes to your email subject line, the best practice is to refrain from typing in all caps. Don't look at this as a setback. In many cases, people are turned off by subject lines written in all caps. It gives the impression that the sender is yelling.
Tip: Instead, catch your subscriber's attention with subject lines that convey a sense of urgency or scarcity. Depicting a sense of urgency or scarcity helps increase email engagement.  People do not want to miss out on savings or limited items. You can use phrases like "Hurry! Coupon expires tonight" or "Only 5 left in stock."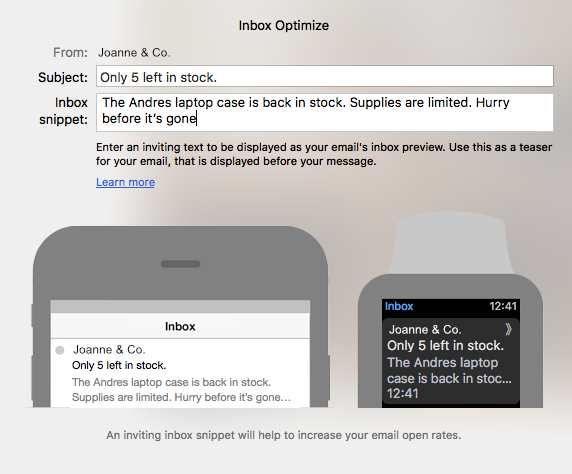 #3: Recommendations from everyday people
When you watch TV advertisements, you often see professionals and celebrities recommending a product. While this can be quite effective, we recommend including quotes from a loyal customer or a first time buyer. This personal element adds something special to your email content. Not only can subscribers see what others are saying about your products or your business, they can also see that they are people just like them; Thus, making the comments more relatable.
Tip: If you can, try to add a section within your online store where people review products and share their opinions. Then, pull quotes from reviews within your online store and copy & paste them into your email newsletter.
Added bonus: In case there are skeptics out there, people can verify the authenticity of the review within your website's review section. Public reviews can be a helpful tool for your brand because it lets potential leads see other people's opinion about a product or service they may already be curious about. It is okay if the reviews within your website/online store are not all perfect 5/5 ratings. After all, no product or service is perfect 24/7. Also, your email subscribers will understand that different people can have very different opinions/preferences. In the end, people will appreciate your transparency.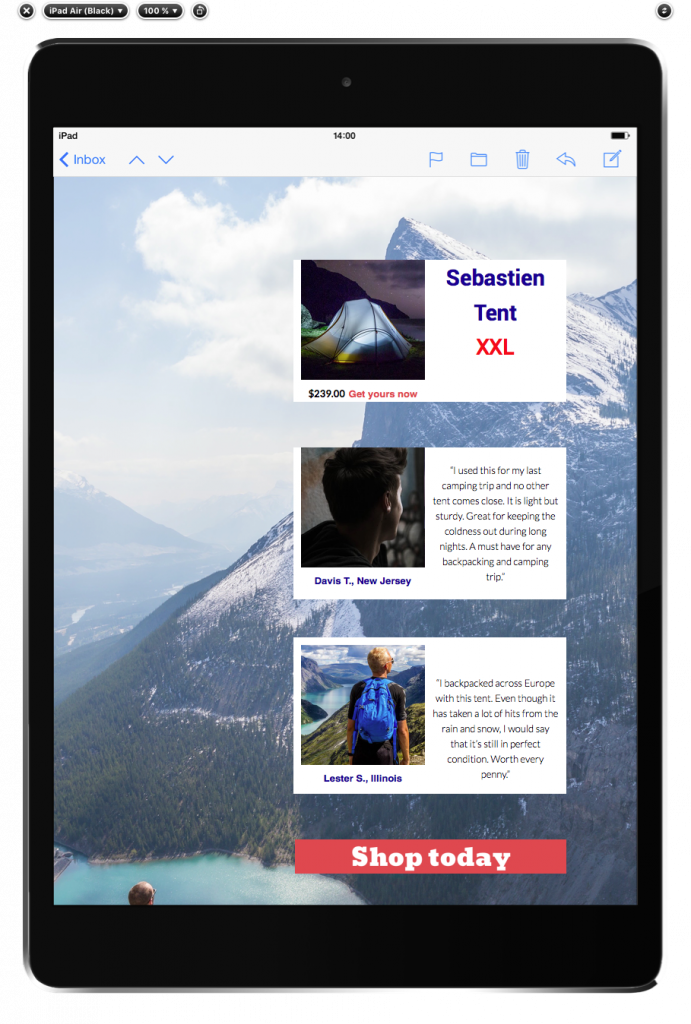 #4: Include social media links
Don't think that communication ends once the email content of your newsletter ends. An important way to increase email engagement is to make sure to carry the conversation to other mediums.
For instance, add links to your social media accounts within your email template. Then, interact with your subscribers on your Twitter, Facebook, or Instagram pages. It's important to stay active and engage with your followers in these outlets. Sometimes, an email subscriber may have a question and reach out to you on Facebook or Twitter. Keeping your customers happy means keeping up with your communication across multiple platforms.

#5: Share inspiration from other professionals or influencers
Don't be afraid to link to other professionals or influencers. Sometimes it's good to show inspiration from other creators or to share insights by other industry professionals.

For example: If you have a beauty store, feel free to scour YouTube for beauty tutorials. Find a video in which a beauty guru can be seen using a certain product or brand that you carry. Then, link to the video within your email template. You can tell your subscribers, "Get inspired by XYZ. See how to create this look with product ABC." Make sure to also add a call-to-action button linking to the product you want to sell.
Tip: We recommend linking to YouTube videos. YouTube's terms of service require any individual who post videos on its platform to automatically grant permission to the public to have any of their videos embedded or shared without getting written permission or having a formal agreement with the video curator. 
Extra Tip: If you want exclusive videos or content made for you, try reaching out to influencers on YouTube or other social media platforms. The majority of them will have their business email address posted on their social media accounts.
Another method you can try is to link to product reviews published by influencers and/or industry professionals. If your products have been featured in a third party blog or a website, try sharing the link with your subscribers.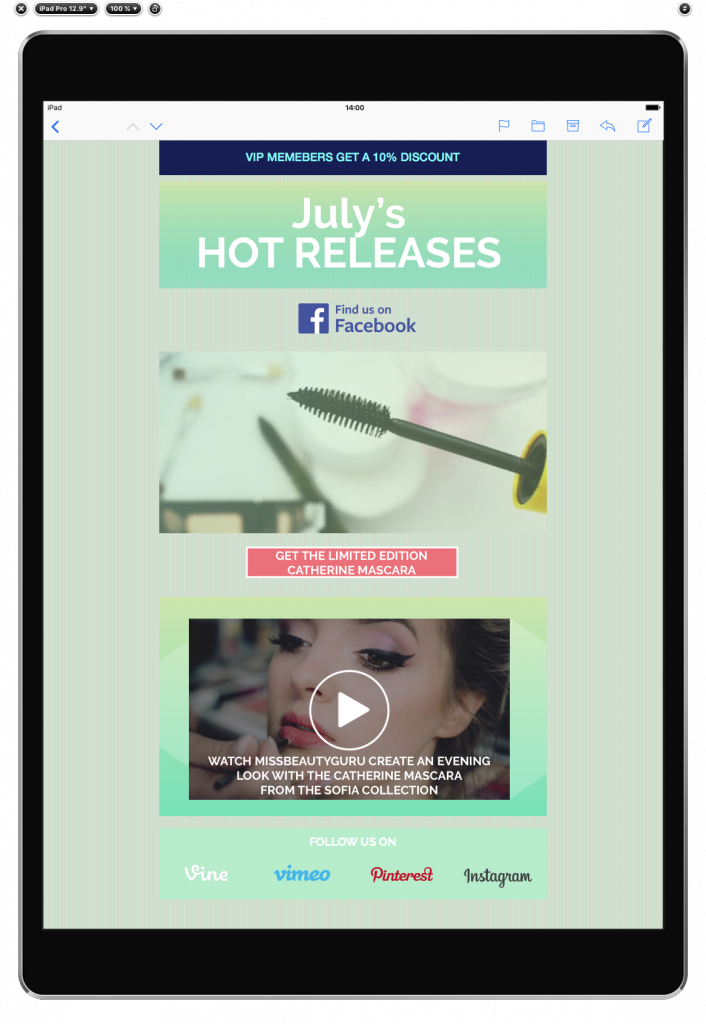 #6: Add a GIF
Who doesn't love opening an email with a GIF? GIFs can be a great design element that can transform your email newsletter from ordinary to extraordinary. 
In some cases, GIFs are the way to go when you want to get a message across without using words. Who needs long texts when you can summarize what you want to say within a GIF? Increase email engagement by adding fun animated graphics that subscribers cannot ignore. 
Tip 1: Have a sale coming up? Use a countdown to reinforce a sense of urgency. Here's an example of an animated countdown courtesy of Giphy: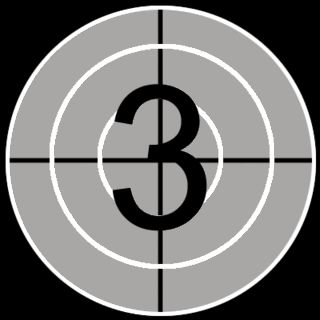 Another great reason to use GIFs is to add a comedic touch. GIFs can easily be used to lighten up the mood. After all, a good laugh helps you cultivate and maintain a positive relationship with your subscribers.
Tip 2: Fridays are great for sending funny GIFs. Whether you're a student or an employee - who doesn't look forward to the weekend every week? Everyone is more relaxed on Fridays. Our minds are already wandering to our weekend plans. So if you want to try out sending a funny GIF to your subscribers, we recommend launching your email newsletter on a Friday. 
#7: Optimize for mobile
In today's world, people and mobiles phones now go hand-in-hand. And whether people are riding the tram or subway, walking around a park, shopping in a mall, or waiting in line for lunch, you'll find countless of people on their mobile.
To have higher email engagement, design responsive email templates that look good on desktops, laptops, and smartphones. If the email design of your template is not on par for the mobile version, your subscribers may just end up deleting it.
Tip: Mail Designer 365 makes it easy to optimize for mobile. You can create your design and customize the content for both desktop and mobile users. To optimize the mobile version of your newsletter, just click on the "Smartphone" tab and edit your design. You can even preview your design to see how your newsletter will display on various mobile devices.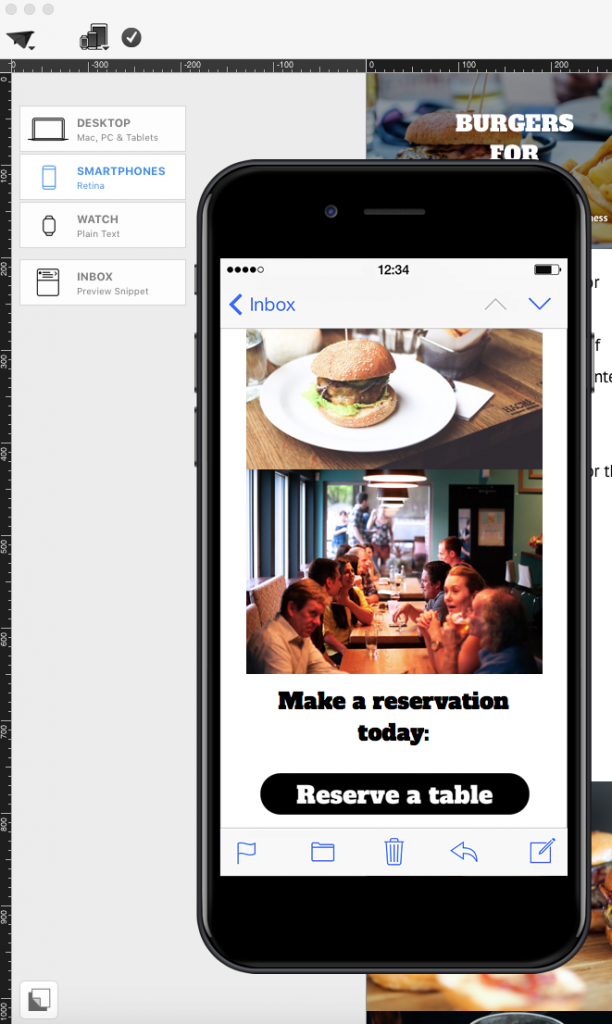 #8: Lay your image and text combinations in a zigzag
Avoid placing all images into one side and placing all text areas on the other side. Stacking the same type of elements together vertically can make the your email template look  congested.
Instead, try spreading the same elements in a zigzag pattern. Alternate between images and text. From top to bottom, try image, text, image on the left side. Then, do the opposite on the right side. Try text, image, text.
The alternation helps break up the content visually so it's not all jam-packed. Getting rid of the visual clutter can help increase email engagement.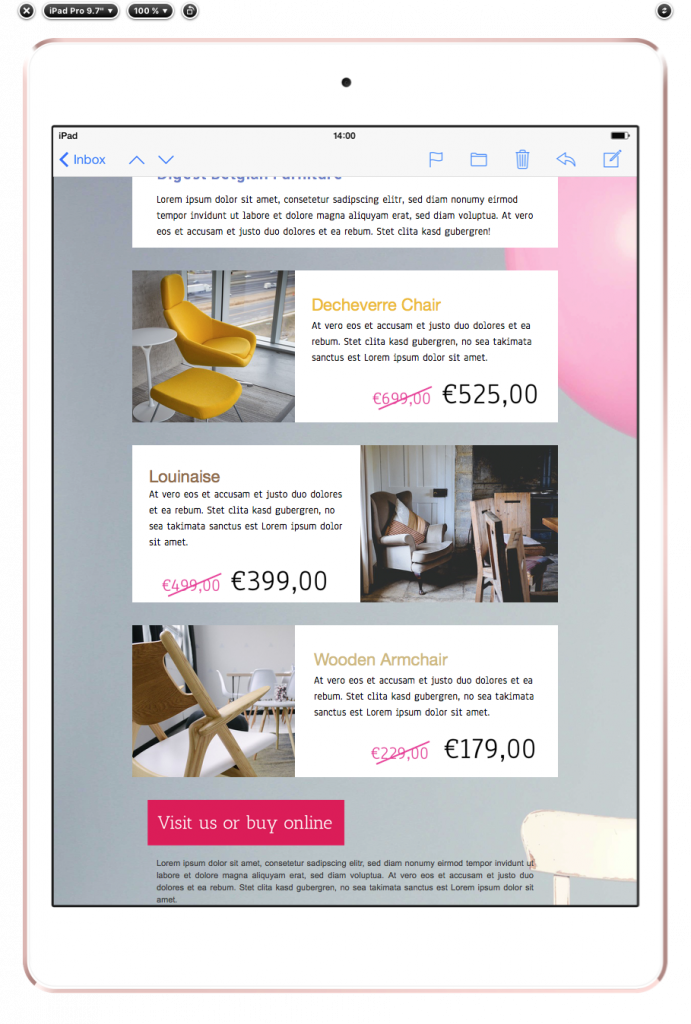 #9: Add space
Content and space go hand-in-hand. Within your email content, you will probably use different text areas, images, buttons, graphic elements, etc. All of these combined elements can potentially make a template look and feel crowded. So make sure to add some space within your email design.
Space the different elements out to create a more relaxing feel to your newsletters. Try breaking up big bodies of text. Add some space in between paragraphs and also in beteween images. Overcrowded email layouts will deter people from reading the email. When it comes to commercial emails, people don't want to feel like they are reading essays or a textbook. Having some room in between the content elements makes the overall design more visually appealing and less overwhelming. 
Tip: In Mail Designer 365, you can use a spacer layout block to add space in between layout blocks.

#10: Don't forget your call-to-action button
Call-to-action buttons are a must in every email newsletter. What's the main purpose of your email newsletter? Do you want them to shop at your store? Do you want them to listen to your podcast? Or do you want them to sign up for a food fair? Use a call-to-action button to get your subscribers to take action.
When it comes to call-to-action buttons, people should always be able to tell that it's a button that they can click.
Tip: Make your CTA button big so that it's easy to click in both the desktop and the mobile versions. Use a different color for your button than the the color of your email background so that they don't blend together.
#11: Spice up the background
Perhaps you may want a change in your email series. Adding a color that's different from the basic white or the basic grey background can spruce up your plain email template. Sometimes, people may get bored from receiving fairly identical email designs. Spicing up the background can increase email engagement by breathing life back into your email designs. Don't be afraid to try out different looks for your email background. You can set a photo as your email background. Just make sure it's large enough so your content will fit without the need to repeat the background. You can also use a pattern or a texture to add depth and dimension to your email design.
Tip: If you want to keep things simple but don't want to use a plain color, try one of the subtle textures within the content library of Mail Designer 365. It will keep your email design look clean and well polished but still add something extra.
#12: Try to A/B test your email's content
When it comes to email design, don't be afraid to try new things. Conducting an A/B test can really help you figure out what works well. You can make two versions of the same email with slightly different variables (ie. bigger vs smaller font size, font A vs font B, headline 1 vs headline 2, etc). Then, do an A/B test to see which version of your template will get more people engaged with your emails.
With A/B tests, you can find out exactly what type of graphics or words or even colors resonate better with your subscribers. Afterwards, you can then refine the design of your future newsletters by applying what you've learned from the A/B tests to your next email campaigns.
Tip: Many available email service providers have the A/B test feature included. If this is an important must-have feature for you, then be sure to keep it on your features checklist before signing up for an email service provider.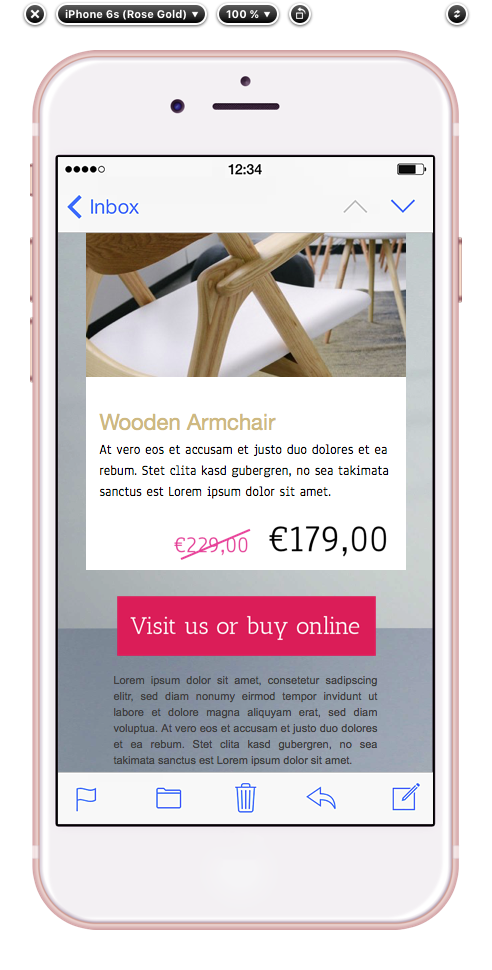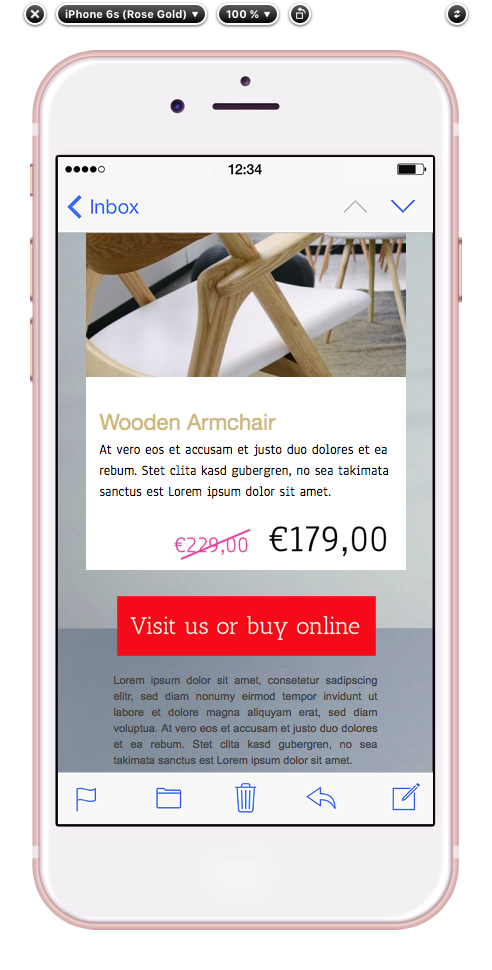 #13: Add a link to a survey or a poll
Use a poll to get feedback from your subscribers. It shows your subscribers that you care about their opinions and that you are always looking to improve. And it's also an awesome way to get new ideas from people who are interested in your business.

Tip: You can use Google Forms to create your surveys and polls. With Google Forms, you can easily manage the answers and feedback that you receive. Just add a link to your Google form within your newsletter. This can be done with a text hyperlink or a call-to-action button or both (as shown in the example above).
Until next time,
Your Mail Designer 365 team