Did someone say summer? Temperatures are rising and another exciting Mail Designer 365 update has just dropped! Version 2.5 is packed with new, colorful resources for summer and the upcoming back to school period. Find out everything that's new in Mail Designer 365 2.5 and how to get your hands on the latest version in our update guide.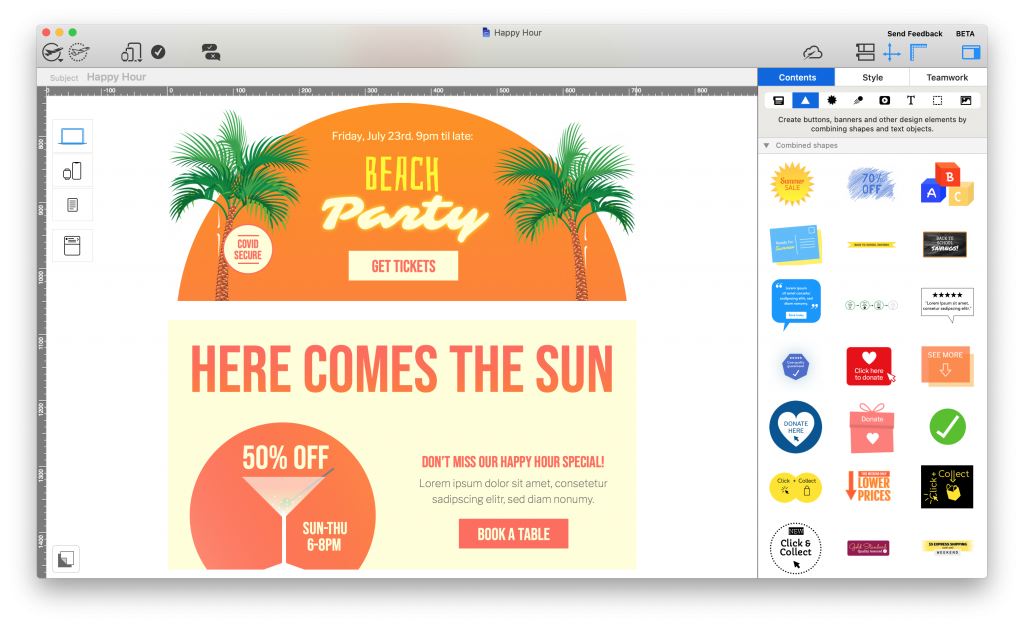 Get expert email best practice tips delivered directly to your inbox!
There was a problem registering your email address.
Please check and try again.
Thank you for registering! Please check your email inbox.
We've just sent you an email for you to confirm your email address, if you haven't already.
What's New in Mail Designer 365 2.5?
NEW Design Ideas for Back to School
With the peak of summer approaching, the start of the back to school marketing period is also drawing closer. To help you get prepared for your back to school email campaigns, we've added two new email templates to the Design Chooser - perfect for a seasonal promotion or special offer.
NEW Summer Email Templates
Under the "Seasonal" category in the Design Chooser, you'll also find a fresh new collection of vibrant summer email templates.
Use these designs to launch a summer sale, celebrate the reopening of your business, share local travel tips or adapt the templates for your own individual use case.
NEW Happy Hour
HTML Email Template*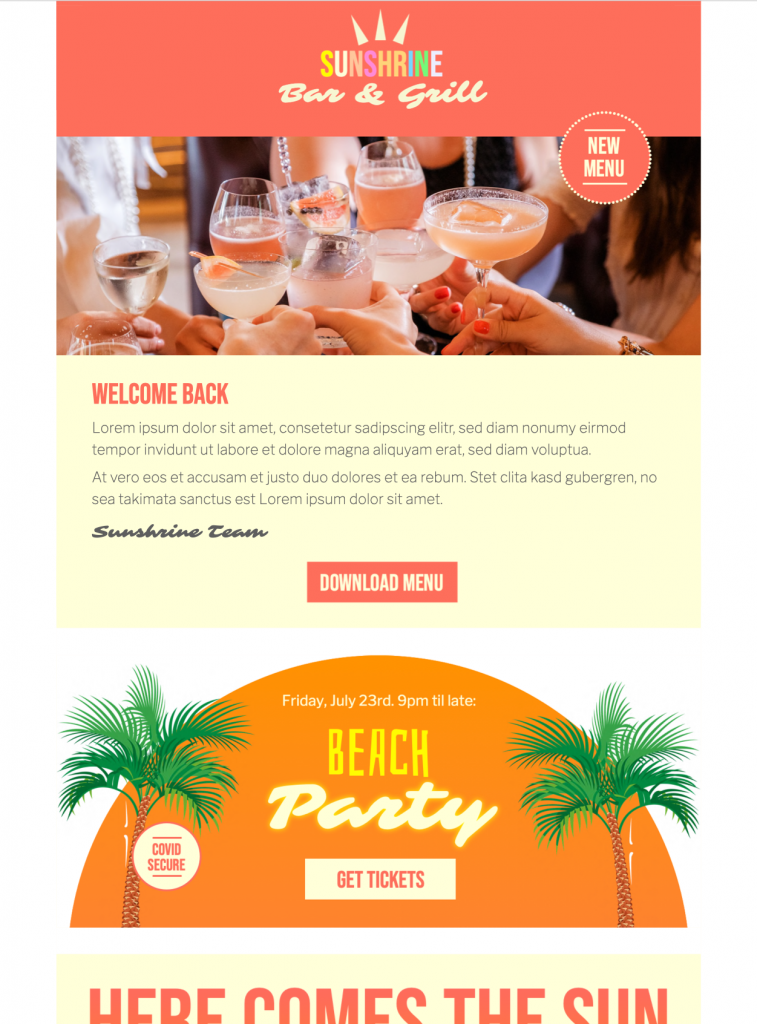 *The Happy Hour template is exclusively available in Business Premium plans. Learn more.
NEW Seasonal graphics
Want to liven up your summer newsletters? We've freshened up the Mail Designer 365 content library with new colorful and vibrant badges, call-to-action buttons, eye-catchers, layout elements, and more!
Drag and drop the new summer graphics into your designs for an instant splash of color.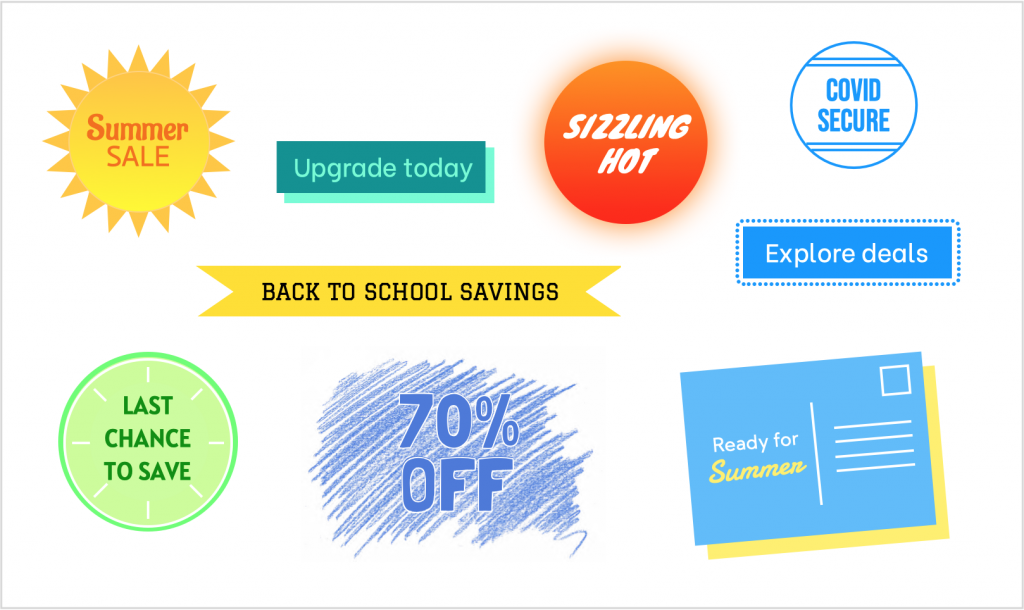 NEW Design tutorial
We love sharing our insider tips with you to show you just how much you can create in Mail Designer 365.
In version 2.5, we've also updated the educational Design Tips template (Business Premium) with an exclusive new tip for shape art: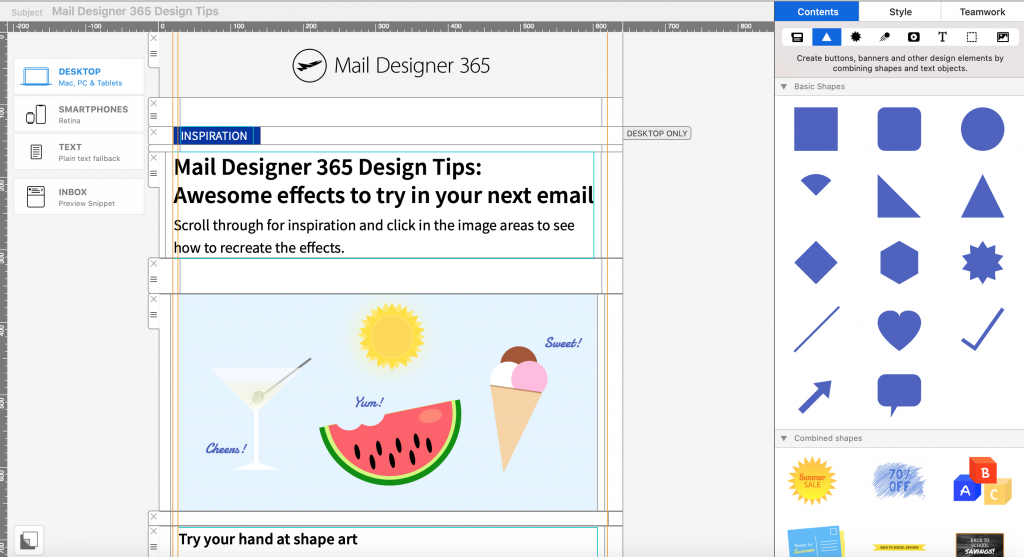 Use this template to explore the more advanced Mail Designer 365 design features. Click on a style to learn the method behind it and recreate the creative techniques loved by our team in your own designs.
Further Fixes & Improvements
The Mail Designer 365 team has also carried out the following fixes and improvements for you:
The ready-made layouts category has been updated with 2 new layout elements for social media and travel
General stability and performance updates
How to upgrade to Mail Designer 365 2.5
This is a completely free update for all existing Mail Designer 365 customers. To start using version 2.5, simply open the app, go to "Mail Designer 365" in the top menu and click "Check for updates."
Tip: Activate automatic updates in your app preferences to make sure you never miss a new version of Mail Designer 365:
Get started with Mail Designer 365 today
Start your 7 day free trial and use your Mac to create stylish email newsletters for your business.
Compatible from Mac OS X 10.11 onwards