Say hello to your first major Mail Designer 365 update! The 1.0.6 update welcomes three brand new features to Mail Designer 365 as well as some important app improvements.
You can now pin images within an image area to make things easier when resizing. This is really useful for those of you who need to make quick changes to header images or call to actions. Click on an image and you will see the "pin" tool in the app sidebar. Then, choose from the interface where you would like to pin your image and it will stay fixed in place whenever you need to resize.
Another great new feature we have added for you is the option of an all caps font style. Instead of having to re-type sections of text in caps, simply highlight your selected text and check the box located along with the other text styles for STAND OUT text.
Name images during HTML export
You can now also name images during HTML export. Easily assign a prefix to images so you can find and identify them quickly. This is especially useful for those of you just uploading to a single destination on your server. Just save your design, select File > Export to HTML and then type in your image prefix.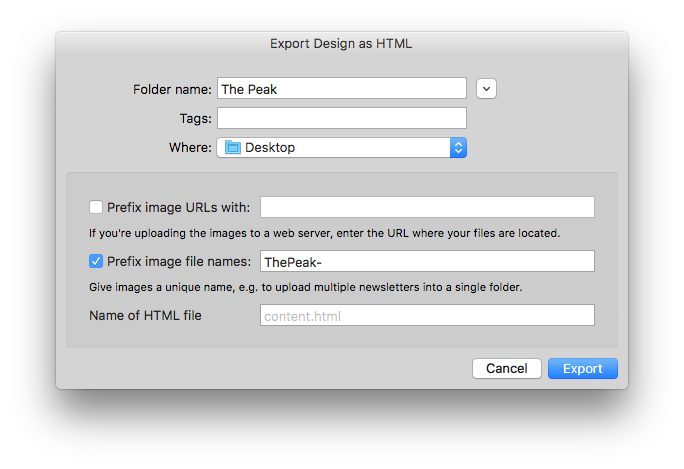 The triangle shape has been flipped
An issue that could occur when adding layout blocks has been fixed
Video thumbnail placeholders now work correctly with Apple Mail
The image optimization window now goes away after sending with Apple Mail
We hope you will start to explore all of these great new features straight away. If you purchased Mail Designer 365 from our website, click Mail Designer 365 and select check for updates from the the drop down menu to make sure you are up to date. If you purchased from the Mac App Store, please check the updates menu there for your free update. For more tips and information about new features, check out the Mail Designer 365 news page located in the app.